Lake Homes Realty held the 2021 national Summit event on October 12-15. The annual meeting covered performance statistics, employee training, and company planning and outlook for 2022.
In addition, special guest speakers presented a host of topics including business sales, the present state of the real estate marketplace and future projections, and professional and interpersonal growth.
The event closed with an award ceremony recognizing 2021 high-performing agents in these three categories: Aqua Award, Big Wave Award, and Splash Award.
Agents qualifying for the company's Aqua Award have $3.5 million in revenue but not exceeding $10 million for the year. They are:
Aleace & Calvin Cappelle
Allison Adams
Amanda Parsons
Barbara Park
Brian Kincaid, II
Bruce Erskine
Carol Vandyke
Chuck & Melissa Goff
Connie Nealy
Cynthia Lanham
Dana Waldrep
Daniel Burnside
Dave Carlson
Dawn Holcomb
Gail Barnett
Glenn Fisher
Greg Isaac
Heather Leslie
Jacki McCulloch
Jerry Moomaw
Jill Botos
JoAnna Von Arb
Kurt Hauseman
Lester & Bonnie Burleson
Linda Delay
Loni Marcus
Marie Skillern
Nancy Monts
Patricia Mathis
Rachel Parker
Rebecca Brewer
Rhonda Lettow
Roxanne Clemons
Scott Brooks
Sherri Beecroft
Steve Fuentes
Tammy Moen
Tara Biesboer
Tiffany Hazelwood
Tommy Clark
Tracy Boyd
Tracy Watson
Trish Greer
Vickie Melder
Wendy Schurgot
Agents qualifying for the prestigious Big Wave Award that recognizes $10 million and up in sales for the year are:
Angela VanHouten
Bruce Jones
Carole Bryson
Cat Thornton
Chris Johnson
Cindy Anderson
Cindy Myrex
Deb Groom
Deb Short
Doug Giesler
Emily Carter Morris
Erica Vaughan
Greg Adams
Holly Blanchette
Jill Baugus
Jim Williams
Jo Lynn Miller
John Dinos
John Franklin
John Robert Elliot
J.W. Hightower
Josh Grindle & Robin Cole
Justin Dyar
Karen Packett
Kristie Anderson
Linda & David Hanf
Lisa Parker
Lisa Steele
Margaret Decker
Melinda Edwards
Melisa Bouchard
Michael Murphy
Mike Goins
Nicole Anderson
Pam Bowman
Pam DeBlasio
Peggy Overstreet
Rachelle McClard
Sally Adams
Sandie & Freddie Hurley
Sheila Howell
Stephanie Millard
Terri and Kyle Griner
Terri Gates McIlravy
Terry & Sherrie Norton
The Ken Williams Team
Tony Luna
Ty Miller
Wally Cawthon
The Splash Award is the Annual Agent of the Year! This award recognizes the top Lake Homes Realty Agent based on a combination of sales and proper business management. This year's winner was Jo Lynn Miller!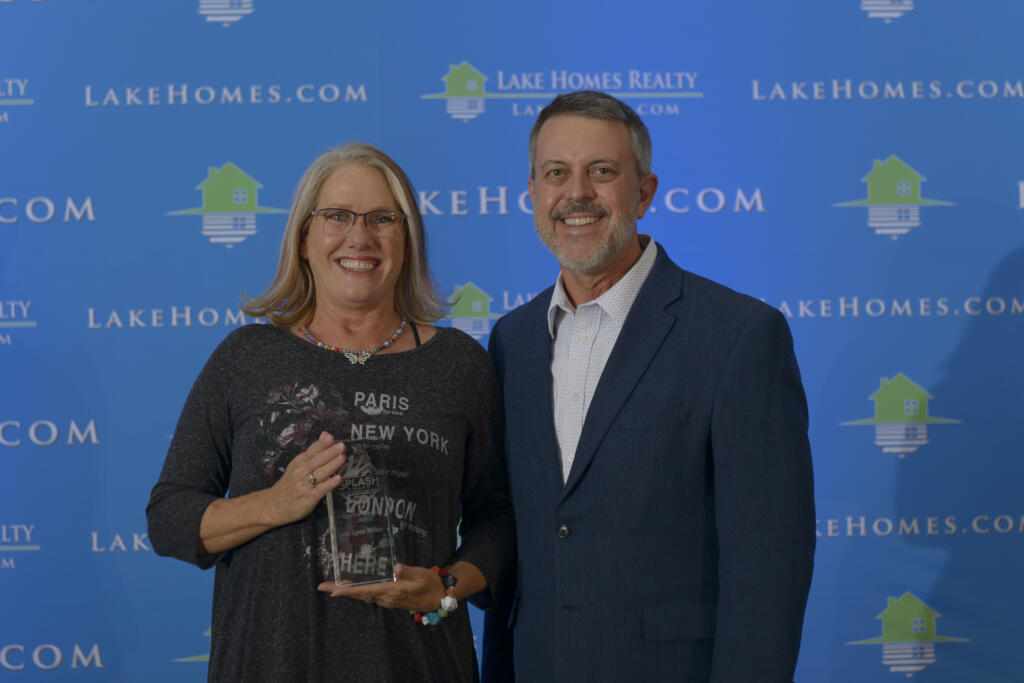 Congratulations to all our winners! We look forward to a prosperous 2022.