Becoming a Lake Homes Realty Agent
Why Do Successful Real Estate Agents Join Lake Homes Realty?
Real estate sales remain best facilitated by expert agents in each lake market.
The best agents understand the advantage of a truly unique market differentiation in the high-end waterfront marketplace.
Lake Homes Realty agents reap the benefits of millions of dollars of advertising and technology built specifically to serve lake home buyers and sellers, and the agents who specialize in this market.
We are THE SPECIALIST in the place lake buyers come from (the web).
The best and dominant tool for buying and selling lake homes.
The only real estate brokerage 100% focused on lake real estate.
We intentionally limit the number of agents per lake. (Why be part of an ever growing army of competing agents within a brokerage?)
Exclusive access to convertible, no-fee leads powered by our own LakeHomes.com.
Regular opportunities to learn from best-in-the-business colleagues on other lakes.
Looking for a Unique Market Advantage?
If you are an experienced, local lake expert real estate agent who is passionate about customer service, we'd like to learn more about you.
We are building a national organization and would love to hear from interested, producing lake-focused agents from any state.
We have an immediate interest in great lake-focused real estate agents and brokers from:
Alabama
Arkansas
Connecticut
Florida
Georgia
Illinois
Maryland
Michigan
New York
North Carolina
Oklahoma
Pennsylvania
South Carolina
Tennessee
Texas
Vermont
Virginia
If you don't see your state on this list but have interest in learning more, please reach out to us!  We may still find a mutual opportunity!
Learn More
In confidence, please request more information or give us a call at 1-866-525-3466.
Or email your contact information, including your city and state, and the lakes you are knowledgeable about, to us at agents@lakehomes.com.
We'd love to talk to you!
---
Our Brokerage Empowers Our Agents
Lake Homes Realty really is THE Specialist in THE Place buyers come from (The Internet). And sellers want to be where the buyers are!
Our brand, systems, operations, marketing, and technology are all focused on making our agents THE most successful agents in their market.
| Brokerage Feature Comparison for Agents | Typical Brokerage | Lake Homes Realty |
| --- | --- | --- |
| Laser Focus on Dominating the Lake Niche, Locally and Nationally | | Yes |
| Highly Restricted "Best-In-Class" Agent List, Typically Only 1 to 4 LHR Agents Per Lake (based on market size) | | Yes |
| Market Differentiation from All Other Agents in the High-End Waterfront Marketplace | | Yes |
| Foundational Focus on Being The Best Consumer Resource (Interface and Data) on the Web for Lake Real Estate | | Yes |
| Growing to be the Best and Most Lake Real Estate Data on the Web | | Yes |
| 100% of Company Branding to Reinforce and Enhance Agent's Reputation as a Lake Expert | | Yes |
| Significant, Lake-Specific Web Promotion (SEO, SEM, and PPC Advertising) Paid for by Brokerage | | Yes |
| Millions of Dollars Focused Specifically in Lake-Oriented Technology for Buyers and Sellers | | Yes |
| Easy, Proven Contract Management Services | Rare | Yes |
| Highly Convertible Leads, often from Outside the Local Lake's MLS Region | | Yes |
| Growing Team of Niche Lake Specialists who Understand the Power of the Web for Real Estate Consumers | | Yes |
| Significant Brick-and-Mortar Presence | Yes |   |
| Brokerage Regularly Devotes Significant Energy and Money to Recruiting More and More Agents in Each Market/Office | Yes |   |
| Disinclination to Fully Embrace Ongoing Sea of Change of Real Estate Consumer Behavior | Yes |   |
---
What Our Agents Say…
| | | |
| --- | --- | --- |
| | | "The Lake Homes Realty website dominates the other sites and builds my credibility, adding a whole new level to my brand. Both the frequency and the quality of leads are better with LakeHomes.com." — Justin Dyar |
---
Lake Homes Realty is a licensed real estate brokerage in Alabama, Arkansas, Connecticut, Georgia, Maryland, Minnesota, North Carolina, Oklahoma, Pennsylvania, South Carolina, Tennessee, Texas, Virginia, and Wisconsin (with additional states coming soon).
Employment
Join Our Corporate / Brokerage Operations Team

Below are currently available positions with Lake Homes Realty at our corporate office / brokerage operations center in Alabama.
---
Real Estate Agents and Brokers
Real estate agents and brokers interested knowing more about the benefits of joining Lake Homes Realty can learn more here.
The Lake Real Estate Market Report
The MOST Comprehensive Lake Real Estate Market Report
The Lake Real Estate Market Report contains unique multi-state market information about lake homes and land, including lakefront property, lake access property, lake view property, and near-lake property.
The quarterly report contains multi-market (and multi-state) real estate information NOT AVAILABLE publicly from any other source.
In the markets reported, this is THE most comprehensive report of the lake real estate markets.
As a multi-state, full-service brokerage, Lake Homes Realty has access to data from hundreds of lake real estate markets. This data is compiled into the periodic lake real estate market reports.
Free to the public, the market report can help lake home and land buyers and sellers better understand their local market, and how it relates to other similar competing markets.
The reports can also be used as market reference sources by media outlets (with attribution please).
LATEST: 2017 Summer Lake Real Estate Market Report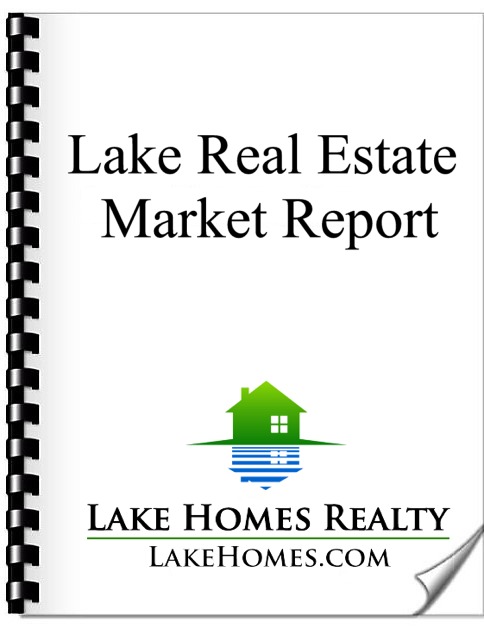 Lake Homes Realty announces the 2017 Summer Lake Real Estate Market Report covering nine states and nearly 400 lakes through the Southeast and Southwest United States.
The states included in this specific report are Alabama, Arkansas, Georgia, North Carolina, Oklahoma, South Carolina, Tennessee, Texas, and Virginia.
(Future reports will include additional states, and work on these has already started!)
What Is In The Latest Report
Our latest market report is packed with 47 pages of comprehensive lake market information about lake homes and land for sale, including:
Market Rankings of:

The Biggest Total Lake Markets, Biggest Home Markets, and Biggest Land Markets (overall and by state)
The Most Expensive and Most Affordable Home Price (averages, by lake)
The Most Total Listings, Home Listings, and Land Listings (by lake)
The Most Expensive and Most Affordable Land per acre (by lake)

Overview of Key Lake Market Trends and Outlook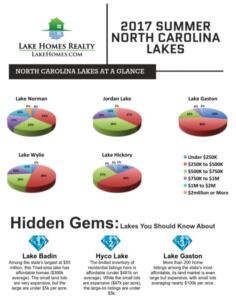 Enhancements to this version of the report include a two-page infographic of data for each state that includes:
A Price Range Breakdown of Key Lakes
"Hidden Gem" Lakes that you may not know about
A Map of the Current Inventory of Million-Dollar+ Lake Homes for Sale
The Top 10 Most Expensive Lake Market Zip Codes, by State
A Consumer Profile of the Typical Lake Home Buyer
Ranking of the Top Metropolitan Markets from Outside of that Market's State who use LakeHomes.com to shop for Lake Property (i.e., where are the out-of-state buyers?)
BUYERS:

What You Can Gain from the Report
Finding an affordable lake home can be a challenge. Our report helps buyers understand:
How do lake markets compare statewide and regionally by price,
Which lake markets have the most affordable homes or land, and
Which lake markets have the most homes in your target price range.
Imagine trying to find land to build your dream home. Our report can point you to markets that have the most land and show you how the prices compare.
SELLERS:

What You Can Gain from the Report
Many lake property buyers are shopping across more than one lake. Our report will help sellers understand:
How does your lake market compare to other lake markets around you,
How many homes are in the same price range as your home or lot (a key when pricing your property).
What are home and land prices like at your lake? Our report can help you price your home or land more market appropriate, helping lead to a quicker sale.
---
Get Your FREE Lake Real Estate Market Report NOW!
To receive your FREE copy of the latest market report, please enter your name and email address: (email address is required but we promise we won't spam you!)

---
Upcoming Reports
As we obtain data from more and more markets, future reports will include additional states and lake markets. Four reports per year, roughly one per quarter, are scheduled each year.
Data for News Media
If you are a member of the news media, we'd be glad to help with stories or data. A few ways we can help are:
Advance Copies of Upcoming Lake Real Estate Market Reports
Custom Lake Real Estate Market Data for Your State or Metro
Information / Quotes from Local Lake Expert Real Estate Agents
Interviews with Lake Homes Realty's Data Experts and/or Management Team
Let us know how we can be of service by calling Brian Cauble at (205) 985-2991 or emailing bcauble@LakeHomes.com.
Real Estate Agents and Brokers
Lake-focused real estate agents and brokers interested in learning more about working with Lake Homes Realty, we'd be delighted to talk with you. To learn more, Click Here.
About Lake Homes Realty
Lake Homes Realty is a full-service, full-commission real estate brokerage currently licensed in multiple states across the country. The brokerage features its own licensed real estate agents who are experts in their respective local lake real estate market.
The company's website, LakeHomes.com, provides unique marketing advantages for its clients who are selling lake property. Furthermore, the website is also the easiest way for buyers to find and buy lake property across multiple lake real estate markets.  For more information, Click Here.
---
Tips for Finding the Grill of Your Dreams
Some say that picking out a barbecue grill isn't just shopping. It's choosing a lifestyle! Choose wisely, and it could be the centerpiece of your back yard, with friends and family gathered around to enjoy your cooking and make memories to last a lifetime. Choose poorly, and it could be a complete disaster, and make you reconsider that vegetarian diet.
If you're shopping for a grill of your own, here are some basic tips to help you make this momentous decision.
The Basics: Gas vs. Charcoal
Charcoal
Pros: Cheaper, less equipment, traditional "smoky" flavor
Cons: Slower, less control over the heat, more clean-up
Charcoal is the fuel of choice for barbecue traditionalists. The traditional smoky flavor charcoal brings can light up the senses, and the smell of a charcoal grill wafting down the street can give anyone a hankering for whatever that grill is offering up.
Charcoal is more affordable than natural gas. Charcoal grills are more portable, and smaller models can load into the back of a car or truck with little trouble. They are also perfect for smoking meat.
On the downside, charcoal can be a demanding taskmaster. No matter what starter you use, briquettes typically take at least 15 minutes before you are ready to put the meat on. Tending a charcoal grill requires patience and skill.
Between the heat, the smoke, and the ashes, a charcoal grill also takes much more work cleaning up.
Never leave a charcoal grill uncovered and unattended, even after you're done with it – a gust of wind or an excited pet could knock it over, or blow embers out of the grill, and turn your barbecue into a four-alarm disaster.
Propane / Natural Gas
Pros: Cleaner, faster, more control over the heat
Cons: More expensive, lacks the traditional "smoky" flavor of charcoal
Gas grills are for those who want to spend more time with the food than with the fire. They are faster, more convenient, and versatile. Heat is on instantly, and there are no ashes to clean up.
Gas grills fall into two categories: natural gas and liquid propane. Natural gas pulls fuel directly from the gas line in your home, whereas propane grills run on canisters of propane you can buy at your local hardware store, grocery store, or gas station. When you buy a gas grill, make sure you purchase the model that hooks up to what you have waiting for it at home.
These grills are typically far more adjustable than charcoal. You can turn the heat up or down with the turn of a knob, and some models even allow for different settings in different areas of the grill.
On the downside, you may miss the distinctive, smoky flavor of a charcoal-grilled dish.
Gas grills can also be much more expensive. They require more equipment beforehand to manage the fuel. Natural gas grills installed at your home can't travel with you, either, so don't expect to take them camping or tailgating.
Sizing your grill
When shopping for your grill, size matters. The main factor when sizing grills is the cooking area. Just how much food to you need to handle?
A grill with 350 square inches of cooking surface will handle roughly 15 burgers at a time. This is more than enough for most family gatherings.
For larger parties, you'll need more. Larger grills can offer 400 to 600 square inches of grilling space. This translates to cooking 18 to 25 burgers at one time. Beyond that, you're getting into professional barbecue territory, and the sky's the limit!
Make sure your eyes aren't bigger than your stomach. You'll need to maintain and clean the entire grill, no matter how small the meal is.
Grilling surfaces
There are three common types of cooking grates: coated aluminum, cast iron, and stainless steel. Each have their own pros and cons to be aware of.
Coated aluminum grates are the most common, and the most affordable. Aluminum is an excellent head conductor. It is also the least durable option, and the most prone to warping and becoming brittle.
Cast iron grates have recently become popular. These are more durable and retain heat the best, which means a more consistent temperature across the cooking surface. Cast iron is also prone to cracking, unfortunately.
Stainless steel is the most expensive option. This is the most durable, and the easiest to clean. Stainless steel is also extremely corrosion resistant. On the downside, it isn't as conductive as aluminum, nor does it retain heat as well as cast iron.
Extras
Grills now come with dozens of options that are worth looking into. Some of these are extravagant, while others are so basic that you won't miss them until you realize they're gone.
Prep surface: If your grill doesn't have a prep surface attached, make sure you have one handy. These small tables are lifesavers when you're managing large amounts of food.
Rotisseries: Many gas grills now have rotisserie attachments, for cooking large joints of meat or small animals, such as chickens. If you purchase one, make sure it will turn at a constant speed.
Warming compartment: these can come in the form of attached compartments, or racks held higher above the cooking surface. They take up a fair amount of space, but are very useful in keeping the first round of food warm as you cook the rest.
Temperature gauge: These built-in gauges with exterior dials keep you from wasting heat opening up the grill to check on it. Make sure the gauge is situated in the center of the grill, to ensure an accurate reading.
What you choose is entirely up to you and visions of barbecue to come. Whichever one you choose, we wish you the best of luck in finding the grill of your dreams!
Lake Homes Realty 2017 Agent Meetup RSVP
lakehomesrealtyllc
gmail