In our previous segment of Regional Lake Living, we explored the architectural styles of the Northeast, where charming bungalows and shingled Cape Cods dot the lake shorelines of this breathtaking region that stretches all the way up to the northern coast of Maine. Today, we turn our focus to the Pacific Northwest as we take a guided tour of some of the most notable architectural styles and how they came to be. So, grab a glass of your favorite regional wine, and relax on your breezy lakeside porch as we relish life amidst Washington state's majestic mountains and all areas in between.
Classic Craftsman Style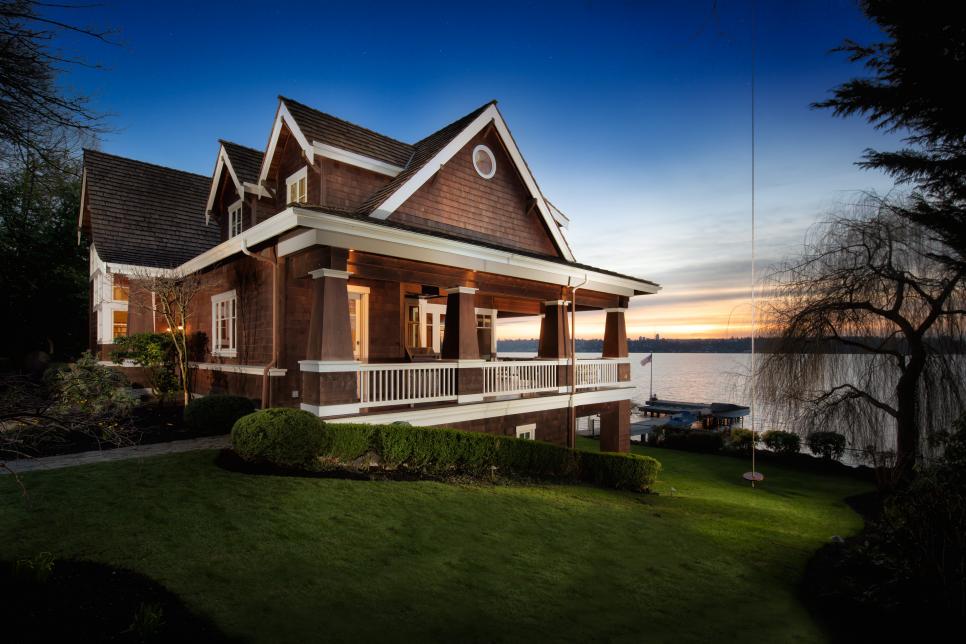 A harmonious mix of functionality and classic architectural beauty is what makes craftsman style an iconic favorite throughout the Pacific Northwest. Blending seamlessly with the region's extraordinary natural landscapes, craftsman-style homes feature an abundance of locally sourced materials—predominantly wood and stone—for which the area is widely known.
Stone foundations, gable roofs, and exposed wood beams are some of the most noteworthy characteristics of this beloved style. Deep overhangs and spacious wraparound covered porches provide much-needed protection from the Pacific Northwest's excessive rains. Expansive windows allow plenty of natural sunlight inside while also offering picturesque views of the surrounding lake scenery.
Rustic Cabin Retreats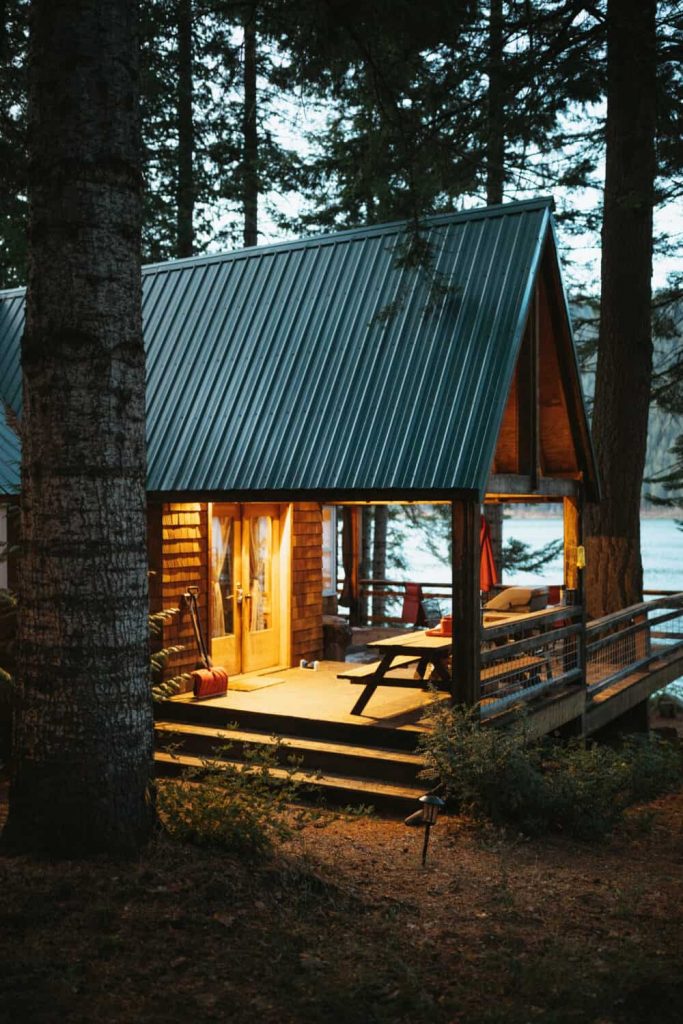 What could be more charming—and visually appealing—than a secluded cabin tucked into a forested lakefront in the Pacific Northwest? At one with the mountains, trees, and sparkling crystal waters, these rustic retreats meld gracefully into their natural environments, offering inhabitants a comforting sense of peace and a deep connection to the great outdoors. Using an abundance of reclaimed and salvaged wood, along with other locally sourced materials, simple cottages and log cabins are built with ease throughout the region. These cozy hideaways are most commonly found in more remote and rural areas, which makes them all the more alluring if you're looking for a quiet escape away from it all.
Floating Homes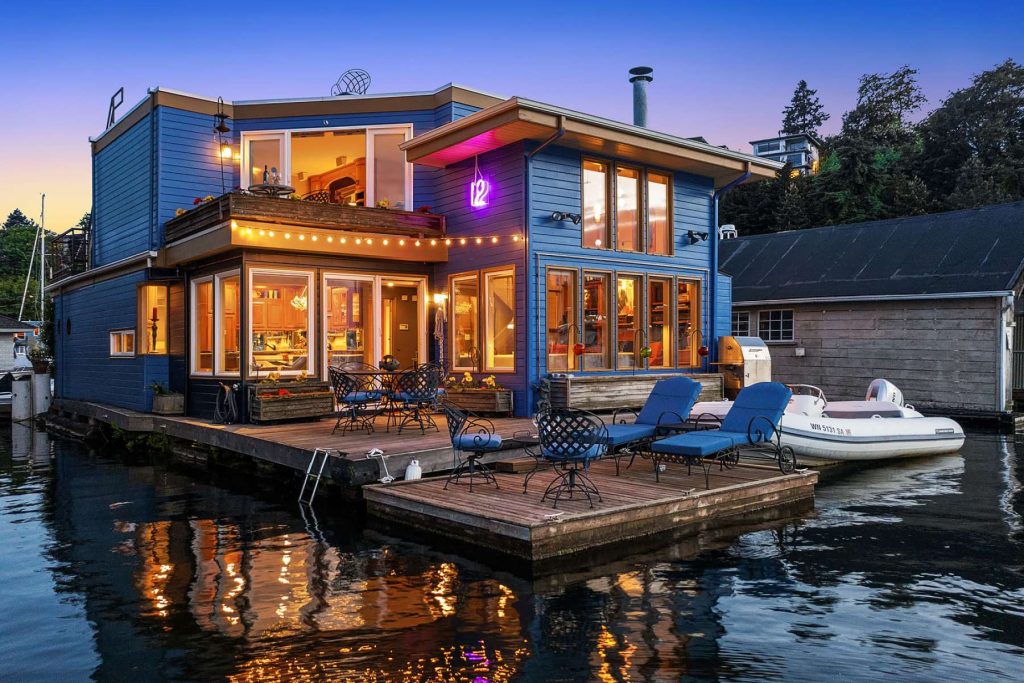 For many of us, the romantic notion of living in a floating home—or houseboat—conjures memories of a beloved movie favorite, Sleepless in Seattle. The thought of living in a dwelling that sits atop the shimmering water amidst the sounds of waves lapping gently in the night is a wonderfully dreamy image and one that people in the Pacific Northwest continue to pursue.
Contrary to popular belief, floating homes do not drift but are moored and often float next to a pier. Their typically small spaces often offer unique opportunities to create innovative architectural and interior design solutions that most minimalists thrive on.
But this extravagant 1,750 square-foot residence expels the notion that all houseboats are tiny. Flooded with natural light and surrounded by the tranquil waters of Seattle's Lake Union, this captivating two-story floating home features incredible custom built-in cabinetry throughout, a luxurious sauna, and a breezy roof deck from which to watch the area's spectacular sunsets. In addition, this lavish dwelling boasts a huge kitchen/dining area, three bedrooms, two baths, and two decks from which to enjoy the best of alfresco lake living.
Tudor-Revival Style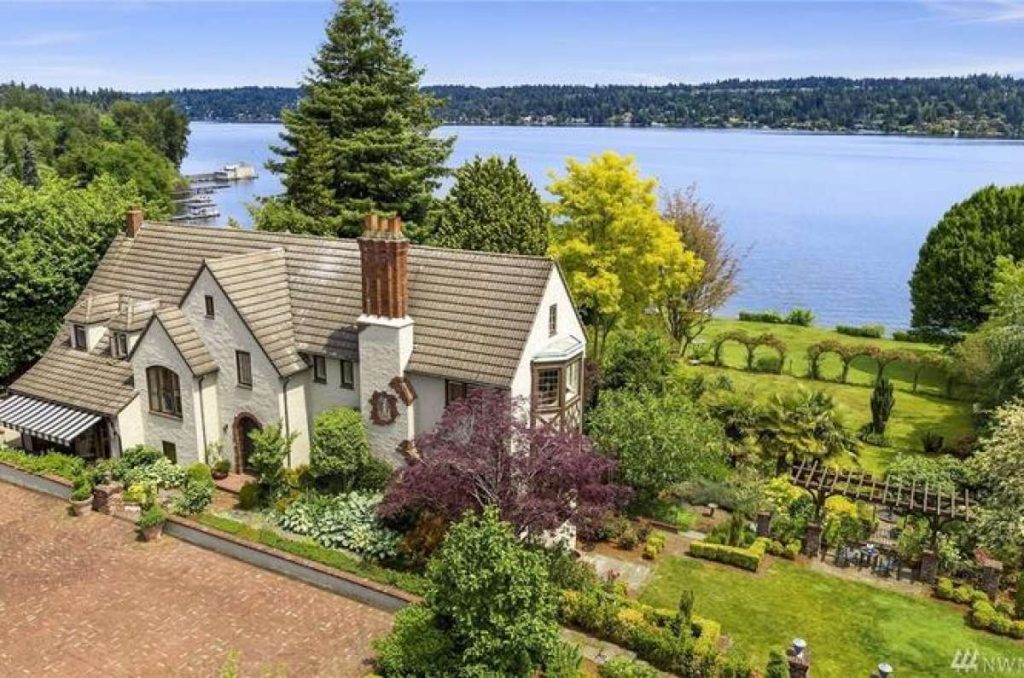 Gracefully arched entryways, steep-pitched roofs, and cottage-like half-timbered stucco facades give Tudor-style homes a castle-in-a-fairytale vibe. With origins in England, this beloved architectural style is popular throughout the country, specifically the Pacific Northwest. Both quaint and elegant, Tudor style lends itself to splendid lakefront properties with sprawling grounds and spectacular views. With a hint of English grandeur, Tudor-revival homes typically feature narrow windows grouped together, creating wide expanses that allow lots of natural light and maximize the views outside.
This stunning home perches pristinely over Seattle's lovely Lake Washington and boasts majestic roof peaks, leaded-glass windows, elaborate archways, and ornate brickwork. Cozy fireplaces and lavish outdoor spaces make this dwelling just as inviting in summer as in the chilly winter months.
Modern Style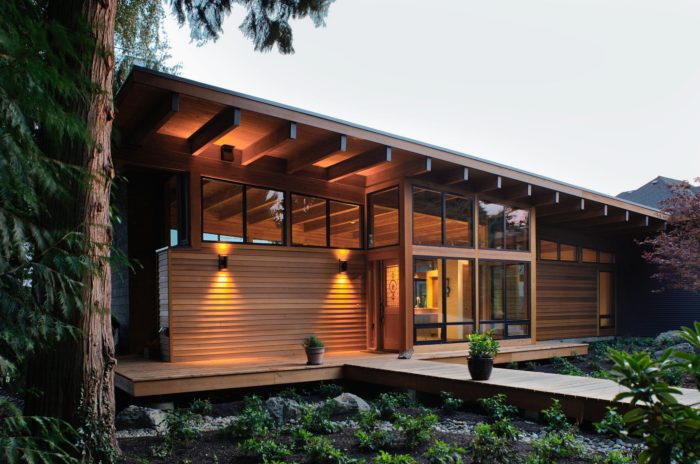 For those who love minimalist design, modern style—sometimes referred to as NW modern—is a perfect choice. With clean lines, spacious open floor plans, and a complete lack of ornamentation, modern style architecture intentionally blurs the lines between home and landscape. Unadorned exterior design incorporating natural materials and vast expanses of glass and steel windows give this genre an industrial vibe that's also warm and livable. Extended overhangs provide protection from the region's notorious rains while creating year-round outdoor spaces that can be used—rain or shine.
An offshoot of modern style, NW modern style takes on a distinctively Japanese aesthetic—think sleek bamboo and lustrous maple woods, light-filled minimalist spaces, and a deep connection to the natural landscape.   
If you're eager to explore lake living options in the Pacific Northwest region—or anywhere else across the country for that matter—visit Lakehomes.com, select your desired state, and discover the beauty of life on the lake.