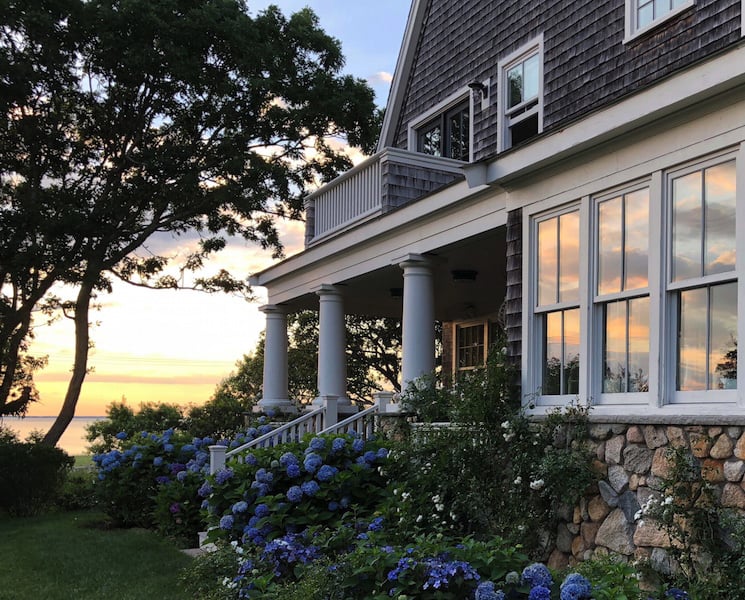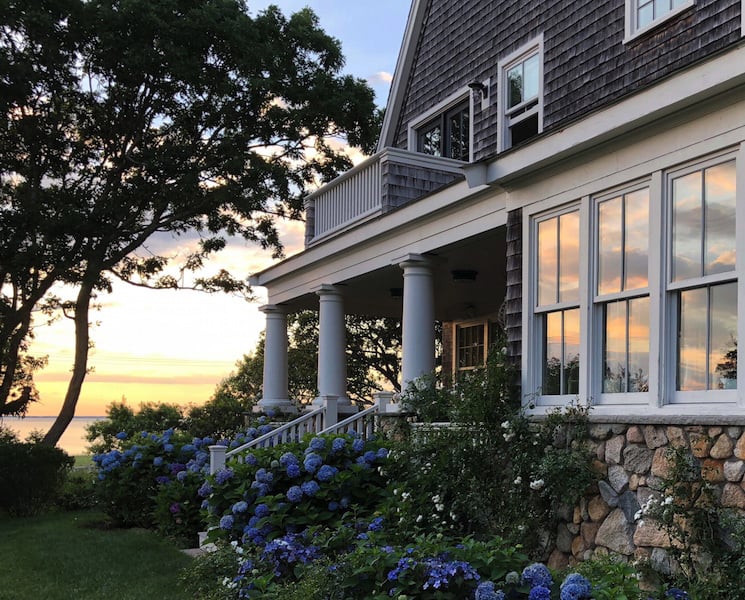 In our first segment of Regional Lake Living, we explored the architectural styles of the South, where gracious Southern hospitality reigns supreme and shady verandas and breezy screened porches offer a charmed way of life. Today, we turn our focus to the Northeastern region of the country as we take a guided tour of some of the most notable architectural styles and how they came to be. So, grab your favorite cocktail and relax in your Adirondack chair as we relish life on the Cape and all areas in between.
Classic Cape Cod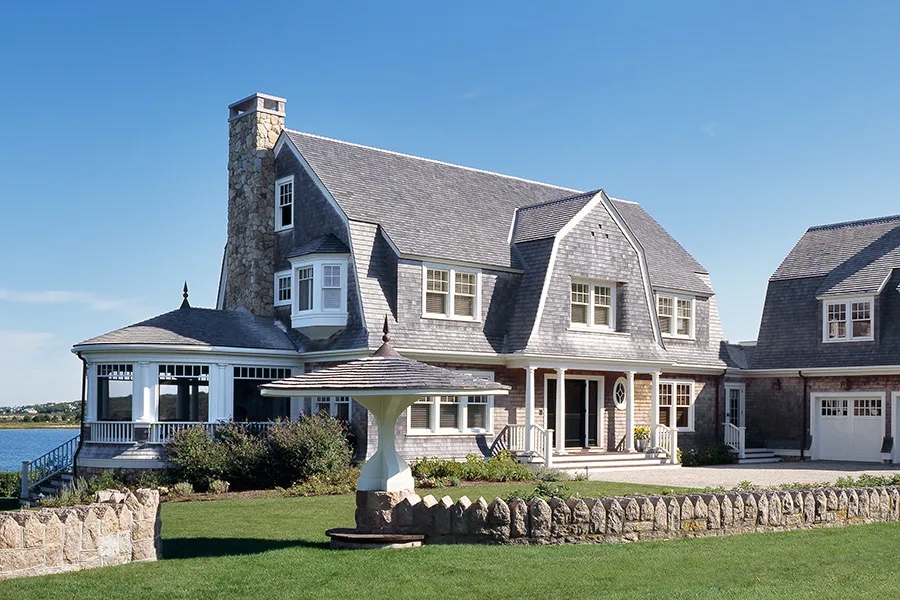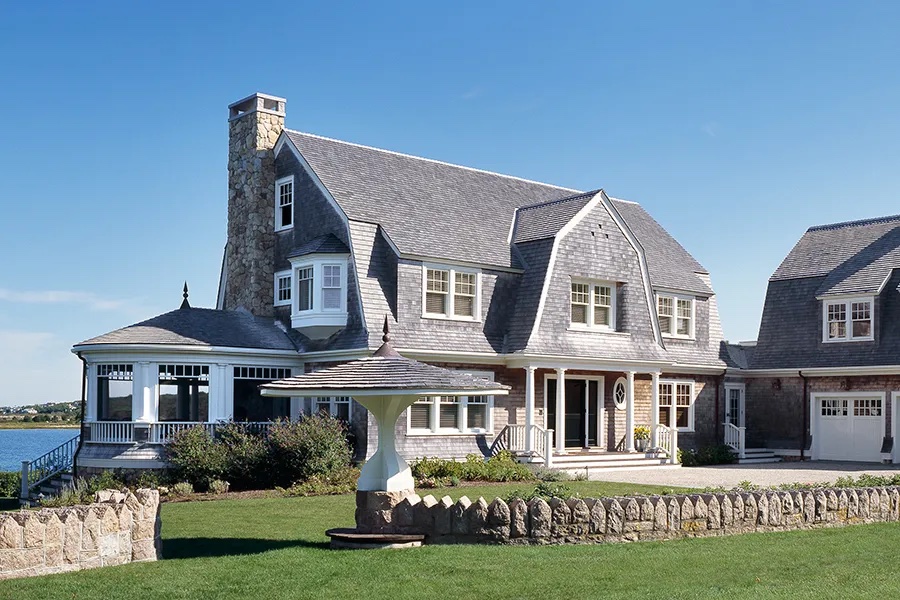 Originating along the coast of New England in the late 1600s, the classic shingle-style Cape Cod is the quintessential architectural style of the region. These picturesque cottages—sporting wonderfully weathered wood-shingled facades, steeply pitched gabled roofs, and a single chimney on one end—stand prominently on the Massachusetts shoreline and conjure images of idyllic summer clambakes on the sand.
Typically rising one and a half stories tall, the classic cape cod is anchored by a center hall that runs the entire width of the home. The front door is usually centered and void of architectural embellishment, but modern interpretations of this iconic style can include breezy porticos and porches—perfect for waterfront living.
Greek Revival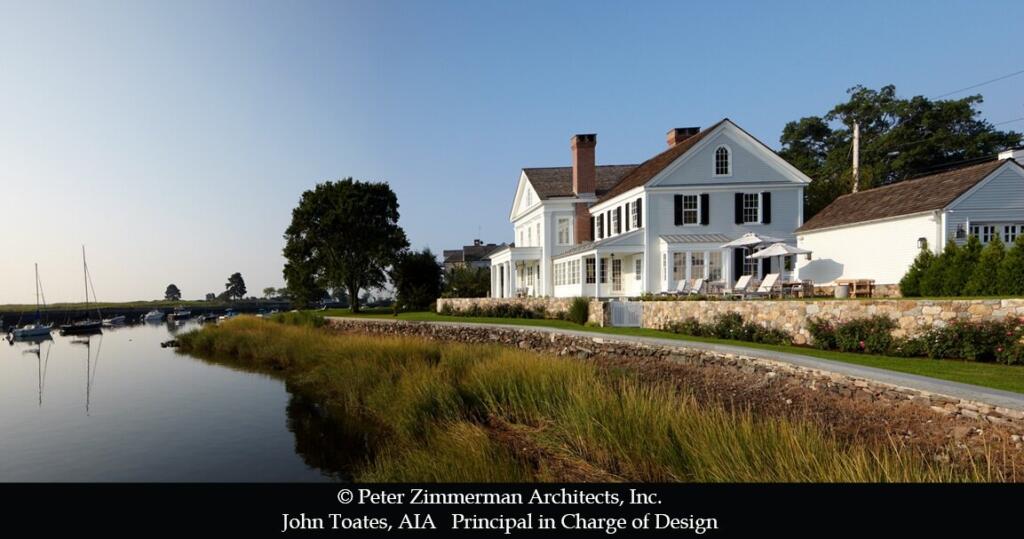 Drawing inspiration from the architecture of ancient Greece, this visually appealing style found its place in American history during the mid-1800s. Pristinely poised with gleaming white-painted exteriors, Greek Revival homes embody a pleasing sense of symmetry accented with graceful columns or pilasters and front-facing gabled roofs. The popularity of this style—reminiscent of Greece's famed Parthenon—emerged as American architects sought inspiration from Grecian architecture in the mid-1800s, a turn of events spurred by the country's bitterness toward the British after the War of 1812.
This uplifting aesthetic celebrates the impeccable timeless beauty of Grecian design, which can be found in both grand public buildings and scenic city neighborhoods. In residential settings, Greek Revival homes connect seamlessly to their surroundings, often including large porches that invite effortless indoor-outdoor living.
Bungalow Style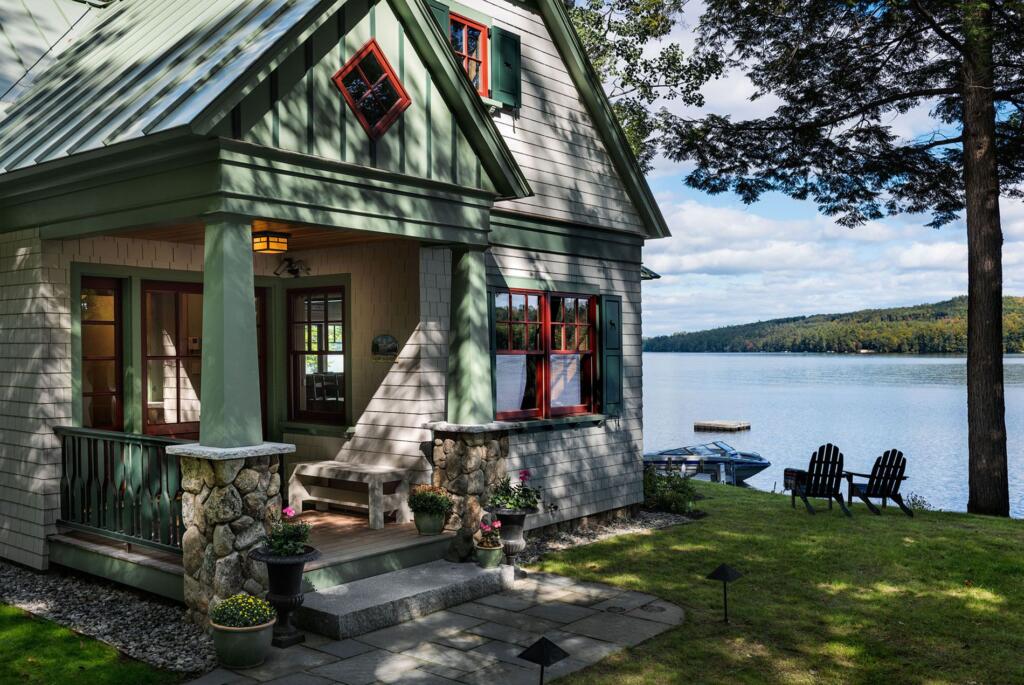 Beloved for its quaint simplicity and airy open floor plan, the bungalow captures all the rustic charm of a lakeside cabin, yet with the efficiency of built-in shelving, cabinetry, and roomy double-hung windows. Originating in India by the British during the mid-nineteenth century, the first one-story bungalows offered shelter from the hot climate with roomy porches and wide overhanging eaves.
Taking style cues from the Craftsman, the more petite American bungalow typically features a second story, dormered roofs, and a smaller-scale front porch at the entrance. Clad with stonework embellishments on the bottom—along with clapboard, shingle, or stucco siding—bungalows can be found all over the country and adapt to many different tastes and regions. First constructed in southern California between 1905 and 1930, American bungalow style rapidly became ubiquitous throughout the United States. Today, it is especially befitting in the Northeastern region, where laid-back lake living thrives.
Victorian Style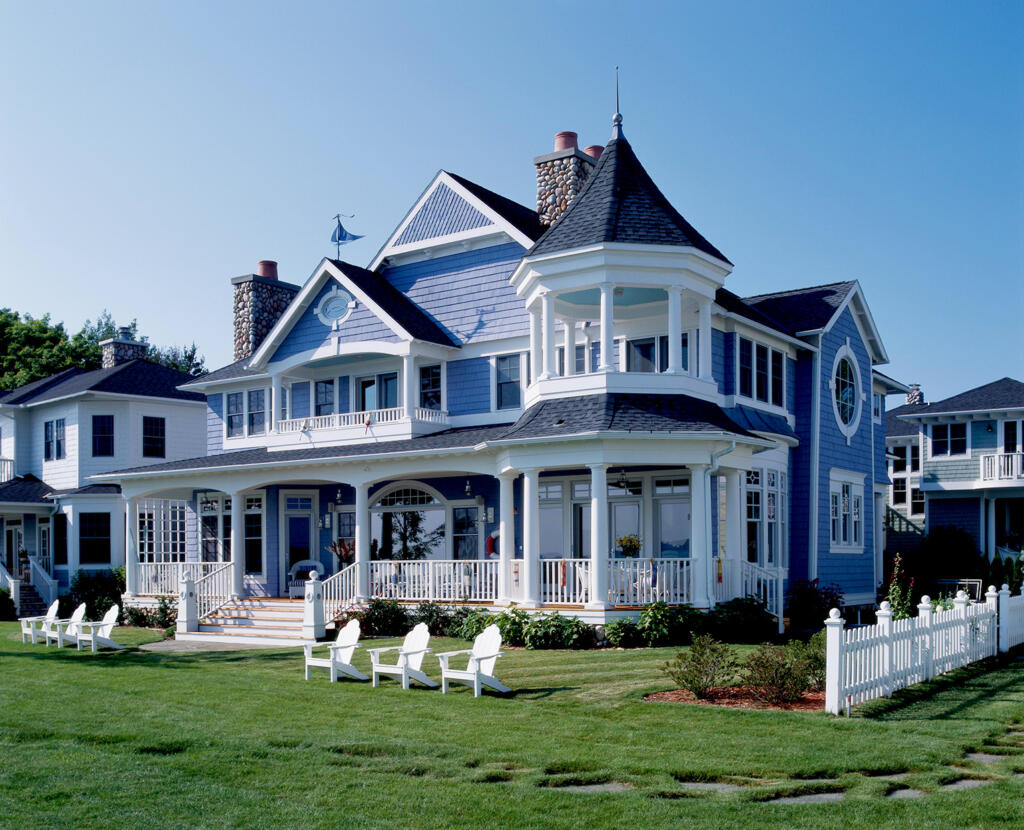 The utmost antithesis of the buttoned-up attitude that typically characterizes the Victorians, these eclectic painted ladies or gingerbread houses celebrate whimsy and fanciful architecture like no other. These playful expressions, or so it seems, came across through the unexpected style of Victorian homes in what could be considered a joyful rebellion against the rigid symmetry, balance, and unadorned squareness depicting American architecture over the past 200 years.
Originating in England, Victorian style eventually flourished abroad, and its extensive reach soon spread to America. The style became most prominent during the 1900s when manufacturing developments paved the way for the mass production of materials used in these ornamental designs. Architectural embellishments indicative of Victorian style include turrets, multiple porches, steeply pitched roofs with many gables, scalloped shingles, patterned roofs, and a hodge-podge of expressive arches, hexagons, curves, and other lively shapes.
Some of the most exquisite examples can be seen along the seacoast of New England, and they are delightfully sprinkled throughout the Northeast as well.
Federal Style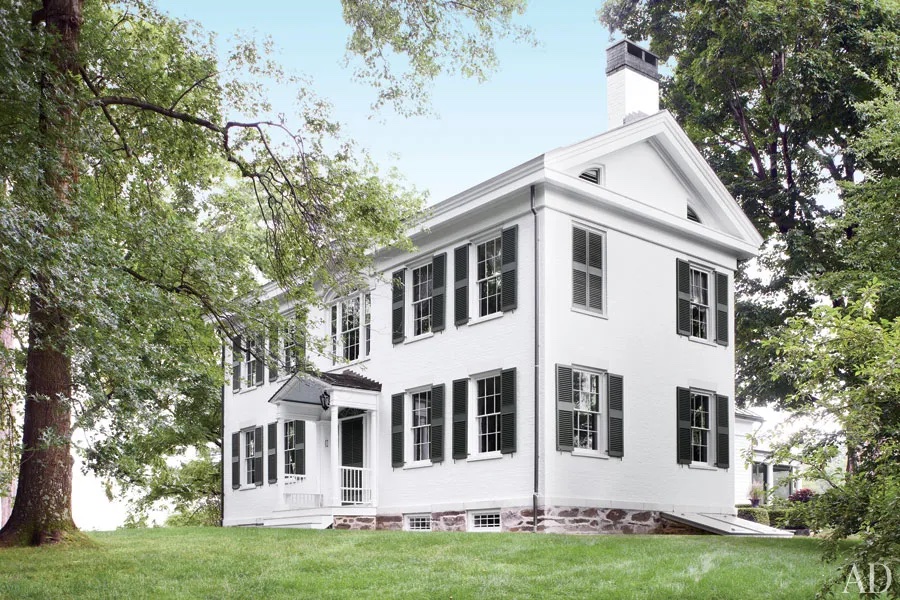 Popular during the early 1800s and prominent throughout New England's affluent port cities, this stately style was originally a symbol of wealth in urban settings. Inspired by eighteenth-century Greek and Roman architecture, Federal style is best known for its impeccable symmetry, brick facades, and grandiose double-hung windows. The front door is often capped with a semicircular fanlight and then crowned with elaborate molding atop regal columns. A pair of chimneys typically flank each side of the house, punctuating either a gabled or low-grade hip roof. Dentil moldings—or friezes sometimes displaying garlands, swags, urns, lotus buds, medallions, or wheat sheaves—accentuate the windows in ornate Federal-style fashion.
Adirondack Style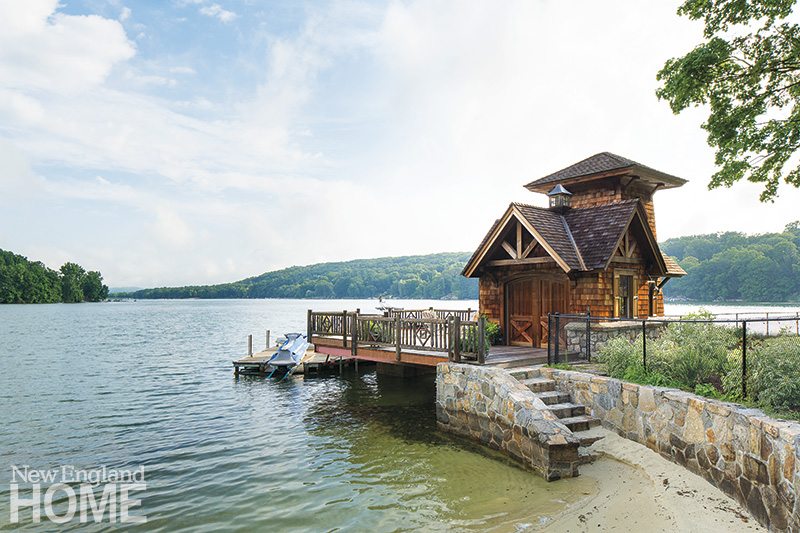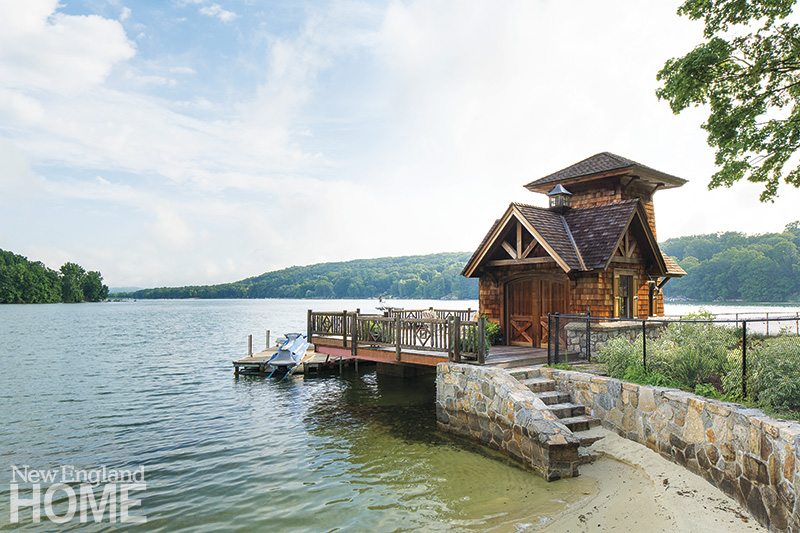 Named after the Adirondack Mountains and dating back to the 1800s, this rustic alpine style emits a cozy lodge-like warmth that speaks to all of us. It was amidst this glorious mountain setting that well-heeled East Coast families purchased acres of the breathtaking land within New York's Adirondack region and built Great Camps—compounds comprising everything from luxury lodges and guest houses to stables and boathouses.
Colors, furnishings, materials, and other details of Adirondack style are always inspired by the surrounding nature and exude a relaxed mountain-getaway vibe. Capture the look with elements like rough-hewn wood ceiling beams, wainscoting, and furniture, twig work, burnished metals, bluestone or slate tiles, fieldstone fireplaces, supple leather upholstery, and sturdy Arts & Crafts décor. And let's not forget the most iconic element—the Adirondack chair. A classic piece for patios, lawns, and decks, the wood-slatted, straight-backed, and angled-seat chair is perhaps the most recognizable component of Adirondack style.
Exterior hallmarks include rustic timber framing, poplar bark shingled siding, fieldstone foundations, pillars, and chimneys, cedar shake roofs, captivating towers, red window trim, screened sleeping porches, and breezy verandas and porches lined with rustic wood railings. These dreamy retreats offer a place to escape with family and friends—a place to commune with nature and take in the natural beauty of the nearby lakes.
If you're eager to discover lake living options in the Northeastern region—or anywhere else across the country for that matter—visit Lakehomes.com, select your desired state, and explore to your heart's content.