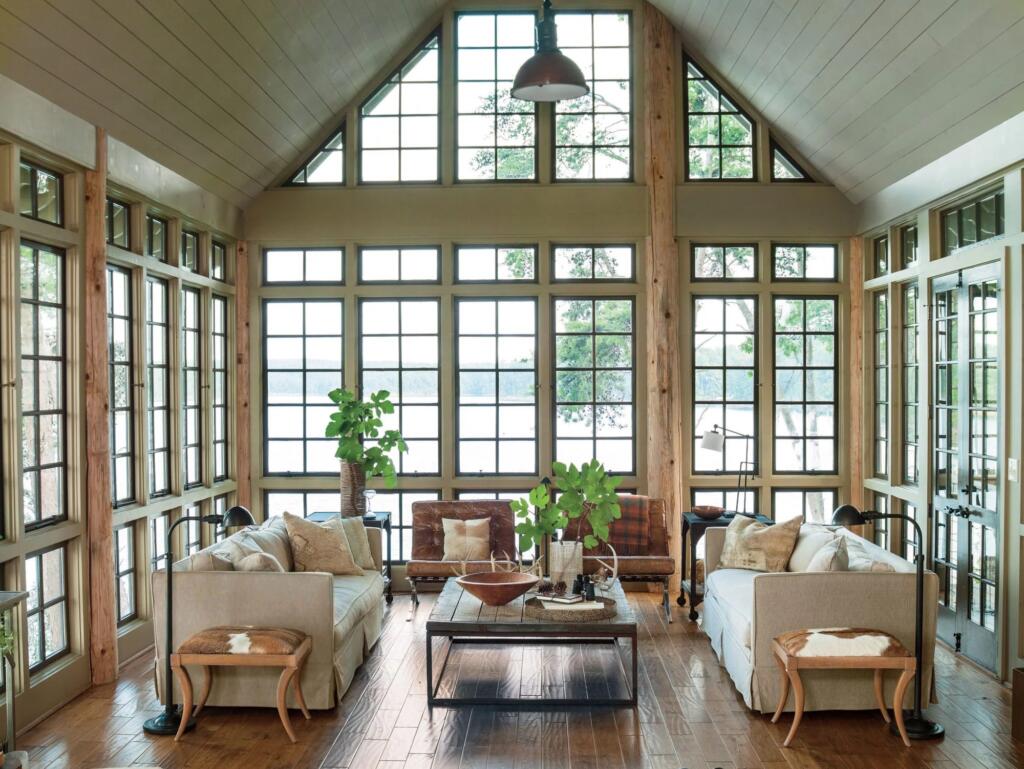 Whether you prefer a tiny lakeside cabin tucked far away from it all, or an expansive modern-style haven with a sweeping wall of windows that captures your stunning shoreline view, lake homes across the country are as unique as the dwellers within. But no matter where you live, a lake residence offers this in common—a peaceful sense of sanctuary, a place to unwind and connect with nature, and a place to enjoy family and friends.
If you've ever traveled across the country, you can't help but notice certain architectural styles that reflect the area's overall aesthetic and climate conditions. Like regional cuisine, lake homes embody the quaint characteristics of their location and reveal a charming sense of place. Today, we turn our focus to the South/Southeastern region of the country as we take a guided tour of some of the most notable architectural styles and how they came to be.
Lowcountry Style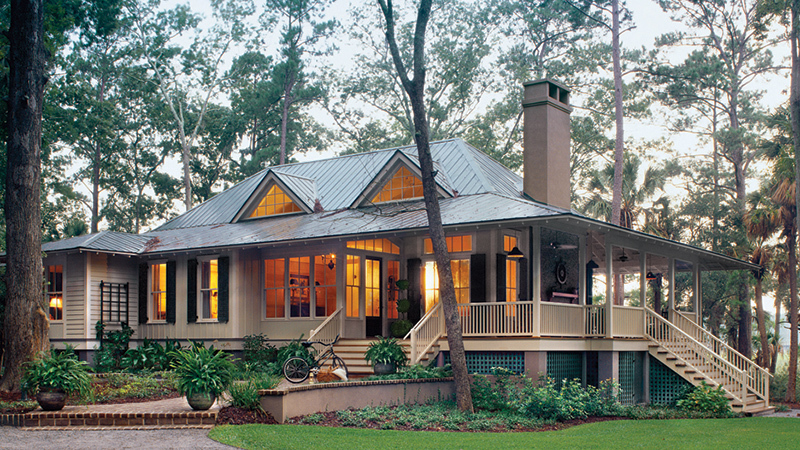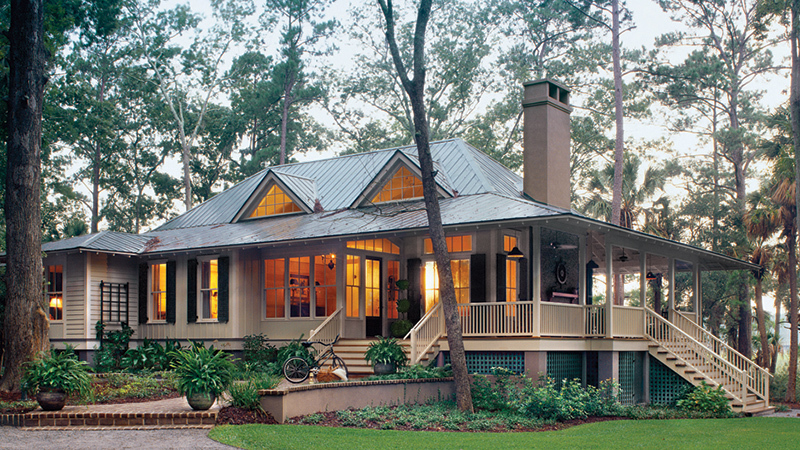 Originating along the coast of South Carolina—a region known as the Lowcountry—this beloved Southern style radiates an air of refined simplicity and elegance. Developed in the 1700s, Lowcountry-style architecture was intentionally designed to invite natural airflow and ventilation for residents of this subtropical climate. A regional favorite deeply rooted in tradition and Southern hospitality, Lowcountry style exudes comfort and practicality with its spacious open-concept rooms, shady verandas, and breezy screened porches.
Other features quintessential to Lowcountry design—and well-suited for warmer lake climates—include high ceilings, shutters, and double-hung windows with top openings to allow hot air out and bottom openings to let in cool evening breezes. Transoms help create more ventilation and natural light, and durable metal roofing reflects the hot sun and protects against harsh winds and tropical rain.
Colonial Plantation Style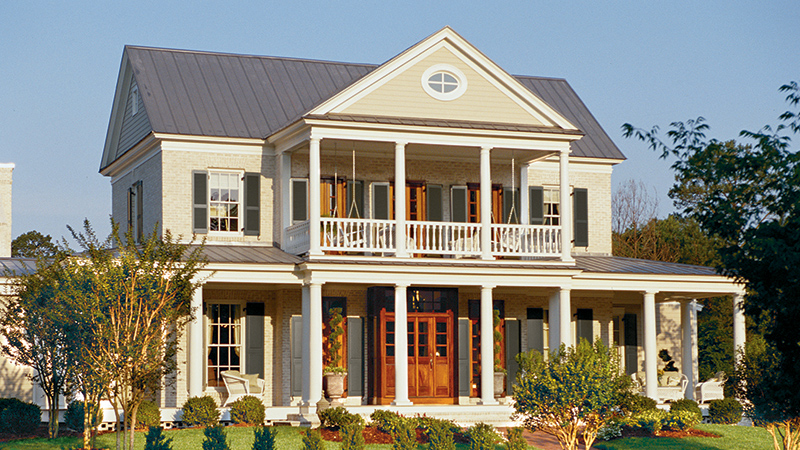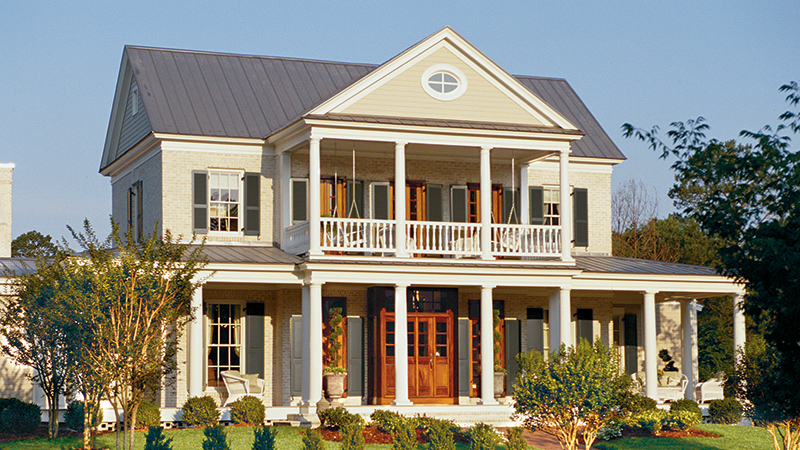 Colonial plantation-style homes typically feature stately columns and an expansive porch with a balcony above it. Like traditional colonial-style homes, these symmetrical structures include regal front entries usually accented with pediments, a quaint balance of windows with shutters, and clapboard or brick siding. Built initially on cotton plantations, these exquisite homes also embody characteristics of French colonial style.
This modern take on the iconic Southern style still honors the symmetrical attributes associated with the plantation home aesthetic. Built for warm and humid climates, these homes boast tall ceilings, grand central entryways, elegant stairways, and spacious rooms where the air can flow freely. The timeless appeal of this traditional Southern style makes it perfect for families who appreciate gracious lakeside living.
Classic Cottage Style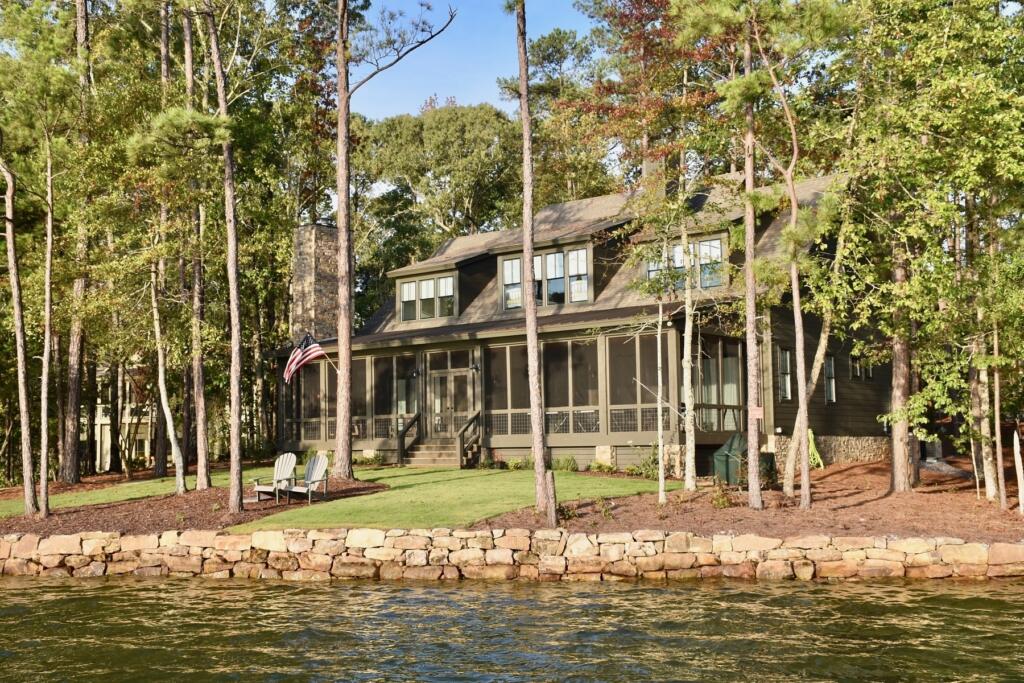 An all-time favorite, cottage style has a wonderfully relaxed and inviting appeal that makes it ideal for lake home retreats. Colorful and comfortable, the look is often characterized by airy porches that connect visually to the great outdoors. Worn and weathered finishes, charming beadboard walls, a delightful texture mix of wicker and natural-fiber rugs, and a lovely color palette inspired by nature create an unmistakable sense of warmth that speaks of home.
Rustic surfaces show their rich patinas and the imperfections of age while combining effortlessly with the sheen of modern appliances and quartz countertops. This no-fuss look emulates the easy-living mindset of those who embrace the lake life. Kids, dogs, wet bathing suits, and bare feet are always welcome here.
Coastal Style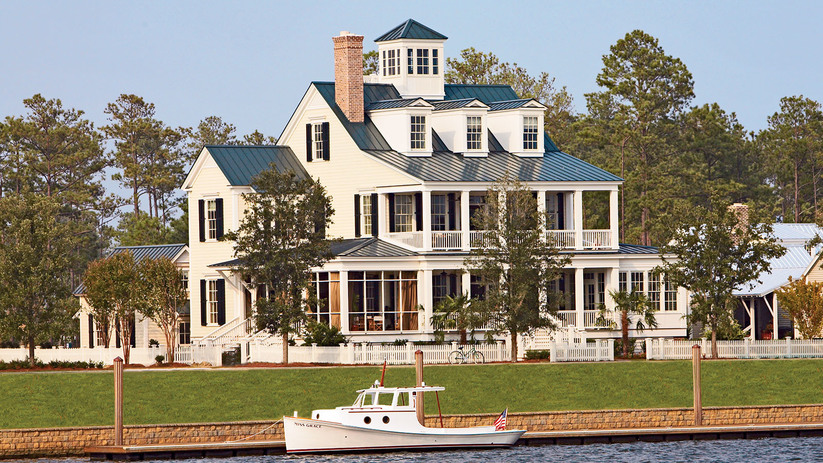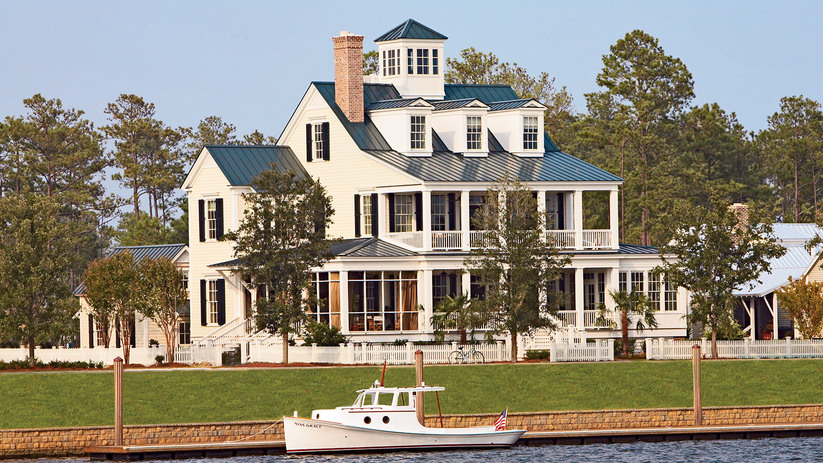 The ease and practicality of coastal style make it a beloved favorite for many Southern lake home dwellers. Often referred to as beach style—no matter if you reside on a lake or a coast—this style incorporates high ceilings and large windows to invite breezes throughout the home while forcing the heat to rise far above the living spaces. In addition, expansive covered porches, verandas, and other exterior spaces extend the living areas outside—the place to be when you're relaxing at the lake.
Some coastal-style homes are raised to help prevent flood damage that comes with tropical storms and driving rains. Durable roofing and siding, shutters, and impact-resistant windows also protect against high winds and heavy rainfall.
Interiors bathed in shades of white, vibrant accent colors, and plenty of comfy slip-covered seating create a casual coastal vibe like no other. This style is all about connecting with the outdoors and enjoying water views from nearly every vantage point.
Southern Charm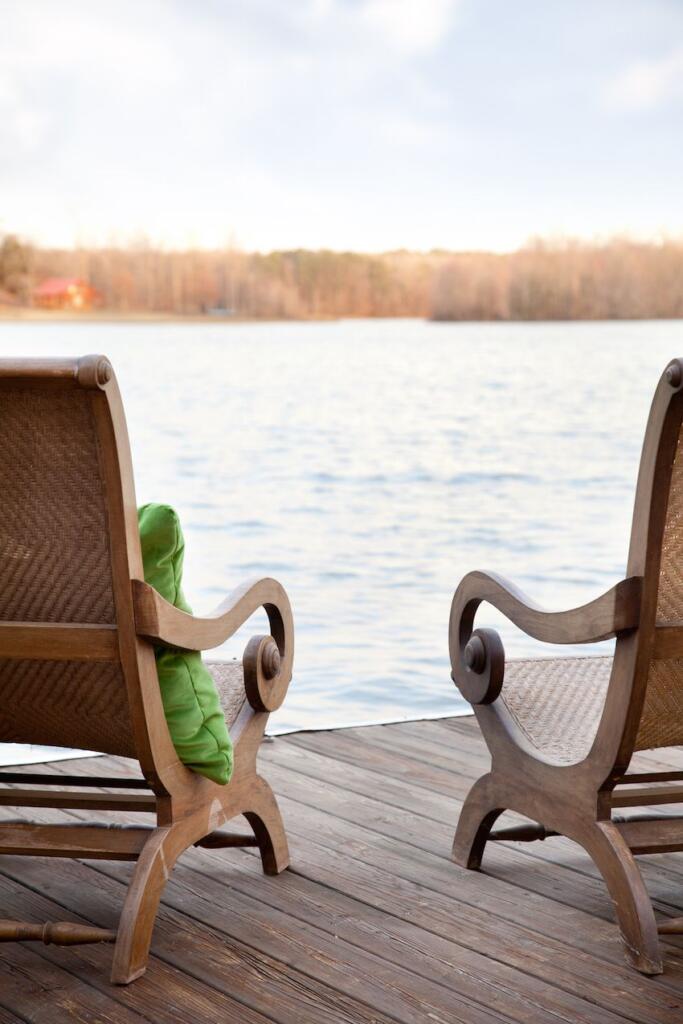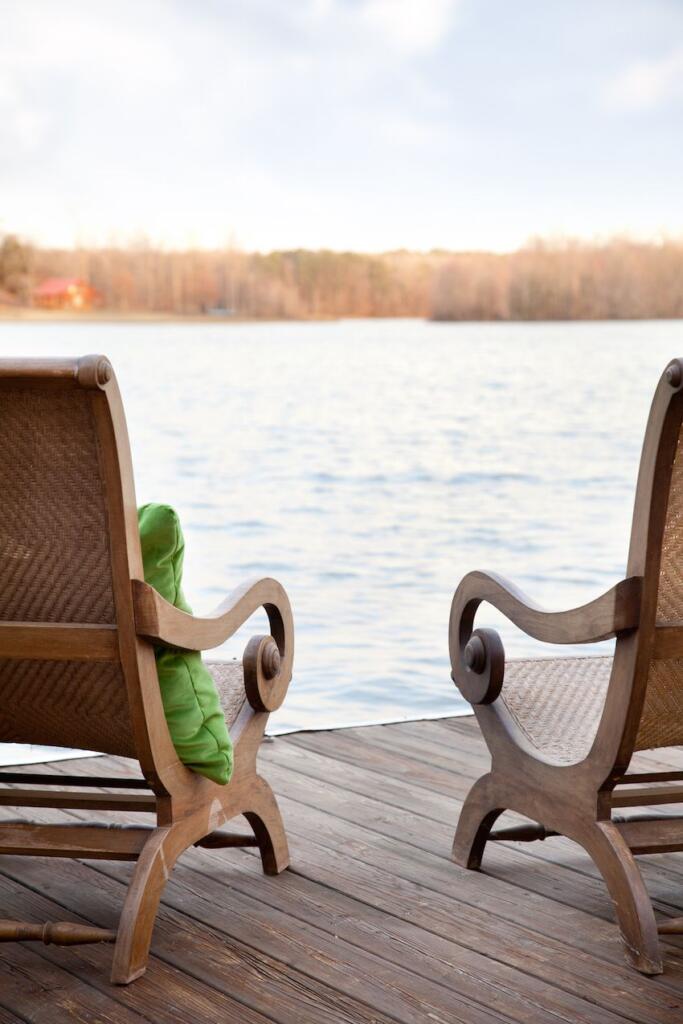 But no matter your architectural tastes, a sense of charm, comfort, and hospitality are the common threads intrinsic to Southern style. Within the walls of the Southern home, there is a palpable feeling of warmth, welcome, and timelessness that celebrates the beauty of gracious living. For this stunning waterfront property on Georgia's Lake Oconee, award-winning Atlanta interior designer Melanie Turner put her talents to work to transform what was once a bachelor pad into a cozy retreat for the homeowner and his new bride.
Southern Comfort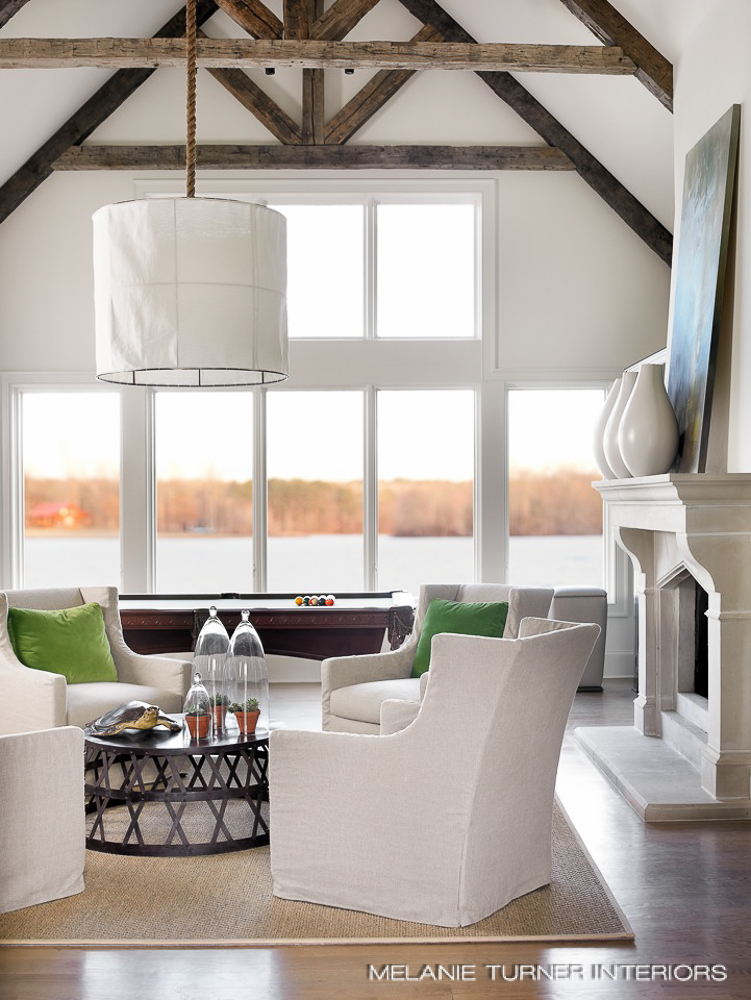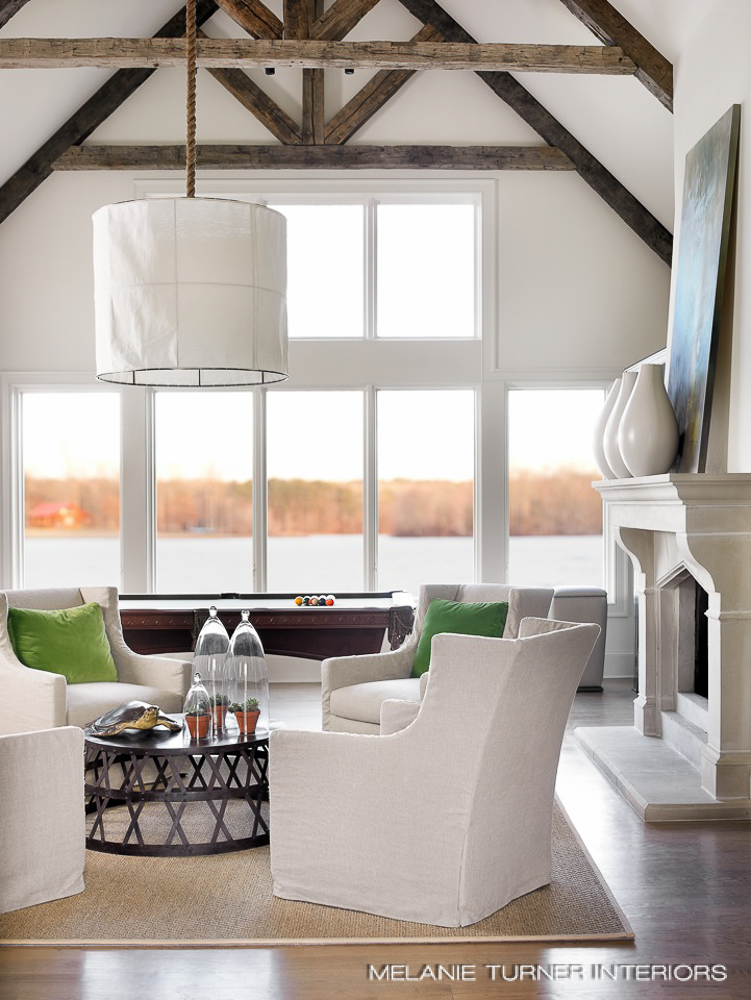 "The house was bought and owned by a bachelor, and the design had changed multiple times over the years," says Melanie. "Once he married, his gift to his new wife was to renovate and redesign the house to fit their new lifestyle."
The couple found they never really used the living room, so they decided to move the pool table out there to capture the beautiful lake view and add four comfy slip-covered chairs for drinks and socializing.
Flexible Family Room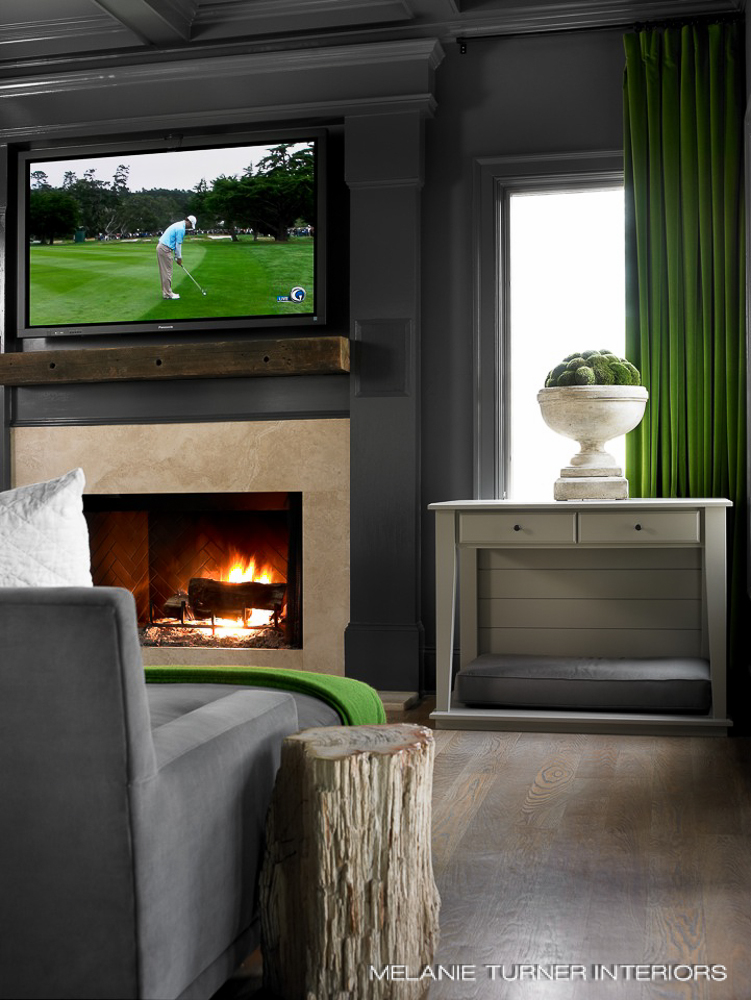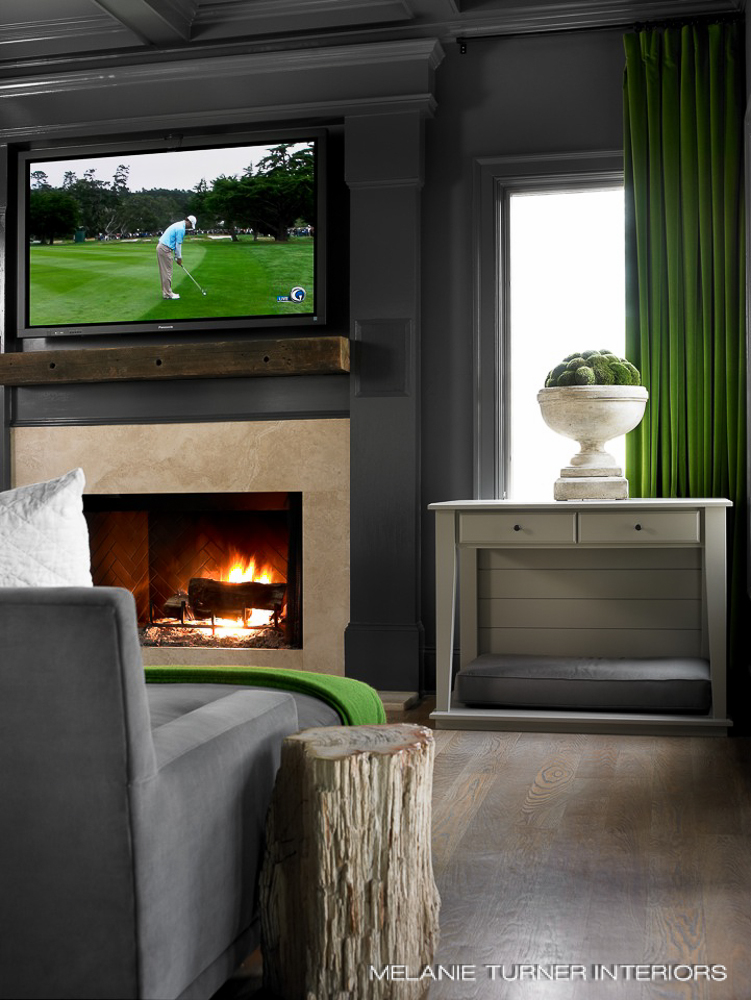 Melanie divided the family room into two sections. In front of the fireplace, she incorporated big "man chairs" for watching TV. "For a surprise feature, I incorporated dog beds into the bases of a pair of console tables flanking the fireplace," says the designer.
Family Room Flipside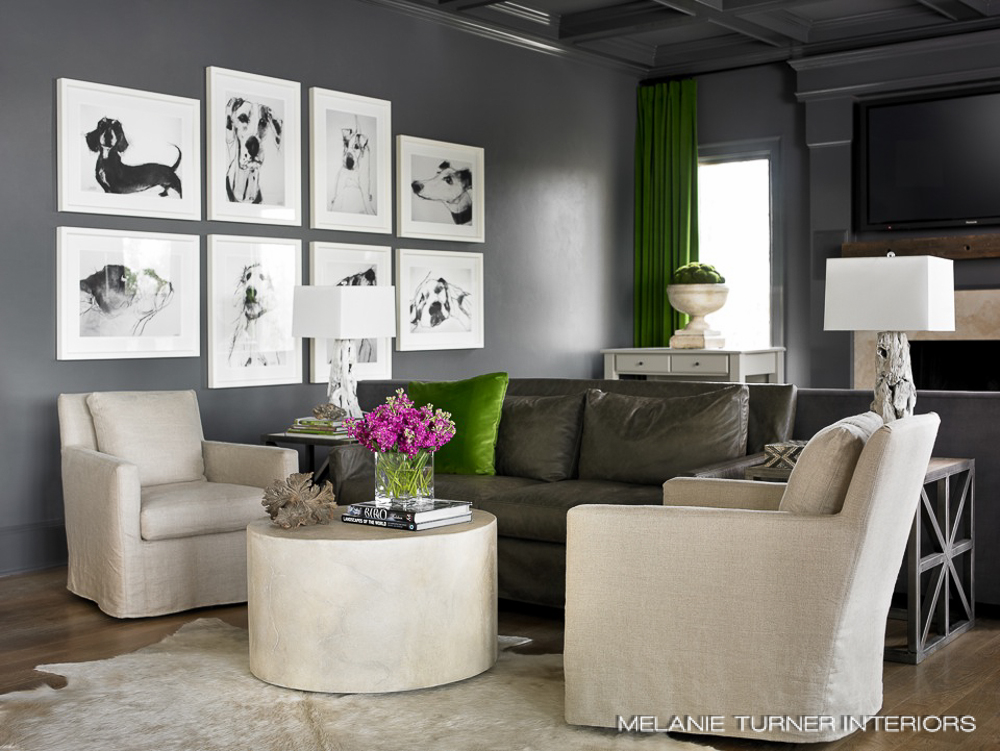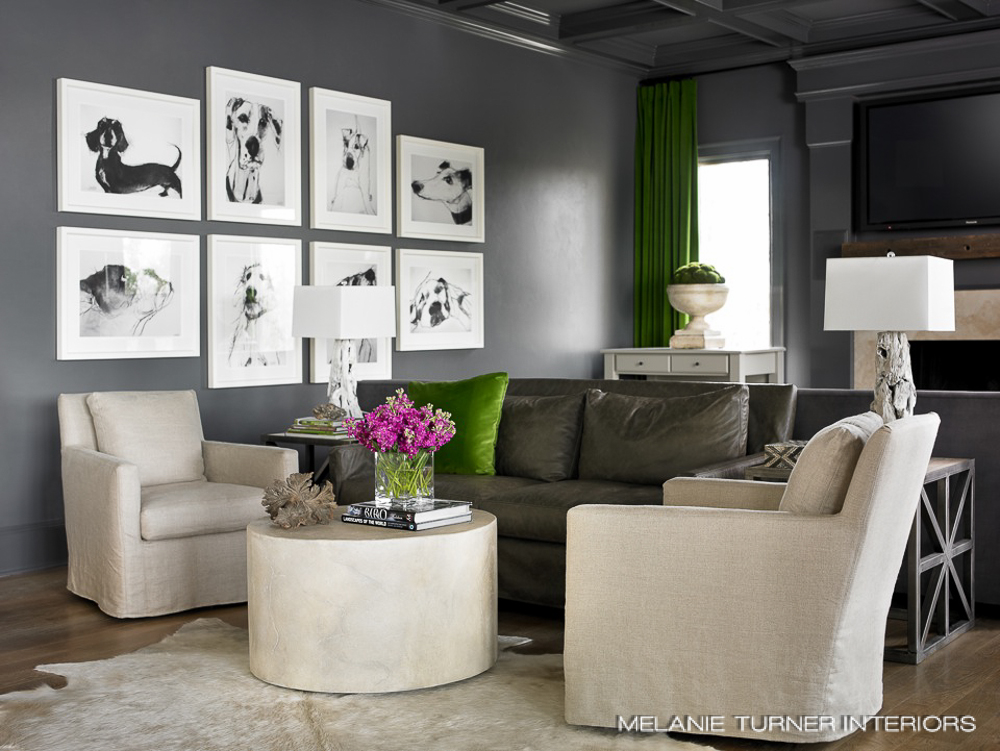 Here, Melanie added a sofa facing the kitchen to keep the chef company. "The overall color palette was based on the lake setting itself—rich greens, weathered and rustic textures, and soft neutral-hued linens," she says. "The homeowners are big dog lovers, so we added a playful composition of dog portraits for a personal touch," she sums.
Porch Life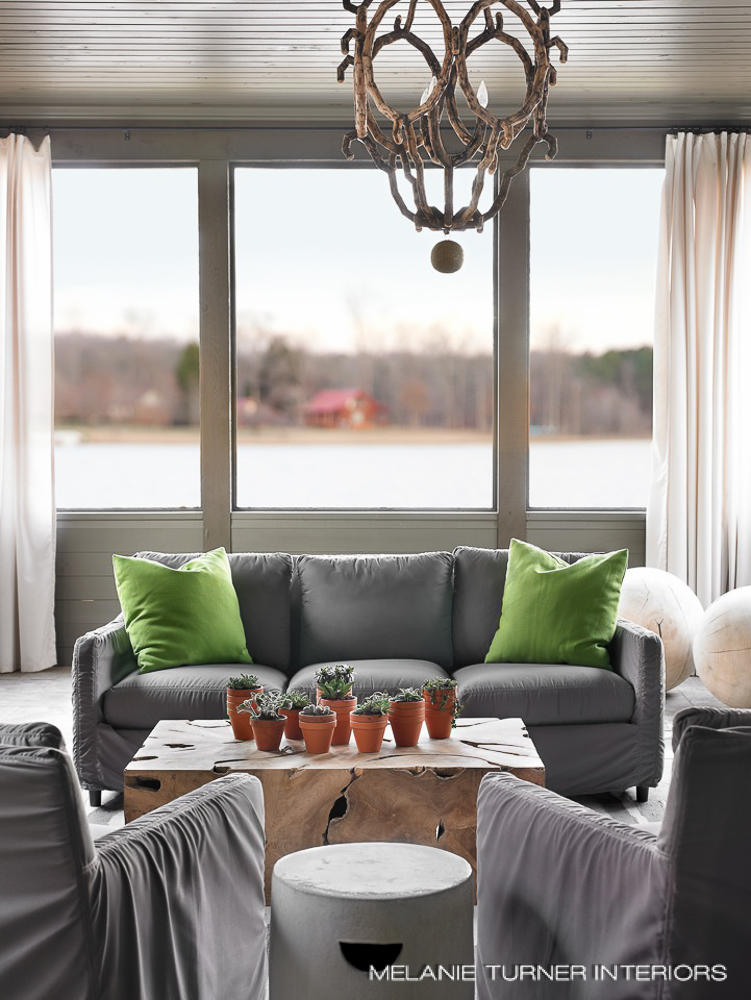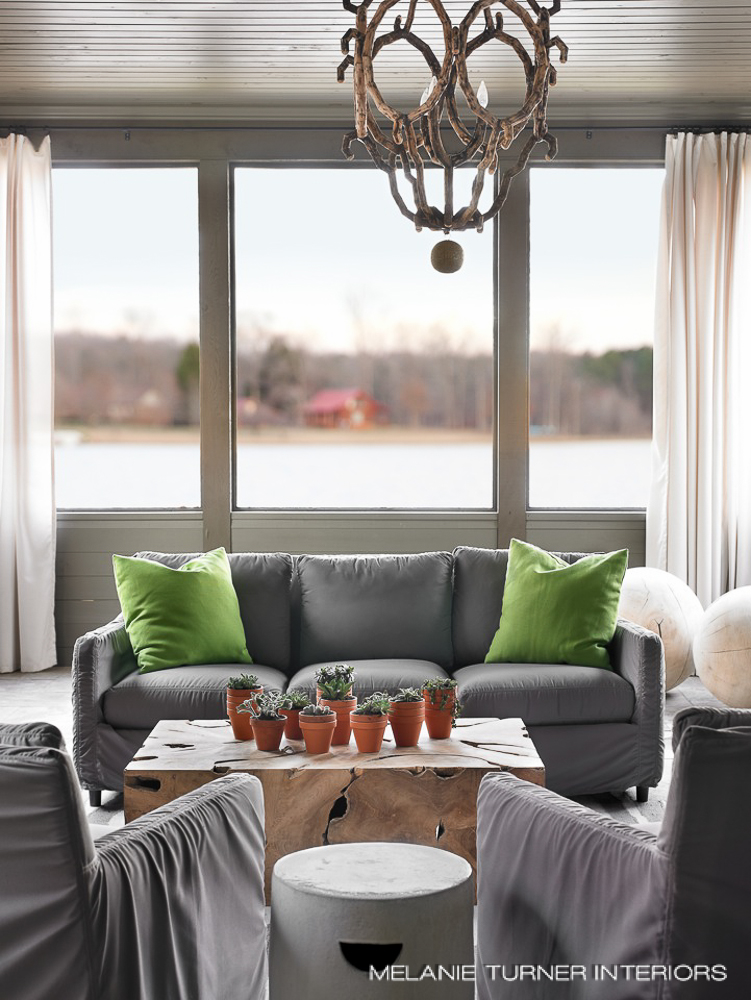 There's nothing like having a breezy screened-in porch at the lake. The soft upholstered seating makes it feel like an outdoor living room. "We used monochromatic, calming colors throughout to infuse the interiors with the surrounding colors of nature," says Melanie. "This place has an easy lake lifestyle feel to it, so our plan for this house was to bring life into the spaces without making them too formal."
For more of Melanie's style tips, check out her first new book, Inviting Interiors: A Fresh Take On Beautiful Rooms.