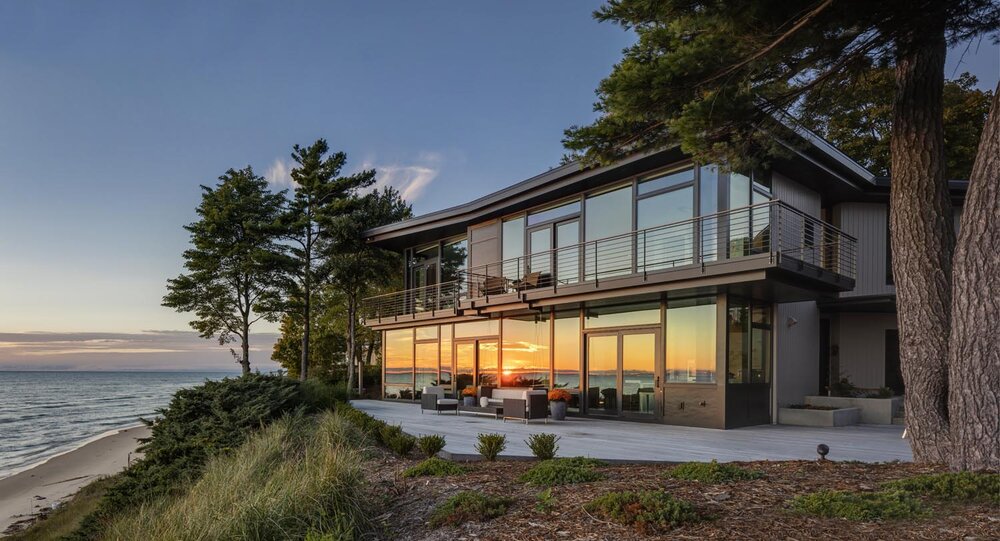 In our previous segment of Regional Lake Living, we explored the architectural styles of the Pacific Northwest, where romantic floating homes and dreamy cabin retreats reign supreme amidst the area's majestic mountain landscapes and forested lakeside getaways. Today, we turn our focus to the Midwest as we take a guided tour of some of the most notable architectural styles and how they came to be. So, grab your favorite summer cocktail, and take in a spectacular lakeside sunset as we savor life along the shores of Lake Michigan, the pristine lakes of Minnesota, and all areas in between.
Prairie Style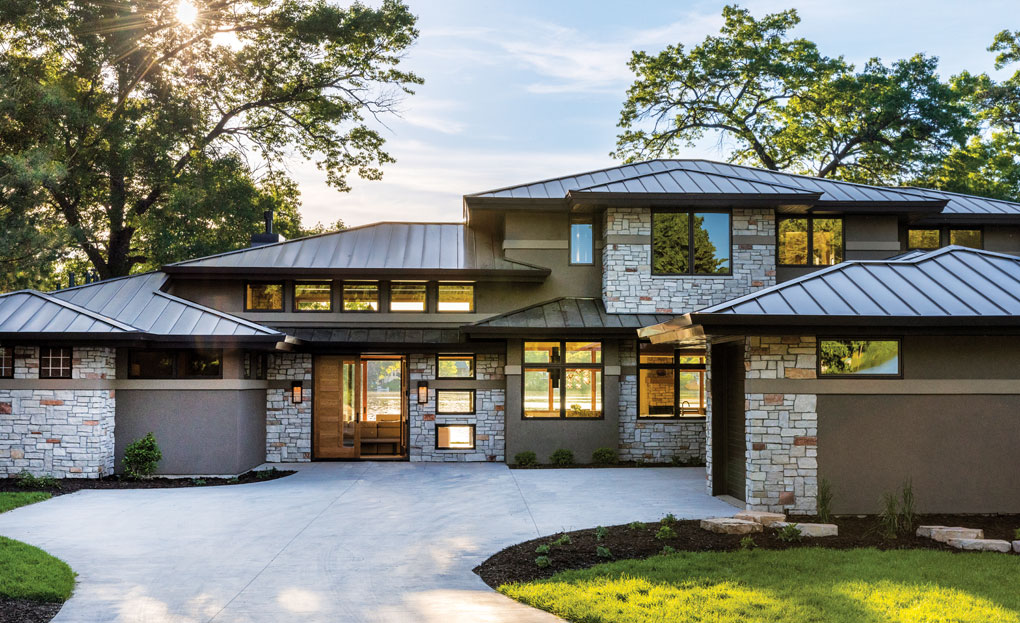 For anyone who might think the Midwest is boring and void of style, think again. Home to some of the most noted pioneers of modernist architecture—Frank Lloyd Wright, Ludwig Mies van der Rohe, Louis Sullivan—the Midwest, especially Chicago, became the epicenter of experimental, cutting-edge residential architecture. One of the most noteworthy and beloved styles that emerged is Prairie Style. This streamlined and elegant aesthetic embodies the purity of clean lines, minimalist decorative restraint, and a deep visual connection to the natural midwestern landscape.
A recognizable signature mark most often credited to the Chicago Group and Frank Lloyd Wright, Prairie Style brought us the first open floor plan, visually connecting the living, dining, and kitchen spaces. This airy aesthetic created a seamless flow throughout the home—an innovative concept void of doors and walls that otherwise separate and close rooms off from one another.
This magnificent Wisconsin waterfront home designed by Bruce Lenzen Design/Build typifies Prairie Style with its satisfying symmetry and minimalist interior décor. The dwelling integrates effortlessly with its breathtaking surroundings and exemplifies the genre with its natural stone exterior, wooden accents, low-pitched metal roof, and expansive horizontal window placement.
Craftsman Style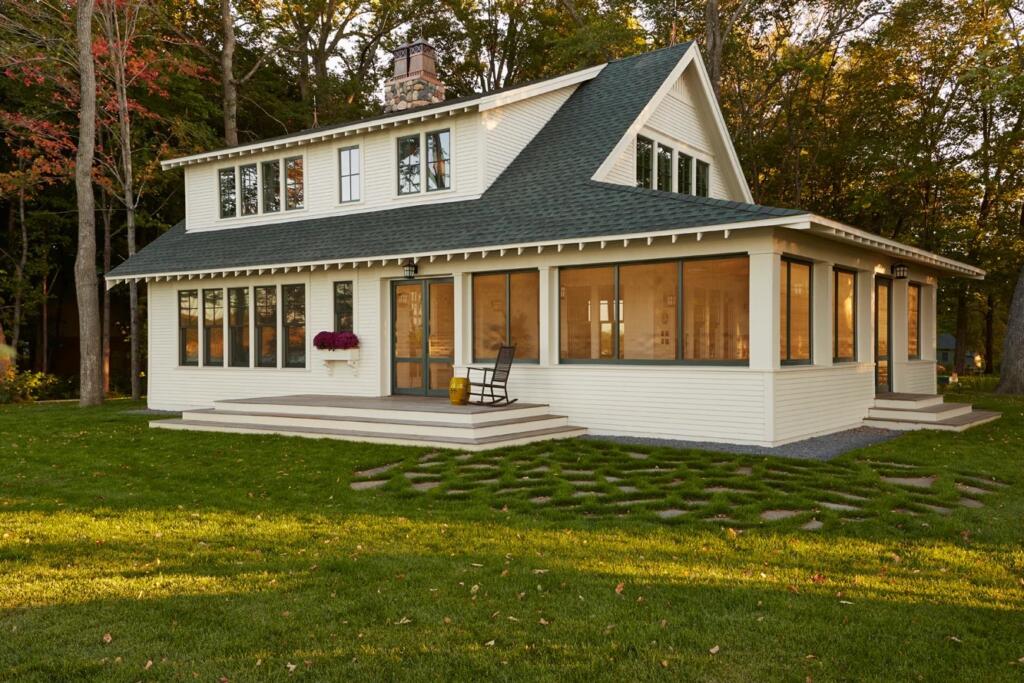 Pure and simple. Influenced by the Arts and Crafts movement, this style celebrates a beautiful simplicity in design combined with the integrity found in superior craftsmanship. Glorified attributes include gabled roofs, exposed beams and rafters, stone and wood exteriors, columns paired with stone pedestals, and remarkable built-in interior woodwork.
Located on Crane Island in Minnesota, this home offers a cool summer retreat for city dwellers. The tiny island—an iconic and historic destination with only 20 or so houses on it, mostly built at the turn of the last century—seems to remain untouched by the hands of time.
For this new lake home, the task for the team at David Heide Design Studio was to build a house with modern conveniences and technology that captured the look and feel of a 1910 cottage. The new structure, outfitted in beautiful woods, repurposed cabinets, stone, reclaimed fir floors, and weathered granite, integrates inconspicuously with its neighbors and natural surroundings.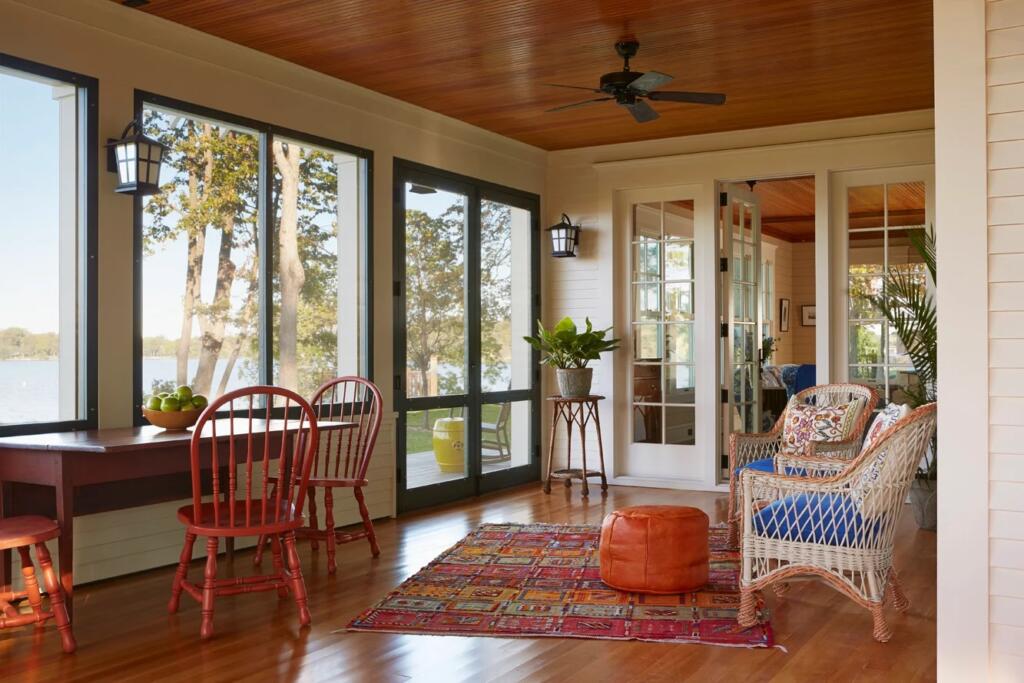 Tucked into a corner, the large L-shaped screened porch clad in beadboard and clapboard offers splendid views in two directions. Interior rooms are furnished with painted or naturally finished wood—an appealing rustic look ideal for a lakeside cabin. 
Farmhouse Style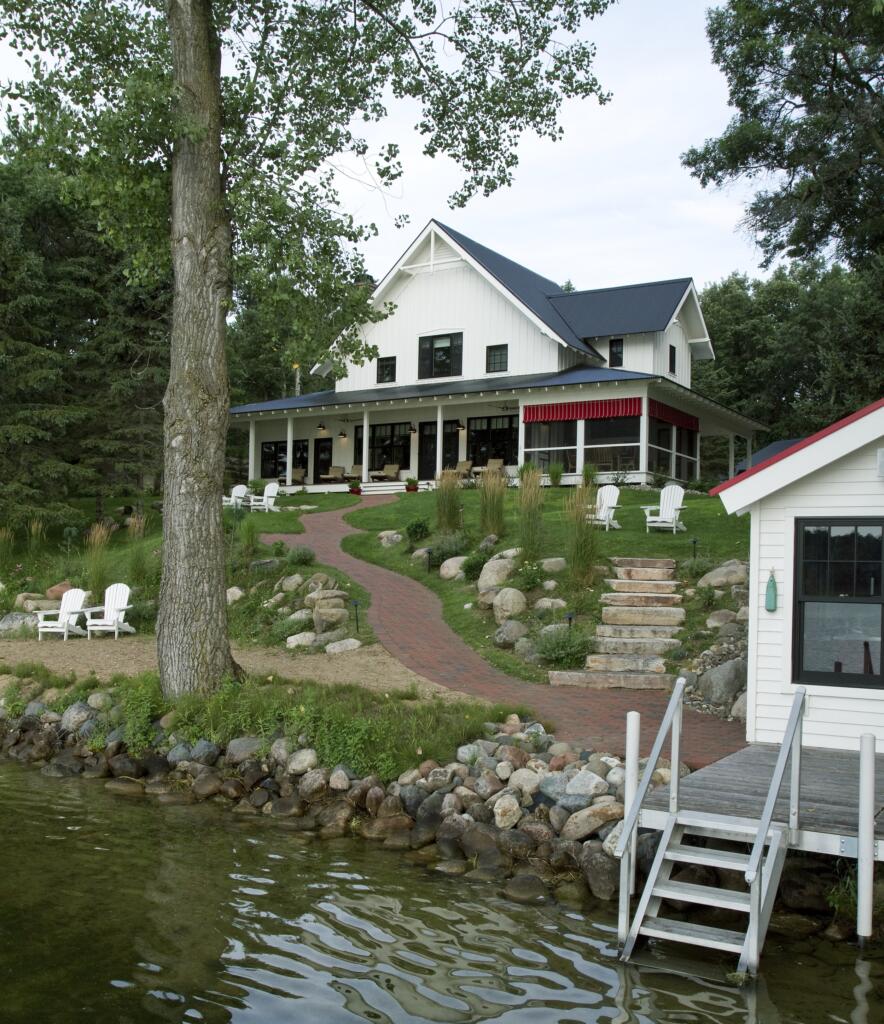 Dating back to the early 1800s—when immigrants from Europe were settling and building their homes in rural Iowa, Illinois, Wisconsin, and Minnesota—the farmhouse style became one of the most beloved architectural genres in the Midwest. Starting out as modest structures that merely provided shelter and warmth, the farmhouse-style home has gone through many evolutions. It has since become a popular design style that can be seen in all regions across the country.
One of the most iconic features of this architectural style is the expansive wraparound front porch that always welcomes visitors and provides a relaxing open-air environment to take in spectacular views of the natural landscape. Clean and simple vertical lines, gabled roofs, spacious kitchens, and inviting fireplaces also make farmhouse style appealing to all walks of life, especially lake lovers.
Log Homes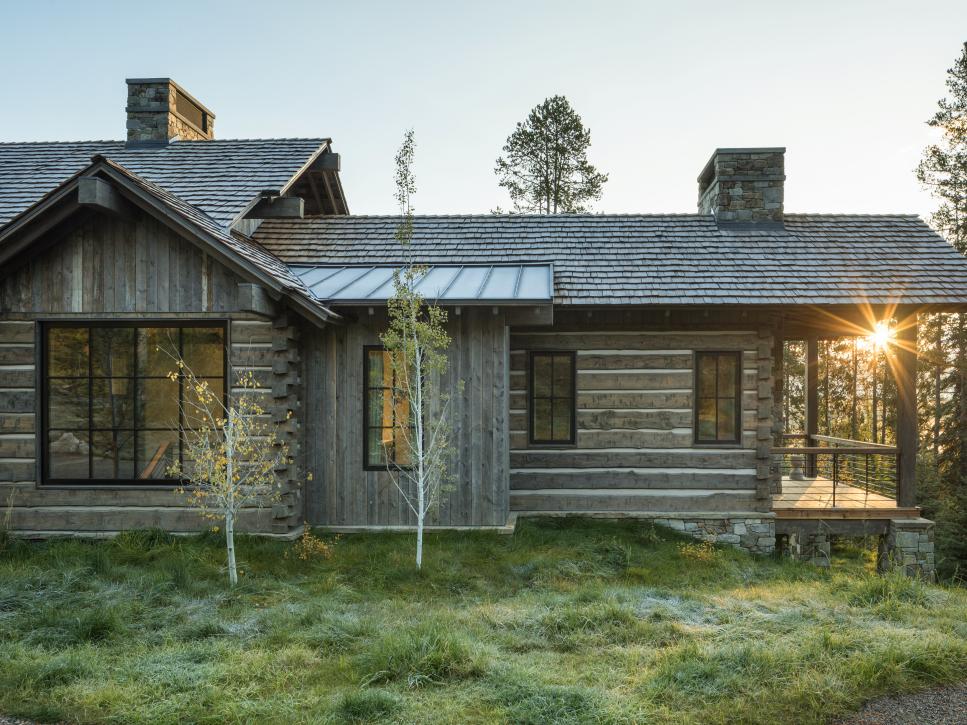 The Midwest is not only the birthplace of Prairie Style, but also it is a region known for its beautifully rustic log homes. Dating back to the 1600s, these small cabin-like structures were typically constructed without using nails and contained only one room. This quaint, well-worn aesthetic especially appeals to rural and lake home dwellers and today has evolved into elaborate interpretations that more resemble extravagant retreats rather than humble cabins. Fully functional for today's modern lifestyle, log homes can be seen in any region but are still most prevalent in rural settings. Contemporary log homes are generally built with regional materials, so the types of woods used can lend a unique regional signature mark to your log home, depending on its location. Climate can also play an essential role in determining what types of woods can be used for optimal durability and insulation. For more information on various styles available, check out Log Home.
Modern Scandinavian Style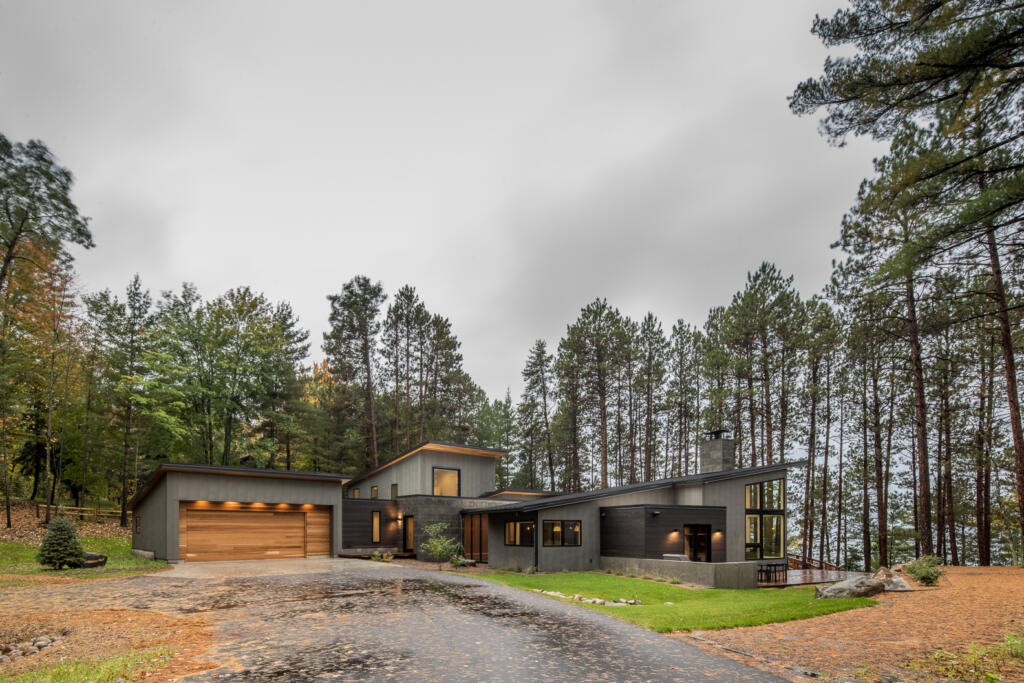 Beginning in the early 1800s, many Nordic immigrants found their way into the Great Plains and the Midwest, settling down in places including Minnesota, Wisconsin, North Dakota, Iowa, and Illinois. As a result, Modern Scandinavian design evolved in the area and remains ever popular today.
Inspired by the cold Nordic climates and minimal sunlight during short winter days, this style rejoices in light and cozy interiors where comfort is key. The architecture is delightfully spare yet elegant, with airy open floor plans and light colors. Modern Scandinavian style exhibits clean lines, simple forms, and high-functioning minimalism for practical lifestyles. Unique attributes include graceful asymmetrical designs, large expanses of windows that allow for optimal natural light, sleek repurposed woods, stainless steel, and unobtrusive subdued colors.
If you're eager to explore lake living options in the Midwest region—or anywhere else across the country—visit Lakehomes.com, select your desired state, and discover the beauty of life on the lake.