Lake Homes Realty awarded nearly 50 top-producing lake experts with Premier Agent designations at the brokerage's sixth annual Agents Summit, held October 16-19, 2018.
"Each year we look forward to honoring the hours of work our agents have put in over the last 12 months," said Lake Homes Realty CEO Glenn S. Phillips, "and each year, we are proud to add more names to our list of award winners."
2018 Big Wave and Aqua Award honorees represent 10 of the 23 states in which the brokerage is currently licensed and more than 30 lake real estate markets across the Eastern United States.
Award Criteria and Eligibility
The Lake Homes Realty Aqua Award was presented to agents who, in the 12-month evaluation period, sold a total transaction volume of at least $3.5 million up to, but not including, $10 million.
Agents who had not reached this total transaction volume between September 1, 2017 and August 31, 2018 were still eligible for to win this award if they had closed at least 20 transaction sides within the time period.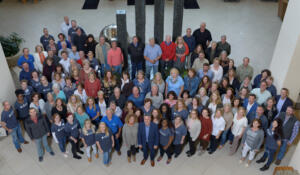 Those agents who sold or exceeded $10 million in total transaction volume were honored as Big Wave Award winners.
By receiving these awards, Lake Homes Realty agents are able to market themselves as the top-producing lake experts the company has to offer.
In determining 2018's award honorees, Lake Homes Realty defined total transaction volume as the combined sales price of each transaction, independent of the number of sides an agent represented.
"Put another way, if you were to add up the final price at which each property an agents represented sold for in the last 12 months, whether they represented a single side or both the buyer and seller side, you would reach the agent's total transaction volume,"explained brokerage CEO Glenn S. Phillips.
Referral transactions were not taken into consideration when calculating total transaction volume.
2018 Lake Homes Realty Premier Agents
Aqua Award Honorees:
Big Wave Award Honorees:
"It's because of these agents and their dedication, passion for helping their clients invest in the lake lifestyle, and their hard work that Lake Homes Realty continues to be the largest-lake focused real estate company in the country," Phillips said.