There's nothing more satisfying for chilly weekends at the lake than a savory late breakfast that lingers into the afternoon.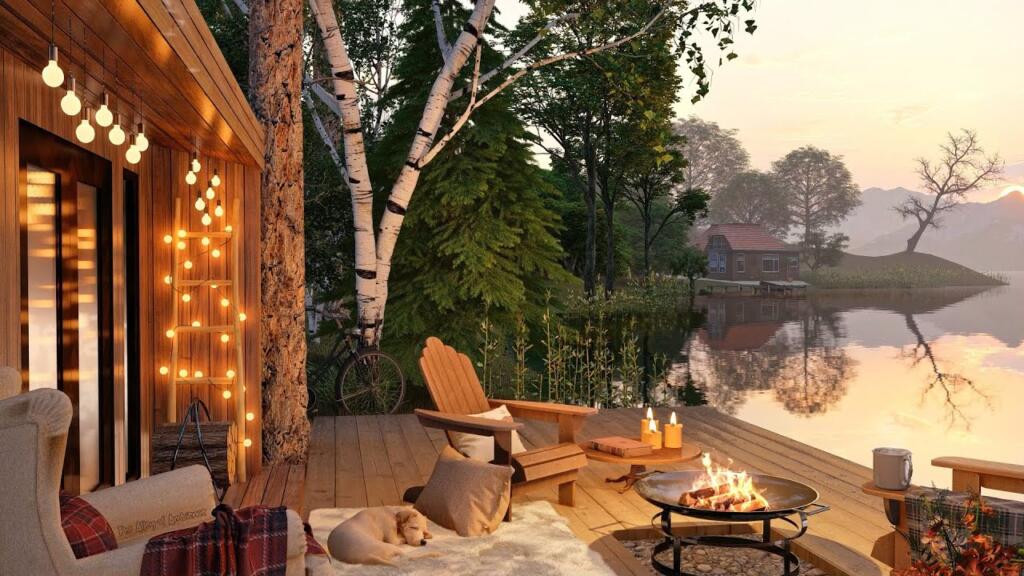 Perhaps one of the most festive meal pairings ever invented, brunch always deserves a celebration. And when winter's chill sets in at the lake, a lingering breakfast + lunch seems all the more appealing. So, whether you're hosting 20 guests, a small family gathering, or simply relishing the weekend—brunch has you covered. Plus, no food is off-limits—everything goes. In winter, there's no better excuse to get the fire burning and roll out the comfort food. So, read on for some inspiring brunch fare that will keep you and your guests warm and cozy at the lake all season long. But first, here are essential brunch libations to get the party started. Cocktails anyone?
Savory & Spicy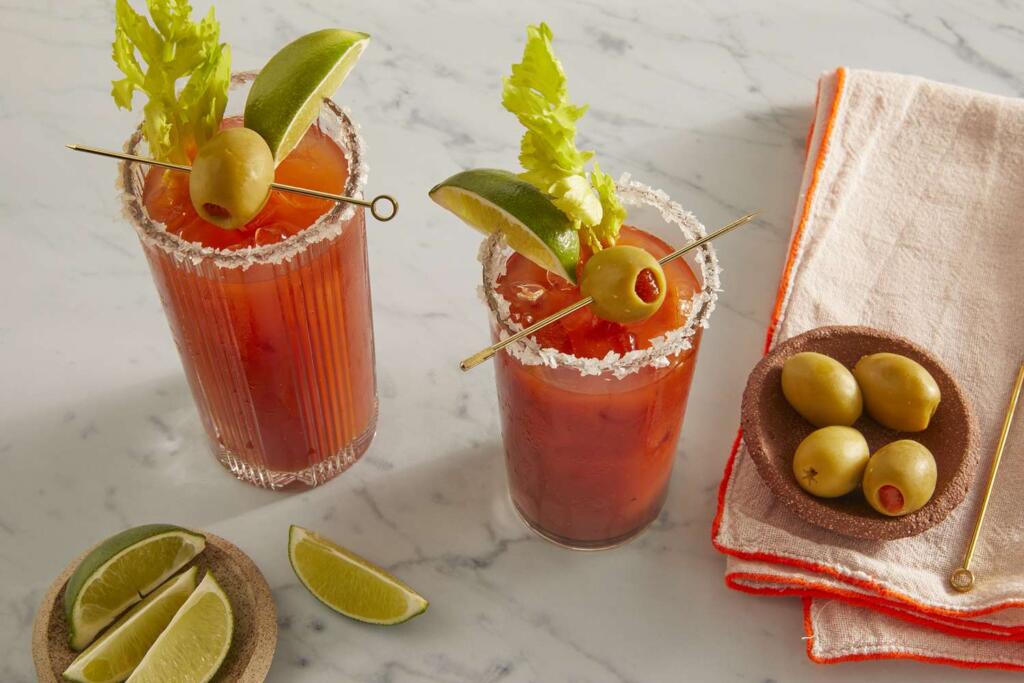 A must-have option at any brunch get-together, the Classic Bloody Mary is a universal favorite. This cocktail offers a cornucopia of salty, spicy, and umami-rich flavors made with tomato-vegetable juice cocktail, vodka, Worcestershire sauce, salt, and pepper. Then, kick it up a notch by adding hot pepper sauce (Tabasco) and almost any garnish imaginable—pickles, stuffed olives, cucumbers, shrimp. This one is made with garlic-stuffed green olives and traditional celery stalks. Visit Allrecipes for the ingredients and directions.
Spiced-Up Bubbly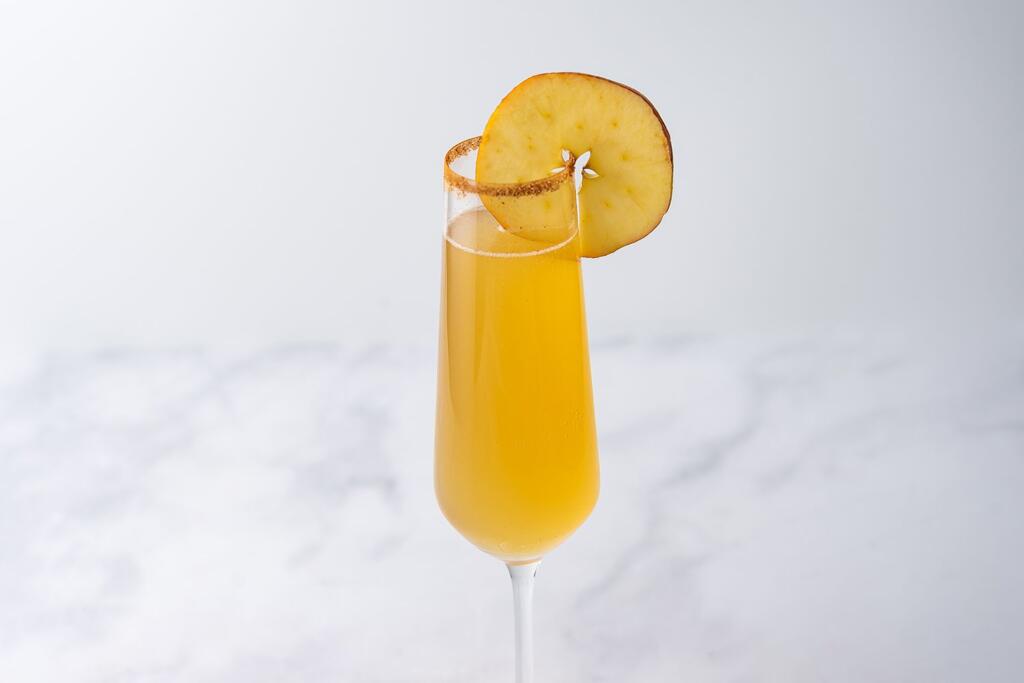 An elevated interpretation of spiked cider, Apple Cider Mimosa brings the flavors of autumn—and winter—to your brunch menu. For this specialty cocktail, simplicity is key, with only three liquid ingredients required. Just combine apple cider and pear vodka with your favorite sparkling wine. Garnish with an apple slice over a cinnamon sugar rim. Then, follow these tips to make your mimosas exceptional: Dip your apple slices in lemon juice to prevent browning, and use fresh-pressed apple cider if you prefer a richer apple flavor. For the full recipe, visit The Spruce Eats.
Hearty Bites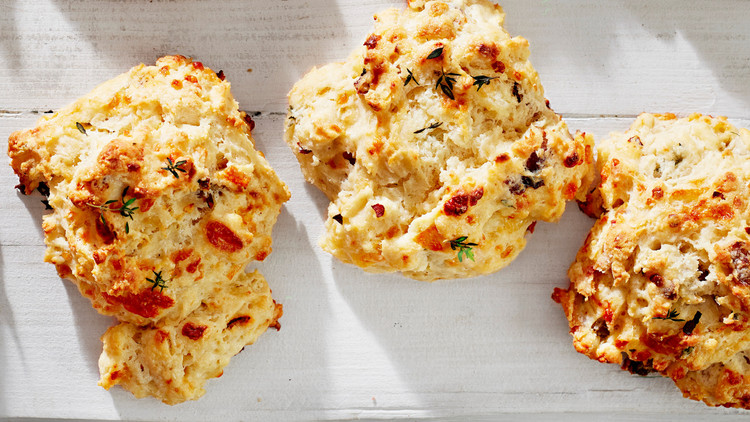 Serve up some cold-weather comfort with these savory buttermilk Breakfast-Sausage-and-Gruyère Drop Biscuits. They're scooped right from the bowl to the baking sheet, so there's nothing simpler when you want to save time and impress your guests. Made with crumbled breakfast sausage patties that you roast in the oven, these fluffy-cakey biscuits are seasoned with chopped fresh thyme, red pepper flakes, and creamy grated Gruyère. Visit Martha Stewart for this foolproof recipe.
A Southern Classic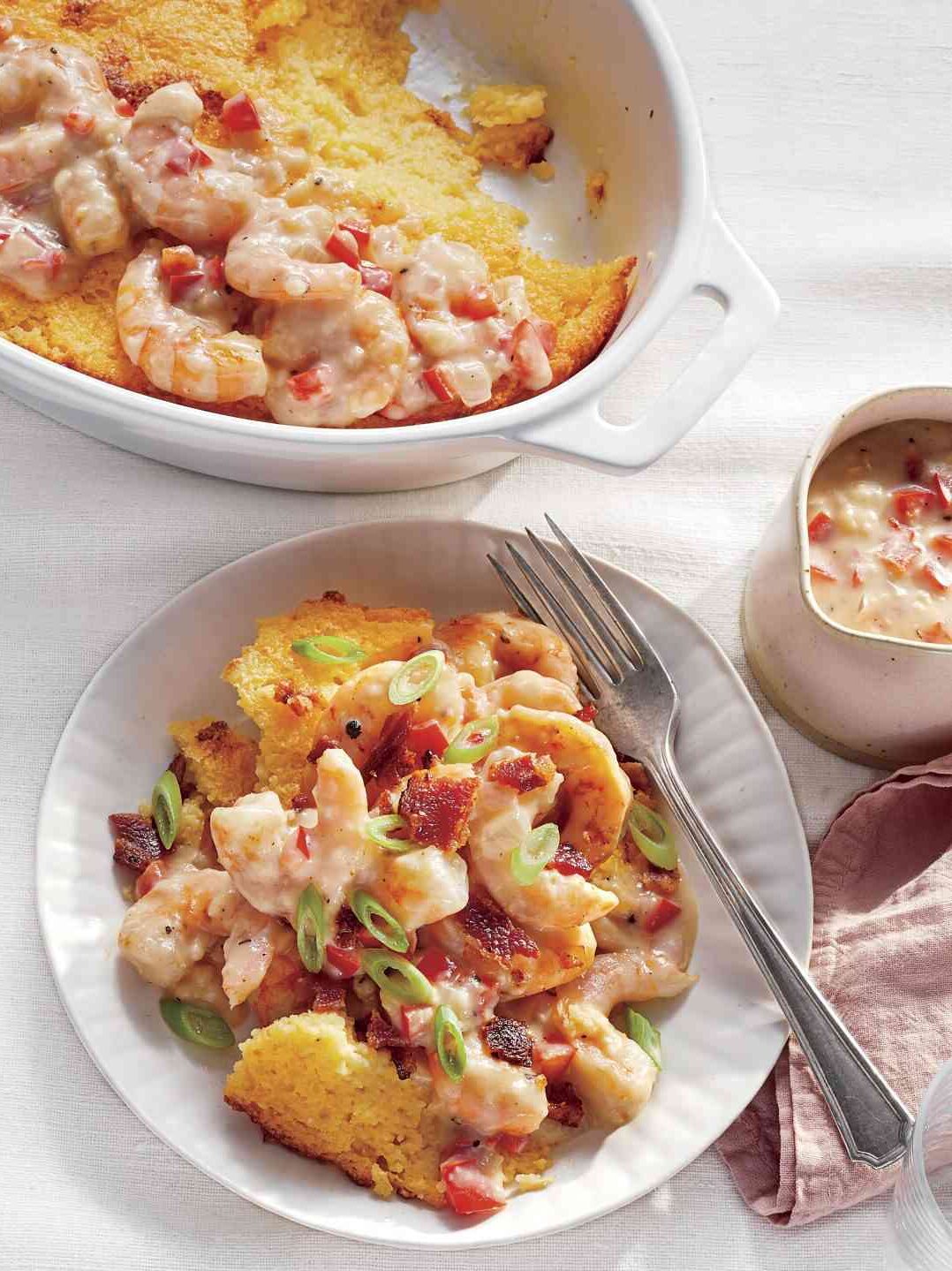 A family-style rendition of the classic Southern dish, this Shrimp and Grits Casserole serves up a flavorful main course that will quickly become a winter brunch favorite. Prepared in just an hour, this comfort-food casserole boasts a savory shrimp-gravy. This delectable pan sauce is made with heavy cream, onions, and bell peppers seasoned with parsley, thyme, black pepper, and cayenne. You'll have enough left to pour into a gravy boat and serve on the side for extra-creamy grits. Visit Southern Living for this creative recipe.
Delectable Dungeness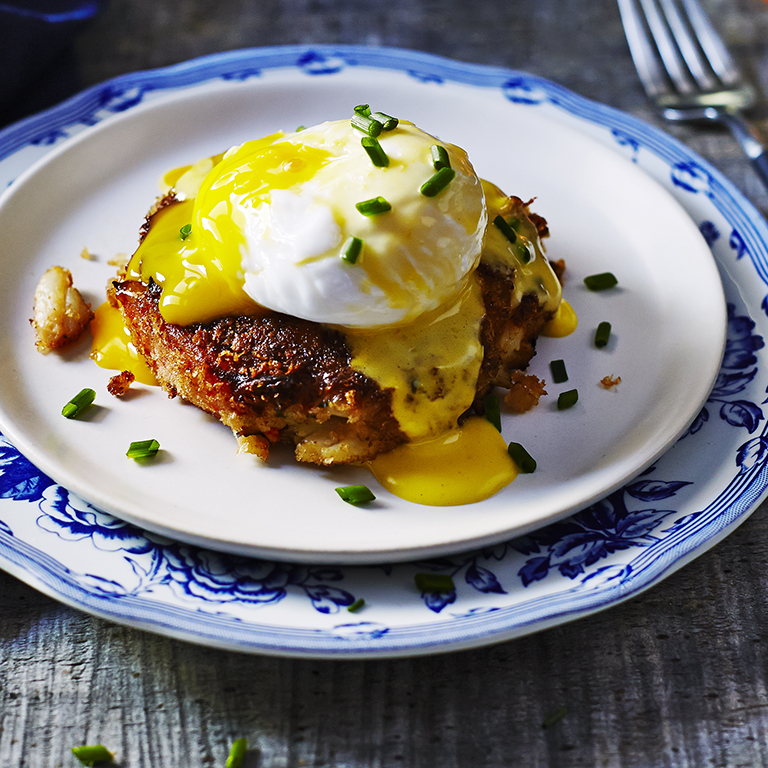 A gourmet seafood twist on the traditional, this outstanding Crabcake Eggs Benedict nixed the English muffin for Dungeness crab topped with a poached egg and drizzled in velvety hollandaise sauce. A multi-task cooking session for experienced foodies and chefs, this dish requires some additional TLC—but is well worth it. To lessen your prep time, pre-made crab cakes would do the trick. You can also prepare the homemade crabcakes a day in advance. Visit My Recipes for this delicious recipe.
Easy All-In-One
If you'd rather not mess with the hassle of whisking homemade hollandaise sauce or poaching eggs, this Eggs Benedict Casserole is perfect for entertaining a crowd. Made with traditional Canadian bacon and English muffins, this delightfully simple recipe will nevertheless offer your guests an elevated, elegant breakfast casserole. Plus, the true beauty of making this dish is that you can prepare most of it ahead of time, leaving you nothing to do in the morning but pop it in the oven. Then, while baking, you can quickly throw together an ingenious blender-made hollandaise for the finishing touch. Visit Southern Living for the full recipe.
Zesty Greens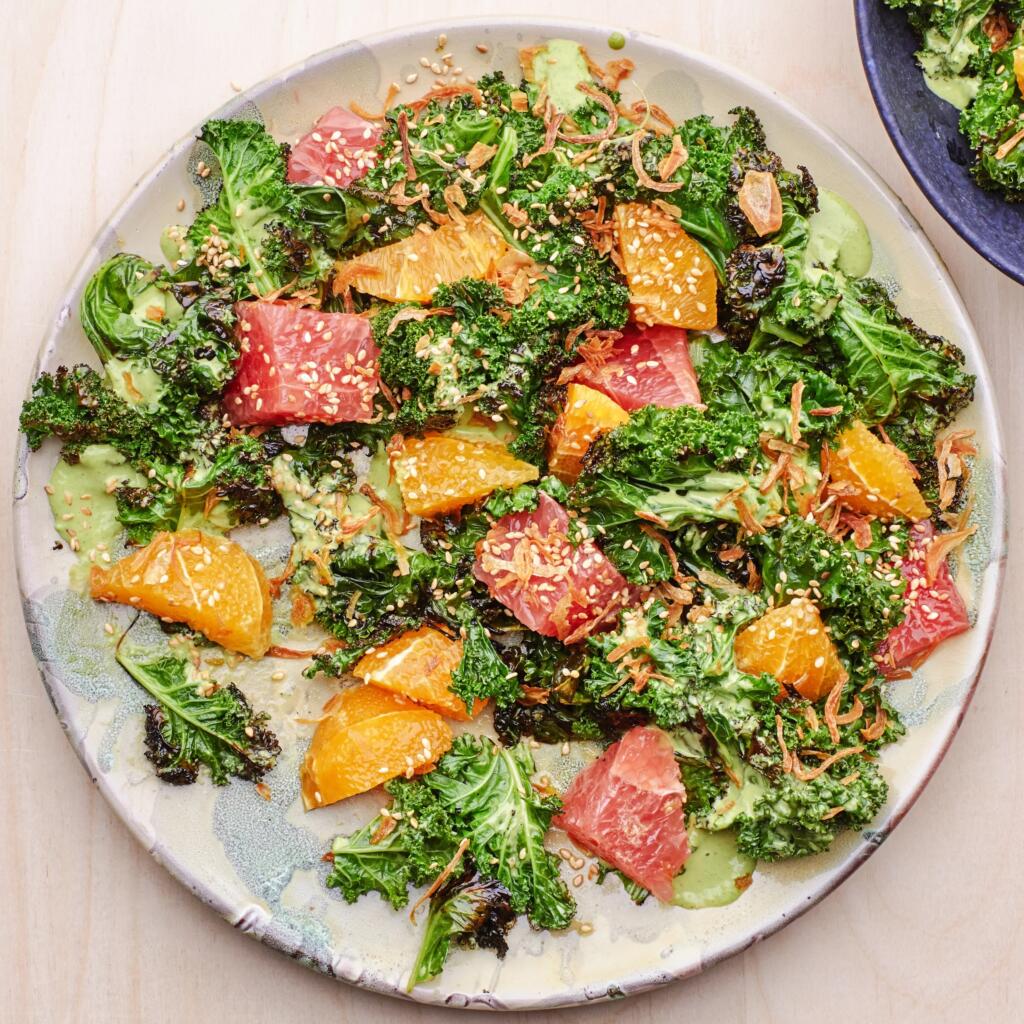 If you crave fruits and veggies with every meal—even brunch—this beautiful Charred Kale with Citrus and Green Tahini salad offers a tasty winter option. Just a quick char in a hot skillet wilts the rough curly kale to a softer, more palatable texture. Citrus fruits bring vibrant color and a tangy twist to the mix. Blend the aromatic dish with a velvety smooth dressing made with tahini, vinegar, garlic, olive oil, and cilantro. The colorfully appealing presentation alone will have everyone sampling a taste. For the recipe, visit Bon Appétit.
A Sweet Finish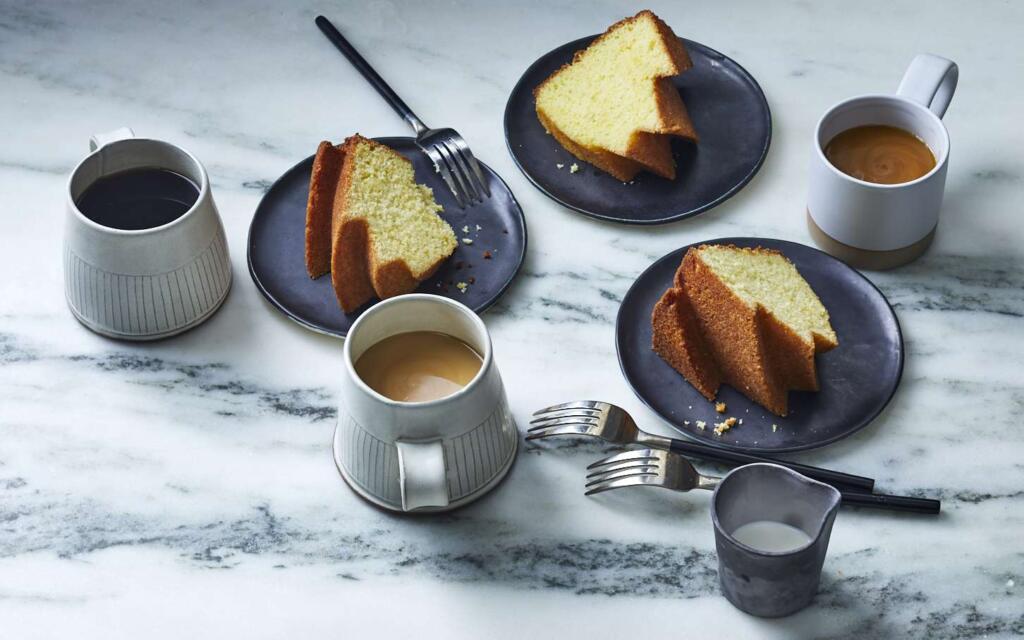 If you love a not-too-sweet dessert at the end of the meal, then this Orange Soufflé Coffee Cake is your go-to. It's a deliciously simple confection you can whip up in a pinch and bake for 40 minutes. Fresh oranges give it a citrusy essence and instead of butter, olive oil—or grapeseed if you prefer—keep it light and satisfying. One word of caution—as with most soufflés—do not open the oven too early to prevent your cake from falling. Go to Food & Wine for the recipe.
Cheers to you and yours for a savory, soul-warming brunch—and a cozy winter season at the lake.