Released in early December 2022, Pantone's Color of the Year 2023, 18-1750 Viva Magenta, "is brave and fearless, a pulsating color whose exuberance promotes optimism and joy," say the color experts at the renowned Pantone Color Institute.  
"As virtual worlds become a more prominent part of our daily lives, we look to draw inspiration from nature and what is real," said Leatrice Eiseman, Executive Director of the Pantone Color Institute. "PANTONE 18-1750 Viva Magenta descends from the red family and is inspired by the red of cochineal, one of the most precious dyes belonging to the natural dye family as well as one of the strongest and brightest the world has known. Rooted in the primordial, PANTONE 18-1750 Viva Magenta reconnects us to original matter. Invoking the forces of nature, it galvanizes our spirit, helping us to build our inner strength."
Delightfully rebellious, this electrifying and empowering red encourages unrestrained self-expression and experimentation. So, how do we introduce this animated color to our lake homes? The choice is yours. Make a stand-out statement or apply small splashes throughout your rooms. Here are some inspiring ideas that just may tempt you to color outside the lines of your comfort zone.
Palette Possibilities
"The last few years were transformative in many ways in terms of people's sense of self and the way well-being, priorities, and identity are being thought about," said Laurie Pressman, Vice President of the Pantone Color Institute. "As a result, space has been created where we are free to explore and be accepted for exactly who we feel we are, whether it be in a cybernetic universe, a conventional space, or a magical blend of both. We are creating a dynamic world that encourages experimentation, one that leverages the virtual within the physical realm and emboldens our strength and spirit to explore groundbreaking possibilities."
Witty and versatile, PANTONE 18-1750 Viva Magenta integrates beautifully with a wide range of color tones. Mix it with basics like calming grays, rich browns, and soothing maroons, or create dynamic contrast with bright orange and deeper shades of magenta. Pale pink, blushing rose, and coral hues also pair well and generate a well-balanced palette with coordinating undertones. "A nuanced crimson red tone that presents a balance between warm and cool, PANTONE 18-1750 Viva Magenta is also a hybrid color, one that comfortably straddles the physical and virtual, evocative of our multi-dimensional world," say the Pantone color experts.
So, whether you opt to decorate daringly or keep it subtle, the choice is yours to select the palette that embodies your taste and lifestyle. If you don't want a long-time commitment, play it safe—yet sassy. Accessorize with pillows, throws, artwork, lamps, rugs, or tableware.
Wall Power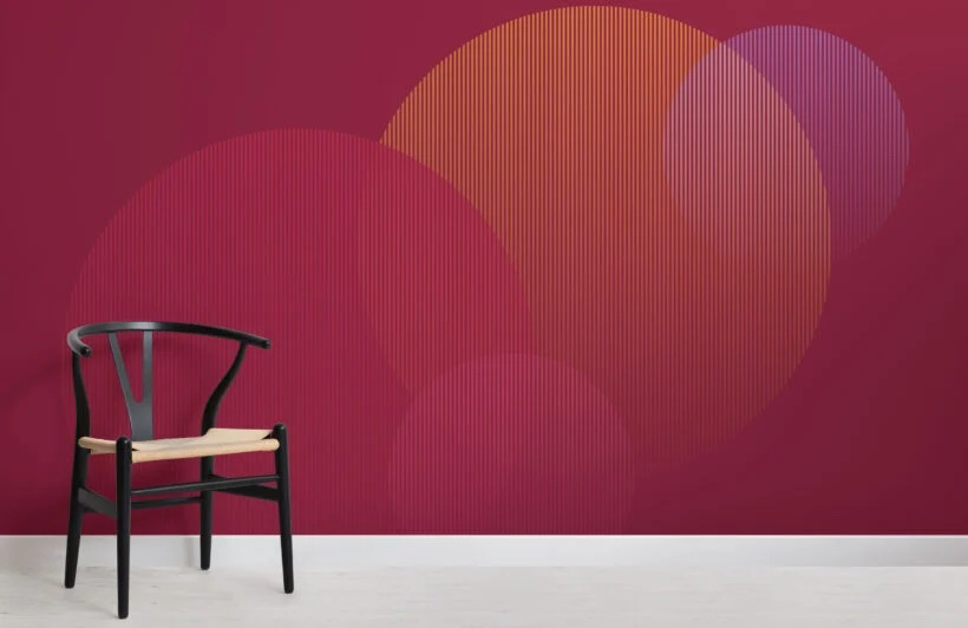 Create an electrifying accent wall with this sleek Viva Magenta mural wallpaper design from Hovia. Inspired by Pantone's Color of the Year 2023, the wallpaper prominently features PANTONE 18-1750 Viva Magenta mixed with geometric circles in gradient hues of lavender, orange, and varying shades of magenta. Apply this mural anywhere to create a wow factor, including your hallway, home office, living area, or dining room.  
Accent Art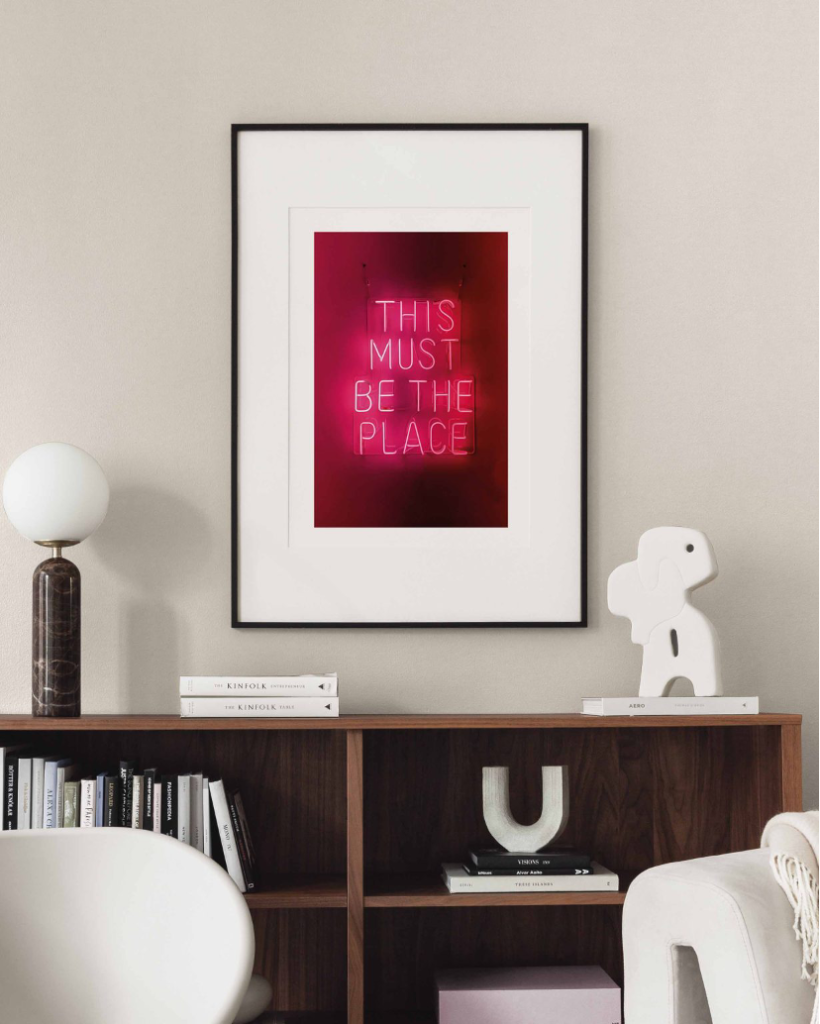 For an instant accent piece, apply a pop of Pantone's Color of the Year 2023 with artwork. Combine this powerful magenta print from Desenio with almost any palette for an impactful focal point. Here, it amps up an all-white color scheme to create dynamic visual interest.
Power Color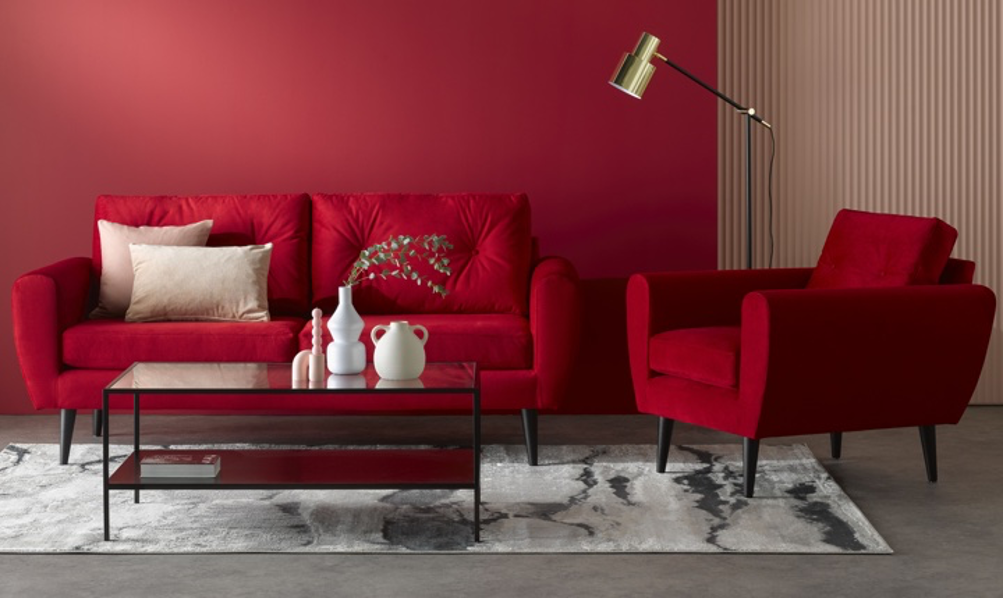 If you're the adventurous type, go bold. Empower your rooms with vibrant furniture pieces saturated in this rich, red-based hue. Then, apply neutral accents with pillows, rugs, and accessories to balance the color so it doesn't overwhelm the space. If you don't want to commit fully, try using one piece of furniture as an eye-catching accent piece.
Colorful Cocoon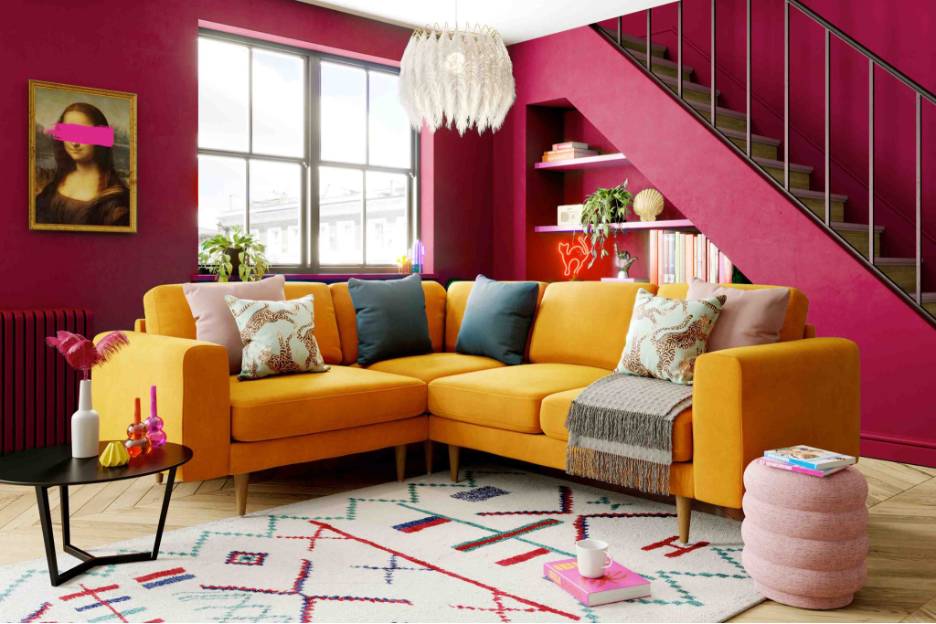 Create a quaint little reading nook in your lake home with Pantone's Color of the Year 2023. Here, PANTONE 18-1750 Viva Magenta wraps the space in a cozy cocoon under the staircase. An unforgettable turmeric-hued sofa from Snug turns up the heat to generate even more warmth. Who wouldn't want to while away an afternoon in this inviting space?
Imagine "Magentaverse"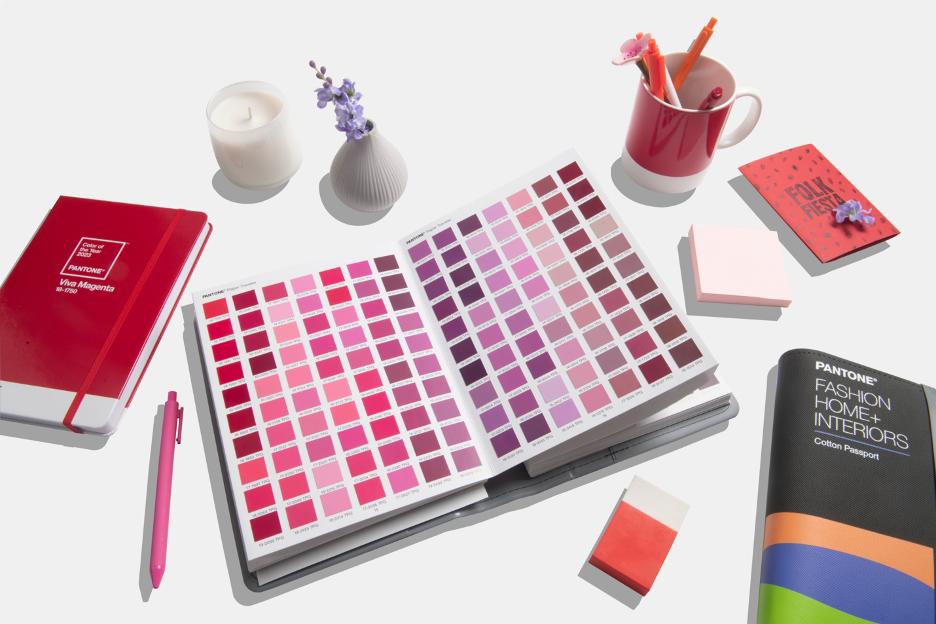 "To embody the spirit of PANTONE 18-1750 Viva Magenta, we embarked on a new approach of collective creative collaboration," said Pressman. "Leveraging the power of technology and Pantone's expertise in color to curate a new interpretation of the Pantone Color of the Year 2023, we created the Magentaverse, an unexpected and exciting color universe we look forward to sharing with the world to experience as well."
So, step into the imaginative Magentaverse and have fun infusing this upbeat hue into your lake home spaces. The possibilities are endless, with a limitless array of palette combinations. From all of us at Lake Homes Lifestyles—may your 2023 reveal an adventurous and colorful journey!