Building dams creates man-made lakes or reservoirs, and there are many reasons to do so including water supply, farming, power generation, and flood management. While none of these lakes are located in the United States, it is interesting to take note of how large these completely man-made bodies of water are.
A reservoir is the artificial internment or lake for a dam and is used to keep water. As noted, the dams are used to store water and to supply the water to people for different purposes. Here are five of the world's largest man-made lakes, by surface area:
For comparison purposes I will also list the square mileage of several of the lakes in the LakeHomes.com footprint: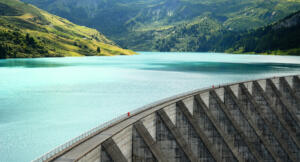 Smith Lake AL: 33 square miles
Lake Lanier GA: 59 square miles
Lake Murray SC: 77 square miles
Lake Tellico TN: 24 square miles
Lake Hartwell GA/SC: 87 square miles
Kerr Lake NC/VA: 78 square miles
Lake Marion SC: 173 square miles
Lake Guri
The Guri Dam is located in the Bolivar State in Venezuela. It is built on the Caroni River, and the dam was opened in 1978. The Guri Reservoir has a surface area of over 1,640 square miles.
This dam has a power station that includes 21 turbines with the capacity of 10,235 megawatts. It has an annual generation of approximately 47,000 gigawatts.
Lake Nasser
Lake Nasser is a reservoir that is located in the south side of Egypt. The lake is approximately 341 miles long and 22 miles wide at its widest part. This man-made lake has the surface area of 2,030 square miles.
In the deepest part of this lake it measures 600 feet deep. The majority of the lake lies in Egypt, but a section of the reservoir is also located in Sudan . The Sudanese refer to the body of water as Lake Nubia.
Bratsk Reservoir
The Bratsk Reservoir was constructed in Russia on the Angara River in 1967. This enormous body of water covers over 2,110 square miles and is named after the nearby city of Bratsk.
Lake Kariba
Lake Kariba is the world's largest man-made lake by volume, but not by surface area. This reservoir covers 2,150 square miles and is approximately 140 miles long by 20 miles wide.
Lake Kariba is located between Zambia and Zimbabwe. Studies have shown that the massive amount of water even caused seismic activity in the area resulting in several earthquakes!
Lake Volta
This reservoir is located in Ghana and was built in 1965. This enormous body of water covers a whopping 3,275 square miles and is bigger than the land area of Rhode Island and Delaware combined! Lake Marion, one of the largest lakes in the South, could fit into the same area almost 20 times over!
There are bigger lakes by volume, as well as much larger naturally occurring lakes, but when it comes to man-made lakes and areas that they cover, these five take the top spot!