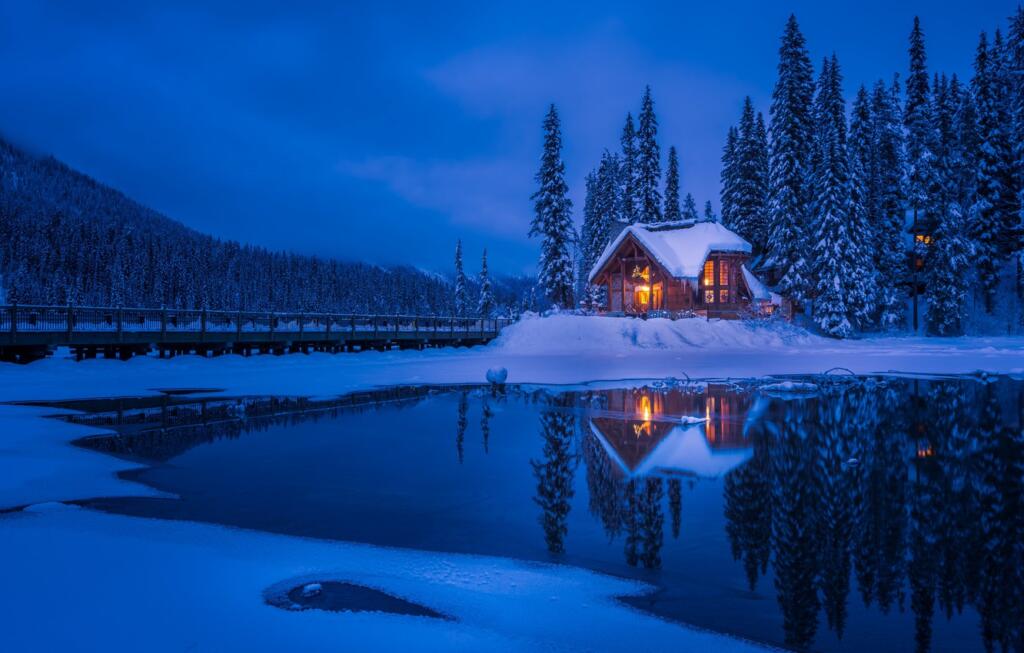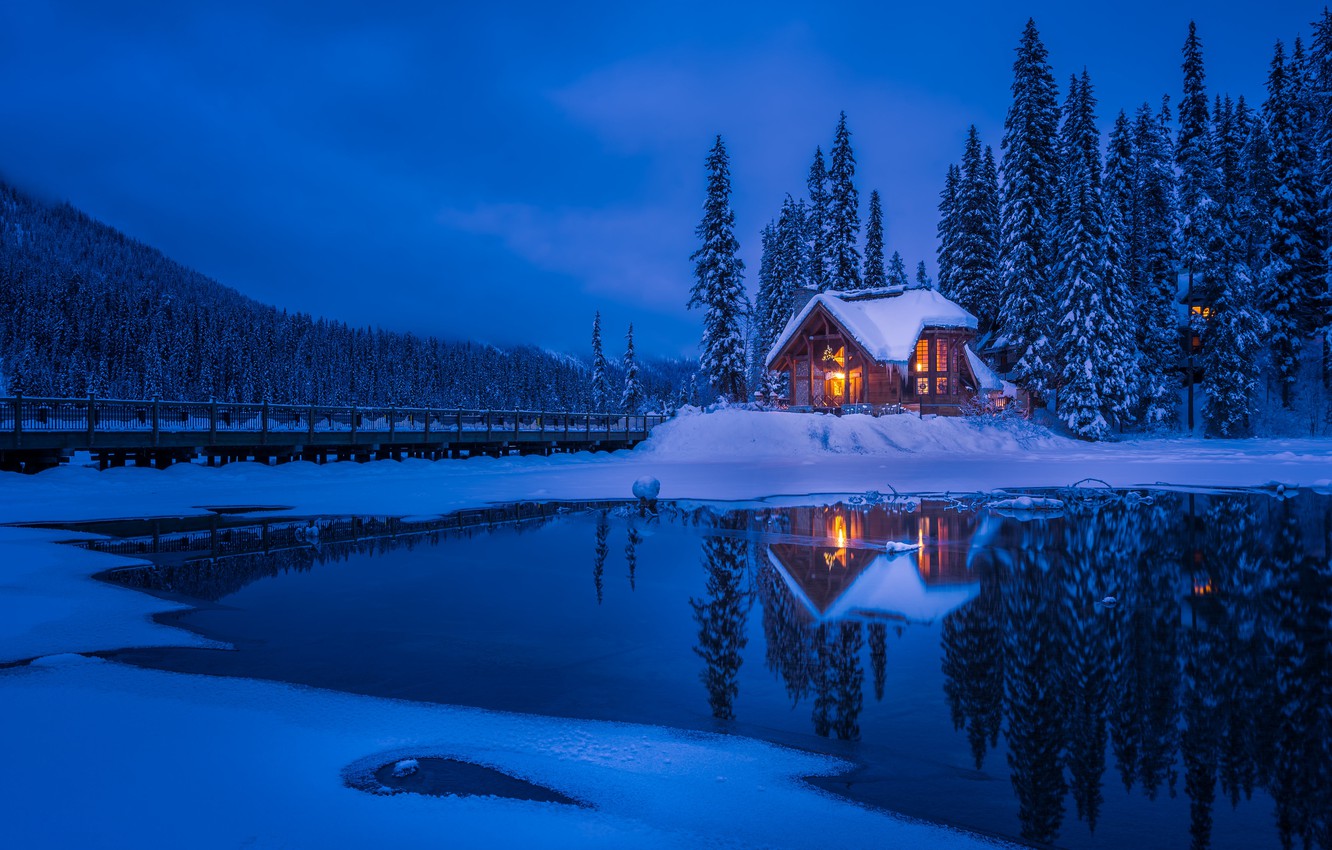 Despite all the staying-at-home we've experienced over the past two years, many of us—especially lake lovers—still long for the enchanted snow-filled days of winter spent snuggling up inside and whiling away the hours reading, daydreaming, or spending time with loved ones. And if you love getting out in it, there's no better setting than a lakeside winter wonderland for cross-country skiing, hiking, ice fishing, or just having fun in the snow. As we move into a more promising 2022, Lake Homes invites you to rekindle those carefree snowbound afternoons by imagining yourself in a blissful lakeside haven surrounded by breathtaking snowscapes that only mother nature can deliver. For some visual inspiration, read on and enjoy.
Lake Winnipesaukee, New Hampshire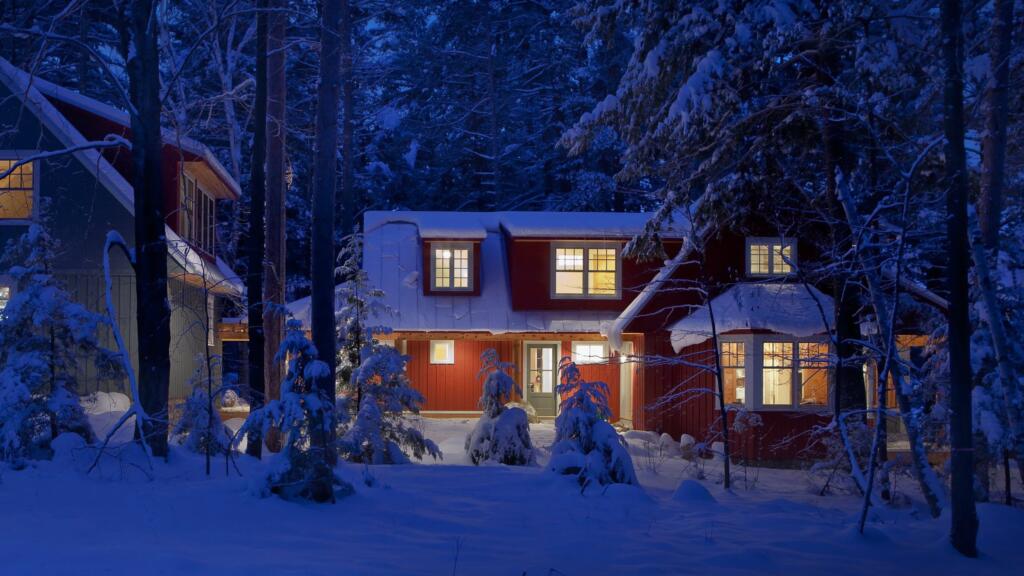 Imagine yourself looking out onto this extraordinary winter landscape that nestles along the shores of New Hampshire's beautiful Lake Winnipesaukee. Like a picture postcard, this four-seasons home offers its owners the best vantage point from which to enjoy the breathtaking scenery. Designed by Whitten Architects, this retreat features a central fireplace—the beloved heart of the home—that divides the dining and living rooms. The floorplan and windows were strategically placed to capture the natural light and exemplify the spectacular views outside. The surrounding native vegetation protects the home from the chilly lake winds while also offering shade during the area's hot summers.
Pend Oreille Lake, Idaho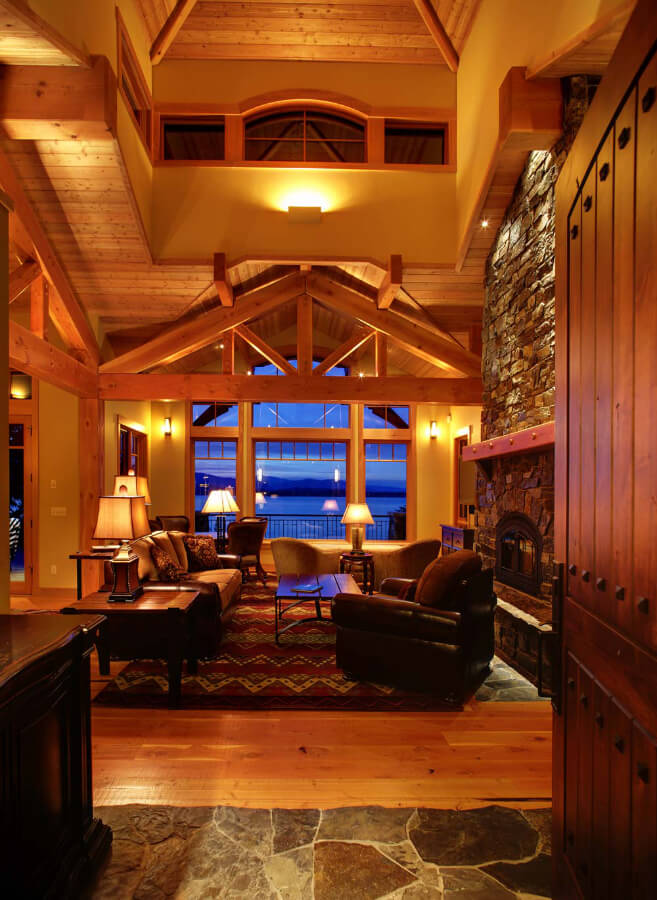 Both rustic and refined, this lakefront home boasts amazing views of the water and snow-capped mountains beyond. Designed by Hendricks Architecture in Sandpoint, Idaho, this magnificent retreat is flooded with gorgeous natural light via a newly constructed cupola and pair of dormer windows up top.
The spacious great room, which includes an open kitchen, dining area, and living space, capitalizes on the awe-inspiring views of Pend Oreille Lake's sparkling blue waters and majestic mountain backdrop. The master bedroom features a cozy fireplace, and the basement, which allows in plenty of sunlight, includes guest bedrooms, an office, and an exercise area. A haven of fun and relaxation, this family refuge undoubtedly feeds the soul day in and day out with its incredible scenery.
Lake Wenatchee, Washington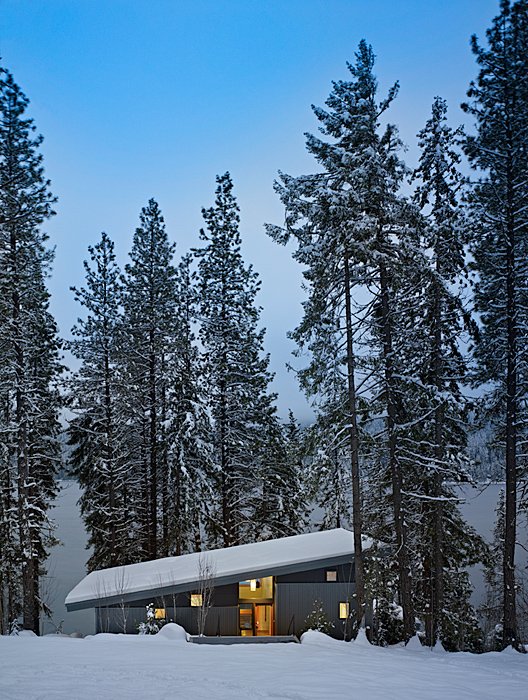 Sophisticated yet delightfully cozy, this mountain retreat perches above Lake Wenatchee, Washington, amid the Cascade Mountains. Deforest Architects, along with the homeowners, worked to create the perfect family dwelling that would blend seamlessly with the surrounding landscape. The four-seasons structure combines earthy tile, stone, and composites with the warmth of natural wood—the perfect complement to the modern/rustic regional aesthetic of the Pacific Northwest.
Stand-out features include alternating roof forms, indoor/outdoor spaces, a media room behind a secret bookcase, reading nooks, and a sleeping loft to accommodate kids and guests. The home's innovative design offers flexibility for almost any occasion and exudes a sense of peace and tranquility throughout every room.
Lake Michigan, Charlevoix, Michigan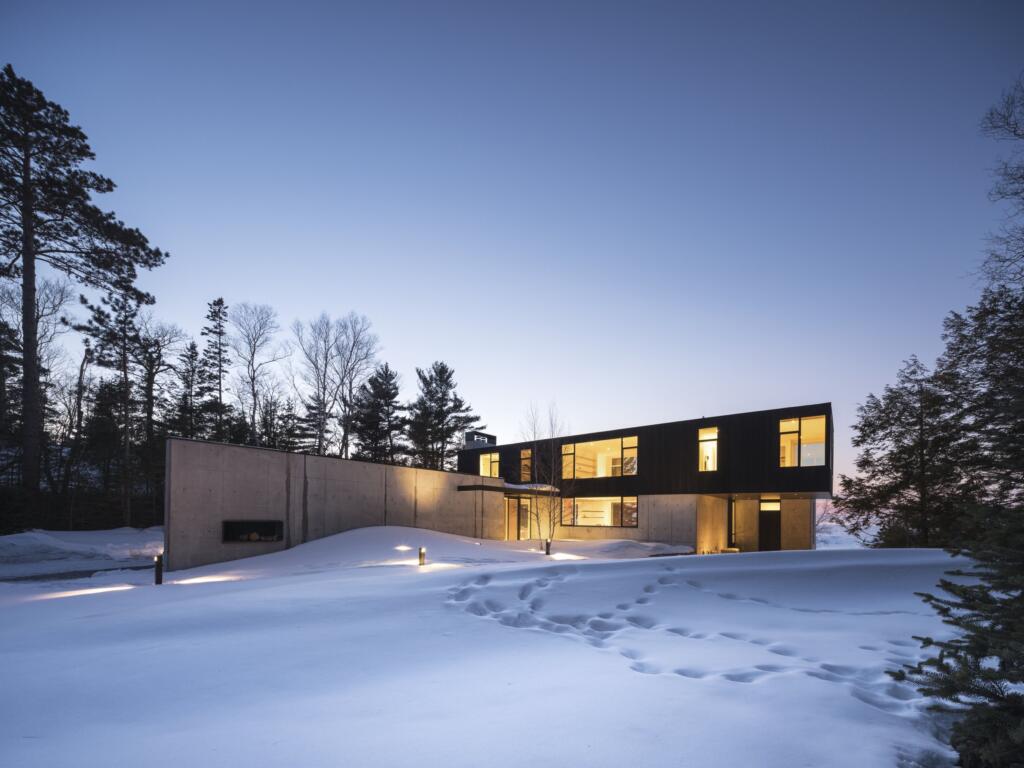 This captivating retreat set amid birch and pine trees on the shores of Lake Michigan echoes the pristine, stark winter beauty of the Midwestern region. Located just outside Charlevoix and designed by William / Kaven Architects, the home serves as a beloved retreat for family gatherings and lakeside recreation.
At the homeowners' request, the dwelling takes on a rustic, low-maintenance demeanor with natural materials and an earthy color palette. A cantilevered living area featuring expansive views of the lake connects to the outdoors, creating an airy, open vibe. Tranquil sunsets and views of Beaver Island are just a few of the perks enjoyed inside this awe-inspiring refuge.
Wood Lake, Wisconsin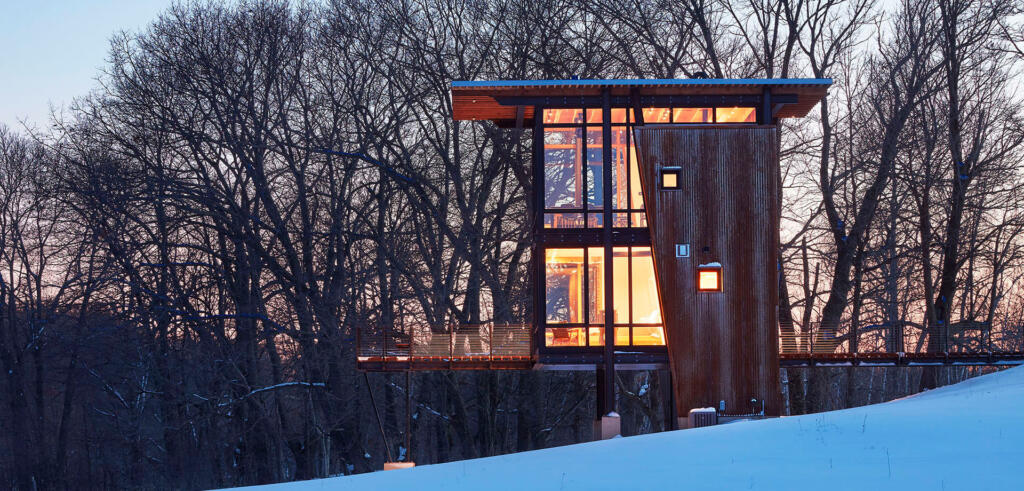 If you crave being at one with the landscape, then this intriguing little haven is just your style—and it can be rented as well! Set amidst a 140-acre property overlooking Wood Lake on a plot of rural land in Frederic, Wisconsin—just 90 minutes northeast of Minneapolis—this humble yet remarkably energy-efficient retreat was designed by architect David O'Brien Wagner of SALA Architects. Accessed via a gravel drive, the wonderfully secluded property features a pathway leading between the trees to a footbridge that carries guests across to the entry of the home, aptly named Metal Lark.
A corrugated steel wall buffers the dwelling from the prevailing northwest winter winds common to the region. Inside, the line of the bridge continues out the other side, where a cantilevered deck offers extraordinary views of the landscape beyond. The 820-square-foot cabin features living spaces on two levels and sustainable strategies, including solar panels, passive solar orientation, triple-pane windows and operable windows for cross-ventilation, and thick walls for maximum insulation.
Created for a multi-generational family who dreamed of building a vacation rental near their family cabin, Metal Lark Tower is the first retreat to open at Nordlys and is available to book on Airbnb.
If you want to find your own cozy refuge by the lake, visit LakeHomes.com and select your desired lake region. Happy house-hunting!