Become a Lake Homes Realty Agent
Why Do Successful Real Estate Agents Join Lake Homes Realty?
The nation's largest lake-focused real estate brokerage is also one of the fastest growing (and ranked #927 on the 2017 Inc. 5000).  And for very good reasons!
Really, How Different Can a Brokerage Be?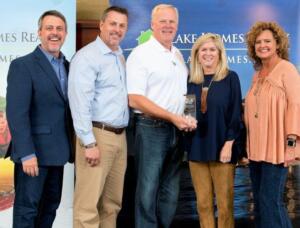 Real estate sales remain best facilitated by expert agents, local to each lake market.
The best agents understand the advantage of a truly unique market differentiation in the unique lake real estate marketplace.
Lake Homes Realty agents reap the benefits of millions of dollars of advertising and technology built specifically to serve lake home buyers and sellers… and the agents who specialize in this market.
We are THE SPECIALIST in the place lake buyers come from (the web).
The best and dominant tool for buying and selling lake homes.
The only real estate brokerage 100% focused on lake real estate.
We intentionally limit the number of agents per lake. (Why be part of an ever growing army of competing agents within a brokerage?)
Exclusive access to high quality, No-Fee leads powered by our own LakeHomes.com.
Regular opportunities to learn from best-in-the-business colleagues from other lakes across the country.
Super-responsive agent support, backed by our proprietary high-efficiency back-office software and our own skilled, service-focused staff. (For Real – We're not just saying that because it sounds good!)
Looking for a Unique Market Advantage?
If you are an experienced, local lake expert real estate agent who is passionate about customer service, we'd like to learn more about you.  Please contact us or call 1-866-525-3466
We are building a national organization and would love to hear from interested, producing lake-focused agents from any state.
We have an immediate interest in a limited number of seasoned, successful lake-focused real estate agents and brokers from:
Alabama
Arkansas
Connecticut
Florida
Georgia
Illinois
Iowa
Kentucky
Louisiana
Maine
Maryland
Massachusetts
Michigan
Missouri
Nebraska
New York
North Carolina
Ohio
Oklahoma
Pennsylvania
South Carolina
Tennessee
Texas
Vermont
Virginia
West Virginia
If you don't see your state on this list but have interest in learning more, please reach out to us!  We may still find we have a mutual opportunity!
Learn More
In confidence, please request more information, or give us a call at 1-866-525-3466.
Or email your contact information, including your city and state, and the lakes you are knowledgeable about, to us at agents@lakehomes.com.
We'd love to talk to you!
REQUEST MORE INFO           1-866-525-3466
---
Our Brokerage Empowers Our Agents
Lake Homes Realty really is THE Specialist in THE Place buyers come from (The Internet). And sellers want to be where the buyers are!
Our brand, systems, operations, marketing, and technology are all focused on making our agents THE most successful agents in their market.
| Brokerage Feature Comparison for Agents | Typical Brokerage | Lake Homes Realty |
| --- | --- | --- |
| Laser Focus on Dominating the Lake Niche, Locally and Nationally | | Yes |
| Highly Restricted "Best-In-Class" Agent List, Typically Only 2 to 4 LHR Agents Per Lake (based on market size) | | Yes |
| Market Differentiation from All Other Agents in the High-End Waterfront Marketplace | | Yes |
| Obsessed on Being The Best Consumer Resource (Interface and Data) on the Web for Lake Real Estate | | Yes |
| Growing to be the Best and Most Lake Real Estate Data on the Web | | Yes |
| 100% of Company Branding to Reinforce and Enhance Agent's Reputation as a Lake Expert | | Yes |
| Significant, Lake-Specific Web Promotion (SEO, SEM, and PPC Advertising) Paid for by Brokerage | | Yes |
| Millions of Dollars Focused Specifically in Lake-Oriented Technology for Buyers and Sellers | | Yes |
| Easy, Proven Contract Management Services | Rare | Yes |
| Highly Convertible Leads, often from Outside the Local Lake's MLS Region | | Yes |
| Growing Team of Niche Lake Specialists who Understand the Power of the Web for Real Estate Consumers | | Yes |
| Significant Brick-and-Mortar Presence | Yes |   |
| Brokerage Regularly Devotes Significant Energy and Money to Recruiting More and More Agents in Each Market/Office | Yes |   |
| Disinclination to Fully Embrace Ongoing Sea of Change of Real Estate Consumer Behavior | Yes |   |
REQUEST MORE INFO           1-866-525-3466
---
What Others are Saying About Lake Homes Realty
Even if you have not heard of Lake Homes Realty, we have many who find our unique approach and success interesting. This includes:
---
What Our Agents Say…
| | | |
| --- | --- | --- |
| | | "The Lake Homes Realty website dominates the other sites and builds my credibility, adding a whole new level to my brand. Both the frequency and the quality of leads are better with LakeHomes.com." — Justin Dyar |
---
Lake Homes Realty is a licensed real estate brokerage in Alabama, Arkansas, Connecticut, Florida, Georgia, Louisiana, Maine, Maryland, Minnesota, North Carolina, New York, Oklahoma, Pennsylvania, South Carolina, Tennessee, Texas, Virginia, and Wisconsin (with additional states coming soon).