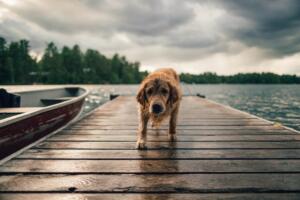 A trip to the lake with the entire family is truly a special experience, but spending time on the lake just isn't the same without your pet(s).
Trying to find a place for your pet to stay while you're away from home can be an expensive hassle.  While many people wouldn't even consider leaving their pets behind, pet travel certainly does have its own unique set of challenges.
If you do decide to take your pet with you, be sure to use the following tips to prepare your pet for the trip:
Check up with your veterinarian – If it's been awhile since your last veterinarian trip, try to take your pet to the vet at least a week or two in advance of your planned trip. Be sure that your pet has been checked at least once a year regardless of travel, but definitely prior to any extended travel (whether it's a visit to the lake or some other location).  The last thing you want to worry about is your pet getting sick while on vacation, requiring you to either cut your vacation short or to find a vet that you're unfamiliar with near your lake home. Worse case scenario, if you do need to contact a vet while on vacation, call the American Animal Hospital Association. They will refer you to a reputable local veterinarian in your area.
Get your pet used to the car – Be sure that all of your pets are collared with identification tags that contain the pet's name and contact information.  You may also consider a microchip implant for identification purposes. The implant process is painless for the pet and the chip contains a registration number and phone number of the registry. This allows the animal shelter or vet clinic that finds your pet to contact the registry and get your name and phone number.
Bring the essentials – There are a number of essential items that you'll want to bring including pet food and treats, food dishes, its favorite toys, any pet medications you have, all pet identification papers and a crate or bed, if necessary.  Try to provide as many of the every day comforts that your pet is used to having to reduce the stress that can be brought on by exposure to a new environment.  Believe it or not, you may also want to consider picking up a pet flotation vest specifically made for your pet if you plan on taking it out onto the lake with you.
On the road – Make frequent bathroom stops (every 2 hours) so that your pet can take care of its business, which can also help to reduce the stress of extended travel times.  You might also pick up a no-spill travel bowl for drinking water while in transit. If you ever need to leave the car for even a few minutes, NEVER leave your pet inside your car unattended for any reason. Even if the temperature seems to be mild outside. Remember – the inside of a car gets much hotter than it is outside, which can have tragic consequences.  Lastly, make sure that your pet doesn't eat for at least a few hours before the trip so that it doesn't get sick in the car.
Common sense should prevail when you decide to travel.  Changing environments can be more disruptive and stressful for certain pets. This you should be conscious of.  So, if you do plan on taking your pet with you while traveling on vacation, for business, travel or elsewhere, use these common sense tips as a starting point to prepare your pet for the trip.