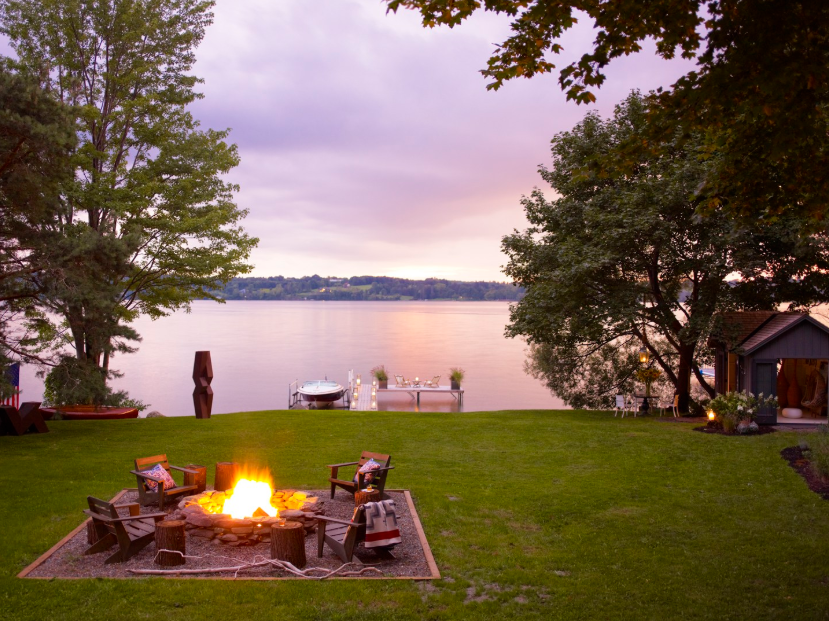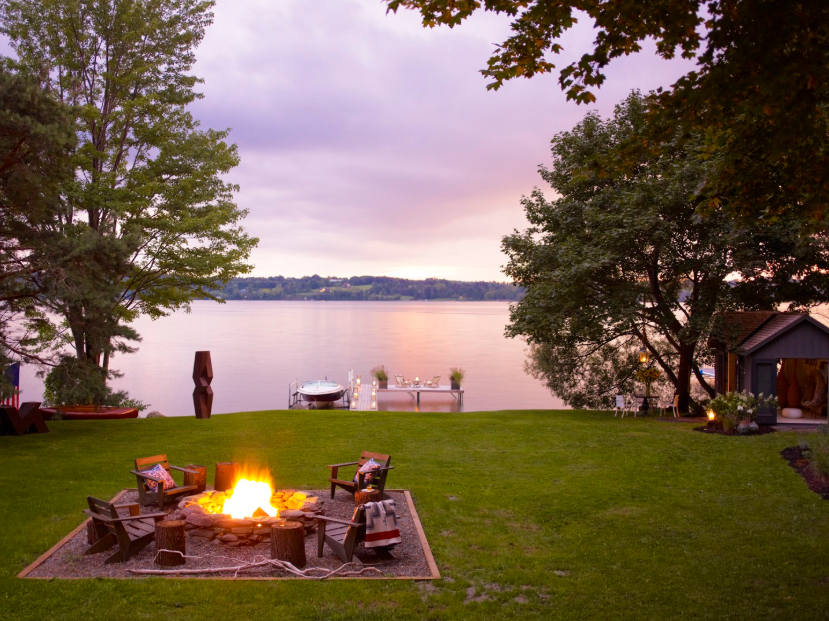 A prominent rising trend in home design over the past few years is the outdoor fire pit. A perfect source of both functionality and ambiance, what's not to love about these patio favorites? Especially with the upcoming winter season, fire pits evoke pleasant ideas of comfort and warmth. It's easy to envision roasting marshmallows, laughing, and chatting around the outdoor fire pit with family and friends, as the view of the lake sets the perfect backdrop. It's practically an image in a brochure for lakeside living. When looking into buying or maintaining your fire pit for your lake house, it's important to consider the type of style that suits your space. To offer some inspiration, we've pulled together some ideas for your outdoor fire pit based on current trends.
The Natural Look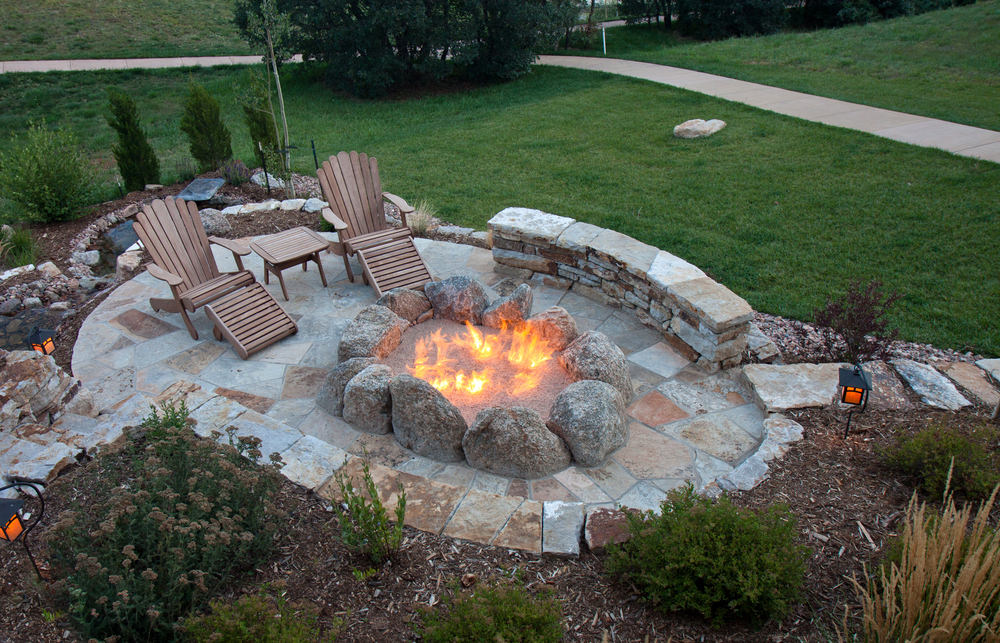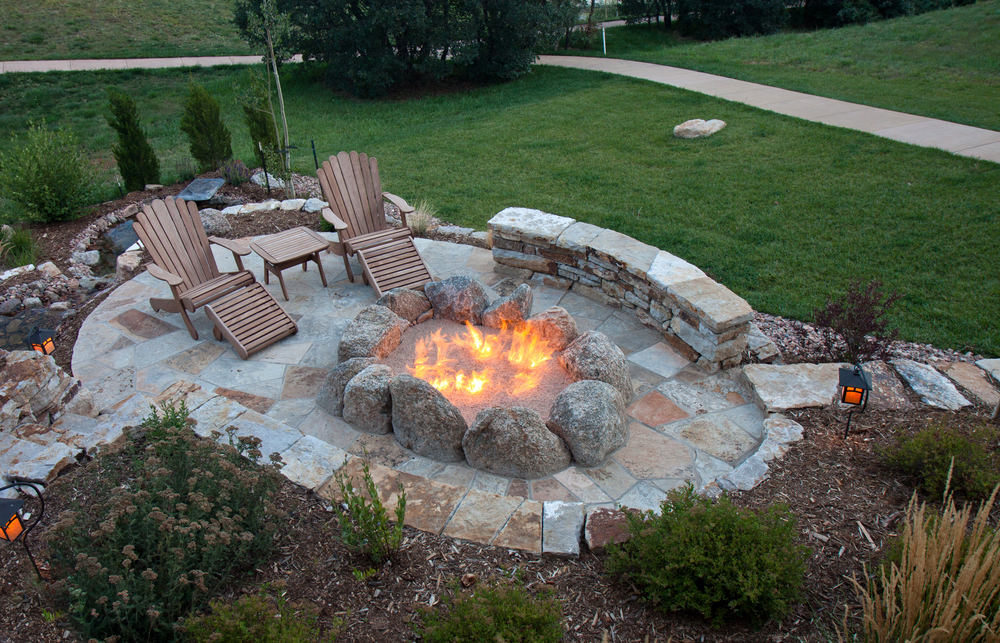 Many lake homeowners are purchasing fire pits that emulate the way that a natural fire might look. Instead of elevated pits that rest on metal legs, the latest trends look as though they are built into the ground. These fire pits are both elegant and natural with a low height, often built with boulders around the circumference to feature natural materials in the design. "It's not your typical fire pit," says Lori Moscato, president of Casual Elegance Designs. "It's always a great look, and it's different than your neighbors." However, while the look is ultra-realistic, Moscato maintains that there's nothing wrong with a gas flame. Due to the low flame height, easy maintenance, and quick cleanup, gas fire pits allow you to focus less energy on starting the fire and more energy on enjoying the ambiance. "It adds value to outdoor living space and the home," she notes.
Low Dining with Lighting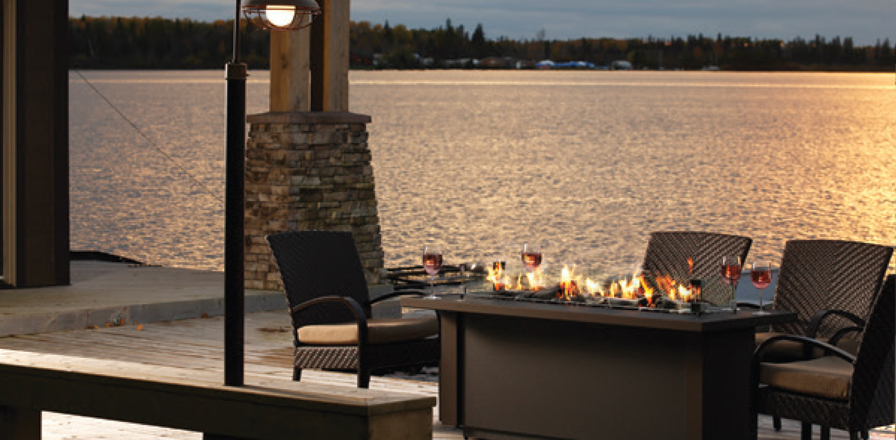 The emerging popularity of fire pits is part of a more significant trend that brings the inside-outside. For example, homeowners are incorporating more outdoor TVs, dining tables, and kitchens into their designs. Rachel Mendoza, international marketing manager of EcoSmart and Brown Jordan Fires, says, "with smaller lot sizes in many parts of the country, builders are providing a finished outdoor living space to provide the homeowner with maximum usable square footage— indoors and outdoors." Specific to fire features, lake homeowners are opting to gather around an outdoor fire pit rather than around the fireplace in their living rooms. As a result of this transition to outdoor spaces, fires and dining tables have merged to create the fire pit table. Essentially, this is a standard dining table with a fire pit built into the center. Mendoza endorses their effectiveness: "Firepit tables are multifunctional as they provide warmth and table space to set down food and drink. The effect creates the perfect setting to sit around and enjoy great conversation."
Durable Materials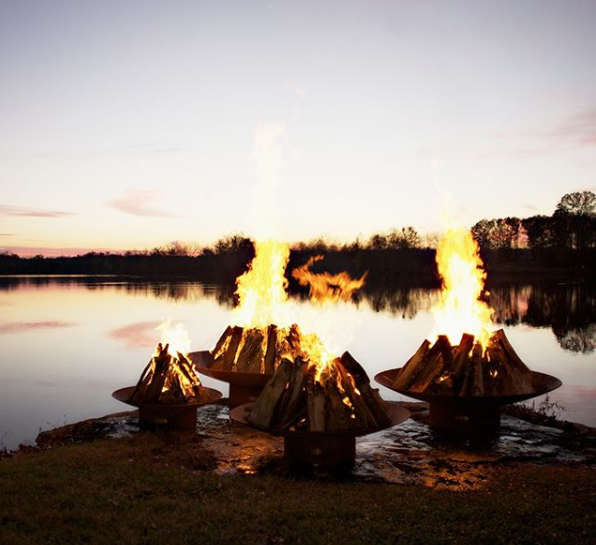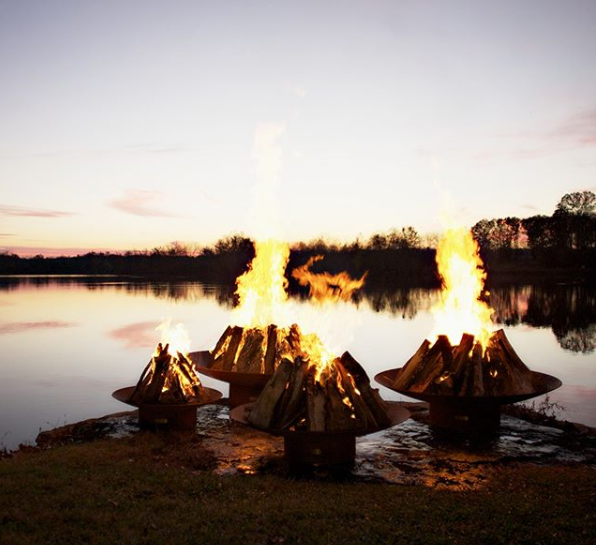 When it comes to choosing an outdoor fire pit for your lake house, the material you select depends on your patio aesthetic. For a minimalist, perhaps industrial look, consider fire pits with steel bowls. A bonus of this sleek material is that everyone gathered around the bowl has access to the heat. For a more natural look to complement the woods in your backyard, teak is an excellent option. Mendoza notes, "teak is classed as the most premium wood on the planet. Beyond its beauty, teak is extremely durable, stable, and weather resistant." Finally, if you're a little unsure about what type of look you're aiming for, Mendoza recommends looking for a fire pit made of concrete. She adds that this material has a "natural and raw tone that seamlessly integrates with all furniture settings." To begin your search, you can check out the EcoSmart and Brown Jordan Fires collections.
Regardless of what material you choose, your outdoor fire pit is sure to be a source of warmth, both literally and figuratively. Mendoza adds, "In today's hectic world, the simple pleasure of relaxing in front of a flickering flame melts the stress away and allows your mind to unwind, be at peace, and recharge." Besides providing much-needed heat in the winter months, the presence of a fire pit is all about creating memories with friends, family, and guests at your lake house. So grab a basket of blankets and gather around the fire for good times.
Want to learn how to build your own fire pit? Check out this article HERE.