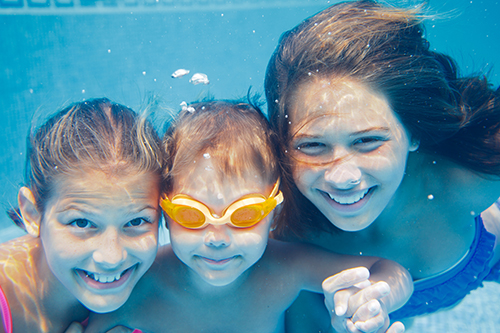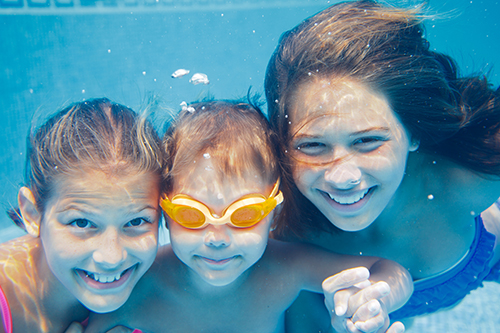 Every parent wants their children to stay safe while having fun at the lake.
Just a little preparation can help your kids have a fun time on the lake, and build memories you will cherish for a lifetime.
Whether they are toddlers or teenagers, water safety can start right now!
Here are some water safety tips for parents, big brothers and sisters or anyone keeping an eye on kids at the lake.
Near the Water
Imagine a warm summer afternoon. You're sitting in a lounge chair on your back deck, having some laughs with the family. The smell of barbecue is in the air, the sun is shining off the lake and it's a gorgeous day.
The water is less than 50 yards away. Everyone's having a great time – especially your toddler, who is making her way right to the water!
With small children, the most important safety factor is supervision. Even if you are watching them, it's easy to get distracted. Always keep an eye on your children.
If you have small children, make sure you latch, lock or childproof every possible route between your little one and the water.
As soon as they are old enough, make sure they understand that they are never to go near the water without a parent or adult. Don't make them afraid of the water! Rather, visit the water with them.
Make sure your kids know to be careful around docks, shorelines, dams and boathouses. One wrong step on a slippery dock can spell disaster.
Consider buying your kids water shoes or boating shoes. These give much more traction than sandals or bare feet, and protect your little ones from rocks, sticks and broken glass.
On the Water
Water safety is just as important for boating. Make sure everyone on a boat wears a life perserver, especially children. Many communities mandate the use of life preservers for children on boats less than 30 feet long.
This is good advice, even in calm water. Nearly half of all drownings related to boating happen in calm water. In the vast majority of them, life preservers were in the boat, but not being worn.
It helps to serve as a good example. Wear a life preserver yourself! You don't have to wear the bulky life preservers of the past, either.
Modern technology has given us smaller, more comfortable life preservers. Many of them lay flat until they hit the water, at which point they inflate automatically. Those which need manual pull-cords to inflate are not recommended for children.
Make sure your child has an appropriately sized life preserver, too. It should close securely around their chest.
If you grip the life preserver securely and lift, this should eventually lift your child. A life preserver that is too loose will slide up around their neck. One that is too tight or small will not close.
Enroll your child in a boating safety course, if you can. Most lake communities have these available for a small fee. A weekend of instruction can not only save your child's life. You might learn a few things, too!
In the Water
According to the CDC, drowning is the leading cause of accidental death for children under the age of four.
If you are supervising kids, make sure you keep an eye on them at all times. Children who are not strong swimmers should have life preservers in the water. Toys such as water wings and pool noodles do not count!
If your kids are in the water, you should be, too. Should your child get in trouble, you need to be right there. It won't help if you're busy texting at the shoreline! This is less important if they are strong swimmers, but you still need to be nearby.
Of course, the best way to encourage water safety with your kids is to enroll them in a swimming course. Any child who spends time on the lake should be able to swim, even if they wear a life preserver. This does more than save their lives. It also means they can enjoy the lake, and the water, in every possible way!
Not sure if your child is old enough to learn to swim? If they're even six months old, they can get started! "Infant swim" classes are becoming more popular nowadays. These programs have decades of research behind them, and are proven to save children's lives.
Instructors teach children to float, to roll over onto their backs, and not to panic if they fall into the water. Infant swim lessons are not a substitute for parental supervision. They are a last line of defense. They also acclimate children to the water, so they can take proper swimming lessons as they get older.
For more information on infant swim classes, visit infantswim.com or read our Lake Living Basics article for tips on how to teach your kids to swim yourself.
Even if your children can tread water on their own, swim classes are a great summer activity. Most lake communities have places for swim lessons for kids of all ages.
Whatever their interests, your children can be safe near, on, or in the water with just a little preparation. Have fun, stay safe and enjoy the lake!