Have a basement that you're not putting to use? Turn it into the ultimate man cave, the perfect place to entertain or just relax and hang out.
Unfinished Walls
Do not sit back and look at unfinished or blank walls. You need to make sure that all the patchwork on the dry wall is completed and there is fresh paint applied. Do not opt for the boring white; go for color.
Pick the color of your favorite sports team or your favorite color in general. Just do yourself a favor and avoid paneling and wallpaper.
Wet Bar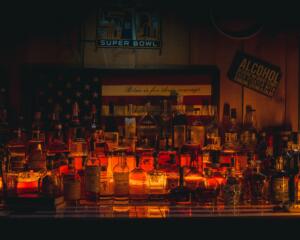 If you plan on spending many hours down in your new haven, install a wet bar. You can even turn it into a custom project hat fits your specific desires. Place a mini refrigerator under the bar to keep ice and cold beer in.
Supply your bar with a liquor shelf, stocked with your favorite hard alcohol. Include some crazy and cool drinking glasses and sets that include shot glasses. Do not forget to place a dish bucket under the bar so that your dirty glasses can be taken up when it is time to restock your glassware.
Big Sound
You already know this part is important for the ultimate man cave. Surround sound and bass is important for your favorite music, sports games, and movies.
With hidden wires, plenty of high quality speakers, and a large screen television, you will be on your way to blaring your entertainment in the right fashion.
Themed Decor
Just because you're at the lake doesn't mean you have to stick with a fisherman's paradise/lake themed decoration (although there is nothing wrong with that and many do).
Should you be a sports fan, and then you can decorate with the primary colors for you favorite team, if you are into rock music then hang coordinating themed memorabilia, and if you are into fine arts, hang paintings and decorate with vintage art supplies. You get the drift.
Or maybe you want a sports bar theme; hang neon beer signs, local sports team jerseys, and install a kegerator to serve your favorite beer.
The ultimate man cave will depend on your personal hobbies, tastes, and past times. Make sure to incorporate a little of everything that you love to maximize the relaxation that you can offer yourself. You can even host get-togethers in your man cave that everyone will enjoy!