The temperature is dropping, the leaves are changing and the smell of Fall is in the air. With Fall, comes one of the most exciting times of the year: Halloween!
Trick or treating, scary costumes and apple-bobbing aren't the only things to look forward to.
Decorate for Halloween
Halloween decorations are just as fun!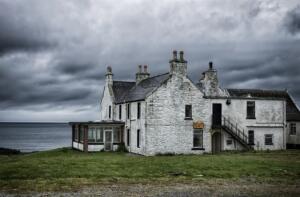 If you're looking for some advice on spooking up your lake house a bit, look no further, we have some great ideas for you!
Of course, there are the classic Halloween decorations like cobwebs and fake spiders.
Adding these too your house and dock (which may already have cobwebs on it) is a surefire way to spook up an area.
Always use jack-o-lanterns, as these are super fun to make and are great decorations. Place them on your front or back porch and dock for all to see and fear!
Scarecrows are also a frightful sight, especially this time of the year! Stick a scarecrow in your yard, and it will be sure to turn some heads!
Other Spooky Ideas
Some other spooky ideas include:
Bone Door Knocker – What better way to spook your neighborhood ghouls and goblins by having a super scary door knocker? For this decorative setup, you'll need some fake bones and a door to place them on. Knock Knock! Trick or treat!?
Witch's Cauldron – A great idea is having a witch's cauldron in your front yard! Buy a large plastic black cauldron, set up three long sticks to suspend it from, add water and dry ice and you've got yourself one spooky decoration!
Or, if you would like to impress the neighbors across the pond, use this same setup on the lakeside of your home, and add a couple of spotlights to highlight your setup!
Gothic Wreath – Make a black wreath with sticks jutting out every which way, and place a fake crow in the mix to add a spooky atmosphere to your door.
Spooky Face in the Mirror – Remove most of the paint from a mirror and stick an old portrait photo behind it. Paint the mirror frame black, and you have yourself one spooky mirror!
Graveyard Tombstones – Use cardboard and spray paint to create ghostly tombstones and stick them in your front yard, or near your dock, and put them on display with spotlights!
Window Silhouettes – Use cardboard and a sharpie to outline the shape of a ghoulish character from one of your favorite horror movies! Cut it out, stand the silhouette in your window and let the shrieks begin!
Zombie Hands in Ground – This one is a classic and surely freaks everybody out. Buy a few fake severed hands, and bury them halfway so that they stick out of the ground. These can be purchased at any Halloween store.
They can also be placed on your dock, as if the zombies are coming out of the water. Nothing is scarier on the lake than water ghouls!
But, your main focus on Halloween should always be to just have fun with it!