Read My Face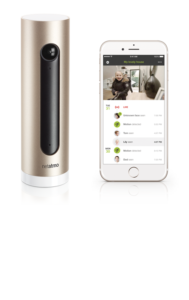 Netatmo has made a leap in home security, especially with its ability to accommodate facial recognition.
Not only do you get remote security monitoring, but the Home Security Camera notifies when your children, pets or elderly parents walk in front of the camera. You will be updated via the mobile app.
The system will also notify you if a stranger's face is recognized, especially handy if you are out of town or worried about a child throwing a party while you're gone.  Videos are stored on the camera's SD card, in a well-hidden area.
This new gadget is definitely one to add to your dream smart home.
SmartThing, You Make My Heart Sing
Samsung created a great little gadget, called the SmartThings.
Connect any of your smart devices (thermostat, TV, security system, light panels, etc.) to the SmartThing hub, and you can control them from anywhere in the house, and even out of the house, using the mobile app.
You can set up as many smart devices as you want or need, and watch your house control itself.
Lock the doors, turn off the heat, and monitor your security camera from anywhere all from one app.
Phone It In
Ever thought you had everything, only to lock the door and realize your keys are still in the house? But you always have your phone, right?
Well Friday, a gadget company, has created the perfect solution. Using your phone, you can remotely unlock your door.
With the Smart Lock, there is no handle on the exterior, you just open the app on your phone and click "Unlock."
From inside, there is a handle you can turn, or if you're really lazy, you can just open the door with your phone as well.
You can grant anybody with a smart phone access to your home, and ensure that no one without your permission can unlock the door. Just hope you don't forget your phone inside!
The Grass is Greener with WORX
WORX has created the first widely promoted robot mower. Yes, robot mower!
If you're looking to enjoy hot summer days inside, or just hate mowing, this is the perfect gift to yourself.
You can program the Landroid to create a mowing schedule, and can navigate sloped or landscaped yards without terrorizing your neighbors or chopping out your prized rose bush.
If you're an eco-friendly consumer, you'll also be happy to know that the Landroid has zero emissions, as it is electric.
Buy this, and not only will you have a smart home, but also a smart lawn!
Window to the Soul
Do you live in a small space with not enough natural light? Problem solved!
Atomph has created a digital window that shows video (with sound) of selected places all around the world.
Filmed with a 4K professional video camera and full sound, you'll feel like you're right on the beach, or the jungle or the mountains.
Everyday, new footage is added, and the light has been designed to feel natural and true to the environment you choose.
Wish you could be somewhere else? You can be, with Atomph Window.
Check out more fun technology in our "Lake Tech: Apps and Gadgets for the Lake" article!