Tornadoes are very scary and can be extremely dangerous. There are precautions that you will need to take in order to keep you your family safe. Firstly, you need to understand how to know when you are in danger of being in a tornado.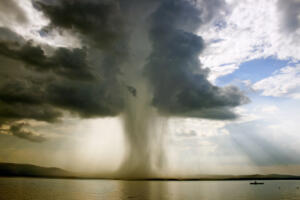 Severe storms are a fairly common occurrence in the South. Anytime there is a threat of severe weather you should always keep an eye on the news or better yet, an ear to the weather radio.
These strong storms often bring hail or very heavy rain that is followed by either a dead calm or a fast and intense wind shift. By the time the weather reaches this point you should already be in your "safeplace."
Houses with Basements
If you are in a house with a basement, then you will need to avoid windows. Get to the basement and then get under a sturdy piece of protection. A heavy table or even a workbench would work.
If you do not have those, cover everyone up with a mattress or even a sleeping bag. Keep in mind where heavy items are located above you. If the floor should open the items can fall on top of those underneath. Head protection like helmets can also offer extra protection.
What if No Basement or in an Apartment Complex?
If you are in a house with no basement or an apartment, avoid the windows. Go to the lowest floor in the structure to a small center room. A bathroom is best. Make sure you are not by any windows.
Face down to cover your face and use your arms to cover your head. A bathtub can offer a good shell for protection. Again, you can cover the top of the  tub with a mattress to protect you from any falling debris.
Office Buildings or Public Places
You need to go directly to an enclosed area with no windows. Go to the lowest possible floor inside the structure. Crouch down, and then cover your head. Interior stairwells are typically a good place to take shelter. Stay away from elevators or you may be trapped inside.
Mobile Homes Are Not Safe
Even if your mobile home is tied down, get out of there fast. It is not safe and you should get to a public area, neighbor, or nearby family home that offers proper shelter. A mobile home is the absolutely last place to be during a tornado. It cannot only be knocked over, but it can even be taken up into the air and thrown by a strong tornado.
Make sure that you have a bag packed during tornado season that has all the essentials for you family. If you have young ones, keep a pack of diapers, formula, and other essentials ready to be picked up and taken in a moment's notice.
With modern technology such as smart phones, it is easier than ever to stay current with ever changing weather conditions. As soon as your area enters a severe weather or tornado watch, make sure you are able to pay attention to your local meteorologist. If there is any speculation of a tornado in your vicinity, do not hesitate to get you and your family to your safe place!