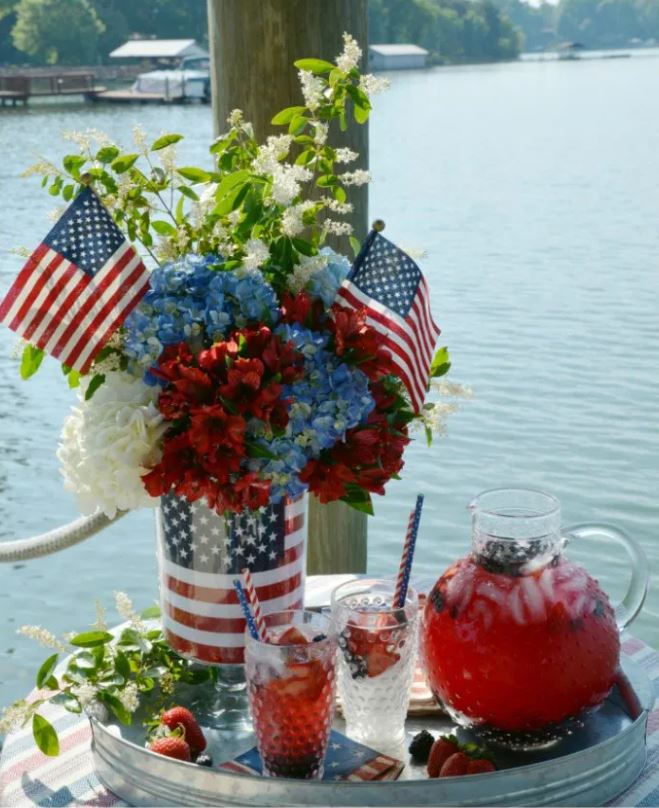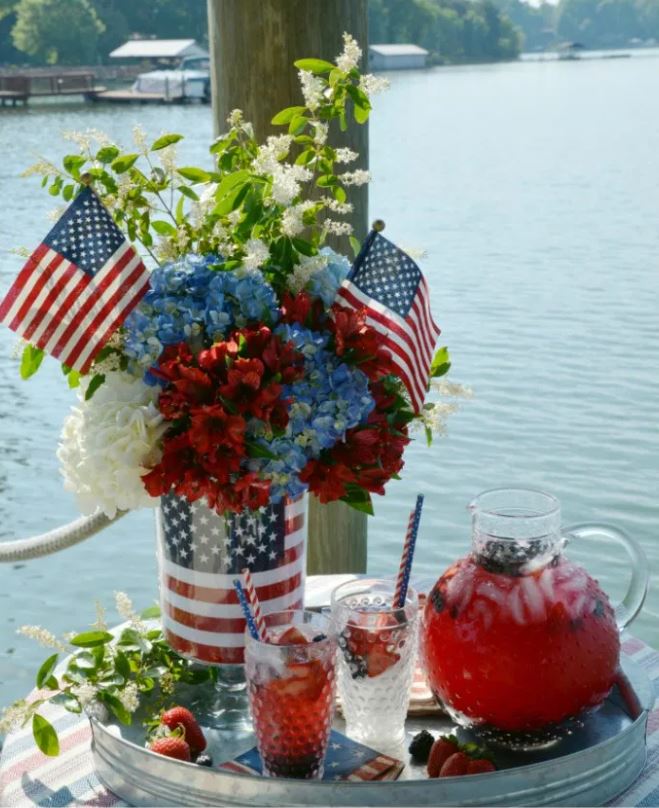 What's your favorite July 4th tradition? Maybe it's grilling burgers and taking your family on the boat. Or tasting the first bite of homemade apple pie and admiring the fireworks' reflection in the water. Whatever your routine may be, a lake home is an unbeatable setting for this holiday. To top off the celebration, you can create 4th of July cocktails for you and your guests. After all, there are few excuses throughout the year to serve whimsical, colorful cocktails. Plus, you can skip the alcohol with most of these drinks, so they're appropriate for kids. This holiday, pick your patriotic poison and enjoy the lake!
Red, White, and Blue Spritzer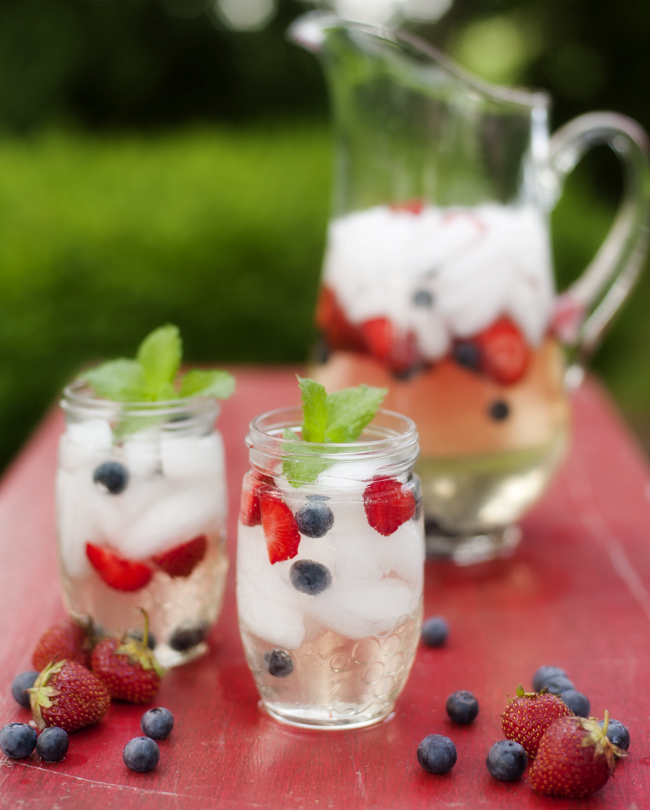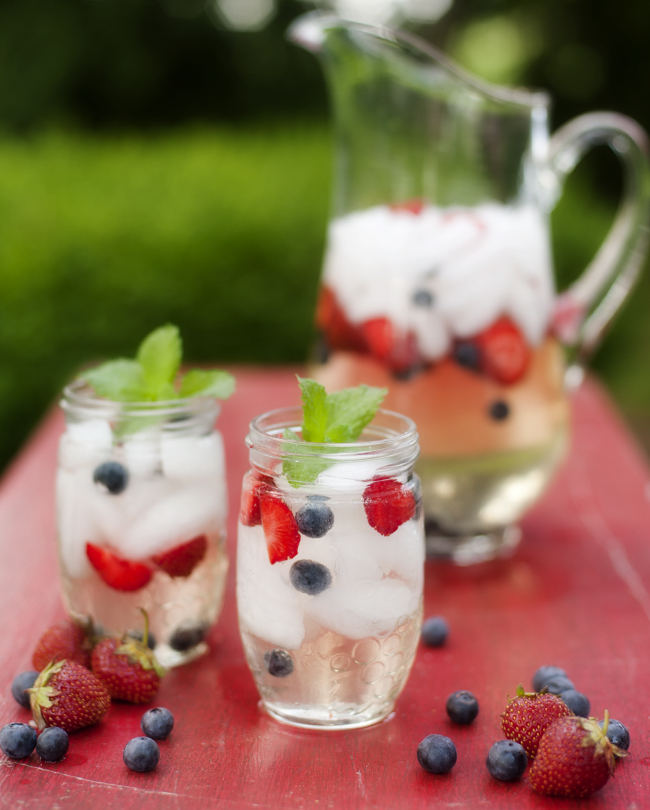 If you're looking for something light and refreshing, this spritzer is a perfect choice. Add some fresh strawberries and blueberries for the full red, white, and blue effect.
Ingredients:
1 cup simple syrup (1 part sugar + 1 part water, boiled until dissolved and cooled)

½ cup fresh strawberries, sliced in halves

½ cup fresh blueberries

1 bottle dry white wine

Club soda or tonic water

Ice

Fresh mint for garnish
Directions: Add ice to pitcher until full and top with berries (save some for individual glasses). Pour in simple syrup and wine until the pitcher is ¾ full, then add soda or tonic water. Stir, serve and garnish with mint and extra fruit.
Courtesy of: Pretty Plain Janes
Sugar Cookie Pudding Shots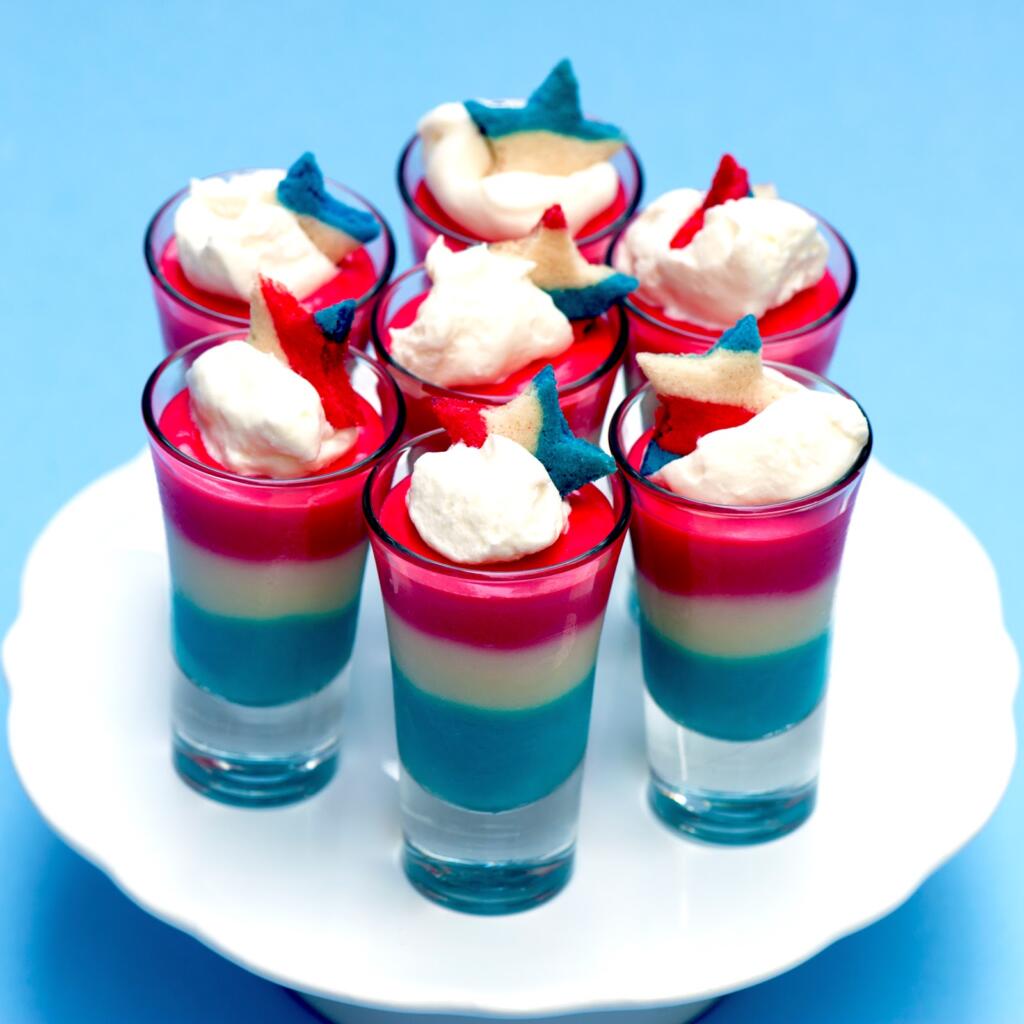 Confectionery sweetness meets alcohol with these celebratory shots. The bright colors and thick, pudding consistency make for a fun, festive treat.
Ingredients:
1 box white chocolate flavored instant pudding

1 cup cold milk (any kind)

¾ cup vanilla vodka

2 tbsp amaretto liquor

½ cup whipped topping (or whipped cream)

Red and blue liquid food coloring

Cookies or sprinkles for garnish
Directions: In a medium bowl, pour pudding mix and add cold milk. Beat for two minutes. Add the vodka, ¼ cup at a time (combine thoroughly before each new ¼ cup addition). Stir in amaretto and whip. Evenly divide the pudding mixture into 3 bowls. Tint the first bowl with red food coloring, the second bowl blue. Leave the last one white. Layer the puddings in shot glasses and top with chosen garnish.
Courtesy of: Jelly Shot Test Kitchen
Firecracker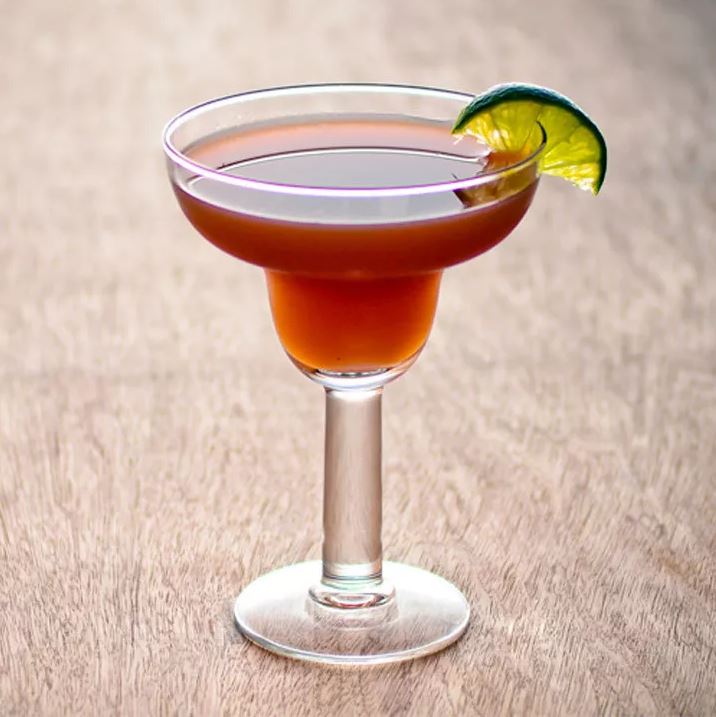 This cocktail's spicy flavors are just as sizzling as the fireworks. For those who enjoy a relatively simple cocktail with a few fun flavors, this is for you.
Ingredients:
4 watermelon chunks

3 oz Flor de Caña Grand Reserve seven-year-old rum

1 oz Triple sec

1 oz fresh lime juice

1 oz simple syrup

½ tsp cayenne pepper

Lime wedge for garnish
Directions: Muddle the watermelon in a mixing glass. Add all other remaining ingredients and ice and stir. Unstrained, pour into a cocktail or margarita glass. Garnish with a lime wedge.
Courtesy of: Liquor.com
Red, White, and Blue Sangria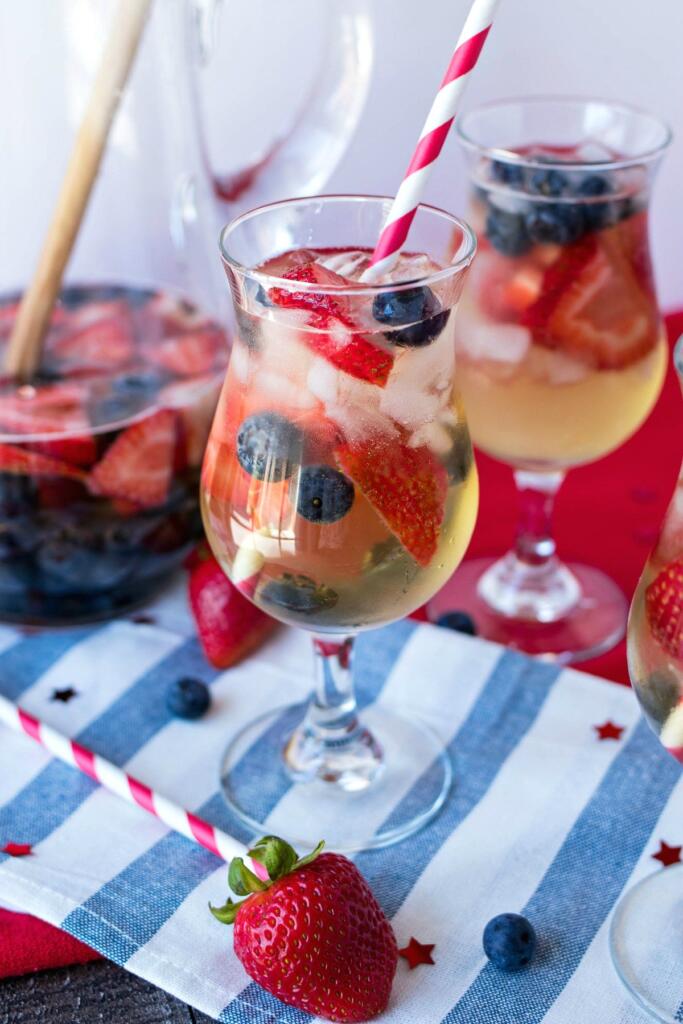 Sangria is a summer staple (alliteration, anyone?). But this time, you don't have to decide between red and white wine as the base. As long as you add blue, it's patriotic.
Ingredients:
¼ cup of sugar

¼ cup brandy liquor

1 750 mL bottle of dry white wine

12 ounces lemon-lime soda

1 pound strawberries (sliced)

1 dry pint blueberries

Ice (for serving)
Directions: In a pitcher, mix sugar and brandy and stir until sugar is dissolved. Add a bottle of chardonnay and lemon-lime soda. Stir, then add strawberries and blueberries. You can let it sit for a few hours ahead of time to absorb all the flavors. When ready to serve, fill glasses halfway with ice, then pour sangria and serve immediately.
Courtesy of: Certified Pastry Aficionado
Red, White, and Boozy Margarita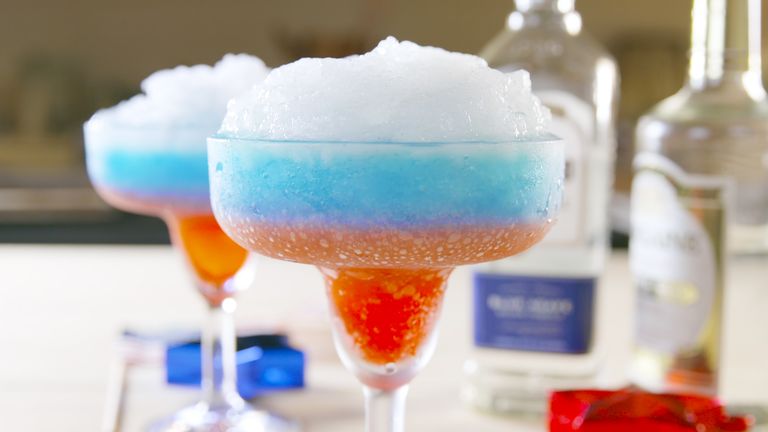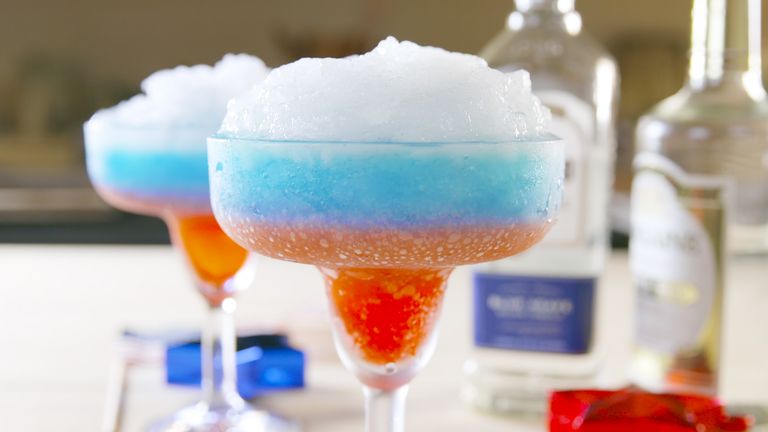 Nothing says "summertime" like a frozen margarita. But this time, try it with a 4th of July flare. After a day of grilling and relaxing in the sun, cool down with this colorful recipe.
Ingredients:
9 cups ice

6 oz. silver tequila

3 oz. triple sec

2 oz. grenadine (for the red layer)

2 oz. blue curaçao (for the blue layer)

2 oz. lime juice (for the white layer)
Directions: Divide ingredients for ice, tequila, and triple sec into thirds, and use ⅓ of each amount for each layer. Make the red layer by blending all ingredients, dividing evenly into glasses, and then repeating them with blue and white layers. Serve immediately.

Courtesy of: Delish.com

Red, White, and Blueberry Mule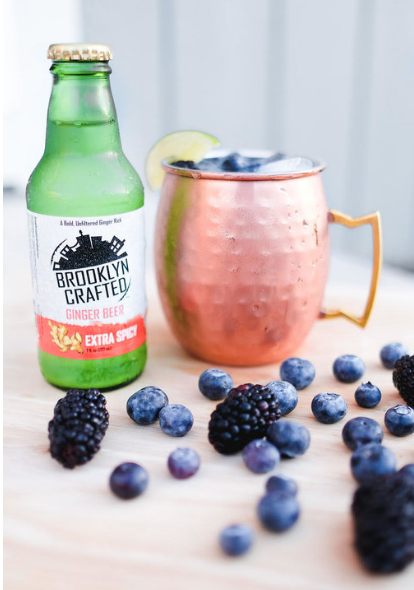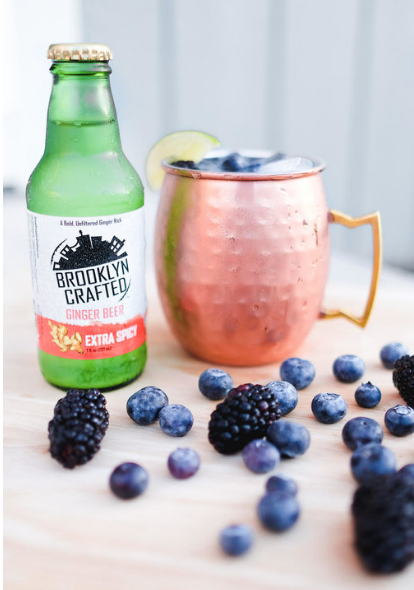 If Moscow Mules are your cocktail of choice, try this festive twist on your favorite beverage. It has the same classic mix of vodka and ginger beer, with a unique fruity flavor. Don't let your copper mugs go to waste this holiday! 
Ingredients: 
2 oz. berry vodka (blueberry or raspberry)

6 oz. ginger beer 

Blueberries 

Blackberries 
Directions: Muddle blueberries and blackberries in a shaker. Add vodka and shake. In a Moscow Mule mug, fill with ice and pour vodka and berries mixture. Fill with ginger beer and garnish with extra blueberries and blackberries.
Courtesy of: Brooklyn Crafted
From all of us at Lake Homes Realty, happy 4th of July!