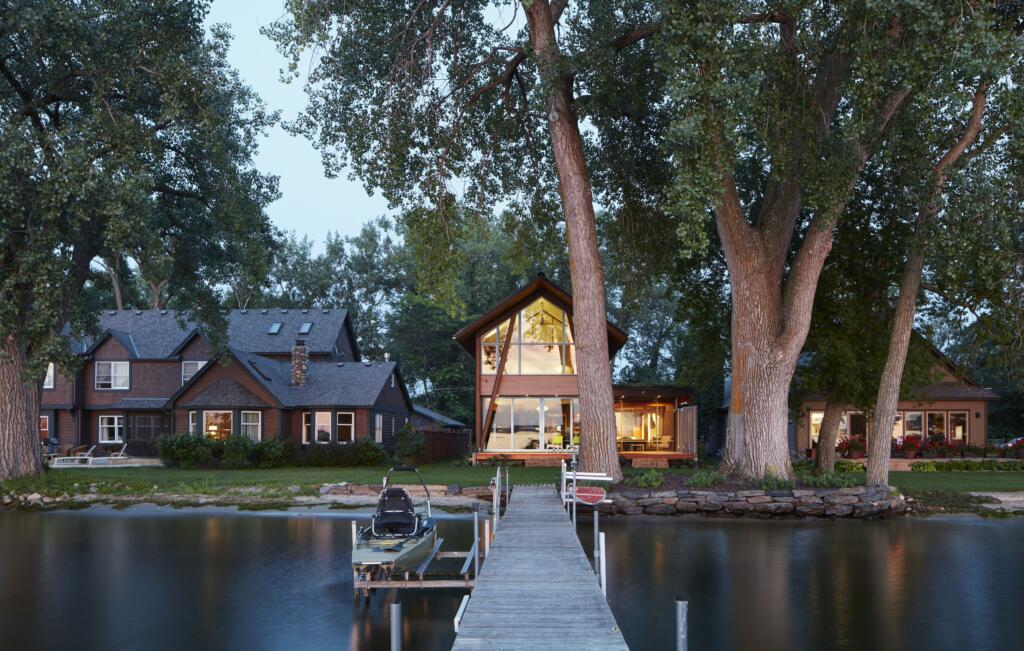 Tucked into a deep, narrow lot on Minnesota's Lake Minnetonka, this splendid waterfront residence in Tonka Bay takes energy efficiency to the next level. Its net-zero technology, which incorporates a geo-thermal heating and cooling system and a photovoltaic solar panel array along the south-facing gable, enables the home to produce more energy than it consumes. In addition, four Tesla Powerwall units store excess electricity.
The homeowners sought to design a high-tech and innovative new residence that would be spacious enough to accommodate large family gatherings and include a bunker to provide them reliable shelter from the area's powerful storms. So, when they were ready to build, they enlisted David O'Brien Wagner of SALA Architects in Minneapolis to take on the challenge. Wagner intentionally designed the three-bedroom home without a full two stories to blend seamlessly with the scale of the neighboring residences. The result is a clean and carbon-free 2,600-square-foot home boasting spectacular views of the lake and eco-friendly, state-of-the-art efficiency.
"Energy-efficient strategies are one part of how we make our designs sustainable," says Wagner. "This begins by building to a higher standard for tightness of construction and then incorporating high-performance windows and insulation. Though the homeowner doesn't visually see these design elements, they do get to see a lower energy bill, and in some cases, we can even reach net-zero where ground-source heat systems are coupled with solar panels," he notes.
For this Tonka Bay residence, enough energy is generated on-site over the course of a year that the operation costs balance out from what the homeowners produce—during the summer months in Minnesota—versus what they pull from the grid during the winter months.
Modern Cottage Charm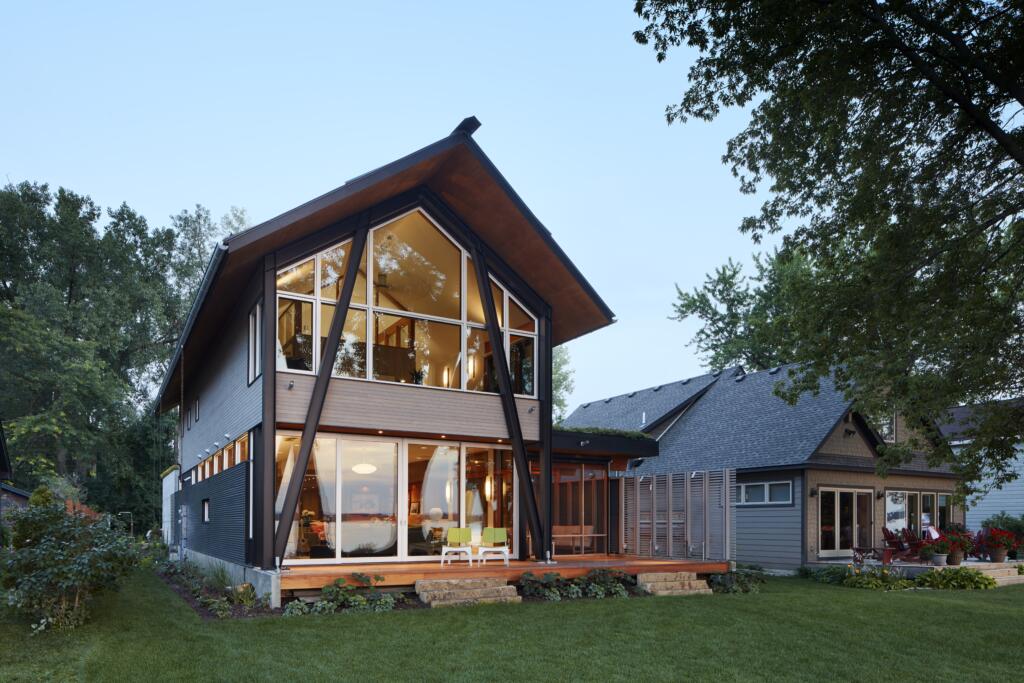 On the lake side, the dwelling features sweeping, contemporary expanses of glass juxtaposed with a more traditional gable roof that also provides a surface for the 40 solar-panel display on the south-facing side. "This creates a satisfying balance between a modern aesthetic and a humble cottage," says Wagner. Clad in corrugated galvanized steel on the exterior's lower half, with grey-stained cedar on the top half, the home is "the unique grey duck on the lake," notes the architect.
Green Rooftops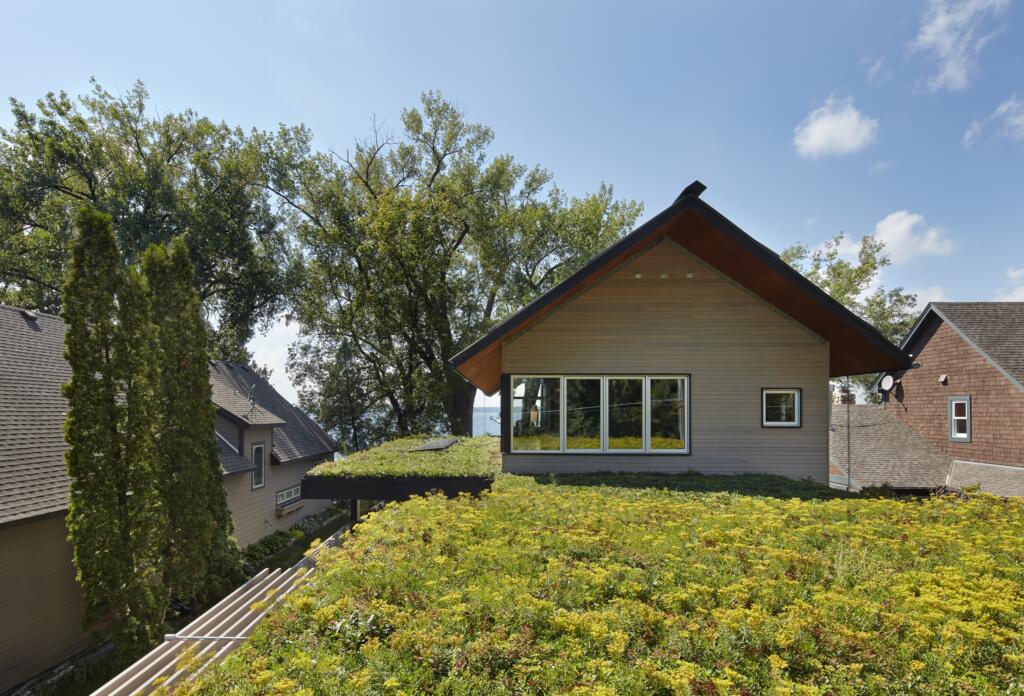 The home includes many sustainable features that reach beyond just energy efficiency. For example, green roofs over the lower guest bedroom suite and the garage capture rainwater and slow the run-off of storm events that affect lake-water quality. The stormwater is absorbed and filtered through the green roofs, rain gardens, and a water-retention area below the deck.
Active/Passive Design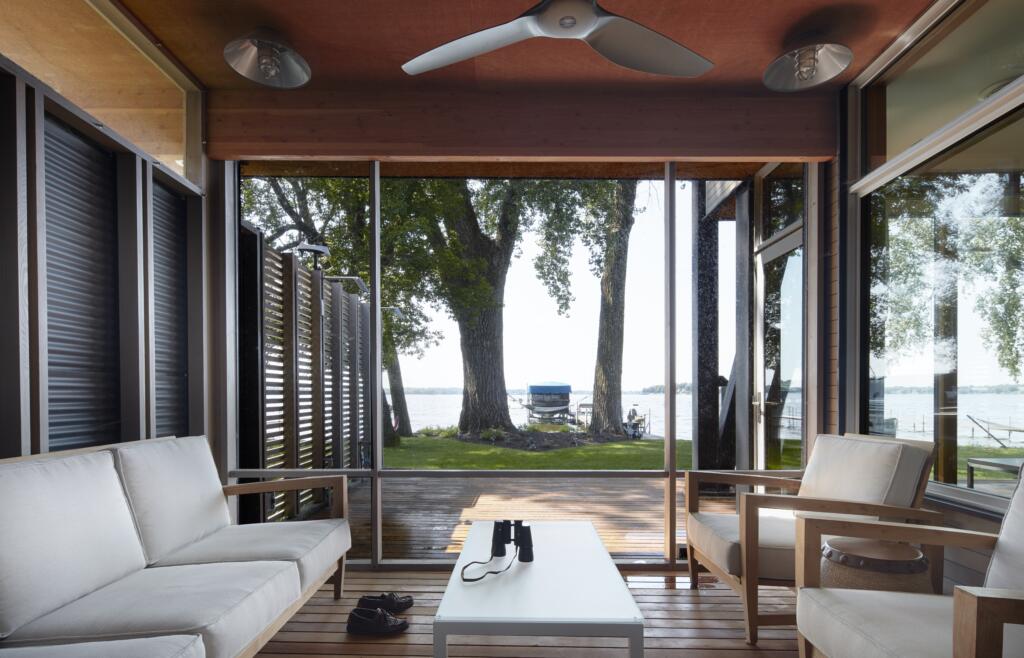 "Of course, passive design is another way to make homes more energy-efficient," Wagner says. "Passive design is where you use time-honored concepts such as orienting windows to the sun to heat the home, providing overhangs to shade the home in the summer, operable windows positioned to allow natural cross-ventilation, and using natural daylight to minimize the need for artificial lighting," he adds.
For Grey Duck, Wagner implemented a broad range of both passive and active design strategies to make this a high-performing and sustainable home. These features include geo-thermal wells, solar panels on the roof's south side, and triple-pane windows. On the lake side, he opened up the home to cooling summer breezes with a sliding door system, a screened-in porch, and large roof eaves to help control sun exposure and threats from inclement weather.
Sleek Simple Living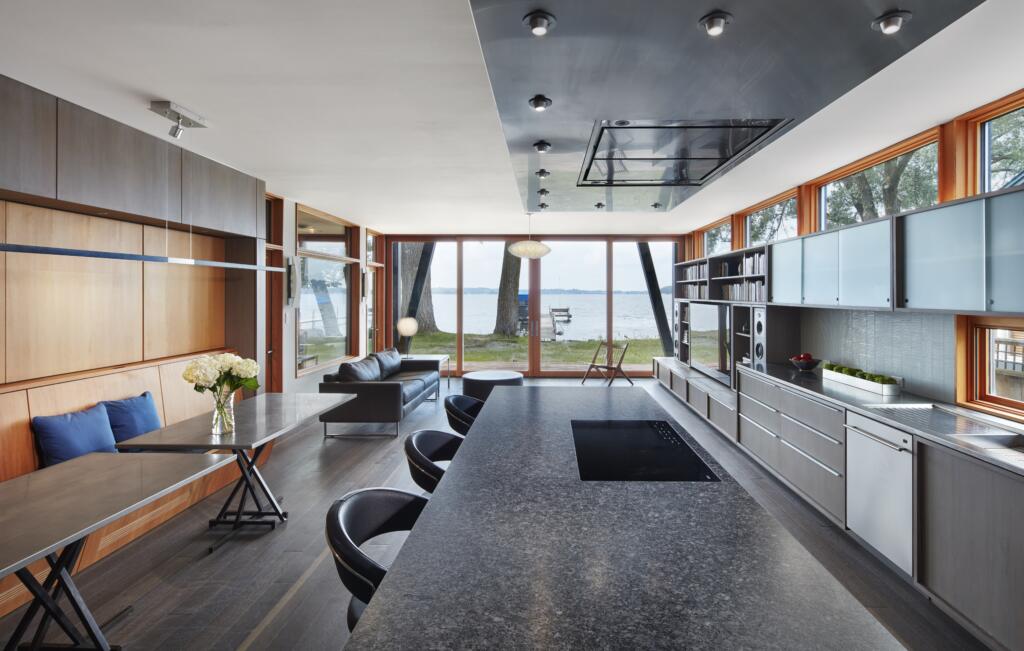 Wagner masterfully designed high-functioning living spaces within a small footprint by implementing many space-saving built-ins and storage options. A 20-foot wall of glass capturing spectacular views of Lake Minnetonka creates a high-impact WOW factor. Automated shades cool the room during summer sunsets, and hidden phantom screens can convert the living room into a breezy screened porch where the homeowners can enjoy the sounds of waves lapping against the shoreline.
Wagner's minimalist aesthetic emits a comfortable warmth in the kitchen, living, and dining areas with wide-plank white oak floors accented with Douglas fir wall panels and trim. The streamlined efficiency of these airy and open spaces compares to "the inside of a yacht," says the architect.
"We incorporated local materials where possible," says Wagner, "including granite countertops sourced from northern Minnesota, as well as windows made in Winnipeg, Canada, just a short hop over the border from Minnesota. Lighting is all LED, which is both reliable and low energy. Appliances are all electric, which means they can be run off the solar panels rather than from natural gas or propane."
Dreamy Comfort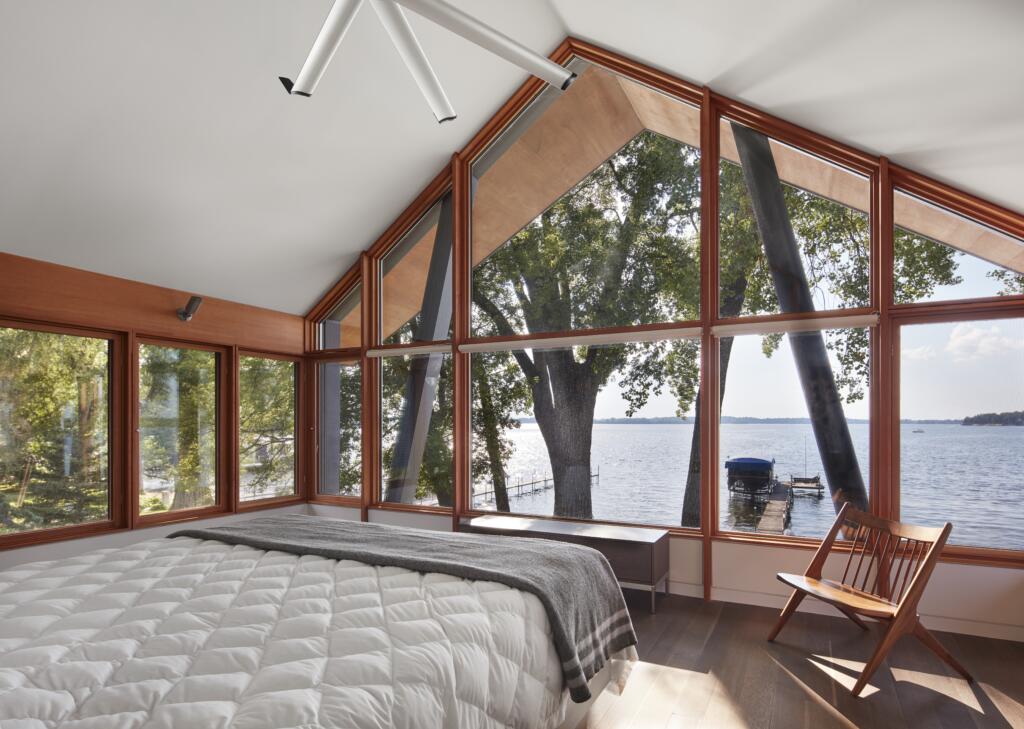 On the second floor, a stunning master suite showcases gorgeous views of the lake through a magnificent triangle window that expands the entire wall. Wagner decided to take the windows around the corners to capture views both up and down the lake.
"Energy-efficient homes can take on many shapes and aesthetics, but our underlying philosophy is that sustainable design is an ethos, not a style," he says. "Because of this, our approach to design doesn't begin with preconceived notions of how a home will look. Rather, we consider the nature of a home's site and its orientation to views, sunlight, and local context.
Whether a more urban location or an open rural setting, we look to nestle a home into its landscape so it feels rooted to its place and in harmony with its surroundings, he notes. "In the end, the most sustainable home is the one that stands the test of time and will still be here 100 years from now because it was well-built, fits in with its site, and is cherished by the people who live there." 
Interested in finding or building your dream home in the Lake Minnetonka area? Visit Lake Homes Realty for more details and enjoy the lake life!