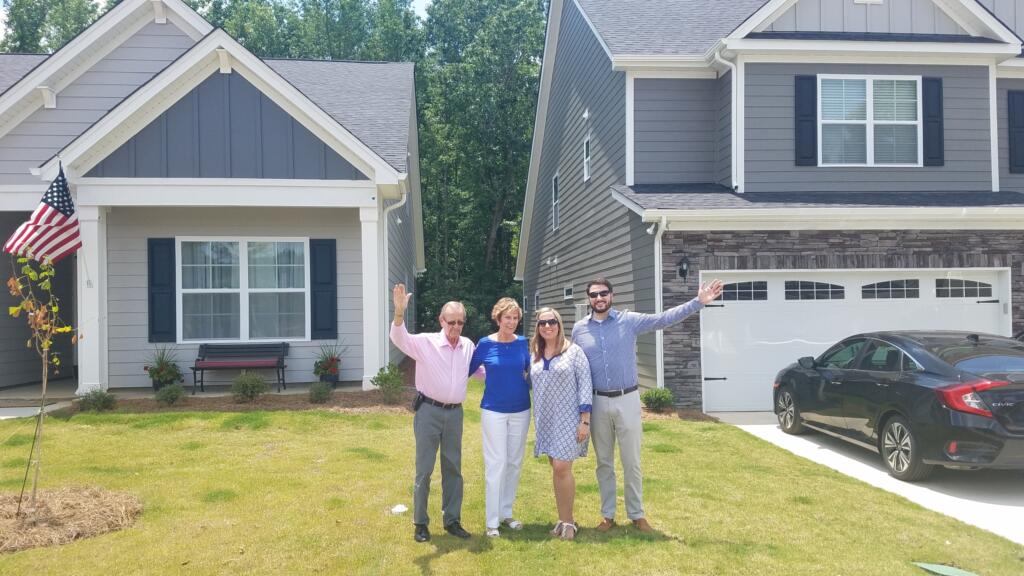 In 2018, Tricia and Ric Morrison decided it was time to sell their beloved home on Lake Marion and make a move to nearby Lexington, South Carolina to be closer to their daughter and son-in-law.
The pair began their search for a listing agent where most people do these days, online, and quickly discovered Lake Homes Realty/LakeHomes.com. 
For two months, the Morrisons searched the site's more than 65,000 properties and read about the company's nontraditional way of approaching lake real estate by only employing agents who lived, worked and played in their local lake markets.
As Lake Marion residents for many years, Tricia and Ric were well aware that selling a property on the lake was unlike selling an off-lake property in many ways and that working with an agent who was also an area local would provide them a unique advantage to selling their home. 
Ultimately, they enlisted the help of Lake Homes Realty agent Kristie Anderson. 
"I'd sold one of their friend's condos and was thrilled when they were referred to me," said Anderson. "The Morrisons' condo was right on the water, and I was confident we could get it sold in a timely manner and excited to get them closer to their family." 
Traditionally, lake properties stay on the market for extended periods of time. Much longer than off-lake properties because many of them serve as vacation or second homes. It's not uncommon for lake listings to be on the market for more than a year in high-priced markets, or be taken off the MLS during the off season. 
The Morrisons' Lake Marion home sold in 210 days. 
"Kristie has lived in the Lake Marion area all her life and could answer any question our prospective buyers had," Tricia said. "If it weren't for her lake-specific expertise, we wouldn't have had the confidence we did that she was providing accurate and data-supported information to our buyers and us."
During the process, Kristie connected the Morrisons with Doug Geisler, another Lake Homes Realty agent on Lake Murray, located near Lexington and their daughter. 
"Kristie truly cares for her clients and wants the best for them. We knew Doug would be the same," Tricia said.
"The first house I showed them was my neighbors'," remembered Geisler. "It wasn't a fit for them, but they thought it would be perfect for their daughter and her husband, and pretty soon I was working with Chelsea and Chris, too!"
After looking at a handful of resale properties, Tricia and Ric chose to purchase a new build in the Summer Lake community, which would allow them plenty of time to let Kristie sell their current residence and have their new one constructed. 
Chelsea and Chris however, continued the hunt for their perfect home.
"They had just signed a six-month lease at their current residence, so I thought a new build might be a good option for them to consider," Geisler said. "As luck would have it, they found a home plan they loved in the same neighborhood as Mom and Dad."
Doug, Chris, and Chelsea kept their purchase a secret for nearly two months!
"Chelsea and Chris came to visit us to celebrate her birthday, and after we had the cake, she gave us a present to open," said Tricia. "It was a framed picture of our lot, all graded and ready for our home to be built."
Chelsea proceeds to give her mother a second picture, which showed off the lot she and her husband had decided to buy. 
"Then a third picture showed both lots together, and their sign said "HI NEIGHBORS," exclaimed Tricia. "Doug had kept their secret, and helped them in buying the lot next to ours to build their dream home!"
The Morrison's Lake Marion property and their new build purchase closed just two days apart, and the couple moved into their new home the day after closing on it. 
"Everything worked out so perfectly. Had their home sold any faster, they would have been homeless," joked Anderson. "I don't think I've ever missed my clients as much as I miss the Morrisons. It was such a joy working with them."
For the Morrisons, the feeling is mutual. 
"Our Lake Homes Realtors® definitely took away all the stress in the personal and legal aspects of selling and buying our homes," the Morrison's said. "They both went above and beyond, and we can't thank them enough for helping us work out our timeline in selling our lake house and the purchase of our new home."
Today both couples are living their dreams side-by-side, enjoying family dinners, becoming part of the community and spending time on the lake.