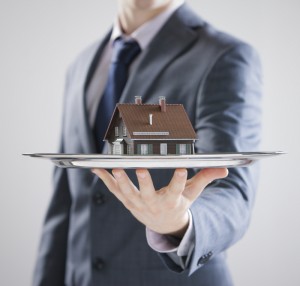 Real estate professionals will tell you the two most important ingredients for a profitable home sale are location and curb appeal.
A lake home has both, in a big way, but there are still a number of things you can do to when selling your lake home to bring the highest possible price.
You're selling the lake, and the lakefront lifestyle
The lake has both aesthetic and functional sales value – it provides a lovely view, from indoors and outside, and typically it's also a source of numerous recreational opportunities.
Everything about your property needs to be shipshape, all the way down to the water's edge, whether you have lawn, beach, a rocky shore with dock-only access or some combination of those.
Fix things in your lake home
The lake may be #1, but you're selling the house, too. Make sure it lives up to the appeal of the lake, whether it's a three-bedroom getaway or a multi-million dollar mansion.
All those little "detail problems" you conveniently overlook will be glaringly apparent to potential buyers. Many can be fixed quickly and inexpensively, so there's less chance of quibbling over them later. Instead, your home and property will appear move-in ready, a big positive for buyers.
For decks, docks, boathouse and shoreline, everything should be snug and clean. Repaint or stain, remove weeds and debris and rake the sand, so the area looks fresh and ready to enjoy rather than unattended. Double-check pathway lighting to be sure it's working properly.
Stage your lake home to appeal better to buyers
Purchasing any home is an emotional event. The more welcoming your home feels, the more desirable it will be. Your lake is the first thing buyers will want to see, so make it your focal point, too.
Create outdoor living "rooms" on the dock or overlooking the lake, with seating group, a BBQ prepped with accessories, a cozy fire pit, potted flowers – your goal is to show off the home's versatility as well as create a pretty picture. Keep it in scale, so it looks comfortable, not crowded.
Set out sports gear that's water-related or appropriate for the area – a kayak, bicycles, a croquet set, etc. Be sure to include child-size equipment and a sand pail and shovel, to let parents and grandparents your lake home is perfect for all ages
Take photos of your home as seen from the water. Better yet, give serious buyers a short boat tour so they can see for themselves and imagine giving their own tours for visiting friends and family. Photos of the lake in other seasons will reinforce your home's year-round appeal, so even second-home buyers will see it as a top-notch investment.
Choose a real estate agent who is experienced selling lake homes
They'll help you get top dollar by marketing your property to maximum advantage. That should include creating an inviting online presence for your home. A virtual tour is the best way to show off your in-home and outdoor lifestyle amenities.
Get advice from a professional real estate appraiser as well as your real estate agent to set a listing price, because valuing a lakefront property can be more complex than pricing a traditional neighborhood home. Reaching for the moon may be tempting, but it can backfire, leaving your home lingering instead of generating a lucrative sale.
Each of these details can add to the value of your home where it counts most – in your prospective buyer's eyes and mind. The more you focus on that, the more money you'll make when the sale goes through.