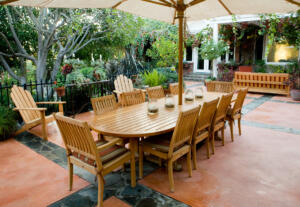 Throwing an event or get-together outside can require a lot of attention. You will be providing a way for people to bond and have a great time. You will need music, food, beverages, and other items to make the event go off without a hitch.
Being a host of the event you have a responsibility to be prepared. To help you get started here are some basics for outdoor entertaining.
Lighting Choices
Depending on the type of event, you will have different choices of lighting. For a down to earth event like a birthday party or a barbeque, you can use typical flood lighting or lamps.
To add a sense of fun, use Tiki torches or the equivalent. For extra appeal, you can use string lights by using the trees or posts. String lights can give you different color options and dress up the event.
Tiki Torches
String Lights
Candles
Decorative Lanterns
Music
No matter the reason of the event, whether it is a wedding or a birthday party, you will need music to help the ambiance. Using a laptop or another type of device for music is great as long as you prepare the playlist.
You will also need speakers. There should be enough speakers to provide a quality sound throughout the area the event is being held. The best speakers for this are bluetooth speakers so you can connect them easily without running wires.
Another thing to keep in mind is that sound travels very well across a lake. Be mindful of the volume for your neighbors both next door and across the water.
Music Device
Playlist
Speakers
Extension Cord
Portable Generator or Electrical Plug
Refreshments and Preparation
Refreshments and beverages should be provided for your guests. It is important to follow safety rules like keeping perishables on ice in coolers and offering clean drinking glasses.
It is a rule of thumb to have more of every item than you expect to need. This will ensure that you have enough should something spill or another person joins the fun.
Napkins
Utensils
Plates
Cups
Ice
Keep It Clean
This is a broad aspect of throwing an outside event. This includes places for your guests to discard any trash, portable or on site restrooms, and more. It is important to have everything you need to keep this area clean and your guests happy. Here is a list of the items you will need.
Trash Cans
Restrooms
Toilet Paper
Hand Soap
Hand Sanitizer
Paper Towels
Trash Bags
No matter the type of event, you will need to prepare for the basics as listed. The items can be simple or extravagant to match the event. For example, should the event be a wedding, you will need napkins that are more elegant than the typical, plain white napkins available at the dollar stores.
Make sure that you prepare for every aspect from the party to the aftermath of clean up to reduce your stress level and increase your guests enjoyment!