Lake Homes Realty is now operating in Maine, Florida and Michigan, bringing the company's market footprint into 18 states!
"Entering these states has been a milestone of Lake Homes Realty," said company CEO Glenn S. Phillips. "This is really an exciting time for our brokerage."
This expansion is driven by the Inc. 5000 company's aspirations for opening operations in 10 new states within the year, a goal that was announced at Lake Homes Realty's 2017 annual Agent Summit.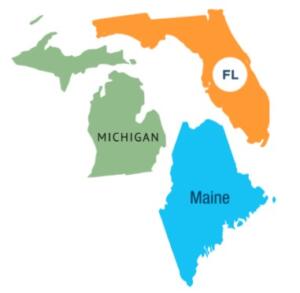 It would appear the company is well on its way to reaching that goal, if having added five more states to their footprint since this time last year is any indication of Lake Homes Realty's successful expansion.
The company began its accent up the eastern coast last year with the addition of operations in Pennsylvania and New York.
With Maine operations now open, Lake Homes Realty extends into the country's north-most part.
And with further expansion into Michigan and Florida, Lake Homes Realty is now working from the top to the bottom of the eastern United States.
"We able to better serve our lake real estate sellers, buyers and our own agents with each state we enter," Phillips said. "We have seen success in the markets we are already established, and we look forward to seeing the same in Michigan, Maine and Florida."
Lake Listings are Live!
Phillips emphasized lake listings in these new markets are live now on LakeHomes.com, the core of the Lake Homes Realty business model.
The site provides a one-stop shop for lake homes and land, currently featuring more than 65,000 properties. In the last year alone, more than 2 million people have made use of the site and its features.
"What's so exciting about our company is that we are a national brokerage, and because of this we are currently able to pull lake real estate listing data from almost 100 MLSs across the country to provide the most comprehensive collection of lake property in local markets," said Phillips.
In this way, the site is tailored to cater to the niche market's unique buyers and sellers.
"Niche real estate markets, like lake real estate, are different from traditional markets in that buyers and sellers are looking for a specific type of property," Phillips explained. "LakeHomes.com facilitates an easier and more convenient shopping experience for these potential clients."
Though Lake Homes Realty has a strong online component, Phillips reinforced the company's belief in the power of local agents and the importance of marrying that power with the power of technology.
"A combination of those two key components is critical for success as a real estate company, and we can't wait to see what great new agents and success our journeys in Maine, Florida and Michigan will bring."