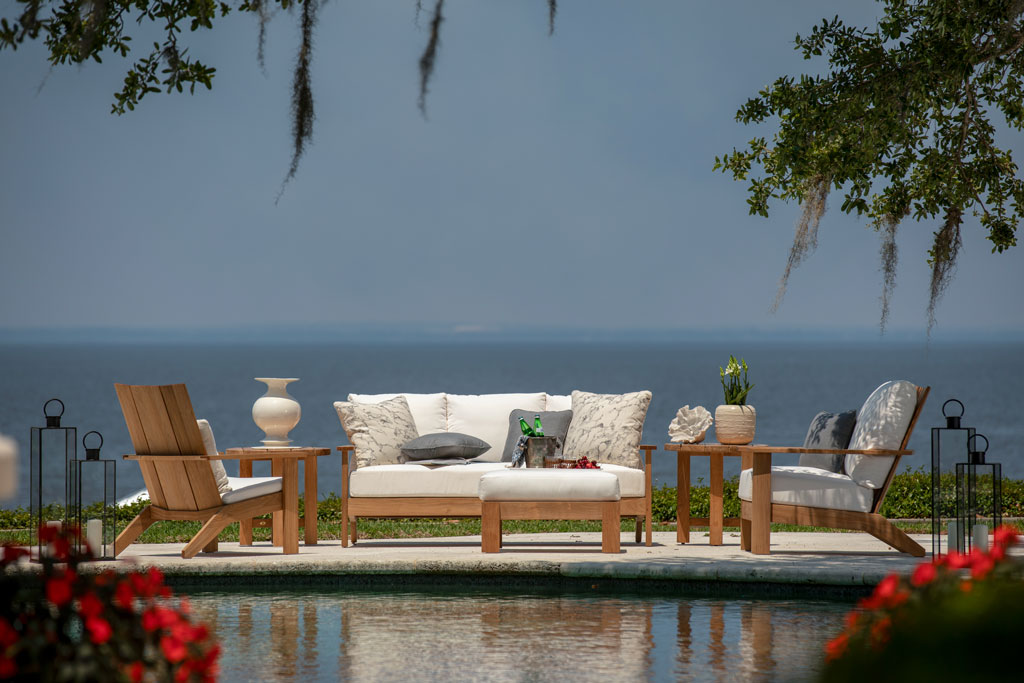 When you own outdoor furniture at your lake home, you can enjoy nature from the comfort of a plush cushion and a curved backrest. With the right chaise lounge, admiring your lakefront view from your boat dock and enjoying a spring breeze never gets old. However, as any lake homeowner knows, being immersed in nature requires taking a few necessary precautions, such as protecting yourself from nuisances like bugs, sunburns, and poison ivy. For outdoor furniture specifically, this means being vigilant about the presence of mold and mildew.
While mildew is sometimes found on the furniture itself, mold often appears on cushions and the underside of umbrellas — not a treat for your guests. Because these sneaky fungi thrive in moist areas, furniture that is regularly exposed to rain will attract them. But at Lake Homes Realty, we refuse to let mold and mildew ruin anyone's outdoor dining and lounging experiences — we're here with tips on keeping your furniture clean and mold-free.
Make the Right Solution
When deciding what kind of cleaning solution to use, the answer will depend on the type of furniture. For most furniture, a mixture of Lysol (or another soap solution) and hot water should do the trick. According to the luxury outdoor furniture manufacturing company, Summer Classics, metal, and aluminum furniture are easiest to clean. For wood furniture, the ideal formula that Summer Classics recommends is 1 cup ammonia, ½ cup white vinegar, and ¼ cup of baking soda into 1 gallon of water. These homemade solutions can help remove mildew that appears on furniture. There is a myriad of DIY solutions you can create — be sure never to mix bleach and ammonia.
For mold, which most often appears on cushions, a mild soap and water solution will clean most dyed fabrics. Candy Chase from Treasure Garden, an award-winning umbrella and shade product designer, and manufacturer, advises mixing ½ cup of bleach and ¼ cup of natural soap per gallon of water when cleaning umbrella fabric. After applying the solution, she notes that it's essential to "allow the fabric to air dry and store in a dry, well-ventilated area." She urges, "do not subject the fabric to extreme heat or it will shrink."
Use a Pressure Washer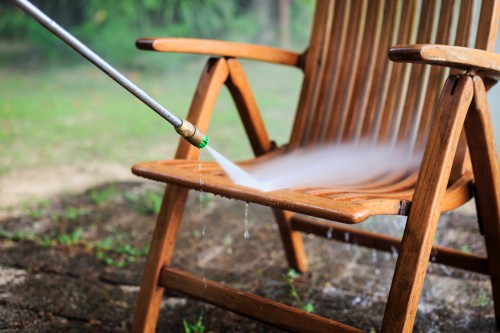 Especially for wicker furniture with lots of small crevices that are difficult to clean thoroughly, a pressure washer is an ideal tool. Jemma Lane from Arbor Living, a real estate company in the U.K., says that a pressure washer "should get most if not all of the mold and mildew off of the furniture." After using the pressure washer, she recommends, "wipe the rest of it away with soapy water and a cloth and then use the pressure washer again to finish off." Outdoor maintenance expert, Gena Lorainne recommends using a pressure washer as well. She advises, "make sure to spray it from all angles, so you can effectively remove all the mold, as it can spread again."
Less Moisture, More Sunlight
Because mold and mildew tend to thrive in moist areas, create an environment for your outdoor furniture that prevents moisture from getting too settled. When you aren't enjoying your furniture, be sure to move it out of the shade and lower your umbrella. Additionally, a positive flow of air is encouraged. If your furniture is sitting in an enclosed space, be sure to invest in a dehumidifier.
Invest in Good Products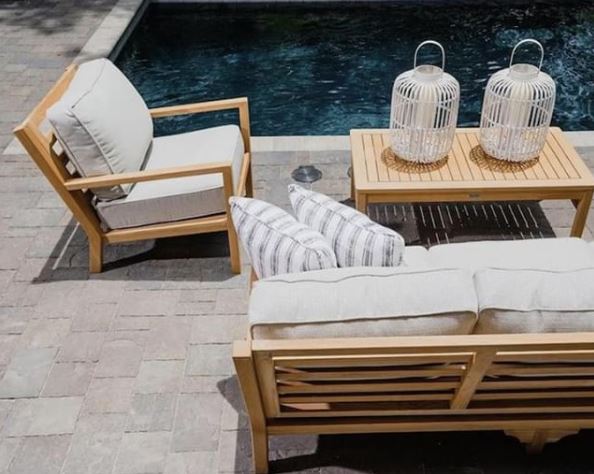 One way to prevent mold and mildew from developing is by purchasing cushions that are specifically designed to withstand these pesky fungi. For example, Sunbrella is renowned for its high-quality marine grade cushions that are engineered to prevent the development of mold and mildew. They're also easy to clean — a concept that gives way to "worry-free livability." If you're looking for an extra layer of protection, Candy Chase recommends protective covers and fabric protection products to stem the growth of mold or mildew. However, it's important to keep in mind that waterproof covers don't protect from mold and mildew because condensation can still develop beneath the cover. Instead, look for water-resistant, breathable fabrics.  
No matter your specific strategy for conquering mold, make sure to clean your outdoor furniture regularly. When you invest a little time upkeep, your furniture will be in a consistently clean state that's always ready for guests to arrive!