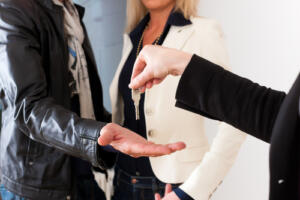 Many lake home and vacation homeowners rent out there properties during the year to offset their property's holding costs, but also to earn additional income as well.
But renting out your lake home can be a lot easier said than done, especially if you're looking to get your lake home rented quickly.
There are a number of factors to consider when trying to rent out your home quickly to great tenants, including how to set the rental price, how to find your renters, and how to market the property effectively:
Decide the Rental Rates for Your Lake House
The first thing you need to do is set the rental price for your home.  There's a good chance that there are other properties in your local market that are being rented out so talking to a local agent in your market about rental properties and current market rental rates is a good place to start.
In addition, you'll want to ask for a security deposit to protect yourself in case the tenant does any damage to your lake home as well as a cleaning and maintenance service fee to clean the house after each tenant's stay. You'll also want to consider the length of time you'll be renting out the property:
Will it be on a weekly basis or a monthly basis?
What time of the year are you looking to rent the home out for?
Be Thoughtful about Tenants
You'll obviously want to screen potential renters to make sure that the people you rent to will be respectful of your property. The last thing you want is to rent out your beautiful home to renters who won't treat the property like it's their own.
A few questions you may want to ask your potential renters include:
Why are you looking to rent?
Are you familiar with the area?
Have you rented in this area before?
How many people will be staying with you?
Take Great Photographs of Lake Home for Rent
When marketing your property for rent, similar to how you would market the home as if it were for sale, you'll want to make sure to have high-resolution photographs taken of the home.
Make sure to incorporate photos of the surrounding area as well, which are just as important as the property specific shots. People looking to rent a lake house are going to look at online listings first, and if the pictures don't impress them, they won't give it another thought.
So, whatever you do, don't try to post a few poorly lit snapshots just taken from your cell phone.
Online Marketing of Your Lake Home
There are a number of great websites that you can use to market your lake home to potential short-term renters as well, including Airbnb, FlipKey and HomeAway.
These sites have evolved as vacation home marketplaces for renters and property owners and simplify the process of listing, finding and marketing vacation property "spaces".  Another great thing about using these sites to market your home is that it allows the people that rented out your home to leave reviews that can serve as social "proof" and a reference point for future renters.
If they've had a positive experience, then they will leave a glowing review, which in turn will help you find renters much more quickly. While these services aren't free, they're well worth considering since they help provide additional exposure for your property and fairly quick turnaround for renting out a home.
Talking to an agent in your local marketplace should be the first place you start in renting out your lake home. You can use your local agent as a great resource for information and assistance in setting the right rental price, help in finding the right tenants as well as tips on marketing the property effectively.