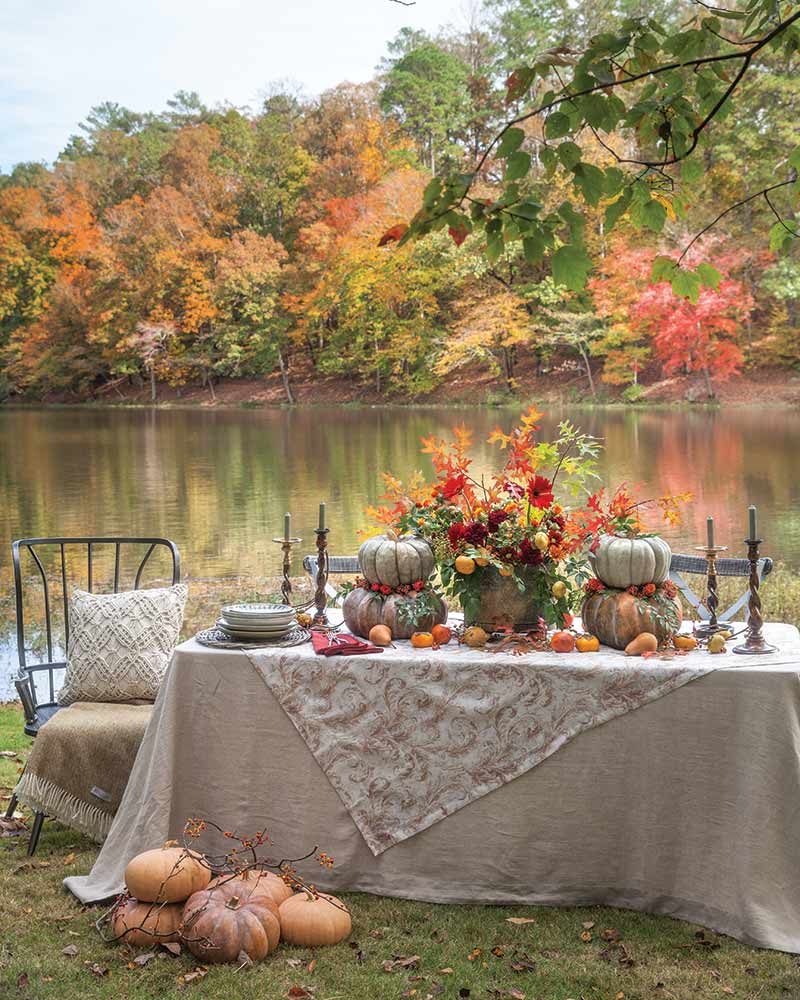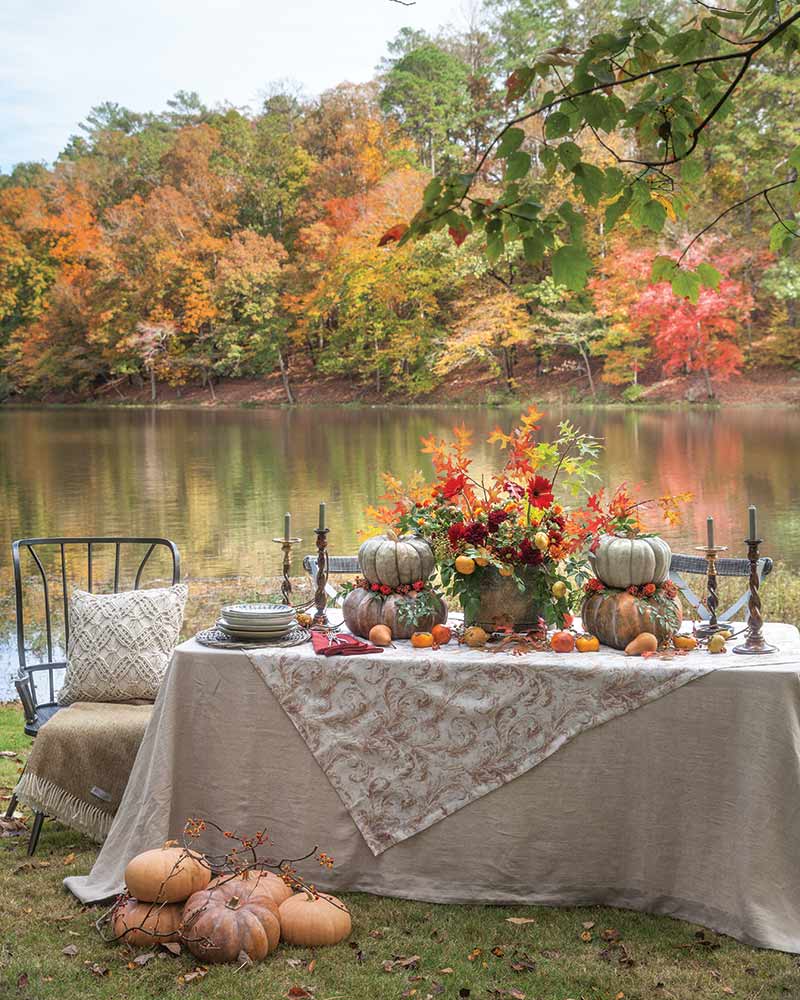 When thinking about your ideal Thanksgiving holiday, what do you imagine? Maybe it's a massive turkey roasting in the oven, a table crowded with friends and family, or a group huddled around the TV watching the parade. Perhaps it's crunching leaves outdoors, starting the morning with a Turkey Trot, or playing football in the backyard. Whatever comes to mind, this holiday certainly evokes a sense of warmth and gratitude.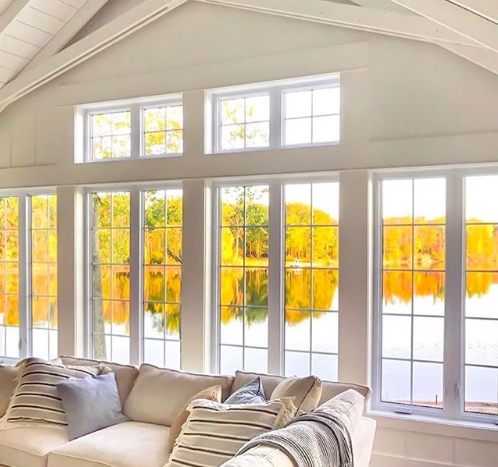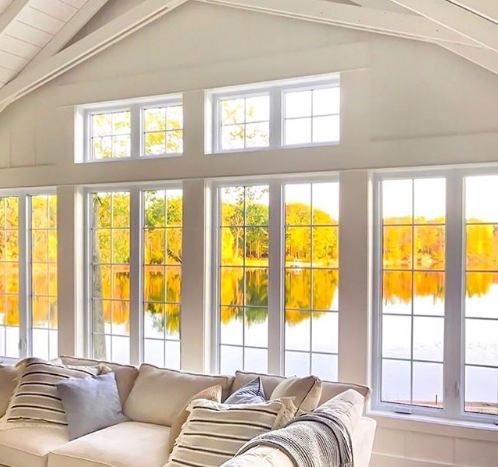 At Lake Homes, we believe that there's no better setting for these cozy, Fall feelings than your own lake house. As your own scenic getaway retreat, a lakehouse is the perfect place to take a step back from your hectic, everyday routine and reflect on what you're thankful for.
However, if you're hosting Thanksgiving at your lake house this year, we recognize the irony– you're experiencing the high stress of cooking, decorating, and pleasing your guests on a holiday that is intended for peace and relaxation.
While there's a necessary element of planning involved, you deserve to enjoy this holiday too. We're here with some tips on decor, food, and dining that will hopefully help you to stress less on Turkey Day this year.
The Decorations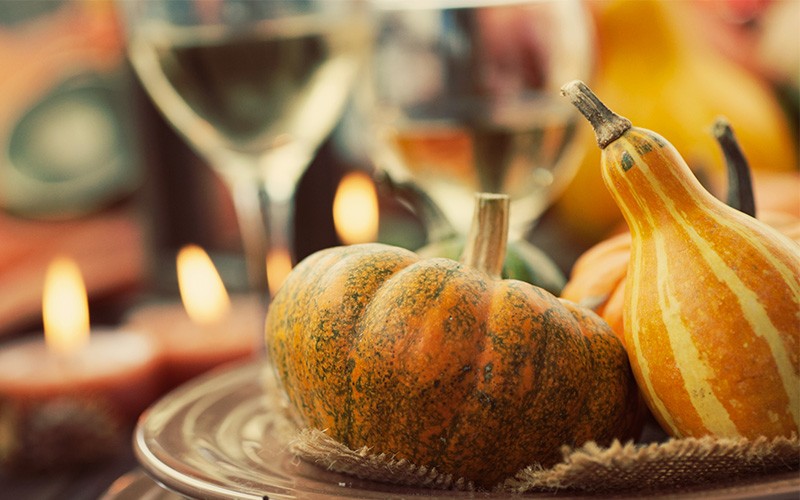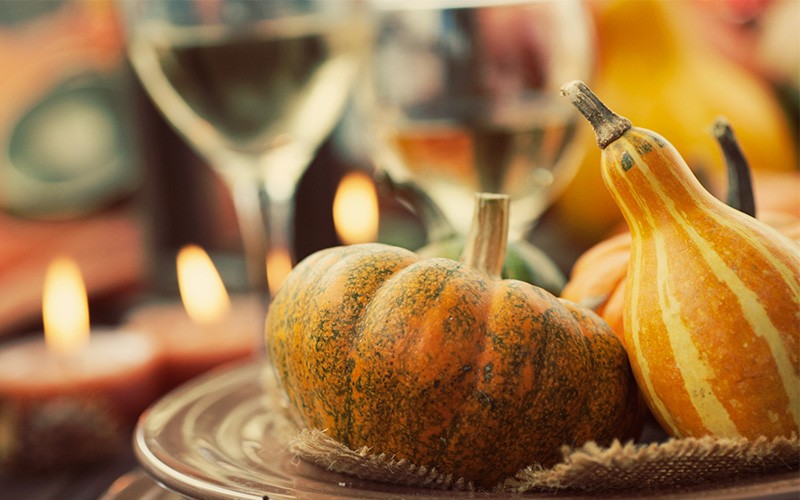 When decorating your lake house for Thanksgiving, homeowners advise aiming for a natural look. On the lake, you're lucky enough to be surrounded by plenty of materials that you can use to create this festive, woods-inspired atmosphere.
Take it from a lake home owner. Jenny Block, writer and author of the upcoming book Be That Unicorn, lives on Lake Livingston in Texas. She explains, "The lake is always part of my decor. I'll use glass gourds mixed with real gourds and pumpkins and woven cornucopias that spill over the table. I also love having blue jugs with fresh mums."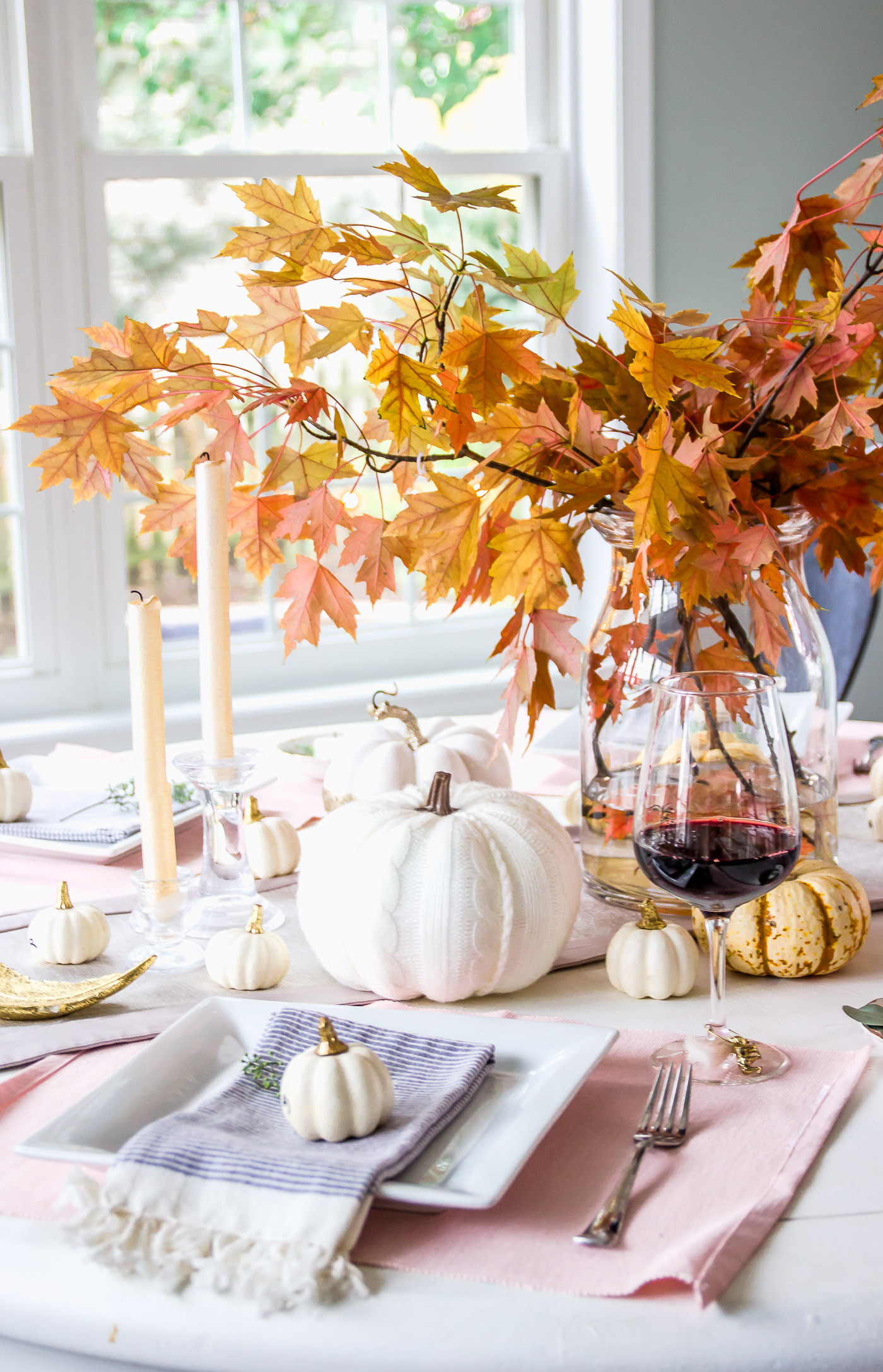 In a similar vein, Lake Michigan resident Shane Pliska, president of the botanical garden wedding venue Planterra's Conservatory, employs natural decor to celebrate Thanksgiving. Specifically, he incorporates decorative branches into his designs.
Pliska comments, "In mild years, I'll clip Japanese Maple branches with brilliant red leaves still intact. I'll also use branches from in-bloom witch hazel and bright orange berries from the Mountain Ash Trees."
Ultimately, the scenic lake in your backyard is a decoration in and of itself. As such, it's important to let the water, foliage, and other natural features steal the show. By incorporating these existing natural elements into your indoor decorations, you extend the same natural beauty into your home.
Whether you choose to display fresh flowers or spray paint pine cones and scatter them across the table for a DIY project, you're sure to create a sophisticated, yet rustic environment for your Thanksgiving guests.
The Food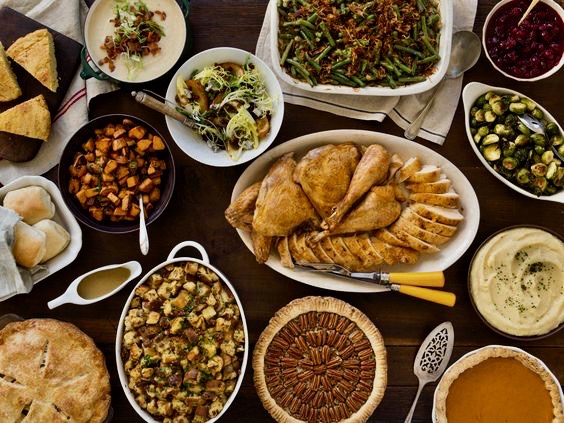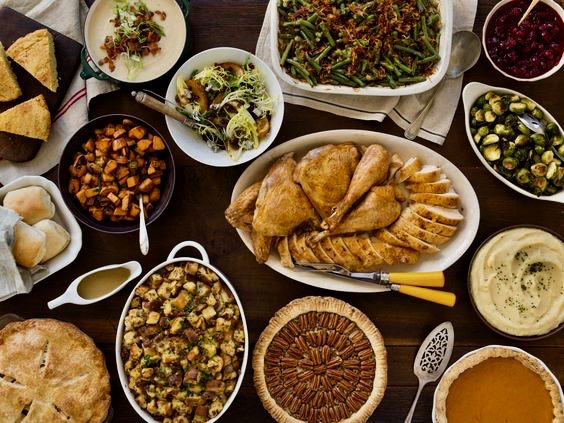 While cooking for several guests can be a joy, as any host or hostess knows, it can also be stressful. To relieve some of the inevitable anxiety that accompanies baking for the masses, it's a good idea to stick to traditional recipes.
Thanksgiving Day is not the appropriate time to roll the dice on a new dish. Adhering to classic holiday staples like turkey, pie, and green bean casserole is a simple secret to pleasing your guests. Pliska adds, "My mother still cooks the most flavorful turkeys, and I have the honor to be the carver. Her secret — small sized turkeys. This means she'll typically cook two birds to feed ten people."
Maintaining the traditions of well-known recipes evokes a sense of comfort and familiarity that is ultimately a hallmark of this holiday. However, there's always room for a little fun.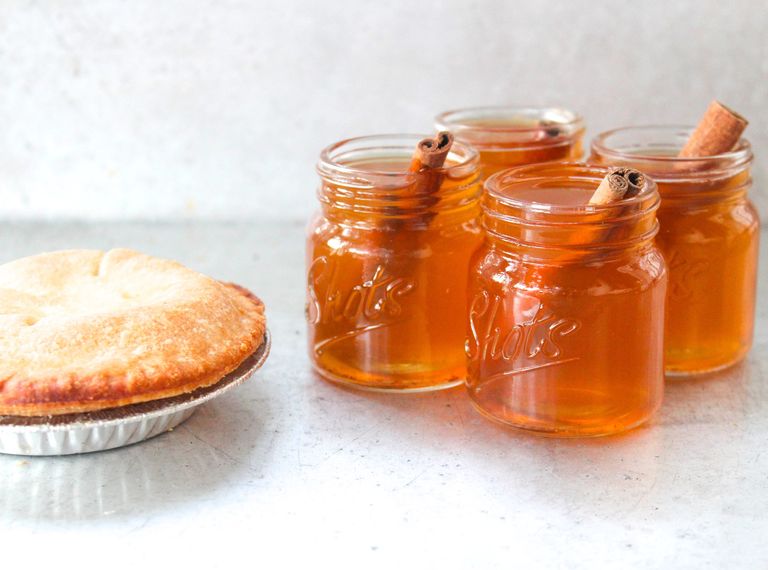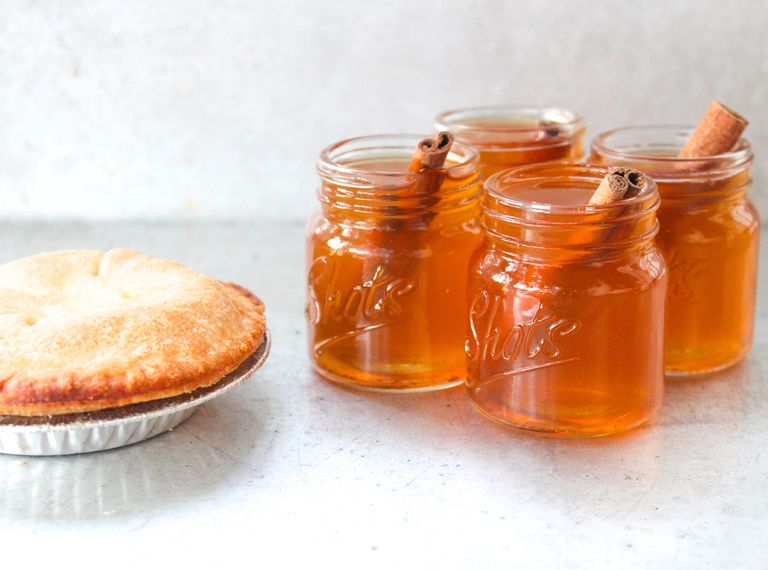 Fall themed cocktails are a low-risk way to serve unique flavors and twists such as Apple Pie Bourbon Shots or Warm Apple Cider with Fireball. Pliska has a family recipe for Ginger Bee that includes 1.5 part vodka, 1 part Domaine de Canton, a teaspoon of honey, and a teaspoon of lemon juice served on the rocks with ginger beer.
However, don't forget to include something fun for the younger guests at your lake house. There are plenty of creative Thanksgiving treats that are sure to be a hit at the kids table.
As for leftovers, Block's rule of thumb is that every guest must take some food home. She believes that it's best to "under promise and over deliver" so that your friends and family can enjoy the same dishes for a few more days.
The Dining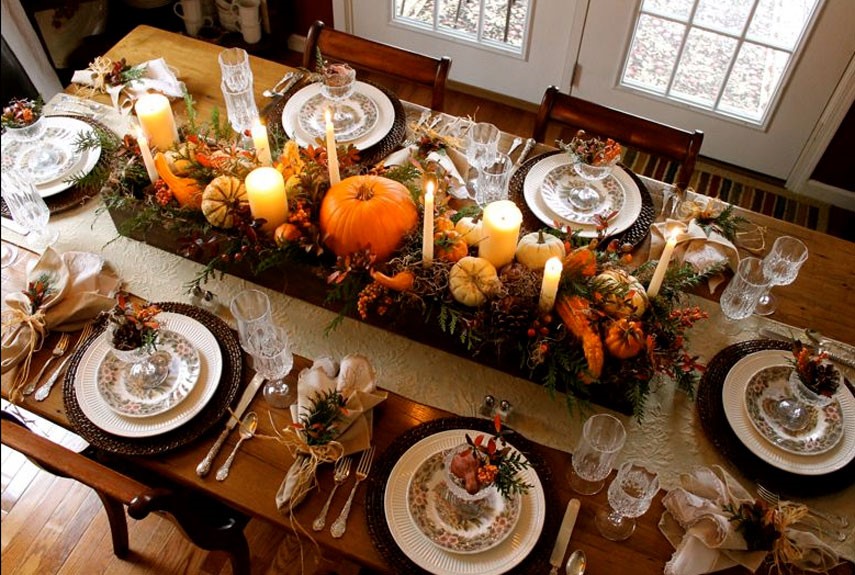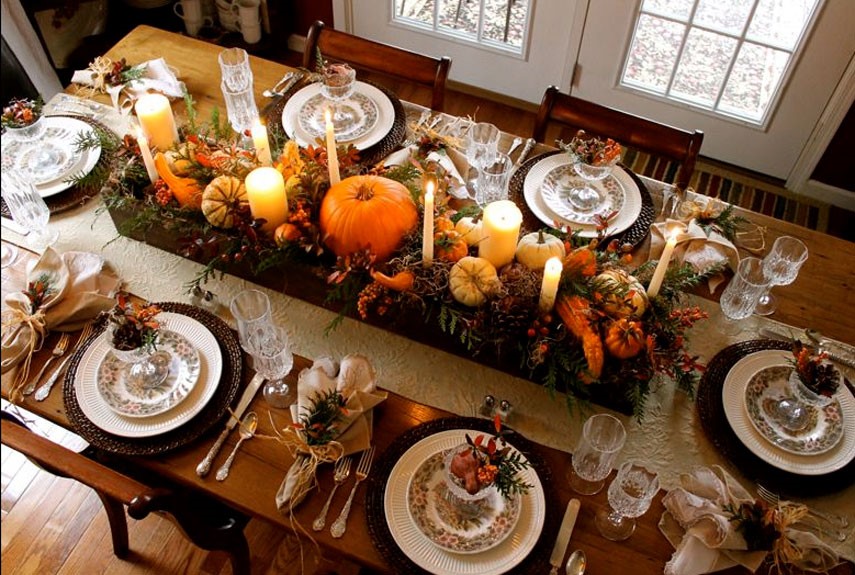 In the world of design, we're often told that "less is more." However, Block suggests that the opposite may be true when creating a Thanksgiving tablescape. "I'm a layered table girl," she says, "I always have a table runner with a place mat on top, I'll wrap a festive ribbon around the napkins, and leave gourd baskets with bread in them. I like a table to look full."
She also enjoys writing her guests names on placeholders to make the table personalized. Pliska agrees that having multiple items on a table, including a variety of textures, can create a festive environment.
For example, he enjoys incorporating velvet cloths into seasonal themes. He comments, "I love the versatility of velvet, as it can dress-up more rustic or harvest themed décor that might otherwise seem dowdy."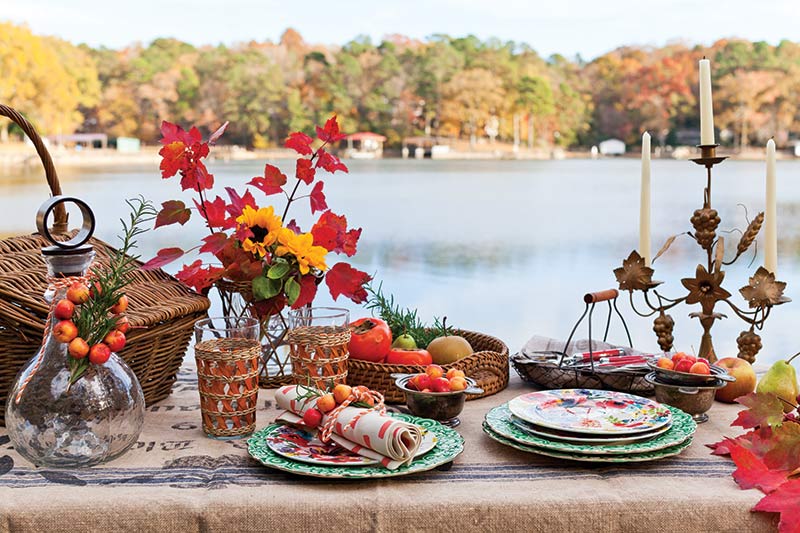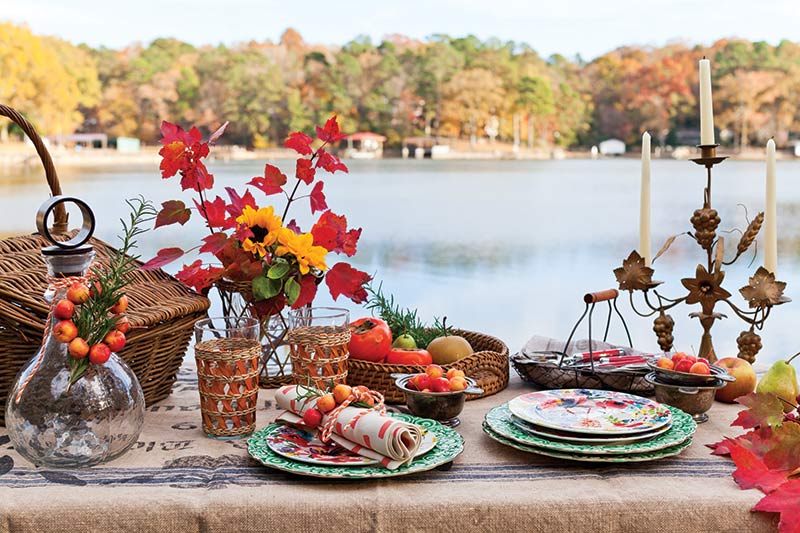 If you opt for a Thanksgiving dinner over a lunch, it's also important to remember that your key backdrop — the lake — will be harder to see. As such, Pliska says the solution is "candles. Lots of candles." Whether it's a large candelabra or something smaller, they're sure to invoke a warm ambiance.
This idea of a full table, including as many versatile items and fun patterns scattered across the tablescape, brings out the plentiful, overflowing feel of Thanksgiving. Plus, it's harder for guests to notice a potential food spill. "It's a happy abundance," Block emphasizes.
We hope some of these insights are helpful in planning your own holiday at your lake house. Happy Turkey Day! 
For more tips on preparing your home for the season, read "Fall Décor and More – Getting Your Lake Home Ready for Autumn".