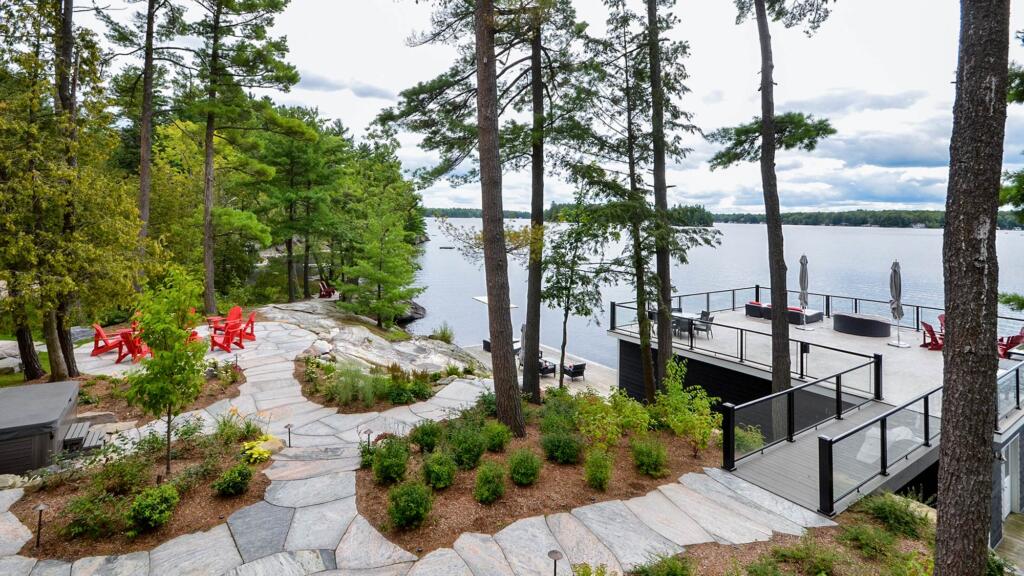 Outdoor living is one of the joys of lake life—so now that summer is here, let's make the best of it. A well-balanced landscape design should complement your lifestyle and add value to your lake property. It's typically made up of two main elements that define outdoor living spaces—hardscapes and softscapes. In simple terms, think of softscapes as the living things in your yard and hardscapes as the hard stuff like bricks, wood, stone, and concrete. For part one of our two-part feature, we're going to first focus on hardscapes.
Retaining Walls & Steps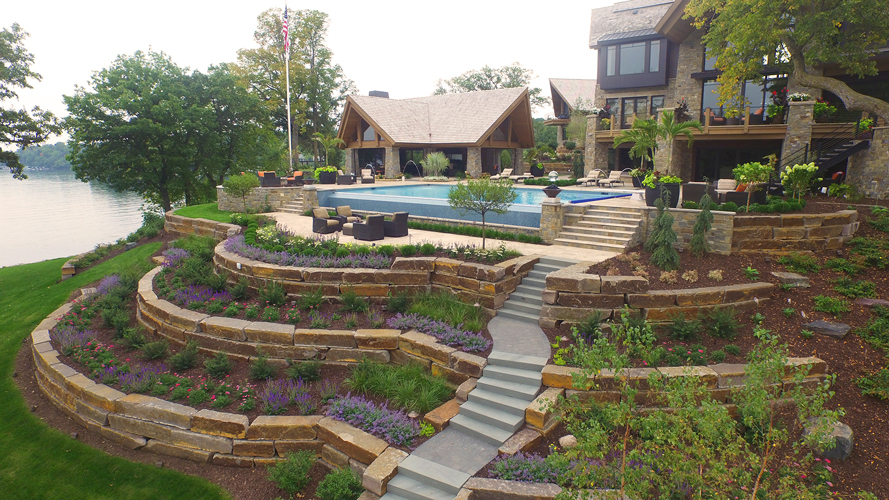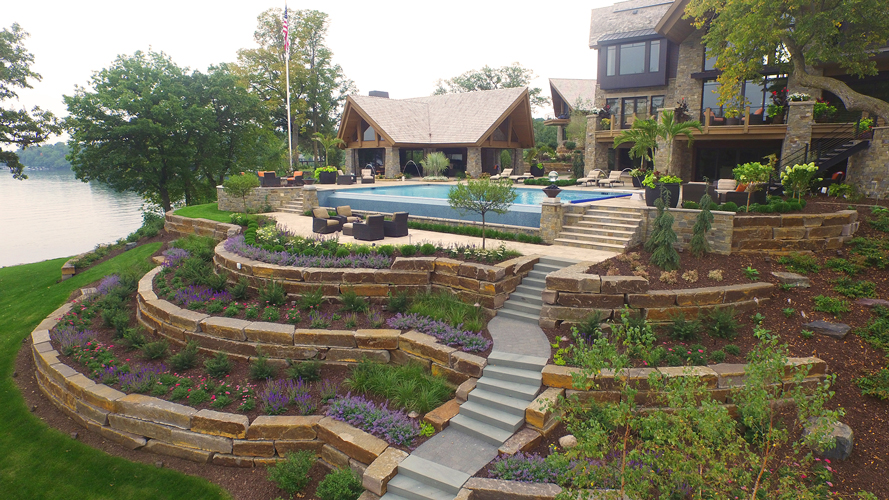 If your lakeside landscape sits on a slope, you might benefit from a retaining wall. Creating a hillside terrace adds visual interest and more usable land and reduces soil erosion and water runoff by slowing down the flow of rainwater and diverting it to a drainage system. Low retaining walls can even double as extra seating for outdoor entertaining. Incorporate a cascading stairway into your retaining wall, and you now have an elegant pathway down to the shore. Say the experts at Gardenista, "Think of retaining walls as support hose for sloped terrain: they hold everything in place—discreetly."
When considering material options, select those that will complement your lake home's surrounding natural landscape and architectural style. Building material choices are abundant and range from brick and stone to poured concrete to treated and stained woods.
Before getting started, it's best to consult a landscape architect or gardening professional to guide you. Click here for more inspiring ideas.
Winding Walkways, Paths & Driveways
Alluring pathways and driveways lend instant visual appeal and create a welcoming first impression for visitors. A dynamic driveway or walkway to your front door adds pleasing curb appeal and can even increase the resale value of your lake home.
Whether you decide to go with solid pavers for a sleek, contemporary vibe, or charming steppingstones that lend an English cottage feel, your options are virtually endless. A good rule of thumb to follow? Always choose surfaces that complement the style of your lake-dwelling and the surrounding environment.
If you're not a DIY enthusiast, start by calling in a landscape professional to help you find the best design for your property. They can also guide you through the array of material choices that include brick, concrete, bluestone, granite, gravel, limestone, and more. If your lake home is in a colder climate, consider options that can stand up to freezing temperature, such as terracotta, travertine, and slate. Click here for more creative ideas for walkway designs.
Fire Pits & Fireplaces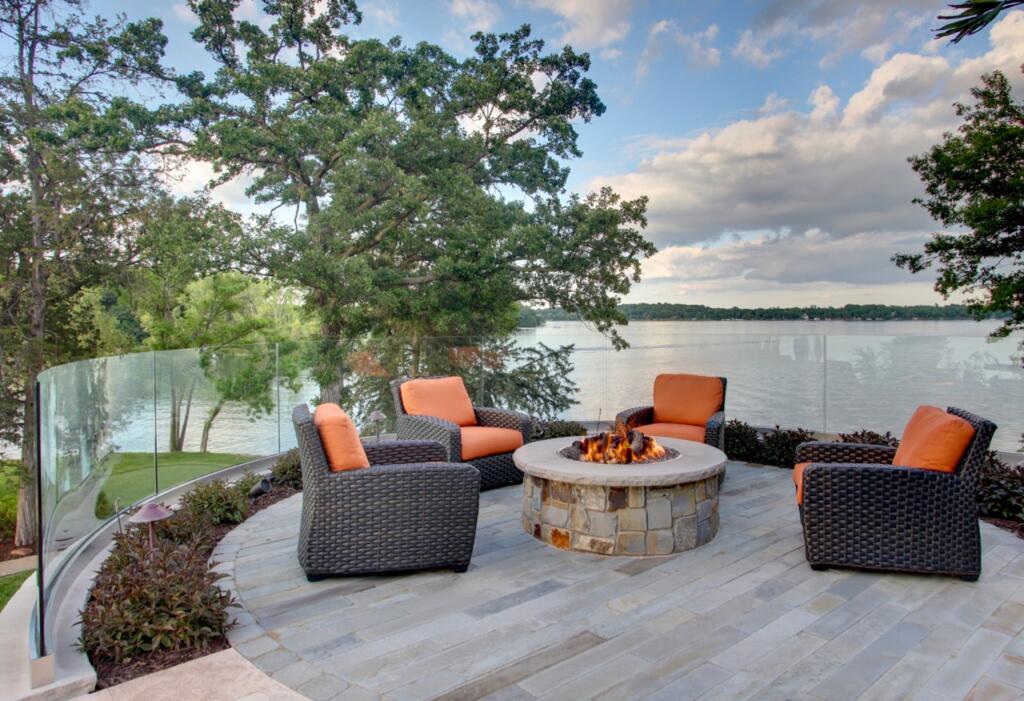 There is nothing more blissful than sitting by a fire while relaxing at the lake. Firelight creates an ambiance like no other and brings warmth, a soft romantic glow, and an inviting interactive experience. So, whether you want to incorporate an outdoor fireplace or fire pit, there are a few things first to consider:
When placed on the edge of a patio or pavilion, a fireplace takes up less space and can be used in inclement weather if it's under cover. This architectural element can also bring a graceful focal point to your outdoor entertainment space. The benefits of a chimney direct the smoke upward and outward, ensuring a pleasant, fresh-air environment.
On the other hand, a fire pit is a bit more like having a cozy bonfire or campfire. You can place seating all around it for fun family gatherings, like roasting marshmallows with the kids and making s'mores. If you're looking to design a custom immovable firepit, make sure you choose the perfect spot with the desired view and have a landscape professional guide you on its placement—where lake breezes can move the smoke away from your other outdoor areas. For more fireside inspiration, visit HGTV.
Pools & Entertainment Areas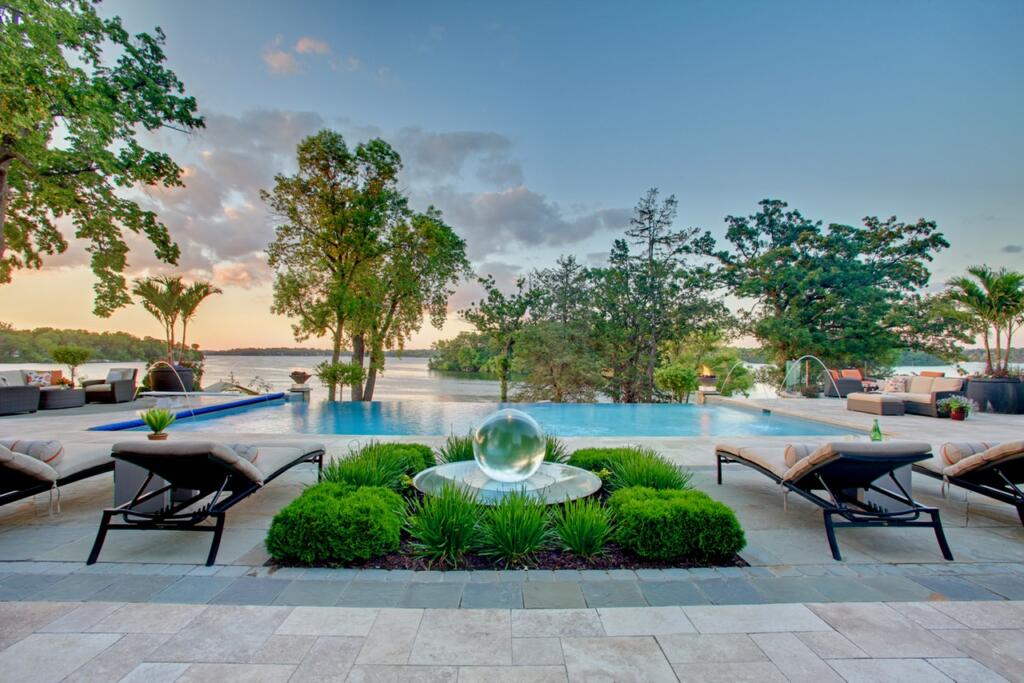 Pools—and the lavish, lounge-like seating areas that surround them—can create a splendid oasis for your lake landscape. Crisp and cool, the refreshing element of water always provides a calming visual connection to your lakeside environment.
First, decide what type of pool best suits your needs, budget, and lifestyle. Pools are costly to install, and the upkeep may not be for everyone. Consider pool shapes and styles, such as a seamless infinity pool spilling over a vanishing edge, a long narrow lap pool, a therapeutic spa feature, or even a non-chlorine natural swimming pool. You'll definitely want to consult with a landscape architect or pool specialist to discuss material options, cost, and maintenance.
Other considerations include lighting and underwater lights, poolside landscape plant materials, seating areas, furniture arrangements, and outdoor furniture options, including luxurious poolside loungers, chaises, patio sets, and plush water-resistant cushions and upholsteries. For more inspiration, check out these dreamy pool design ideas.
Decks & Patios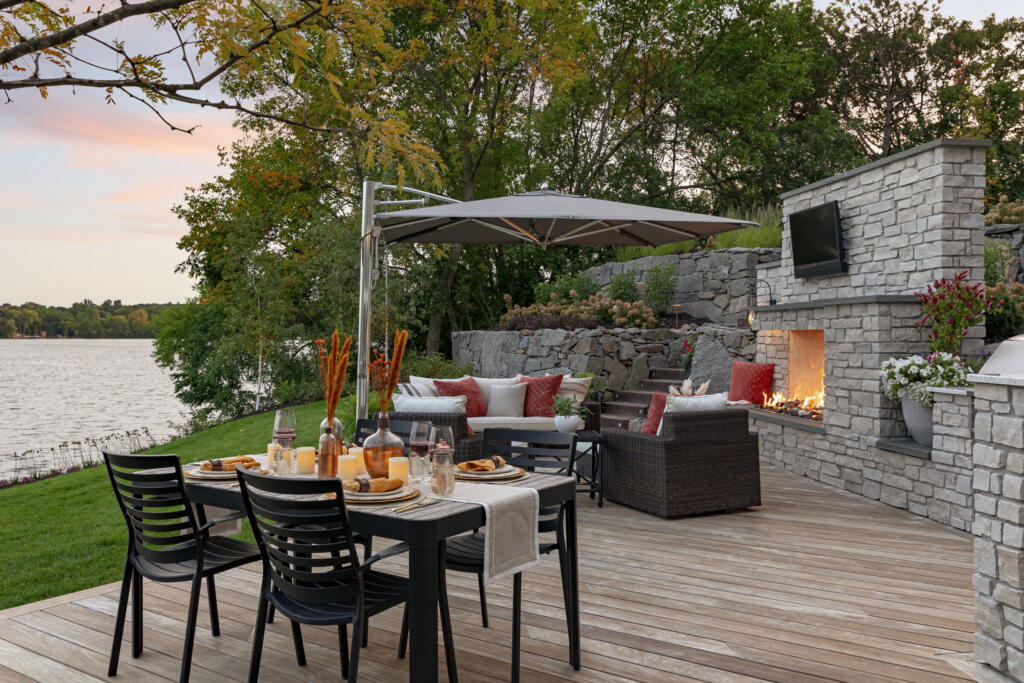 A deck or patio added to your lake property will instantly create an additional room and expand your living space to the outdoors.
Typically made of wood, decks float above the ground—from a few inches to many feet—and are framed with support structures. If your lake setting sits on a slope, then a deck might be the perfect choice for you. Deck flooring materials include natural wood—cedar, redwood, mahogany, teak, ipe, bamboo—and other options such as pressure-treated lumber and sustainable composite decking.
Patios are constructed on a flat surface at ground level with hard materials like brick, concrete, stone tiles, and pavers. Ideal for poolside areas or level outdoor spaces where you want to enhance the architectural appeal of your home, patios are a durable and aesthetically pleasing choice. For more ideas on creating spectacular outdoor spaces, click here.
In an upcoming post, we'll show you how to balance your lakeside hardscape designs with lush, green softscapes. In the meantime, happy hardscaping!