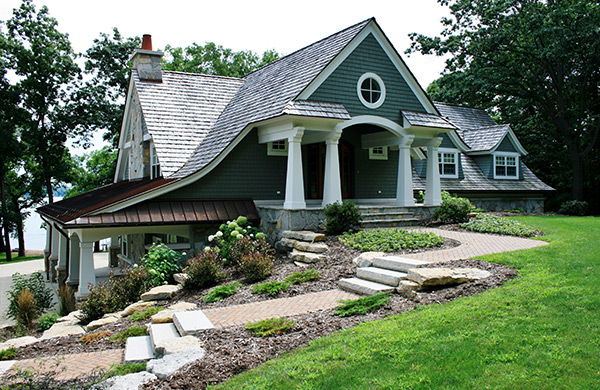 Built for a family who loves to live large, this roomy lakeside home nestles along the beautiful shores of Green Lake, Wisconsin. Avid boaters and entertainers, these homeowners are the life of the party all summer long and always attract a house full of family. So, when it came to designing a lake-dwelling that would ultimately become a blissful haven for their children, grandchildren, and host of friends, the owners went big and bold to celebrate their surroundings and the joys of lake life. They called on interior designer Summer Thornton to walk them through the process and make their dreams a reality.
Headquartered in Chicago, Summer is especially known for her fearless use of vibrant color that infuses life into all her spaces. Working on projects nationwide, she steadfastly believes that every home should be a true reflection of the owners' personal style—their soul, their passions, and their quirks should be found on the walls and in the furniture throughout the entire home.
Bring the Outdoors In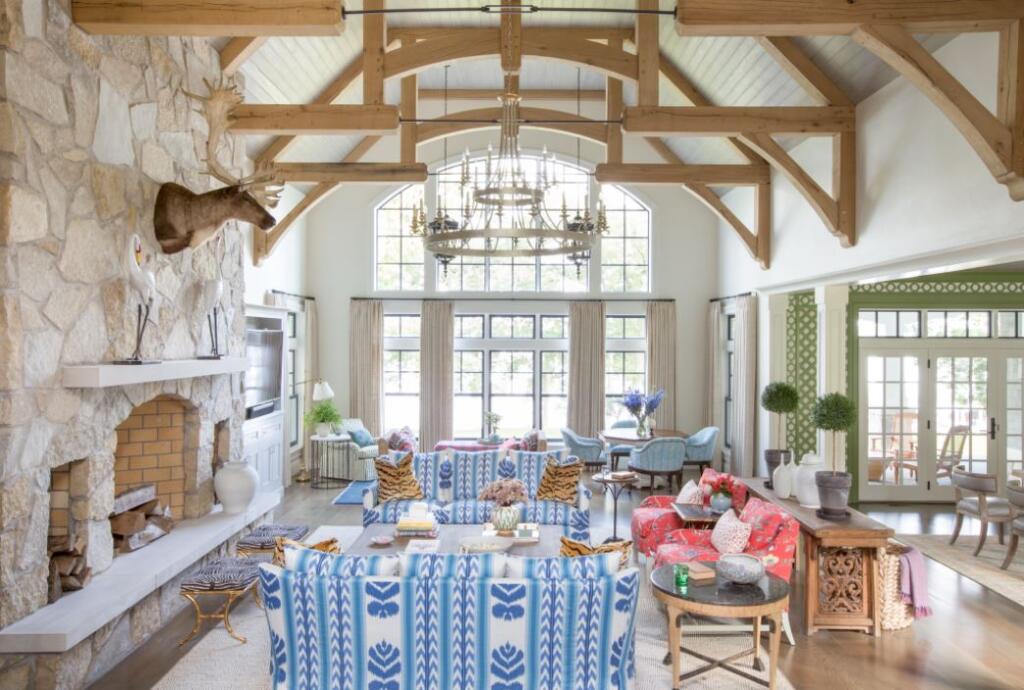 "A lake house is not a beach house," says Summer, "and a lot of people make this mistake when designing a lake home in the Midwest. I always try to keep a sense of place and climate in mind," she explains. To her, this means mixing bright colors with some moody rich tones that envelop the spaces in warmth on chilly nights. It also means mixing textures—fabrics that feel light and breezy in the summer combined with plush textiles and rugs that offer a cozy touch in fall and winter. Plus, it almost always means a generous dose of greens.
Summer loves the heavily wooded areas surrounding most lake locations, and she wanted to bring this palette of verdant hues inside with fabrics, fresh flowers, plants, and paint colors. The designer believes the key is to have options. There are huge windows and plenty of comfy first-row spots to take in the dreamy views. Yet, there is seating focused on the fireplace for when the sun sets and the air becomes cooler. "The giant stone fireplace that anchors the great room is quintessentially midwestern and screams I'm in Wisconsin," she laughs, "not to mention the taxidermy elk above it."
Scale and Proportion
One of the biggest challenges when working with a large-scale lake home is making sure your furniture proportions befit the magnitude of the space. "It is essential that you size up your selections, so they don't look or feel like doll furniture," Summer jokes. Case in point? The coffee table measures six feet by four feet—the size of a typical city dining table.
She also incorporated wood paneling to the ceiling and giant wood beams to visually diminish the great room's grand scale and make it feel more intimate. She then took patterns to another level, swathing the pair of giant sofas with a blue-and-white ikat print and layering them with bold animal-print pillows. Armchairs upholstered in a bright red floral create a colorful punch and complement the overall palette.
Reclaimed Materials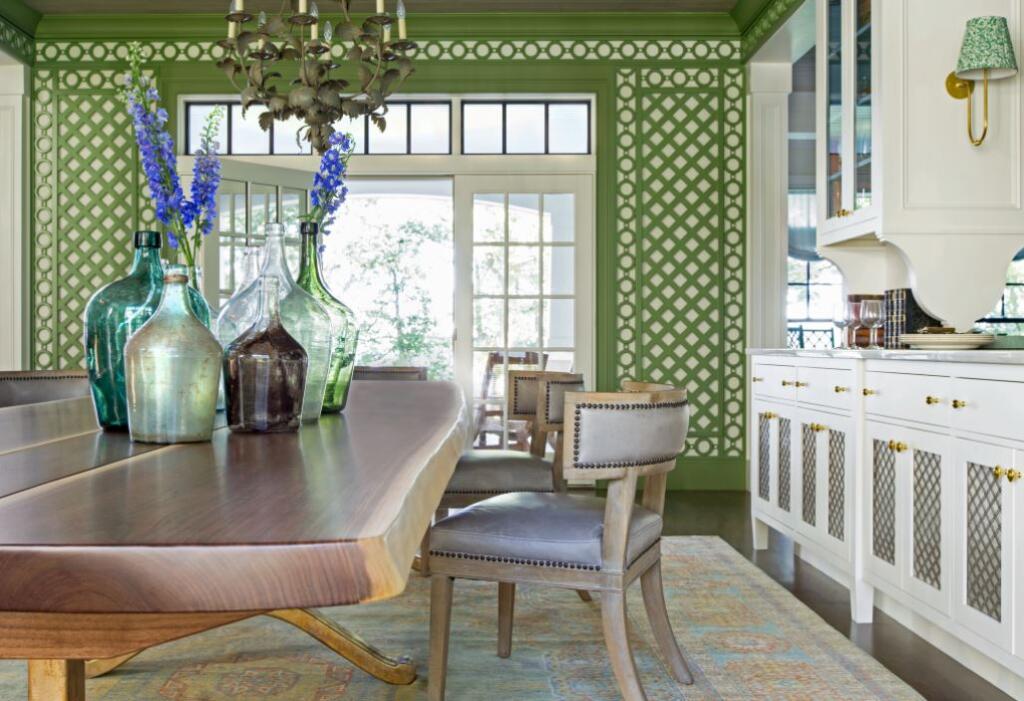 An advocate of using reclaimed materials, Summer loved the idea of this custom-made walnut dining table made from a huge fallen tree. She intentionally scaled it extra-long and narrow to allow plenty of seating for large group entertaining and family gatherings the homeowners host regularly. The bright green painted latticework was a special touch created by the designer to introduce visual interest and an eye-grabbing splash of nature's favorite color.
Colorful Kitchen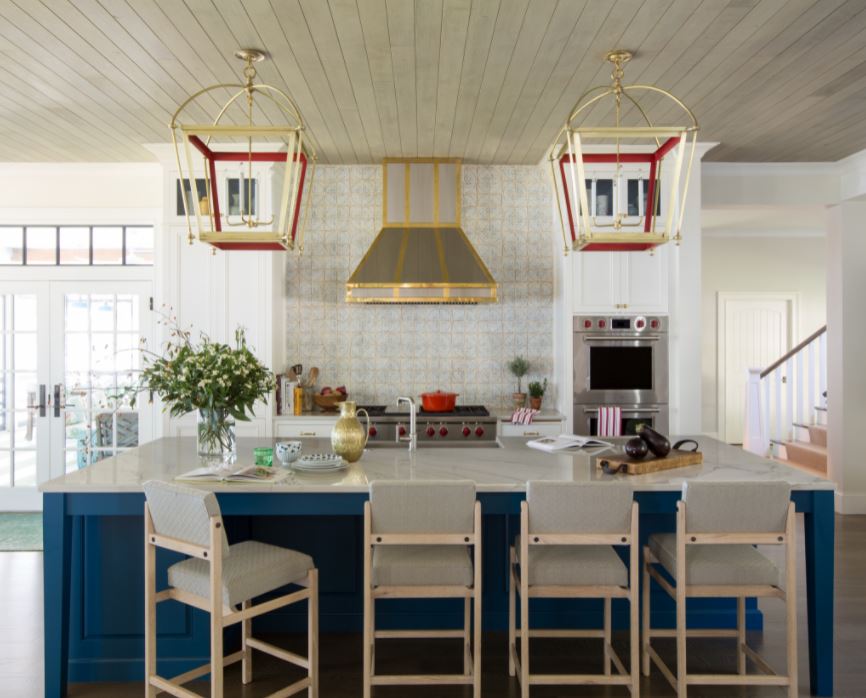 "I truly believe color hides a multitude of sins and puts people at ease," Summer laughs. "It not only makes a home feel livelier and more lived-in but also it's great for holding up to wear and tear and the occasional spill." In the kitchen, she took her color cue from the owners' love of clear and happy colors and based the palette on their love of blue and red. She started with a marble-topped island painted in Benjamin Moore's Slate Teal and accented it with a pair of gleaming brass pendant lanterns lined with a rich pop of red.
Texture and Warmth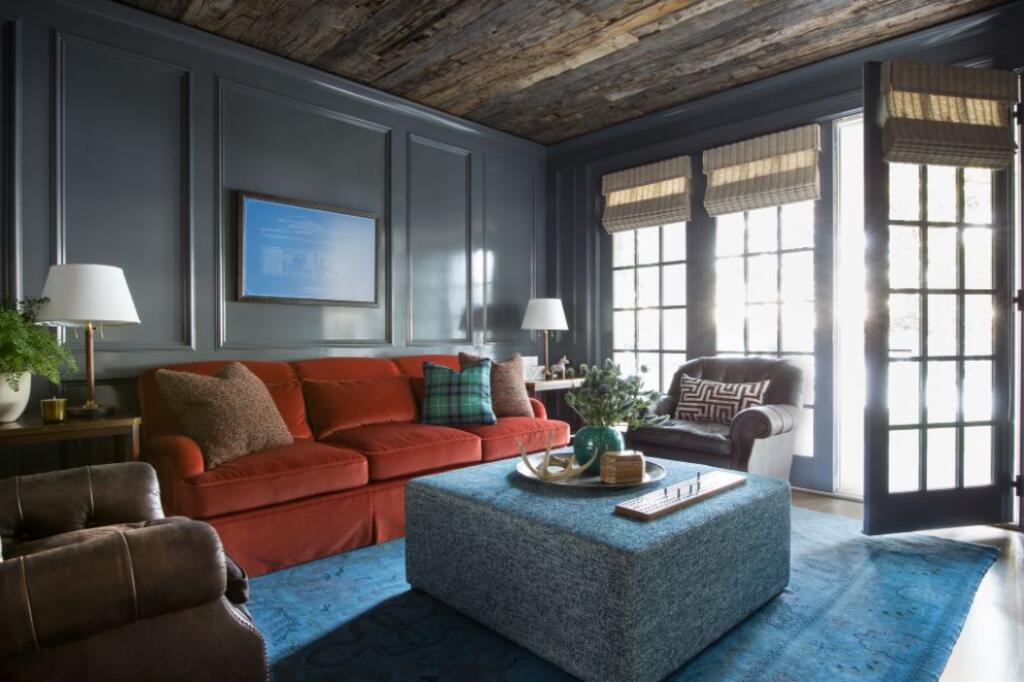 "I'm a fan of blending textures to create a sense of coziness," says Summer. "Throughout, you'll find the typical lake-house suspects like cotton and linen, but I made sure to mix in a bit of wool and mohair to add depth and texture," she adds. Enveloped in dark gray paneled walls, the cocoon-like den stands in striking contrast to the designer's lighter approach for the rest of the home. This inviting space is dark yet comfortable, with lots of leather, mohair, tweeds, and rich reclaimed woods.
Cocooned in Comfort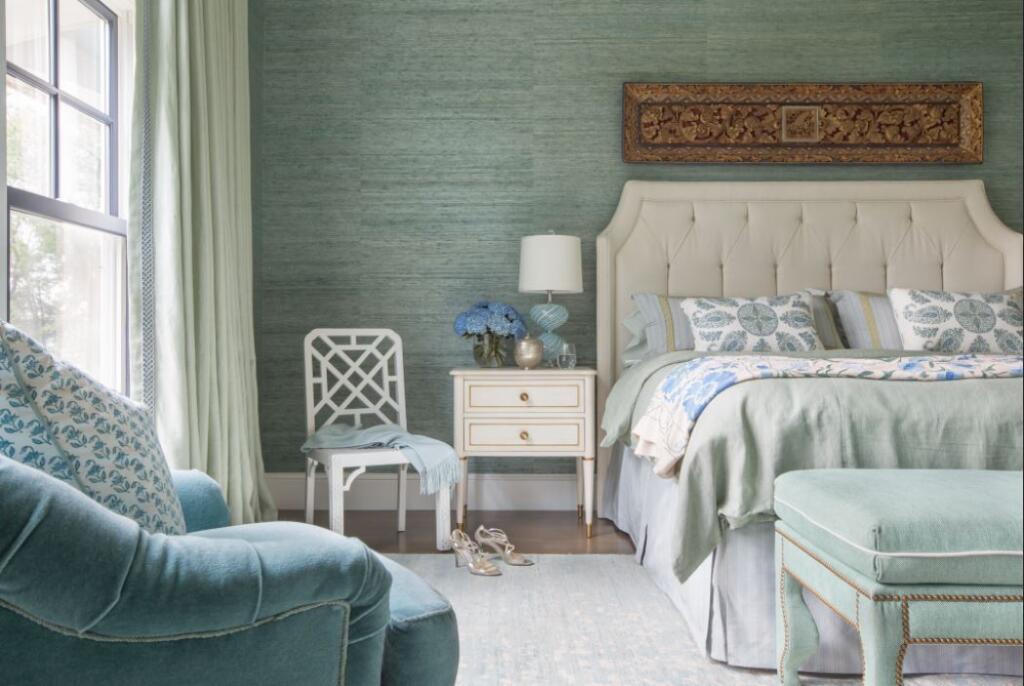 Bathed in pale aqua hues and soft, sumptuous fabrics, the master bedroom takes a departure from the home's brilliant color palette, offering a restful private sanctuary. A white tufted headboard creates a pleasing backdrop for a layering of luxurious bedding and a stunning Balinese art piece hanging overhead.
Cheerful and Charming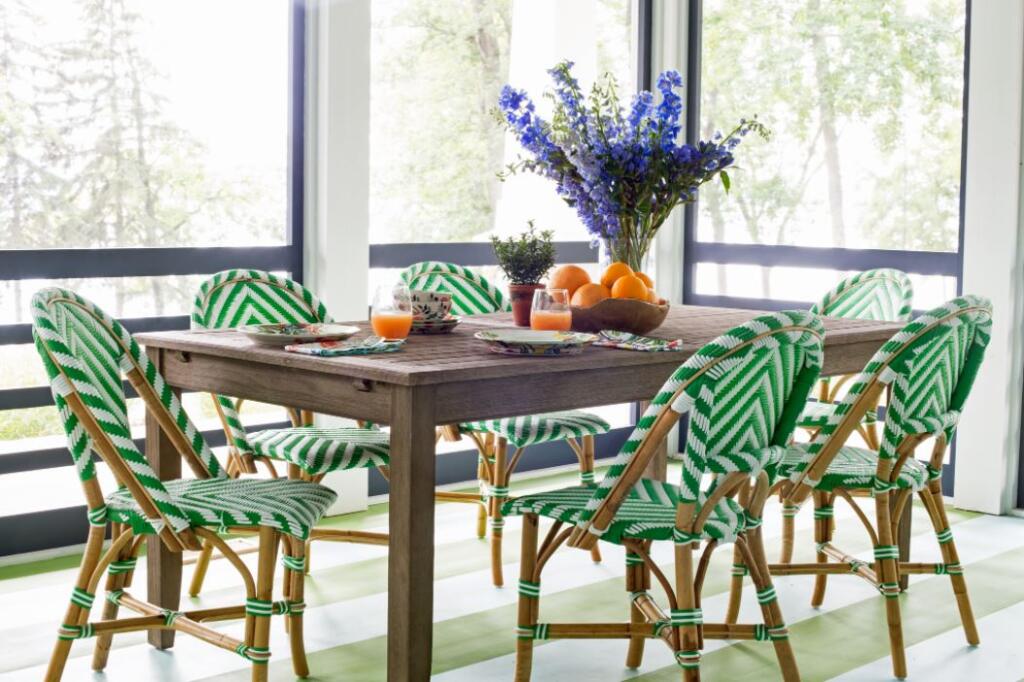 "Everyone will agree that porches are a big deal in lake culture," says Summer. Designed to invite the natural beauty of this waterfront setting inside, the cheerful color-drenched porch offers a place for casual meals. It serves as the main dining room throughout the summer. 
It includes plenty of seating around the table and heaters built into the ceiling for a little extra warmth. Green-and-pale blue floor stripes painted with Benjamin Moore's Buckingham Gardens and Forget Me Not emanate a cottage-style charm. "I love it when people give me the green light to go crazy with color," says Summer.
Want to infuse some bright color into your own lake life? Get out your creative paintbrush and go for it! We'd love to hear your ideas and see your results.