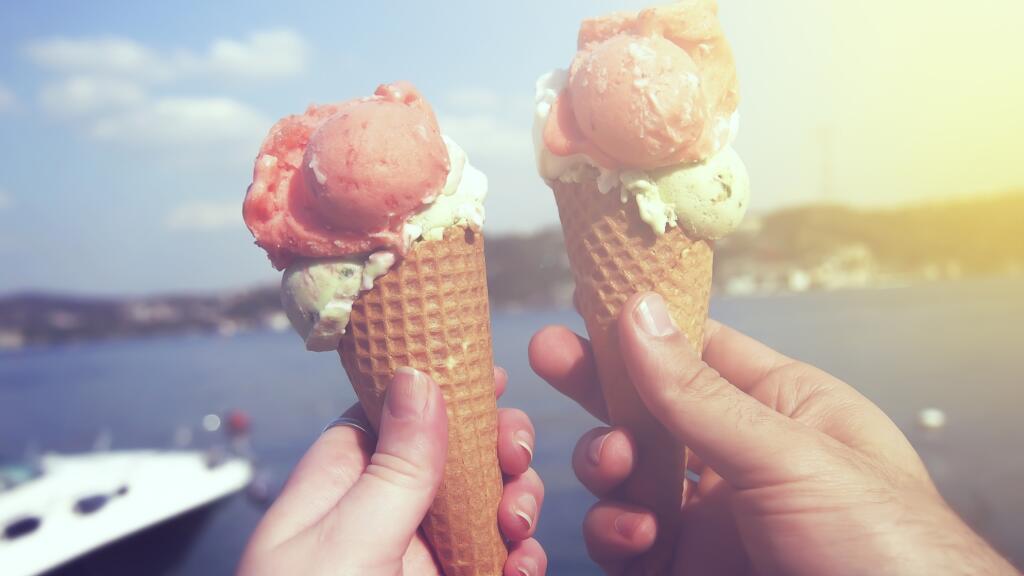 Finally– the holiday we've all been waiting for this summer. In honor of National Ice Cream Day on July 19th, we're taking a look at some delicious homemade ice cream recipes. Whatever your preferred flavor, there's a frozen treat for you to enjoy at your lake house.
Hot Cocoa Ice Cream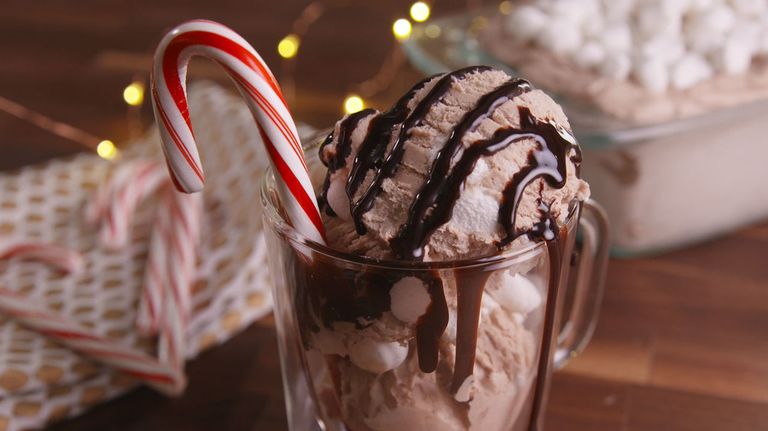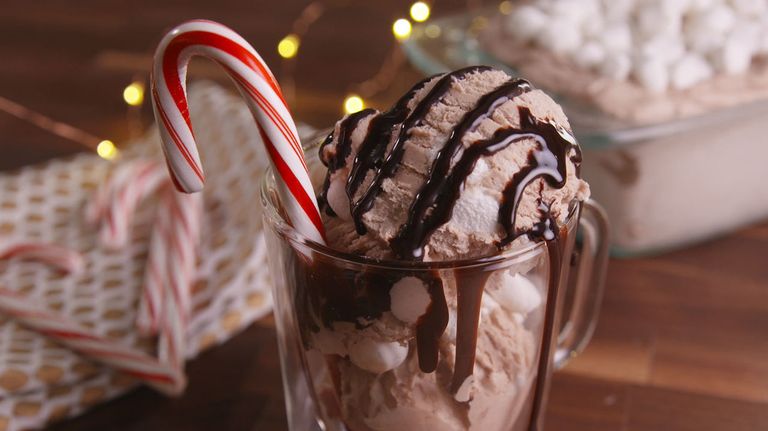 There's nothing better than drinking a warm hot chocolate while watching falling snow outside your lake house in winter. This ice cream recipe is simply the colder equivalent of that delicious treat. Add some chocolate drizzle and a candy cane for a little Christmas in July.
Ingredients:
3 c. heavy cream

1 14 oz. can of sweetened condensed milk

3 hot cocoa packets

1 c. mini marshmallows, more for garnish
Directions: Beat heavy cream in a stand mixer with an attached whisk. In the mixture, fold in mini marshmallows and hot cocoa. Move the mixture to a 9" x 5" loaf pan and smooth with a spatula. Top with additional marshmallows and freeze for 5 hours, until firm. When ready to serve, let soften outside the freezer for 10 minutes.
Check out the full recipe from Delish.com.
Strawberry Ice Cream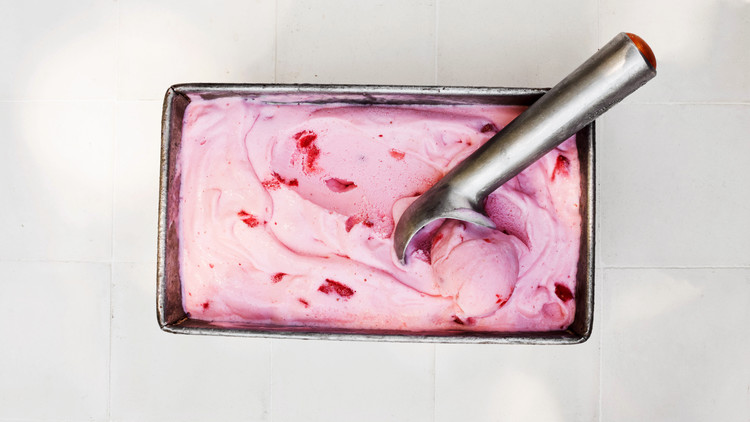 Strawberry ice cream is a classic warm-weathered dessert. Enjoy this light and refreshing fruity flavor from the comfort of your lake home. The chunks of strawberries add a fun texture to this treat.
Ingredients:
1 pound strawberries, hulled and halved

8 ounces more strawberries, coarsely chopped

1 tbsp. fresh lemon juice

½ teaspoon kosher salt

1 cup low-fat milk

1 cup heavy cream

⅔ cup sugar, plus ½ cup more for macerating

½ cup light corn syrup

¼ cup vodka or silver tequila
Directions: Puree halved strawberries with lemon juice and salt in a blender. Strain through a fine-mesh sieve to create 1 ½ cups of puree. Combine milk, cream, ⅔ cup sugar, and corn syrup in a medium saucepan. Once you've brought to a boil, reduce heat and simmer for 2 minutes. Strain mixture into a bowl in an ice bath and occasionally stir for five minutes until cold. Stir in strawberry puree, refrigerate covered for at least 2 hours.
See the full recipe from marthastewart.com.
Cookies and Cream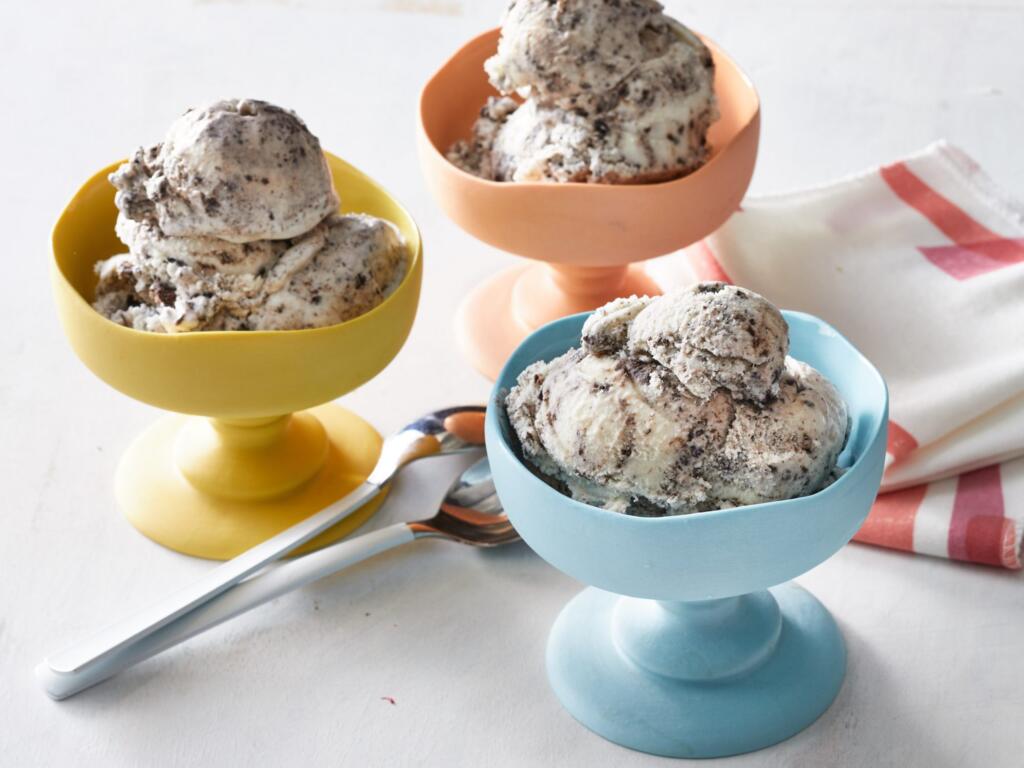 Whether you're a kid or an adult, cookies and cream is a staple ice cream flavor. The key to getting this beloved ice cream recipe right is in the cookies. Make sure you're crushing them with consistency, so every bite is delicious. Keep in mind that you need an electric ice cream maker for this one!
Ingredients:
1 cup cold whole milk

¾ cup granulated sugar

2 cups cold heavy cream

1 teaspoon vanilla extract

18 Oreos (or other cream filled sandwich cookies)
Directions: Whisk milk and sugar until sugar dissolves. Then, stir in heavy cream and vanilla. Transfer to an electric ice cream maker and freeze according to instructions. Meanwhile, crush cookies in a ziplock bag into a sandy consistency. Add cookie mixture to ice cream as the machine is running. Once it's done, transfer the ice cream to a 9" x 5" loaf pan. Chop the remaining 8 cookies, sprinkle over the ice cream, and fold. Freeze for 2 hours.
View the full recipe at Southernliving.com.
Cannoli Ice Cream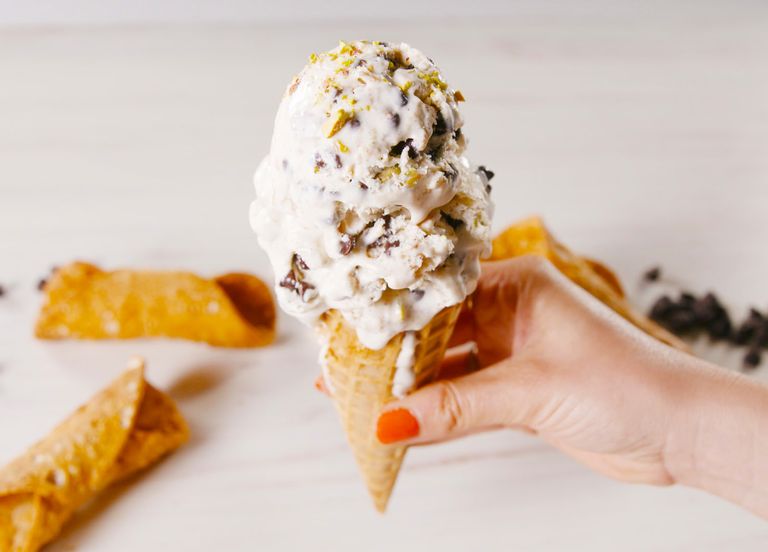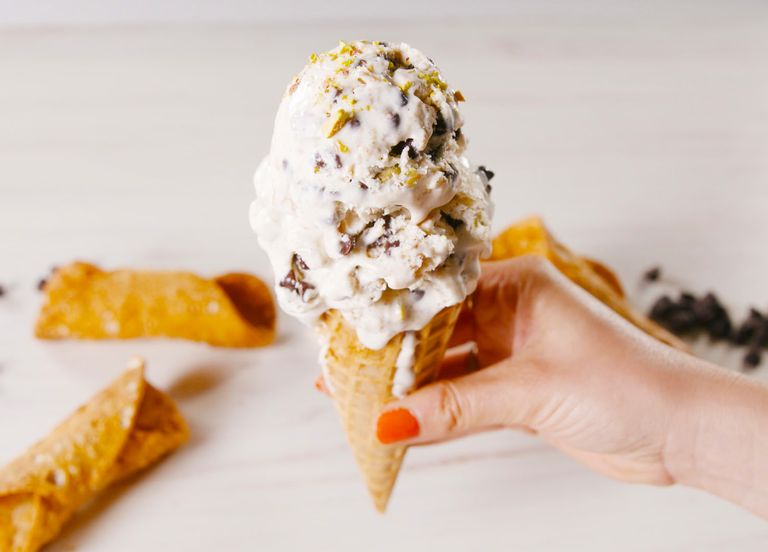 Cannolis and ice cream are delicious separately, but they're even better together. If you can't find cannoli shells at the store, try substituting graham crackers or ice cream cone pieces for a similar crunchy texture.
Ingredients:
2 c. heavy cream

1 (14.5 oz.) can sweetened condensed milk

½ c. ricotta cheese

½ tsp. Ground cinnamon

¼ tsp. Ground nutmeg

2 c. mini chocolate chips, divided

1 ½ c. crushed cannoli shells, divided

½ c. chopped pistachios, divided

Cones for serving
Directions: Beat heavy cream for five minutes in a large bowl with a whisk or hand mixer. Fold in sweetened condensed milk, ricotta, cinnamon, and nutmeg until it's thoroughly combined. Then, fold in 1 ¼ cups mini chocolate chips, 1 ¼ cup crushed cannoli shells and all chopped pistachios except two tablespoons. Once it's combined, transfer to a 9"x 5" pan and top with remaining chocolate chips, cannoli shells, and pistachios. Freeze five hours until solid, then let soften 10 minutes before scooping.
View the full recipe on Delish.com.
Vanilla Ice Cream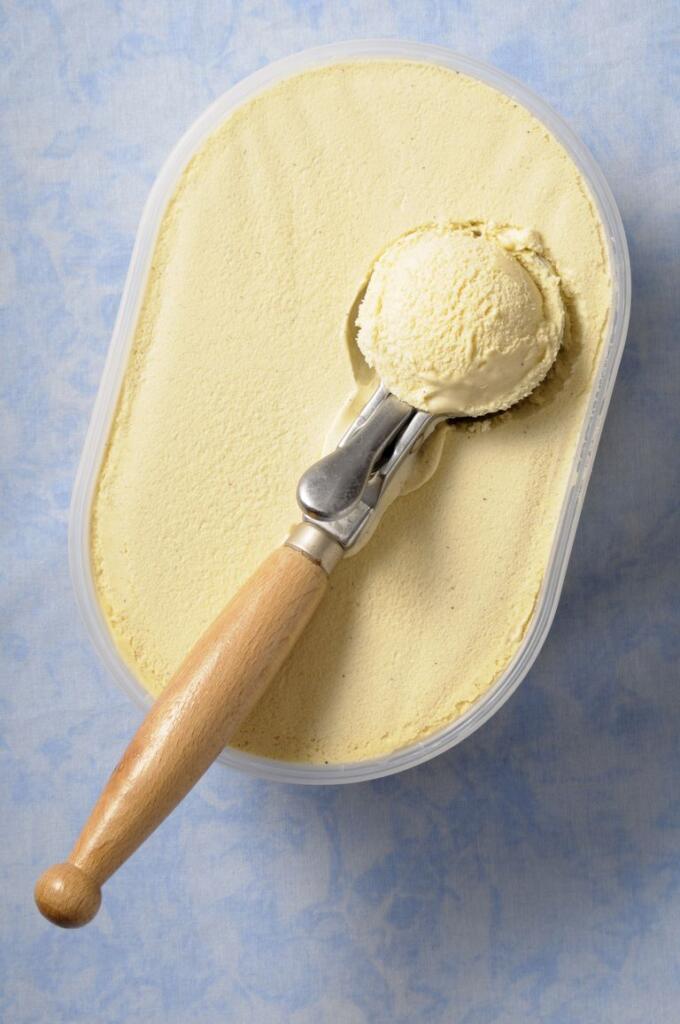 We're going back to the basics. Sometimes, nothing beats a simple scoop of vanilla. This vanilla bean recipe is the perfect blank slate, so you can keep it plain or add fun mix-ins like m&ms, chocolate glaze, or sliced almonds. Whatever you prefer on a warm lake day!
Ingredients:
3 c. whole milk

2 c. heavy cream

½ c. sugar

¼ tsp. Kosher salt

1 vanilla bean

5 large egg yolks
Directions: Whisk all ingredients besides the eggs in a large, heavy saucepan. Cook over medium heat for 4 minutes, stirring until sugar dissolves and the mixture is hot. Gradually whisk 1 cup hot milk mixture into yolks. Whisk yolk mixture into remaining milk mixture and cook over medium heat for 8-10 minutes, whisking constantly. The mixture will thicken. Then, pour through a fine wire-mesh strainer into a bowl, discarding solids. Cool completely. Chill between 8-24 hours. Pour into an electric ice cream maker and freeze according to instructions.
See the entire recipe on Countryliving.com.
Vanilla Almond Ice Cream with Cherries and Pistachios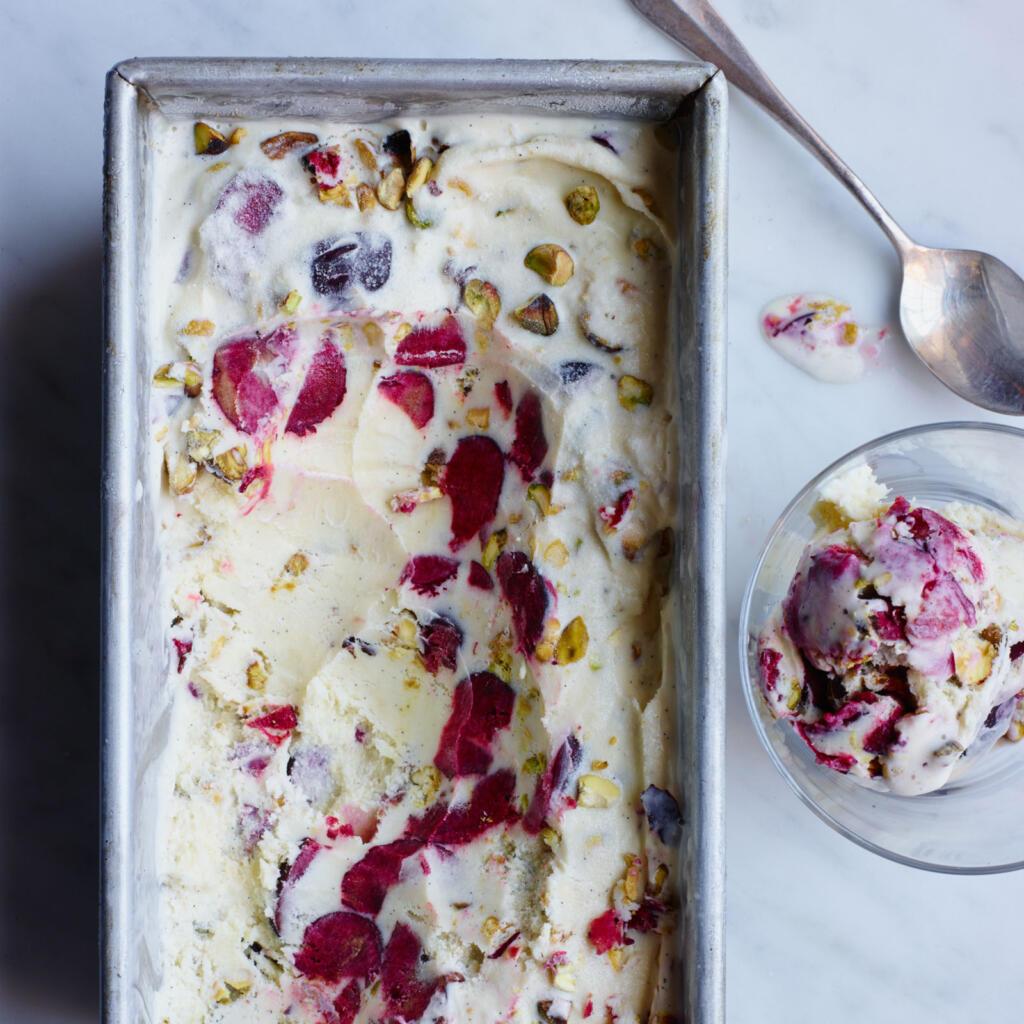 If you have gourmet tastes, this ice cream recipe is for you. The combination of nuts and fruit brings out a refreshing, natural flavor. Keep in mind that this dessert calls for a few more ingredients than your standard homemade ice cream, but the tasty payoff is worth it.
Ingredients: 
6 egg yolks 

1 ½ cups heavy cream 

1 ½ cups whole milk 

¾ cup sugar 

¾ teaspoon kosher salt 

1 vanilla bean, split lengthwise with seeds scraped 

½ teaspoon pure almond extract 

¾ cup fresh cherries, pitted and halved 

¼ cup shelled pistachios, chopped 
Directions: Put a medium bowl into a large bowl of ice water. In a separate bowl, beat egg yolks for 1-2 minutes. Whisk cream with milk, sugar, salt, and vanilla bean and seeds in a medium saucepan. Simmer until sugar is dissolved. Gradually whisk half of the mixture into the egg yolks, then whisk back into the saucepan. Cook on low heat, constantly stirring for 12 minutes. Strain the custard through a medium-mesh strainer into the ice water bowl. Discard vanilla bean. Let it cool, then stir in almond extract. Seal in a freezer bag and lay flat in the freezer for at least 8 hours. Transfer frozen custard to a food processor and pulse until smooth. Transfer to 9"x4" pan and fold in cherries and pistachios. Cover and freeze for 6 hours. 
Check out all the recipe details at foodandwine.com.
Don't have the kitchen tools needed for some of these recipes? No sweat! You can always enjoy homemade ice cream at the lake using the tried-and-true ice cream recipe in a bag. It's an easy and fun science experiment that's just as tasty.
From us at Lake Homes Realty, Happy National Ice Cream Day!