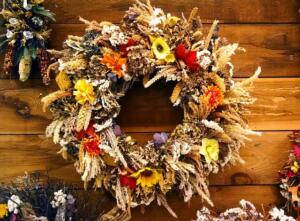 Decorating for the fall should always be an anticipated time of year. The colors, scents, and overall ambiance the season brings give us a sense of warmth and happiness.
From door hangings, to porch settings, to lighting, here are some fun and beautiful ways you can decorate the entry to your home:
The Classic Wreath 
A wreath that can be easily modified is a handy decoration that can be used throughout the different seasons.
These wreaths can modified throughout the year which will be both fun to make and budget friendly.
Places like Hobby Lobby or Michael's can provide you with all your wreath-making needs.
The non-traditional wreath
If you are looking for a reaction or someone to look at your door and be taken aback, you are sure to find a wreath out there to fit the occasion.
With so many fall wreaths to choose from, you can definitely find a really big one to catch eyes.
Go huge, make an odd shape, or both, but if you are looking for something else, you may even make your own in order to wow your guests and people passing by.
Lighting
What better way to ring in the season with lights?
In the fall, you have many opportunities to light up your front door.
With Halloween colors to autumn colors such as oranges, yellows, and browns, you are definitely able to find something that suits your taste.
You can also add lights to your wreath in order to make it more beautiful.
Odds and Ends
Leading up to the door you can add pumpkins on each step, or simply add a few by the door to create a more festive theme.
Pumpkins are a classic way to show people that you are excited that cooler weather, changing leaves and everything else that comes with Autumn has arrived.
Put garland on the top of your front door.
Adding garland on the top of your front door, along with a wreath and/or pumpkins, is a beautiful and elegant way to begin the fall season. With so many to choose from you can be sure that there is one to suit your specific taste.
With these ideas, possibilities are endless as far as decorating your front door. Many times, you can go directly into a store, find exactly what you are looking for, and go home hang your decorations up and be done.
If going to a craft store, you will see that there are so many choices that it will be hard to find just one; and that is a good thing!
When it comes to a lake home the back door or lake facing side is often just as important, or even more important, than the actual front door, so buy the supplies for both.
From autumn colored fabrics and wreaths to real and faux pumpkins, there is definitely something out there perfect to help showcase and decorate your home for the fall!