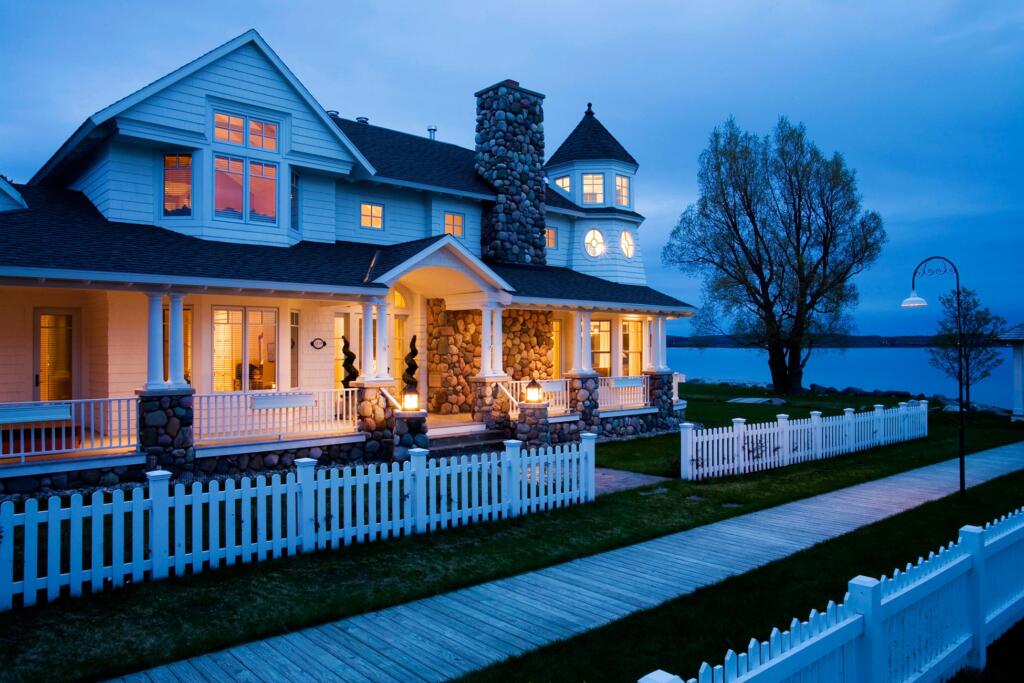 There is something deeply meaningful and nostalgic about owning a lake home. This is the place where memories are made, where families and friends gather, and where life is blissfully celebrated. Lake homes are sanctuaries that comfort us, draw us in, and invite others to come inside, relax, and stay awhile. No matter your style—whether cozy and casual or opulent and grand—the essence of any lake home captures the beauty of its surroundings within the walls of the interiors.
So how do we go about getting the right look that suits our functional needs and individual tastes? We spoke to Marta Mitchell, ASID, the owner and president of the award-winning MM Interior Design Group in Greensboro, NC. Marta has designed numerous waterfront properties nationwide, and her tireless attention to detail ensures a unique design that reflects every homeowners' artistic vision and desire.
Capture the View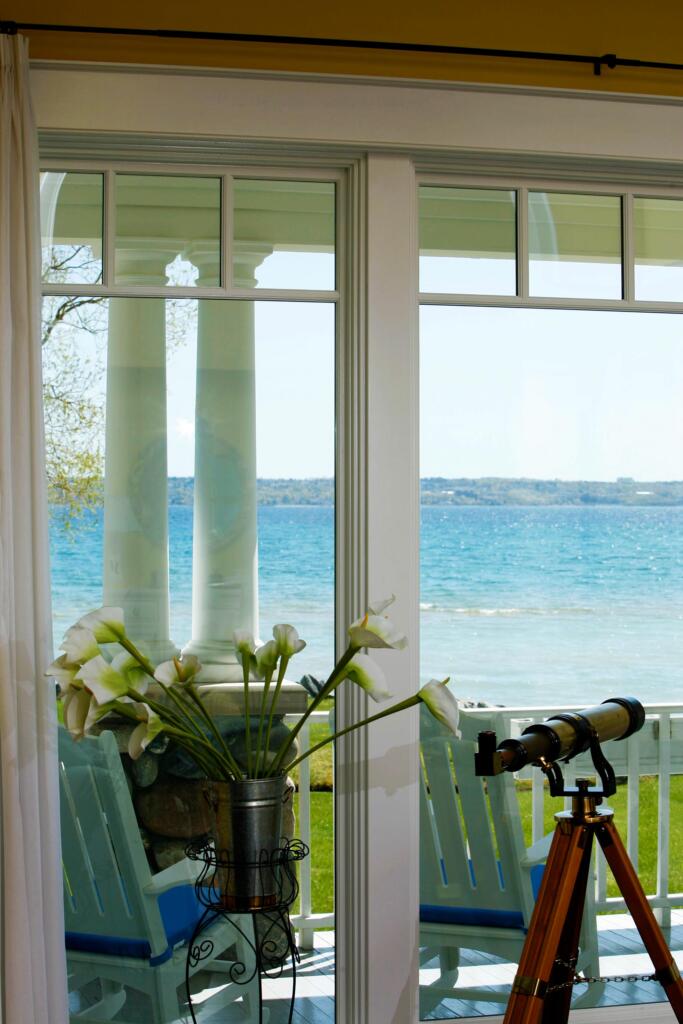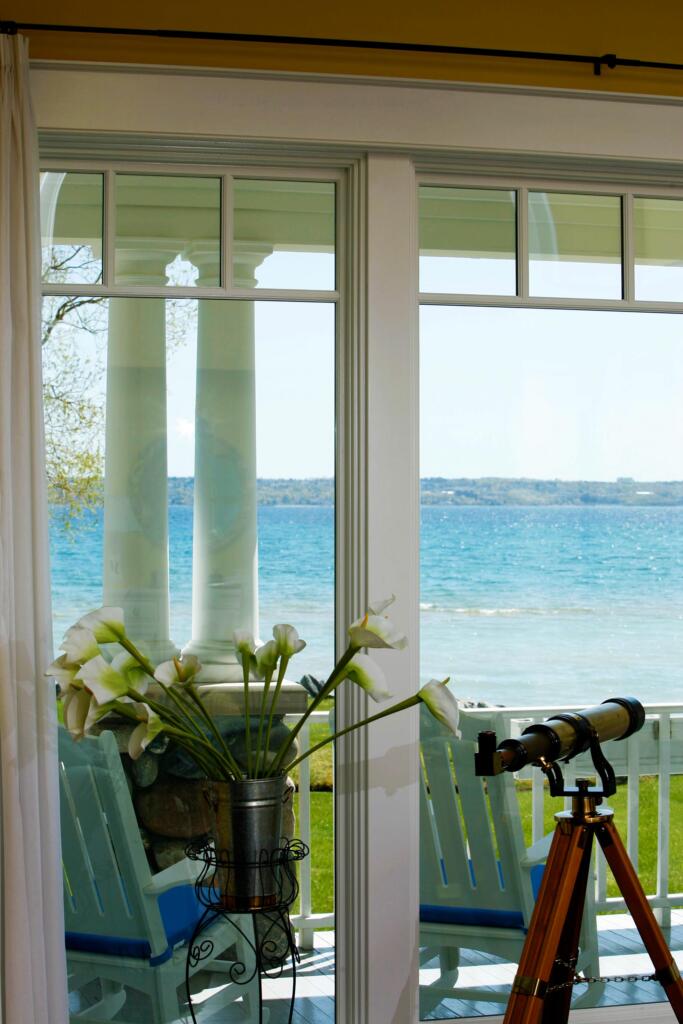 "With a beautiful view right outside, why not take advantage of it?" says Marta. "Every room should be designed in a way that highlights its natural surroundings. The interior should be designed with windows and glass doors as focal points. Let visitors enjoy the outdoors from every room possible," she sums. Unless you need added privacy or shade from intense sunlight, consider leaving windows in public spaces uncovered. Limit sumptuous draperies to your private rooms to cocoon them in softness and create a sense of coziness.
Color Scheme Strategy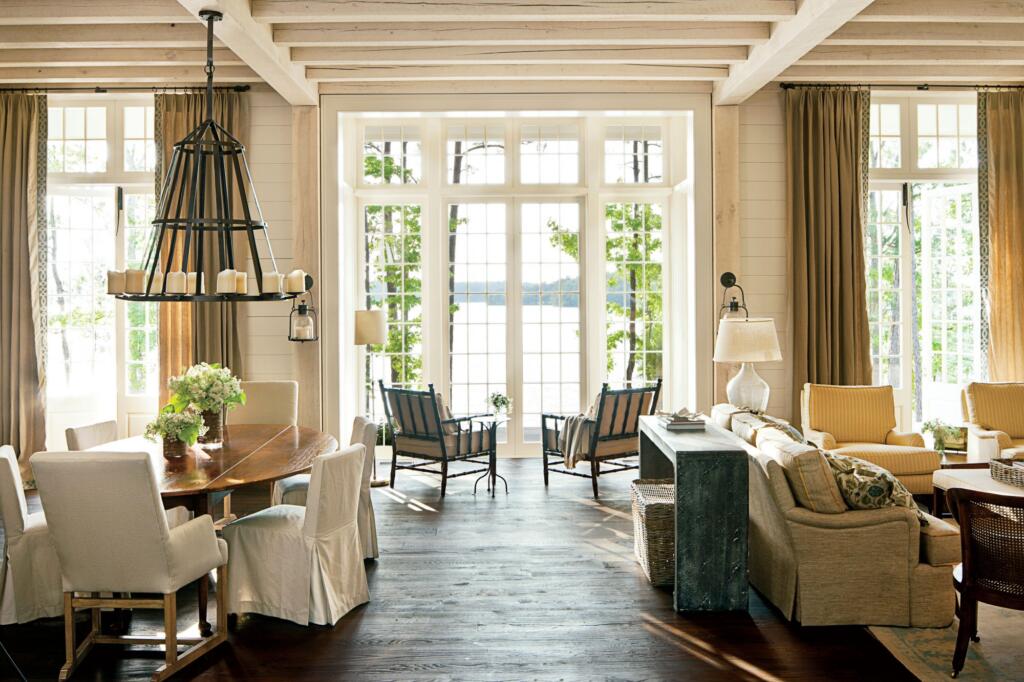 "The trick is to keep it simple," Marta explains. "Consider a more neutral palette rather than bright window treatments, furniture, and rugs. That way, your eyes won't be distracted by the interior, and you can focus on the beautiful lakefront surroundings," she adds. If you absolutely love bold colors, fear not. Introduce them in accessories that can be easily changed when you're ready for something new.
The designer suggests repainting dark ceilings in lighter tones to open up space visually. She also recommends painting walls, trim, and paneling in monochromatic hues to create a satisfying unity. "For color relief, leave the ceiling white," notes Marta. "But always feel free to mix and match motifs and styles however you like to create a carefree informal look."
Clutter-Free Kitchen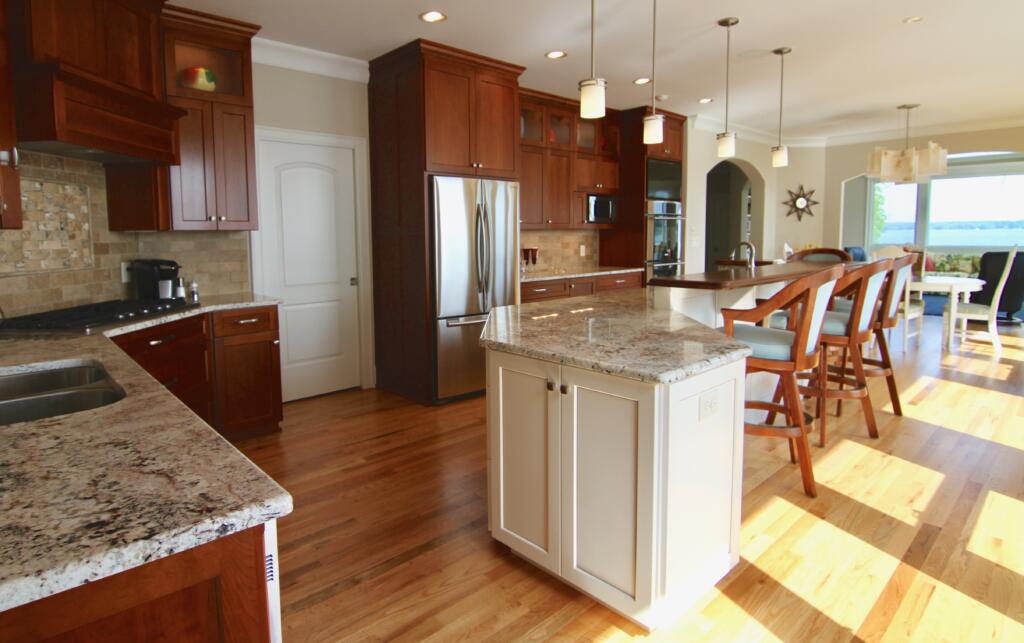 "Keep clutter out of your lake house kitchen and try to limit dishes and glasses to the essentials," Marta suggests. "If you have space, installing a second refrigerator is a great idea for storing drinks and leftovers," she adds. Lots of cabinet storage space will also eliminate visual clutter.
Other elements to consider when planning your kitchen include plenty of seating for family and guests. Most kitchens are the heart of the home and the place we prefer to gather for every occasion. Ample counter space and island seating with counter stools make it comfortable for everyone to sit and keep the cook company while preparing meals. It's also a great space for overflow entertaining when the whole house is being used.
Flexible Furnishings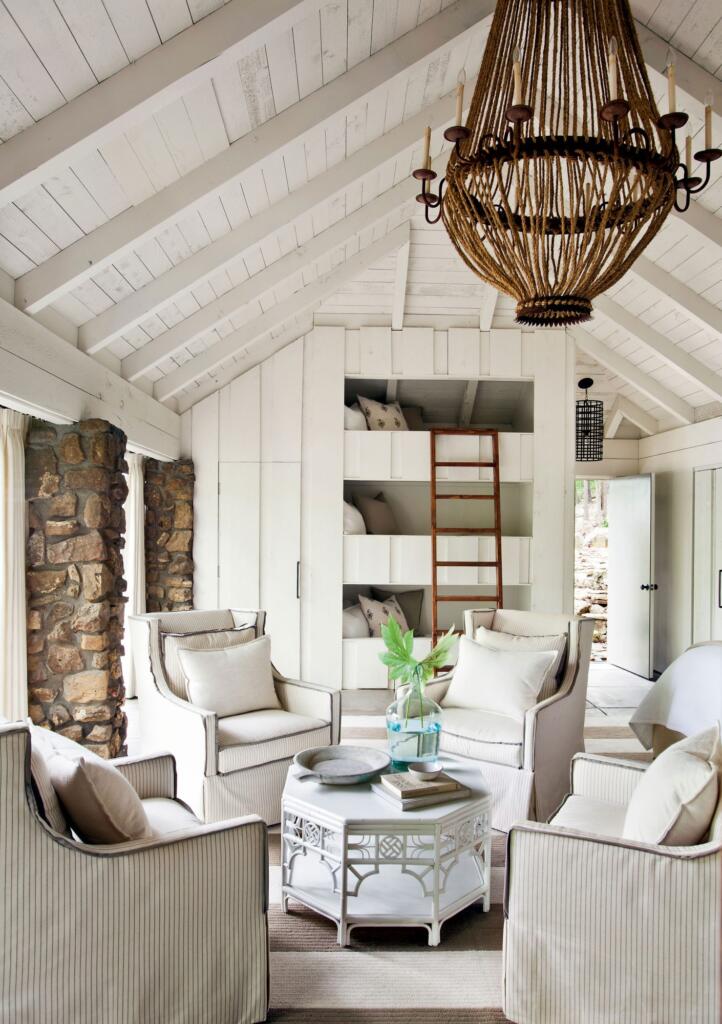 "Choose durable seating for minimal worry and upkeep and design a color palette that connects visually with the surroundings to blur the distinction between indoors and out," says Marta. "If you're planning on entertaining or inviting guests, it's a good idea to add furniture and accessories that can double as extra seating to accommodate a crowd," she adds.
Other ideas to consider? Have large custom cushions or pillows made and use easily movable ottomans for additional seating in a pinch. If you know you'll need extra sleeping space year-round, built-in bunk beds are a great space saver and perfect for kids' rooms.
A Serene Escape
"After a busy day with friends and family, you need a peaceful place to relax," says Marta. "Think of the master bedroom as your serene oasis at the lake. A calming palette is a perfect thing to create this effect—consider a grey or white scheme. If privacy is needed, opt for soft linen draperies or blinds, which will allow light filtration and not completely obstruct beautiful views," she adds.
Mix rustic woods with lavish textures to create a pleasing contrast, and consider adding a fireplace to invite warmth. Plush area rugs create softness underfoot, and luxurious blankets and throws wrap you in cozy comfort on cool nights.
Outdoor Oasis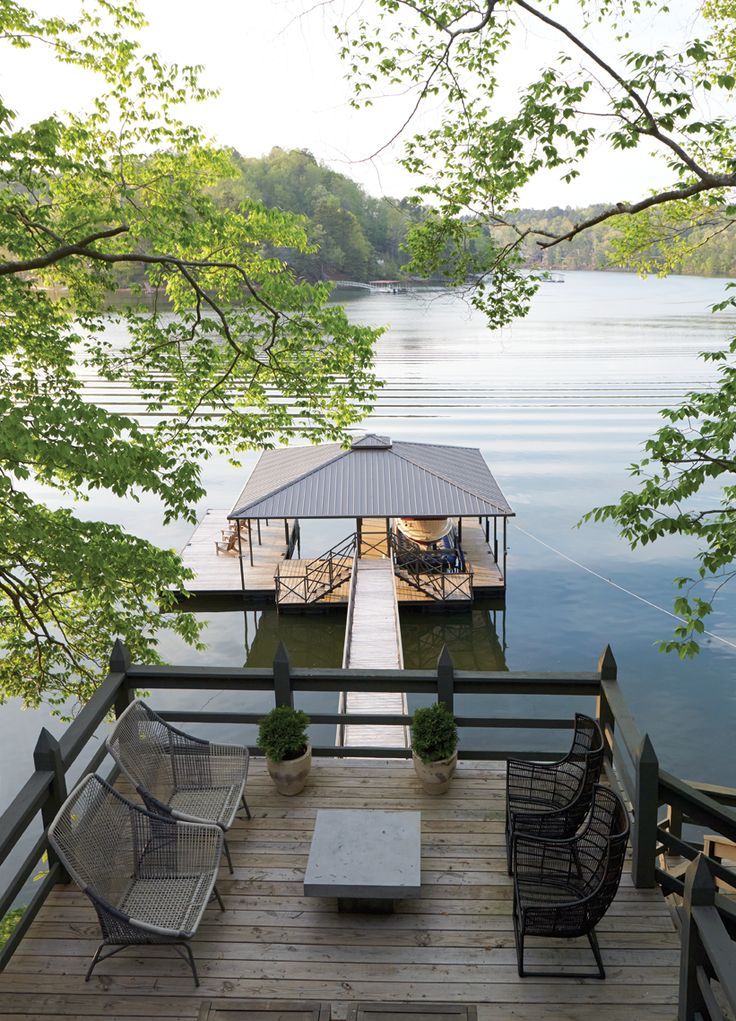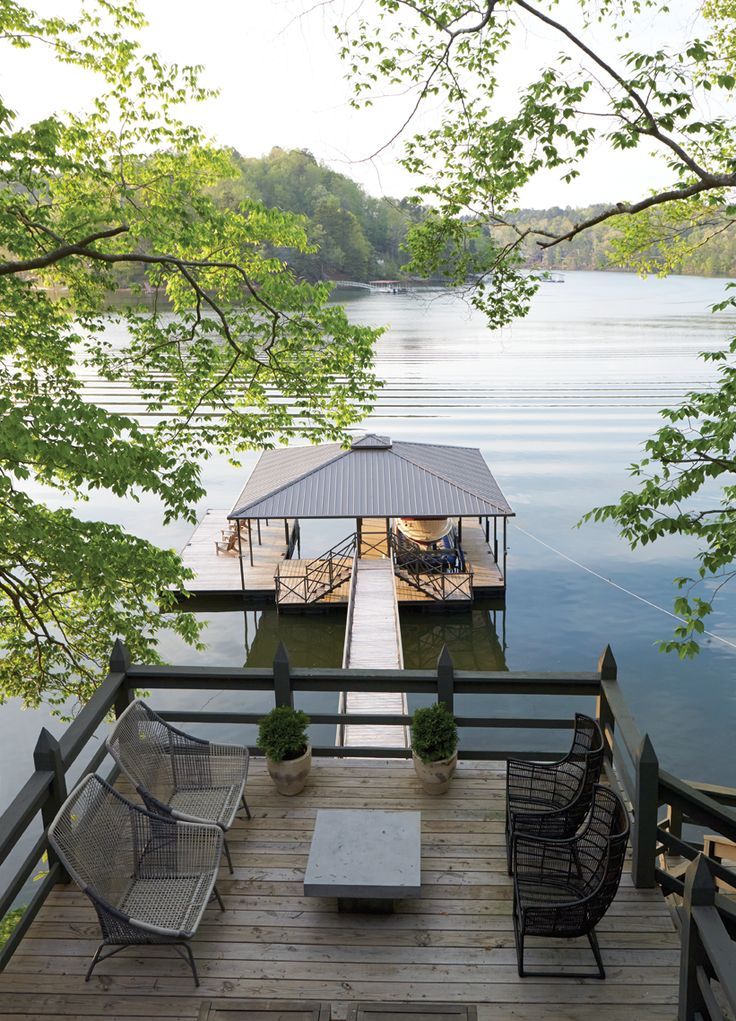 When planning outdoor spaces, your lake home's geographic location and its orientation on the lot are key considerations. "Morning or afternoon sun is critically important to take into account and will determine your space planning and furniture layout," says Marta. "Also, keep in mind the function of each space—will it be used for lounging, entertaining, playing games—and do you plan to include other features such as an outdoor kitchen, a fire pit, or a swimming pool," she notes. Deciding these things early on in the process will help create a cohesive design, a smooth traffic flow, and an effortless indoor/outdoor feel.
"For both covered and uncovered seating areas, fabric selection is essential," adds Marta. "Performance outdoor fabrics have come a long way, but most manufacturers don't recommend leaving cushions outside year-round. Making sure you have convenient and adequate space for storage is an important consideration," she sums.
We hope these ideas get you thinking about your own dream lake home. For more inspiration, visit Marta's showroom of Signature Projects and her project Gallery.