During summertime, it can be hard to stay hydrated. Especially when you're spending all day out in the sun doing your favorite lake activities. Of course, a trusty glass of water can do the trick. But have you ever tried hydration-boosting drink mixes? Loaded with both flavor and vitamins, delicious powders from these brands will keep you healthy and happy for long days in the sun. Whether you're lounging on the dock or hitting the trails, these hydrating drink additives will become your must-have for leaving the lakehouse.
Salud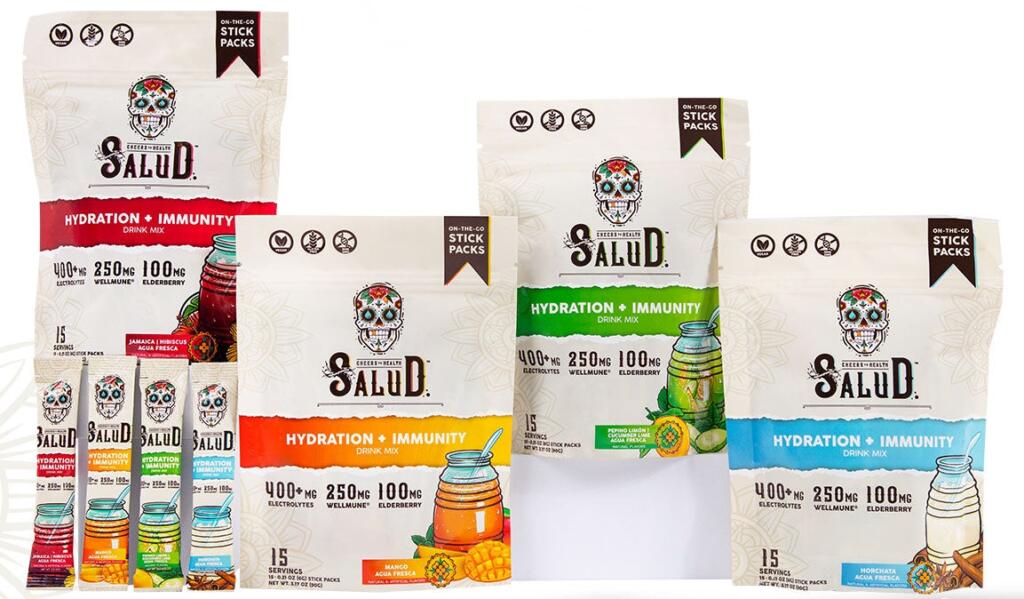 While sipping on Salud, you're guaranteed to stay both hydrated and happy. These hydration + immunity drink additives were created by social media influencer Josh Leyva who wanted to help people quench thirst and increase hydration in a healthy way. Salud's hallmark trait is their clean premium ingredients and authentic flavors. I have personally tried Salud, and I appreciate the wide variety of flavors from pineapple to mango to hibiscus (my favorite) that never fail to enhance the H20 experience. Further, each drink mix is packed with electrolytes, vitamins, and minerals — including 100mg of elderberry and Wellmune to boost immune systems.
ZYN Daily Wellness Drink Mix
ZYN prides itself on using clean, simple ingredients in its daily wellness drink mix. Just mix this 10-calorie, electrolyte powder with water to get amazing immunity and recovery results. Whether you want to improve your gut health, hydration, or bounce back after a tough workout, these powdered stick packs are perfect. ZYN's product comes in four flavors — Strawberry Yuzu, Blackberry Dragon Fruit, Passion Fruit Lemonade, and Mango Pomegranate — all of which are delicious summer flavors. It's also great for anyone gluten-free or lactose intolerant since their products are totally free from gluten and dairy. Instead, you'll get the healing benefits of curcumin and turmeric paired with stevia-sweetened flavor.
Ultima Replenisher
Made with real fruit flavor extracts, this electrolyte powder from Ultima is the perfect, refreshing drink additive for a summer's day at the lake. It comes in tasty flavors like raspberry, grape, lemonade, and orange. It's also made from organic stevia rather than added sugar, making this drink an excellent zero-calorie option. After a long day of sweating at the lake, this Ultima powder will replenish your lost electrolytes such as calcium, magnesium, phosphorus, and chloride. For ease of use, the powder comes in small stick packs that are easily packaged with exact servings.
Liquid IV Hydration Multiplier
If you're looking for double the electrolytes, this Liquid I.V. Hydration Multiplier Electrolyte Powder might be your drink additive of choice. If you mix just one stick of this hydration powder into a cup of water, you'll get three times the electrolytes of average sports drinks. How does it work? Cellular Transport Technology — a mixture of sodium, potassium, glucose, and water that helps deliver water and nutrients into the bloodstream much faster than an average cup of water. On top of that, you'll be getting premium ingredients like 100% of vitamin C, B3, B5, B6, and B12. Plus, every time you buy a packet of these, the Liquid I.V. brand will donate a bag to charity.
Dr. Price's Electrolyte Mix
Last but not least, Dr. Price's electrolyte mix is a refreshing, fruit-flavored hydration-enhancing drink of choice. With a blend of more than 72 trace minerals and electrolytes, it's perfect for extra hydration during an active day on the lake. Like many of the other drink additives on this list, it's made from stevia leaf extract for a natural sweetening option. In addition to the classic raspberry flavor, the powder is also available in lime, pineapple, mixed berry, and other options.
We hope these drink additives help you stay hydrated on the lake!