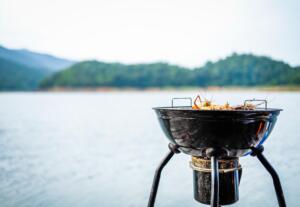 Spring is just around the corner and before you know it everyone will be firing up their grills to enjoy the warm weather. Here are 5 delicious grilling recipes you've never tried (but should).
1. Fire it up the tropical way:
The next time you are carving a pineapple for your family, don't toss those pineapple skins, grill fish on them! This is a brilliant way to infuse tropical flavor into your local catch of the day!
2. In a glass:
If you're looking for a creative backyard beverage, why not try Smoked Lemonade! Sound complicated? It is as simple as halving lemons and sitting them on the grate of your smoker while you smoke your meat. Juice the smoked lemons, add water and sugar, and enjoy your innovative smoked refreshment.
Take banana splits to a whole new level by slicing a whole banana down the middle, and stuffing the peel with marshmallows, fruit, walnuts, and graham crackers. Cover in tinfoil and stick it on the grill. You could eat this delicacy as is, or top with ice cream to cool off at the end of a hot day.
4. Whole Grain:
I, for one, had no idea that you could bake bread using a grill. This recipe uses less than 10 ingredients and makes two large loaves. It would be ideal to pair with whatever else you are planning to grill, or simply buttered with your morning coffee.
Cilantro – Lime grilled Watermelon is top of my list for Labor Day, and possibly every summertime weekend. Combining south of the border flavors with fruity watermelon is sure to create a treat that is both savory and nostalgic.
Follow Lake Homes Realty on Pinterest and see all these recipes and more!