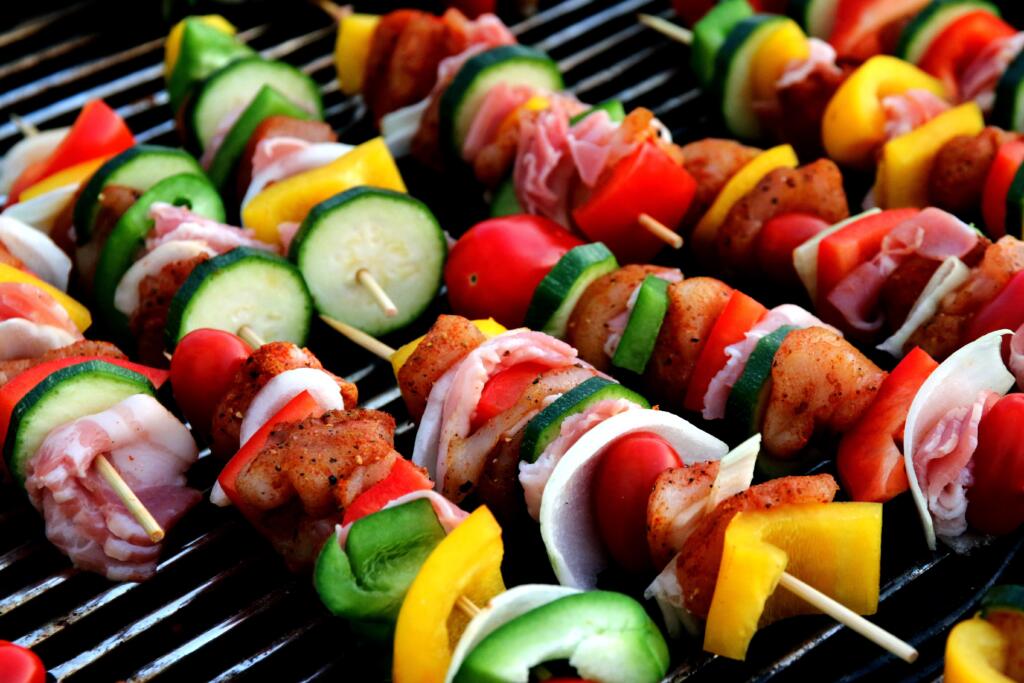 Article co-authored by Lake Homes Realty intern Trey Yanity
The best summer has sunshine, a day at the lake and a hot grill!
These three grilling recipes are simple, quick-fix dishes that will have the whole family asking for more.
Sweet and Spicy Grilled Shrimp
These shrimp start deliciously tangy then hit you with a savory punch. To combat the heat, sweet and spicy grilled shrimp are best served with a side of warm pasta or rice.
This grilling recipe is easy, cost-effective, and will leave you feeling like the top chef of the entire lake.
Ingredients:
½ cup of chili-garlic sauce
½ cup of honey
1 pound of medium shrimp, peeled and deveined
6 bamboo skewers, soaked in water for 20 minutes
Directions:
Before lighting your fire, lightly oil your grill's grate to prevent your shrimp from sticking.
While that preheats to medium heat, stir your chile-garlic sauce and honey together in a small bowl. Next thread your shrimp onto your soaked bamboo skewers, piercing through the head and tail ends.
Once medium heat is achieved, lay your skewers on the grill and brush your shrimp with your chile-garlic and honey sauce.
Turn your shrimp over to cook on their opposite sides frequently, and continue basting them each time they flip.
After about 10 minutes, when your shrimp are firm and pink on both sides, remove your kabobs from the grill and serve.
Recipe courtesy of allrecipes.com
Grilled Lemon Chicken
Flavorful, sweet and zesty, you can't go wrong with this white meat classic. A great choice for healthy eaters, this chicken dish is less than 300 calories per serving.
Add a side of mashed potatoes and asparagus to complete your meal.
Ingredients:
1/3 cup of lemon juice
1/4 cup of olive oil
1 Tbsp of Dijon mustard
2 large cloves of garlic, finely chopped
2 Tbsp of finely chopped red bell pepper
1/2 tsp of salt
1/4 tsp of ground black pepper
4 skinless, boneless chicken breast halves
Directions:
In a bowl, mix your lemon juice, olive oil, Dijon mustard, garlic, red bell pepper, salt, and pepper. This will serve as your chicken marinade.
Set aside 1/4 cup of the mixture to use for basting.
Place your chicken breasts in the remaining marinade and refrigerate for at least 20 minutes.
During this time, preheat your grill to high heat, and lightly oil the grate.
When the meat is marinated to your satisfaction, drain and discard the marinade from the bowl, and place your chicken on the grill.
Cook for 6 to 8 minutes on each side, until the juices run clear, basting occasionally with the reserved marinade.
Recipe courtesy of Taste of Home
Alaskan BBQ Salmon
For the fresh fish lovers in your family or friend group, this mix of smokey and sweet will delight even the pickiest taste buds.
This dish takes 17 minutes to cook, but we promise the wait is certainly worth the reward with this fantastic grilling recipe.
Ingredients:
1 cup of brown sugar
1/2 cup of honey
1 dash of liquid smoke flavoring
1/2 cup of apple cider vinegar
1 (4 pound) whole salmon filet
Directions:
Preheat the grill for high heat. Next mix together your brown sugar, honey, liquid smoke flavoring and vinegar.
Baste one side of your salmon filet with your sweet and savory sauce and place on the grill, basted side down.
Cook for seven to eight minutes and generously baste the exposed side of your filet. Flip your fish over and continue cooking for another seven to eight minutes.
Add another layer of sauce before turning your filet over for a final time, and finish cooking for another two minutes.
Salmon is typically best served when cooked to medium, at which point your fish will be moist and flakey.
Recipe courtesy of allrecipes.com
Sweet Extras
This summer, try grilling recipes for more than your traditional outdoor fare by popping a few peach slices on the coals.
Cook your peaches when your coals are in their "twilight stage" or after they have burned out but are still hot.
The heat elevates the flavor and releases the juices in your fruit, making it the perfect side dish or ice cream topping.
Satisfy even more cravings this summer by checking out our "Summer Sips and Spirits" story and testing your taste buds on these "5 Delicious Grilling Recipes You've Never Tried (But Should)."