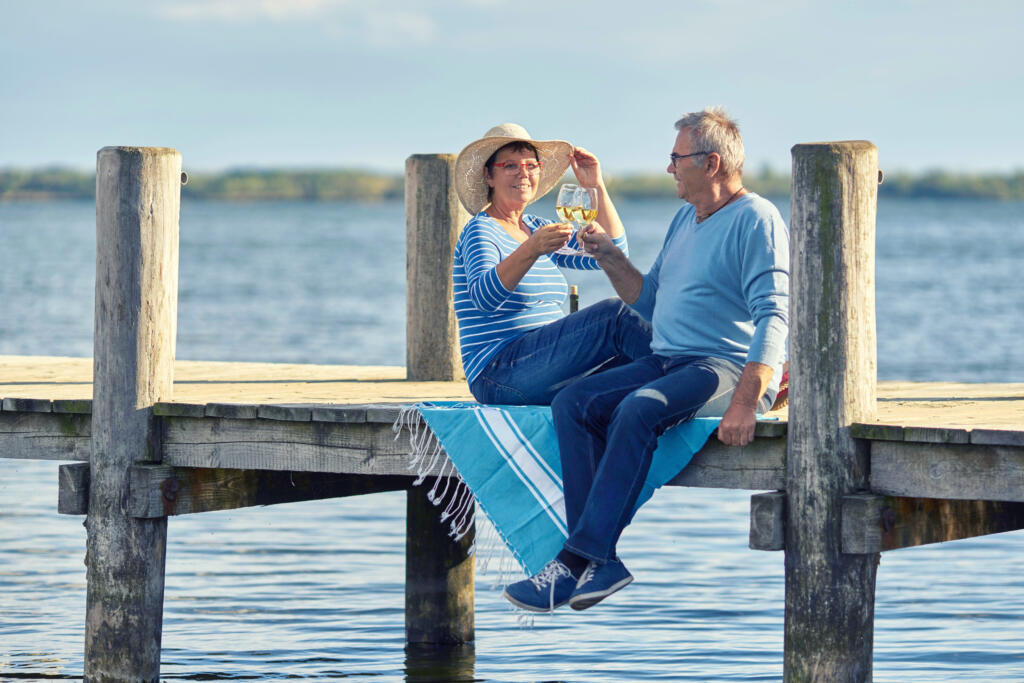 The "golden years" of retirement are often characterized by leisure activities like golfing, fishing and gardening; spending time with family, and enjoying the little things in life like sunsets and relaxing in a hammock. 
Now think about what it would be like to live on a lake. All the same leisure activities come to mind, right? Lake homeowners enjoy all those activities along with natural beauty, boating and fishing, and special time with their children and grandchildren. Lake living and retirement go hand-in-hand.
LakeHomes.com covers more than 3,000 lakes across the country, ranging from small community lakes to the Great Lakes. Each lake has its own personality and lifestyle. Knowing where to start your search for the perfect retirement lake can be intimidating, so we created this guide to assist in the decision making process.
Using the 2019 SmartAsset Best Places to Retire and cross referencing our own Lake Real Estate Market Report, we devised the list criteria. To determine the winners of the 2019 Best Retirement Lake Award, the LakeHomes.com media team analyzed dozens of lake real estate markets across the United States.
In order to be eligible for award consideration, markets had to have a minimum total market listing value of $10 million as of Feb. 1, 2019.
Welcome to our inaugural list of the Best Retirement Lakes in America!
Lake Granbury, Texas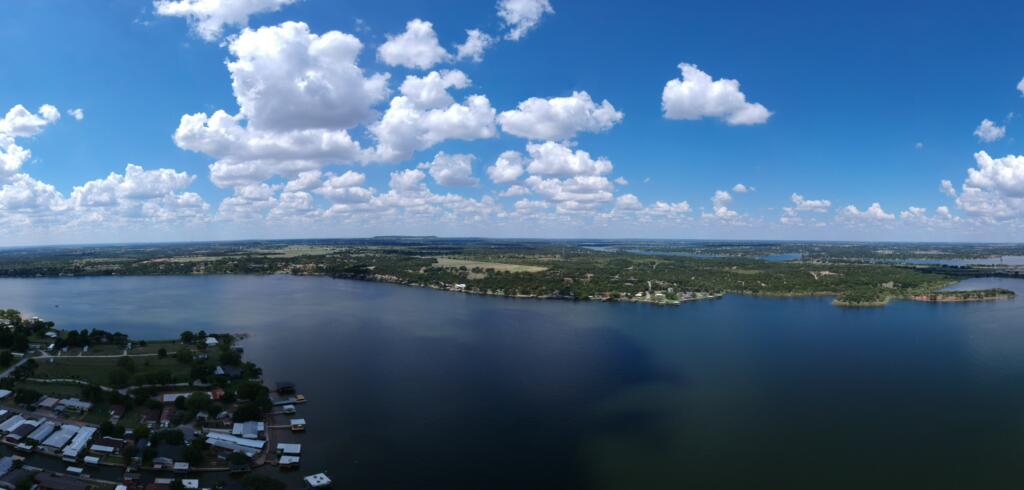 Located within the town of Granbury, Texas, Lake Granbury is a 2019 Best Retirement Lake.
This Texas treasure is located less than an hour from the Dallas-Fort Worth metro, making the lake perfectly placed. It's far enough away to escape the stressors of city life, but close enough for weekend adventuring.
Lake Granbury is primarily known for its striped bass fishing, numerous house-boats and the award-winning Inn on Lake Granbury.
Nationally, the area surrounding Lake Granbury ranks 63rd among the country's best overall places to retire in 2019 and offers residents a charming boutique shopping experience, a retro drive-in theater, and the historic Granbury Opera House, constructed in the late 1880s.
Lake Hickory, North Carolina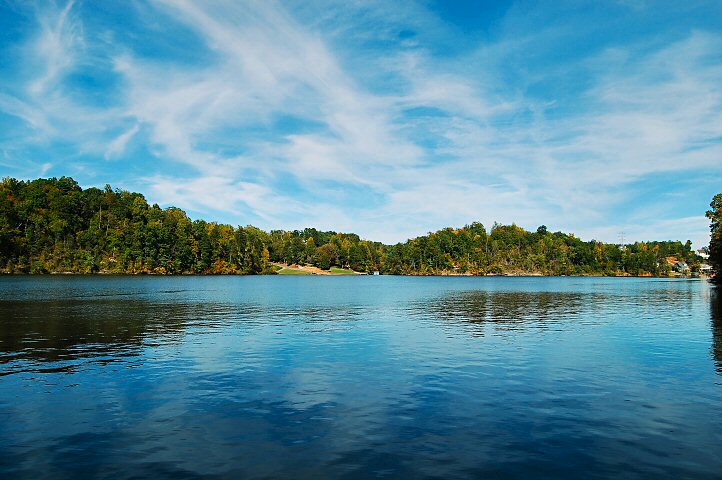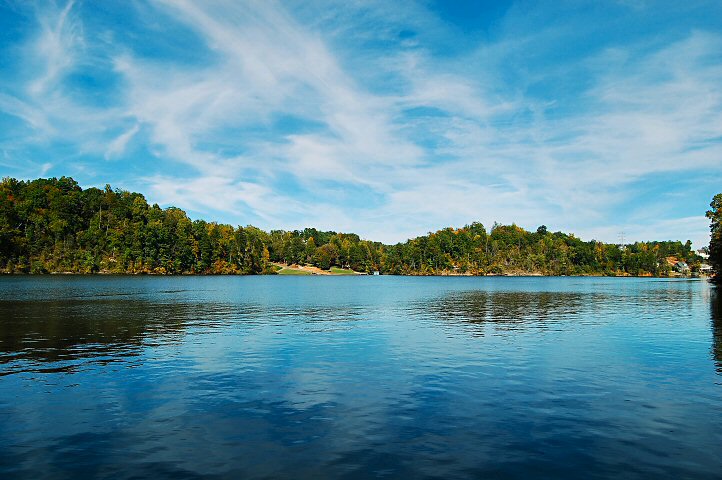 Lake Hickory covers more than 4,200 acres in Alexander, Burke, Caldwell, and Catawba counties in North Carolina.
A real retiree jewel, Lake Hickory's namesake, the town of Hickory, was named among the Top 10 least expensive retirement towns in the U.S. and the Top 20 safest towns in America in 2018.
The lake and surrounding community offer residents a variety of golf courses along its more than 100 miles of shoreline. Boating and fishing are popular activities. There are numerous wineries and vineyards to frequent throughout the year for the wine enthusiast.
In the Lake Hickory area, there are multiple historical centers and more than a dozen parks and nature trails. The lake's abundance of recreational opportunities, along with its convenient distance to Charlotte, Asheville, and Winston-Salem, makes Lake Hickory an ideal place for one's golden years of retirement.
Lake Lanier, Georgia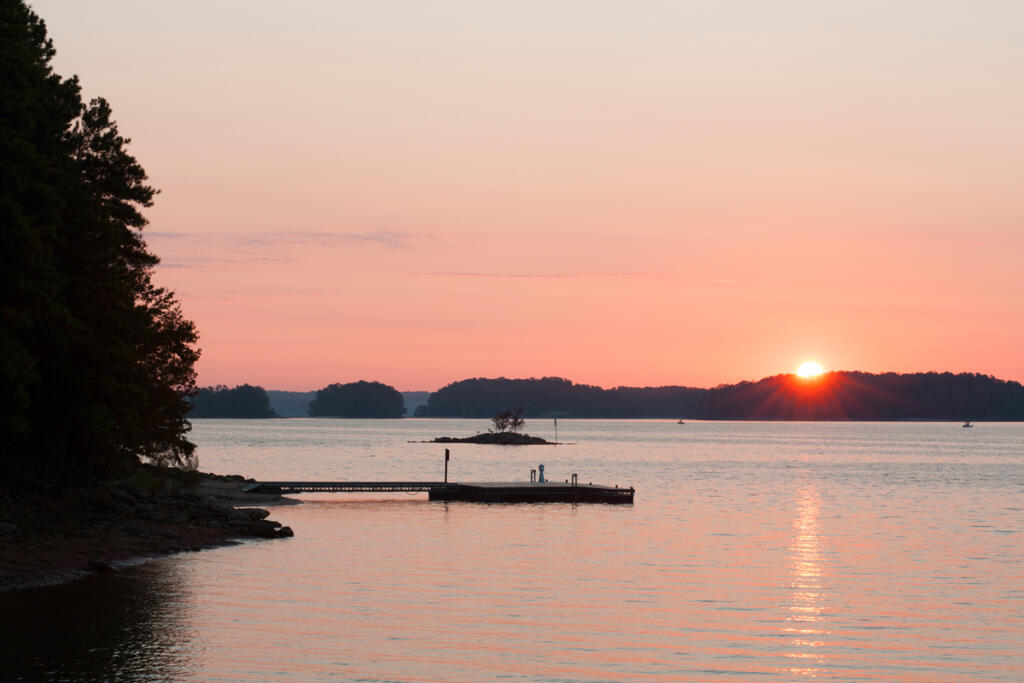 Lake Lanier is abuzz with tourists along its southern shores. The lake's northern end offers residents a peaceful reprieve and a small-town environment along the rolling foothills of the Blue Ridge Mountains.
This retirement lake features numerous Robert Trent Jones and Arnold Palmer-designed golf courses, day spas, southern-inspired cuisine, and an equestrian center at Lake Lanier Islands.
Lake Lanier's natural attractions include picturesque waterfalls, hiking trails with a robust fishing and boating scene. There are 45 parks and recreation centers in the area around the lake, providing value for retirees regardless of where they are on the adventure and activities spectrum. Lake Lanier boasts a blissfully blended lake life lifestyle for retirees and their families.
Lake Lanier's natural attractions include picturesque waterfalls, hiking trails, a healthy fishing and boating scene, and 45 parks and recreation centers.
With something for retirees on both ends of the adventure and activities spectrum, Lake Lanier boasts a blissfully blended lake life lifestyle.
Lake Guntersville, Alabama
As if painted into the alluring backdrop of the Appalachian Mountains, Lake Guntersville is recognized as one of the most scenic lakes in America and was recently recognized by Bassmaster magazine in the top 10 lakes on their list of 100 Best Bass Lakes.
This picturesque retirement paradise is located within the 6,000-acre Lake Guntersville State Park, home of the Eagle's Nest Golf Course – an 18-hole premier course renovated and redesigned in collaboration with pro golfer Jerry Pate.
This Alabama lake offers nearly 40 miles of hiking trails, best-in-class fishing, sailing clubs and is part of the North Alabama Birding Trail.
Situated about 30 miles south of Huntsville, Lake Guntersville is the ideal place to enjoy modern conveniences alongside the relaxing qualities of retirement lake living.
Lake Keowee, South Carolina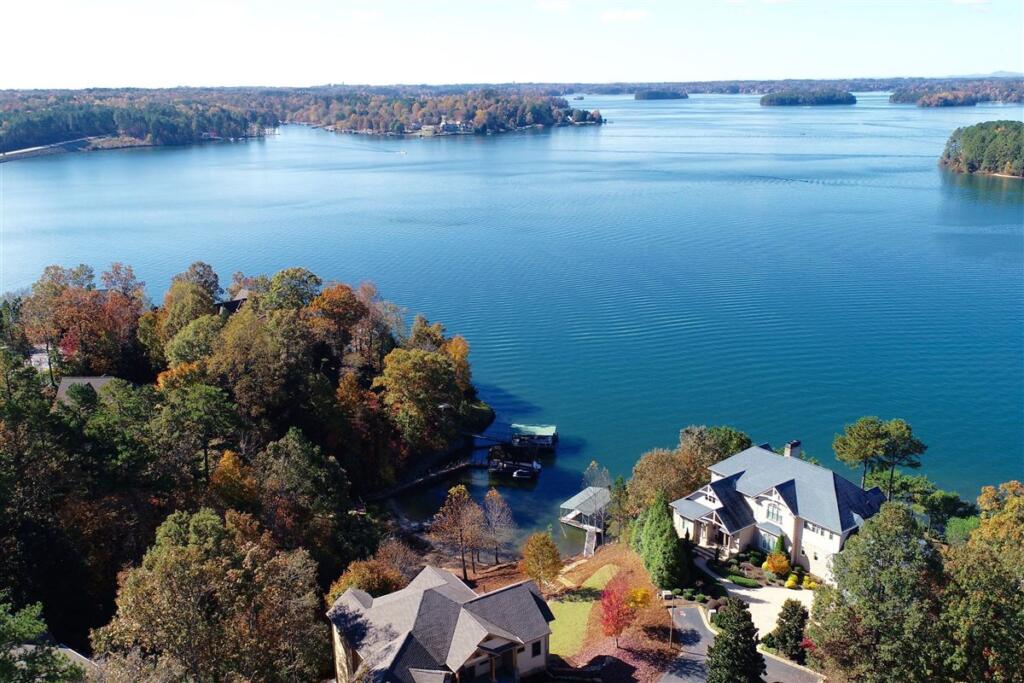 Lake Keowee is known as one of the safest and cleanest lakes in the country, and as one of the best boating lakes in the Palmetto State.
The area surrounding this spectacular lake boasts moderate temperatures year-round. It's an ideal climate for teeing-off at any one of the multiple Jack Nicklaus-designed golf courses located around Lake Keowee.
The lake also offers residents a quaint collection of antique and vintage shops, beautiful waterfalls and an abundance of lakeside casual dining restaurants.
This retirement gem is conveniently located less than 10 miles from the Clemson University campus and roughly an hour's drive from Greenville, making Lake Keowee a quiet retirement haven hidden amongst the excitement of South Carolina's "Golden Corner."
Tellico Lake, Tennessee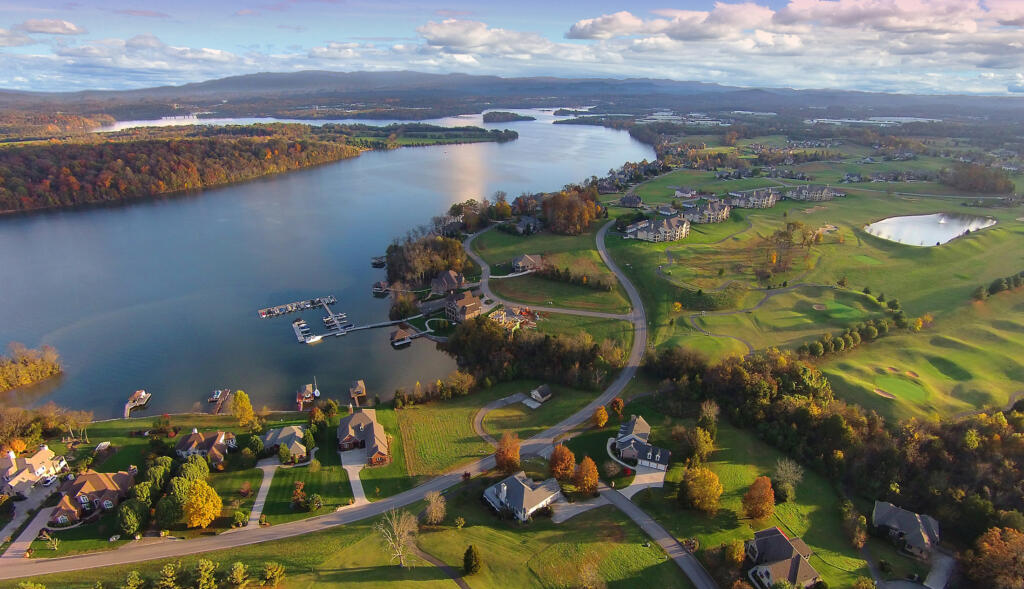 Located in Tennessee, Tellico Lake is the epitome of a retirement paradise. It checks all the boxes for retirees regardless of what they are seeking.
In addition to its renowned retirement communities, Tellico Lake is also famous for its year-round activities like boating, fishing, and skiing in the summer, and hiking, golfing and fine dining in the off-season
The lake is conveniently located just minutes from the No. 1 retirement town in Tennessee, Loudoun, and is 45 minutes from Knoxville.
Tellico Lake's proximity to urban centers and the lake's active adult-friendly communities make it the perfect place to enjoy all the serenity and charm of lake living without being too far from modern conveniences.
Lake of the Woods, Virginia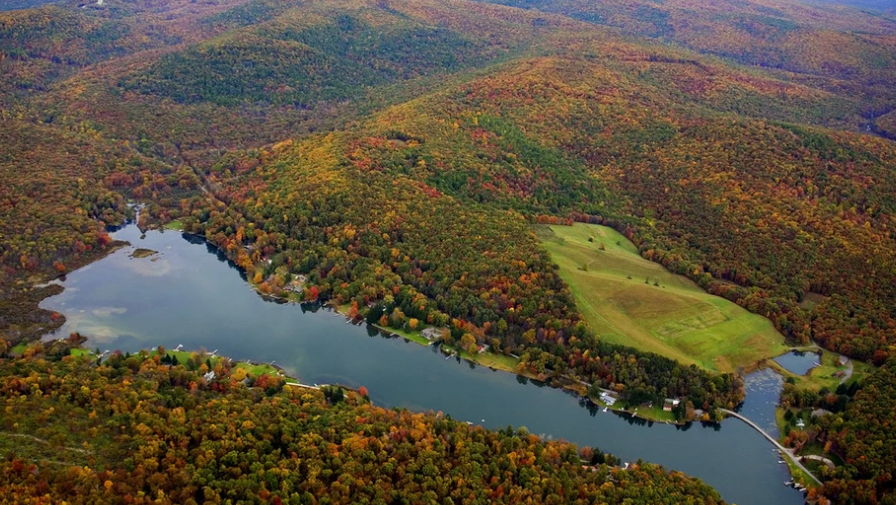 The Lake of the Woods area is perfect for spending one's golden years of retirement. The 2019 Best Retirement Lake designation goes to this community for its not one, but two lakes.
Spanning 2,600 acres, the lake of the Woods master-planned lake paradise offers residents exclusive access to its on-site equestrian center, 18-hole PGA golf course, tennis courts, and two outdoor pools.
The community also invites its retirees to enjoy lying on the beaches of Lake of the Woods' 500-acre Main Lake. Here, residents can sunbathe, sail, fish or waterski. The lake is located roughly 20 miles from historic Fredericksburg.
Keaton Lake, the smaller of the community's water bodies, is perfect for non-gas-powered boating activities like swimming, kayaking, and canoeing.
2019 Best Retirement Lake Award Methodology
Referencing the 2019 SmartAsset Best Places to Retire list for each state, eligible markets were cross-referenced using LakeHomes.com search features to identify those markets located within a 10-mile radius of any town/city named by Smart Asset's Best list.
These towns were determined by SmartAsset using information about accessibility to healthcare facilities, and the portion of the population that were senior citizens (age was not specified according to Smart Asset's methodology.) Additionally, each area's cost of living and tax burden were taken into consideration.
Lake real estate markets determined to be located within a 10-mile radius* of the SmartAsset-named towns were then analyzed for how the average home price in each market compared to the state's average home price for lake properties.
Proximity to the nearest metro, as named by Google Analytics, and the number of lake-focused retirement communities in each market were also deciding factors in choosing the 2019 Best Retirement Lake Award winners.
Each category was weighted differently, with the number of lake-focused retirement communities weighted more substantially, followed by proximity to the nearest major metro and average home price compared to the state's average home price for lake properties.