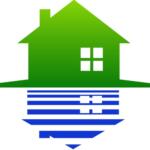 Website Lake Homes Realty
The Nation's Largest Lake-Focused Real Estate Company
Experienced Bookkeeper
Lake Homes Realty has an immediate opening for an experienced full-time Bookkeeper, ideally with significant real estate transaction experience.
Position's primary duties include (but not limited to):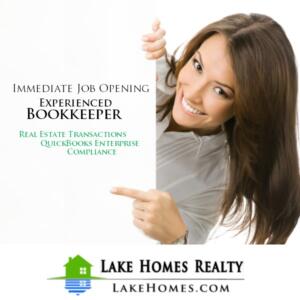 Real estate commission management.
Detailed General Journal entries to support real estate transaction details.
Multi-account bank reconciliations.
Daily processing of bills, invoices, and payments.
Interaction with in-house brokerage software.
Coordinate activities with other in-house bookkeepers and the brokerage operations team.
Support various other company services.
This position requires a self-directed, up-tempo individual with a natural focus on detailed accuracy and the ability to cross-check work. Our firm is regulated in each state we operate, and compliance is of utmost importance.
This is not an entry-level position. SIGNIFICANT prior experience with complex chart-of-accounts, audit completion, multi-account bank reconciliations, QuickBooks, and business office processes is expected.
Applicants with proper prior experience, as noted above, are greatly appreciated!
Unfortunately, prior history requires us to mention that applicants with little-to-no detailed bookkeeping experience will be disqualified for failure to read and understand the job description. We really do appreciate those eager to learn, but this position is simply not suited for entry-level staff.  This is not just for our benefit, it is for yours too.
Applicants with meaningful real estate back-office experience are given priority.
This position is at the Lake Homes Realty corporate offices at 15 Southlake Lane, Hoover, Alabama (just 1 mile from I-65 at the Valleydale Road exit).
All applications are considered confidential.
About Lake Homes Realty
Lake Homes Realty is one of most innovative and fastest growing real estate companies in the country.
The company is the largest lake-focused real estate brokerage in the U.S. and is expanding to new markets across the country almost daily. Utilizing a unique combination of online, social, and local experts, our staff participate in very leading-edge processes and tasks.
Inc Magazine ranked Lake Homes Realty #927 on the 2017 Inc. 5000 of the fastest growing companies in the U.S.
The Birmingham Business Journal has named Lake Homes Realty as one of the 30 fastest growing company in Birmingham for three consecutive years!
We have a great team, focused on accomplishment, fun, and being personally better every day. 
We know that when each of us is better, we are all better!