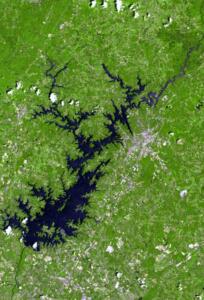 Nestled in the foothills of the Blue Ridge Mountains, breathtaking Lake Lanier spans 37,000 acres and features more than 692 miles of shoreline.
It also happens to be less than an hour away from Atlanta, making it the easiest of commutes.
Whether you grew up visiting the lake or call it your permanent home, you'll recognize your favorite lake from these landmarks.
Current residents and expert-agents weigh in on their Lake Lanier Highlights.
Lake Lanier has two distinct personalities
Call it a West Side story, but you know Lake Lanier has two completely different personalities, South Side vs. North Side.
The South Side of the lake is the nearest to Atlanta and always has something going on at the Lake Lanier Islands Resort, the waterpark or restaurants, at LanierWorld, or the larger marinas.
The North Side of the lake is nearest to small towns like Cumming as well as a small city, Gainesville.
This is the side of the lake you will canoe and paddle board on. The shoreline remains a little more residential and the water is peaceful.

LanierWorld
It isn't just for the kids.
Yes, thousands upon thousands of visitors and tourists make their way to LanierWorld every year.
You may pretend to roll your eyes at the park's 11 waterslides, wave pool, carnival-style rides and lakeside grill. But let's be real…you love it.
No matter your age, you love spending the sunny, summer days flying down water slides and riding the Raging River rapids.
And after a day on the waterslides, head over to Pigtails or Fishtails for dinner and dessert.
Port Royale
This is the perfect place for your lake pit stop.
Located on the North side of the lake, Port Royale is by far your favorite marina on the lake.
With 5-Star amenities, the Lighthouse convenience store and Pelican Pete's, Port Royale rivals even the most impressive of marinas.
Great food, live entertainment and a guaranteed good time are waiting for you down at the Port Royale Marina.
Rich History 
You're hopelessly fascinated with the history surrounding the lake.
Everyone knows North Georgia has a rich history dating back before the Revolutionary War, but there are some spots around the lake especially surrounded by myth and legend.
War Hill, a 108-acre park, for example, has almost no documented history regarding its origin and early history.
Local experts say there was most likely a significant Native American battle on the site. However, it's rumored that evidence of what really happened at War Hill is buried under the lake.
Fabulous Fourth of July Celebration 
You can't imagine spending Fourth of July anywhere else.
Every year, places like Lake Lanier Islands host a swanky "Red, White and Blue Luau," and Laurel Park serves up hot dogs, cotton candy and snow cones courtesy of the Paul E. Bolding American Legion.
But whether you spend the Fourth in your backyard on the dock or at any of Lake Lanier's parks, you are sure to have the perfect view for a fantastic firework spectacle.
They See You Rowin'
You wish you had what it takes to be a professional rower.
You're proud that YOUR lake was home to the 1996 Summer Olympic Games and that the Lake Lanier Rowing Club is one of the most prestigious rowing venues in the world.
Some days you look out your window and see five sculls rowing by, and you know this is totally normal.
Sunset Cove
You spent entire days at Sunset Cove.
Whether you drove up in your boat or your car, you know Sunset Cove is the place to be on a clear, summer day.
With live entertainment, a powder-white beach, beach volleyball courts, fire pits and delicious food, what's not to love?
Park your boat, turn up the music, and stay 'til the sun goes down.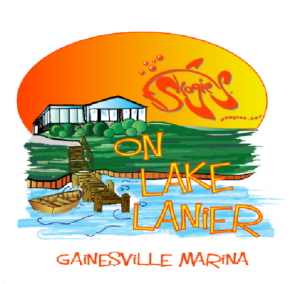 Eat a Skogie Sammich
Skogie's Famous Grouper Sandwich has your heart (and your stomach.)
Recently voted best restaurant on Lake Lanier, Skogie's is the perfect place for good food and cold drinks on a summer day.
Located at the Gainesville Marina, Skogie's for dinner is the perfect way to cap off a great day at the lake.
Christmas Lights Galore
Magical Nights of Lights means that Christmas is officially on its way.
Every year, Lake Lanier Islands hosts this six-mile animated light display that ends with the Holiday Village.
The Village features carnival rides, bonfires, Santa's workshop and a live nativity scene.
One of the most treasured traditions on Lake Lanier, driving through the Magical Nights of Lights with a car full of loved ones is the best way to kick off the holiday season.
Unparalleled Beauty
You know you live on the most beautiful lake in the Southeast.
Visitors love the lake because of more than 50 parks and public access points on Lanier, but residents love it because this body of water is unmistakably home.
The best part of living on Lake Lanier? There is something for everyone.
With a lake that touches five counties and 600 miles of shoreline, it is easy to find a piece of Lake Lanier that fits every personality.
Whether you enjoy the hustle and bustle of Lanier Island or the serenity of a secluded northside cove, living on Lanier is the perfect oasis.
Interested in making Lanier your home? Residents, lake experts and real estate agents would tell you you'd be surprised at the variety of homes found on Lake Lanier.
Homes on the Lanier market range anywhere from $250,000 to $4,000,000. To get a taste of the real estate diversity on Lake Lanier, visit our Lake Lanier page and see what we have to offer!
---