No matter whether you are new to the area or you have lived alongside your lake for decades, it's always important to be a good neighbor. You can choose your friends, but you can't choose your family, or the people you live next to. Here are a few tips to make living on your lake a pleasant experience for everyone, and to make you the world's best lake neighbor.
• If you live in a neighborhood with a homeowners association (HOA), the board will help enforce some standards about house and lawn maintenance. Trash in the yard will not be allowed, and neither will that bright pink roof.
If you don't live in an HOA, don't allow old lawn mowers or boat parts to stack up in your front yard. Your storage shed should be tucked away and out of sight so your yard will be presentable at all times.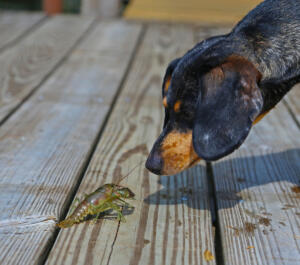 • Pets are great, but usually only if they are yours! If you have a pet that likes to wander, you will want to find out what it needs and try to get that for them closer to home. A "catio", otherwise known as an enclosed patio, gives your cat that chance for breathing the fresh outdoor air, but she won't be able to go over to the neighbor and torment his Chihuahua.
If instead you have a dog prone to barking, it is a good time to learn how to redirect that energy through an obedience class.
• Welcome newcomers to the area with a gift basket, but with added lake flair. Include a lake map, a gift card to the local marina, a list of nearby service providers, and a personal note explaining the ins and outs of the area.
• Be cognizant of your neighbors when it comes to parking cars. If you have a number of cars in your family, you may wish to let the neighbors on either side of you know. It's also a good habit if you are having a party or get together to make your neighbors aware of the increase in the number of cars for that event.
• Be a person. In this digital age it's easy to shoot a message saying "Happy Birthday" or "Congrats", but instead walk next door and deliver the message yourself. Doing things like this in person carries much more weight than a Facebook post and your neighbor will be very appreciative of your simple actions.
• Are you the local expert angler? Offer to take newbies on a fishing trip to share all your fishing hot spots.
• If you build on your property make sure that you are aware of just how big your structure really is. A tall tower or treehouse meant to give the kids a great hideout may prevent your neighbors from seeing out one direction or another. And you certainly don't want to obscure the view of the lake, since after all, that lake is the big reason you all moved there.
• One of the big things that neighbors often argue over is where the property lines are really located. It's very important to get a proper assessment from your county planning or land use office. With GPS tracking now, getting the boundaries right is easy. With that document in hand, no neighbor can succeed in disputing just where that fence can go.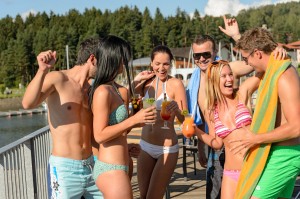 • Finally, if you really want to be the world's best lake neighbor, organize neighborhood "dock parties." Think of it just like a block party, but instead of celebrating on the block, celebrate up and down the neighborhood shorelines by boat and on each others docks! This is a great way to get everyone together and do something as a community, all while enjoying the lake that you all love.
In the end, the easy way to think of neighbor relations is to adhere to the golden rule – treat others as you would wish to be treated. Then, act accordingly.