Here you are going to learn how to offer tasty smoked meats to your family and your friends without having to purchase an expensive smoker. Just use your regular charcoal grill!
Fuel
To begin, you will need your charcoal grill, lightable material such wood or charcoal, a way to light this material, a dripping pan, a pan of water and an oven-safe type of thermometer.
The pans used for this project can be the cheap aluminum pans and can be bought from any store.
You will also need several hours and of course, your meat.
Building Your Fire
Begin by removing the cooking grate from your grill and building your fire on one side. If its windy, it is very important that your fire be on the windward side, which means it needs to be on the side that the wind is blowing against.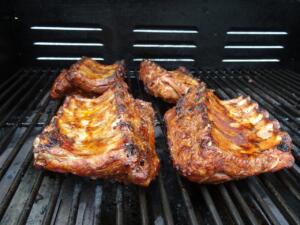 This is important because the airflow is everything when you are smoking the meat.
Assembling Your Smoker
Next you will place the dripping pan on the other side of your grill, opposite the fire.
Put the grate back on the top of the grill. When your coals are white you are ready to begin cooking.
Fill the water pan to a little more than half full. Put it over the fire. This will add in the moisture to the air inside your grill.
Place the meat over the dripping pan with the thermometer next to your meat. Put the lid on your grill.
Airflow
Depending on the type of grill you have, you will need to set the vents so the airflow will come under the fire and out over the meat.
It will draw the air through your fire, over your water pan, and then over the meat before it exits the grill.
Adjust your vents to maintain the smoking temperature of 200 to 250 degrees Fahrenheit.
Running Your Smoker
While your food is cooking, you need to keep the grill lid closed. However, you will need to keep an eye on your fire, as well as the temperature.
You will need to also periodically add in more burning coals to the fire.
Once you get a grasp on the process,  you should not have any problems keeping your temperature right.
Now all you will need to do is wait a few hours then enjoy your tasty, fall-off-the-bone smoked meat!