Whether you are moving to or from a lake shore area, packing for a move requires you to pack items safely so they make the trip properly and are ready to adorn your new home when you get there.
It can be overwhelming when it is time to get ready to move. So, being prepared when you start can help alleviate that anxiety. Let's look at some tips to make packing for a move simpler.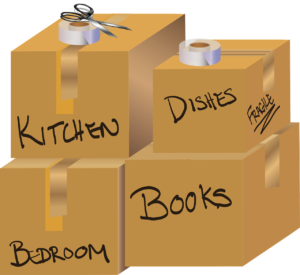 There are two ways you can go about getting your packing supplies. You can visit a store or storage facility that sells supplies, or you can ask local stores for extra boxes that they no longer need.
Some handy ones for packing glassware come from a liquor store or wine section of a grocery store. Those boxes come with cells that are ideal to keep wine glasses upright and safely protected. Getting your boxes from a store is certainly a green way to go, not to mention the least expensive way.
Something else to think about is the size of the box. Sometimes a larger number of smaller boxes is much easier to handle than a smaller number of bigger, more awkward boxes.
You can repurpose socks and T-shirts as wrapping material for dishes. This can save you some money and extra packing material you just have to dispose of when you get to your new home. Too. you can also pack two things at the same time.
You will also need tape, and lots of it. The bottom of the box will need reinforced to make sure that nothing will spill out when you go to pick it up. If you have the time before you start packing, shop for your supplies and get more tape than you think you're going to need so you don't end up panicking the night before the big move.
One of the main things to think about is the strategy of the moving truck arrangement. What do you want to have access to on a long journey? Those items should be at the front, closest to the door. What do you want or need to use first thing when you get to the new place? Those should also be at the front (or rear, really, depending on how you look at it).
Appliances can be at the back of the truck, closest to the cab. Just remember there is some prep work that needs to be done with them.
Refrigerators will need to be emptied and cleaned so no funky goo awaits you at your new lake side home. This may mean you have to donate some food or use it to reward people who are helping you move. Washers will often need their shipping pins reinstalled to keep the drum in place.
TVs and computers should have their cords bundled in a bag and attached to the device. This will make it easier to reconnect them when they are unpacked.
Blankets and pillows surrounding artwork and mirrors are helpful in keeping the fragile items safe.
It can take a bit of strategizing, but with a little planning, packing can still be a breeze. And if you would like to just pay for the convenience, you can always hire a professional to do the moving for you!