As a homeowner, one of the best real estate investments you can make is in waterfront property. Homes on the water make excellent retirement or vacation homes because of their location and natural beauty. They also present special challenges though when it comes to endangered or protected animal species.
Here's what you need to know about how the Endangered Species Act could affect your own private shoreline.
Restrictions on Construction
New construction on your lot might be limited if your project would affect the population of protected or endangered species. As such, you should check with your local building and zoning office to see what restrictions there are on new construction.
Some things that will be considered before a permit is issued are: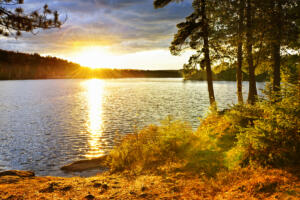 The size of your project
Its exact location
Number of trees to be cleared
What if any modifications need to be made to the land
Whether or not new trees will be planted to replace those lost
If you're purchasing an existing home, you could still be restricted from building additions onto your home or adding a garage, swimming pool or boat dock, even if your home is "grandfathered."
You could also be subject to stricter codes if you have to rebuild due to a natural disaster.
Keep in mind there could be serious fines and penalties associated with destroying the natural habitat of endangered species. For this reason, you should not try to circumvent the system by performing construction without obtaining a permit first.
Pesticides and Chemicals
Certain chemicals and pesticides are harmful to animals, and may therefore have restrictions on their use. You could be prohibited from spraying for weeds near your shoreline or using chemical-based fertilizers or pesticides when landscaping. Dumping substances into the water is also prohibited, and can result in extensive fines. To maintain compliance, use natural gardening methods whenever possible, and always dispose of household chemicals as far away from the water as possible.
Boating and Fishing Restrictions
If the body of water you're located on is a protected wetland, there could be restrictions on boating and fishing in your area as well. Some of the restrictions might be:
Limiting the size and type of boat you can use on the water
Placing limits on the number and size of catch
Requiring the "catch and return" of certain species
Prohibiting the use of certain equipment such as fishing nets
The best thing to do is check with your local department of fish and wildlife to see what if any restrictions exist on your shoreline. Even if there are restrictions in place, they should not significantly impair your ability to enjoy the water.
Environmental Activists
Environmental groups sometimes perform volunteer work to create "buffer zones" along the shore as habitat for animals, to assist with flood control, and help filter clean water. Some of the things these groups might do include:
Planting trees or shrubs
Thinning undergrowth
Preventing erosion
Removing invasive plants
Picking up litter and debris
Tagging or counting endangered species
Marking trees used for the habitat of endangered animals
Some workers may enter your property from time to time in order to complete these tasks. This is something that normally takes place only once or twice each year, meaning it should not have a significant impact on your privacy.
In addition, you will know about work projects far in advance so you can make plans accordingly. Work is typically done very close to the water, so only a tiny section of your lot will be accessed as a result.
Restricted Access
Areas with high populations of endangered or protected species often have limited access available. As a result, others may be prevented from coming onto your land for fishing, hunting or other recreational purposes. This actually serves as an advantage, since you can enjoy greater privacy simply because your lot provides a safe haven for protected animals to thrive.
Buying waterfront property can still be a good investment, even if your area is known to contain endangered or protected wildlife. Knowing what measures are in place to protect these species will help you enjoy your shoreline to the fullest, while still staying in compliance with the law.