When it comes to selecting comfortable outdoor furniture for your lake home, few products compete with a swinging bed. They're simply the best! Whether your family is gathered to watch the sunset or you're taking a solo nap outside, a swinging bed places you in a rare state of contentment with no possibility of productivity. The relaxing wonders of swinging beds are not a new discovery. In fact, the first swinging beds date back to first-century Rome when a Greek physician invented them as therapy for his patients. He knew the combination of plush cushions and a gentle rocking motion was good for the soul. The only addition we'd recommend is a stunning lake view to complete this relaxing feel.
Across the United States, several outdoor furniture manufacturers are creating swinging beds with innovative designs and high-quality craftsmanship. Many of these family-owned and operated companies began with a simple passion for creating luxury products for others' vacation homes. Today, we're highlighting five of these swinging bed creators and some of their latest products.
Seibels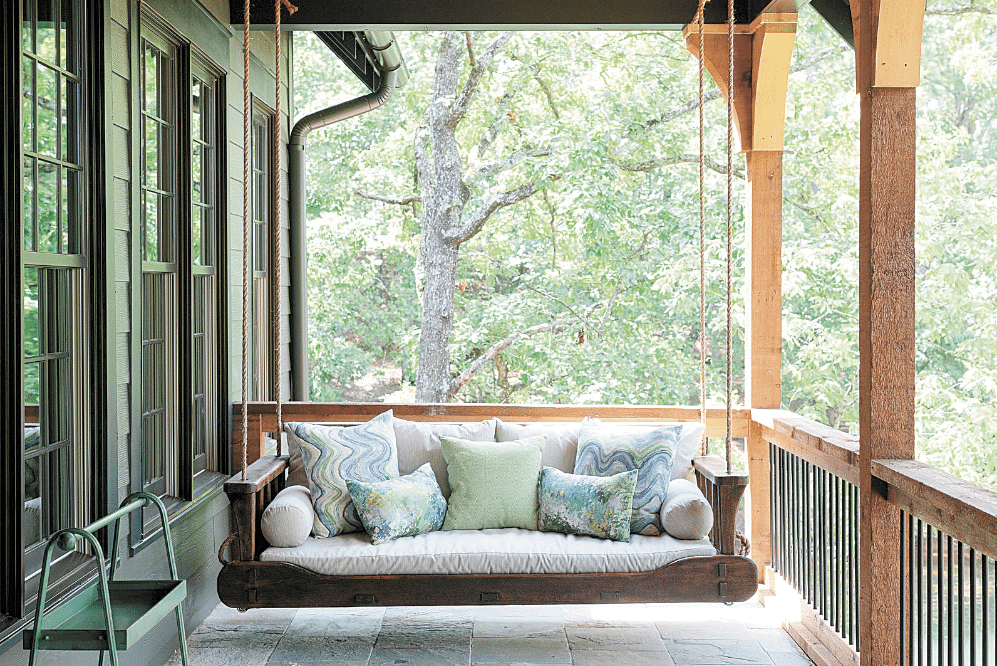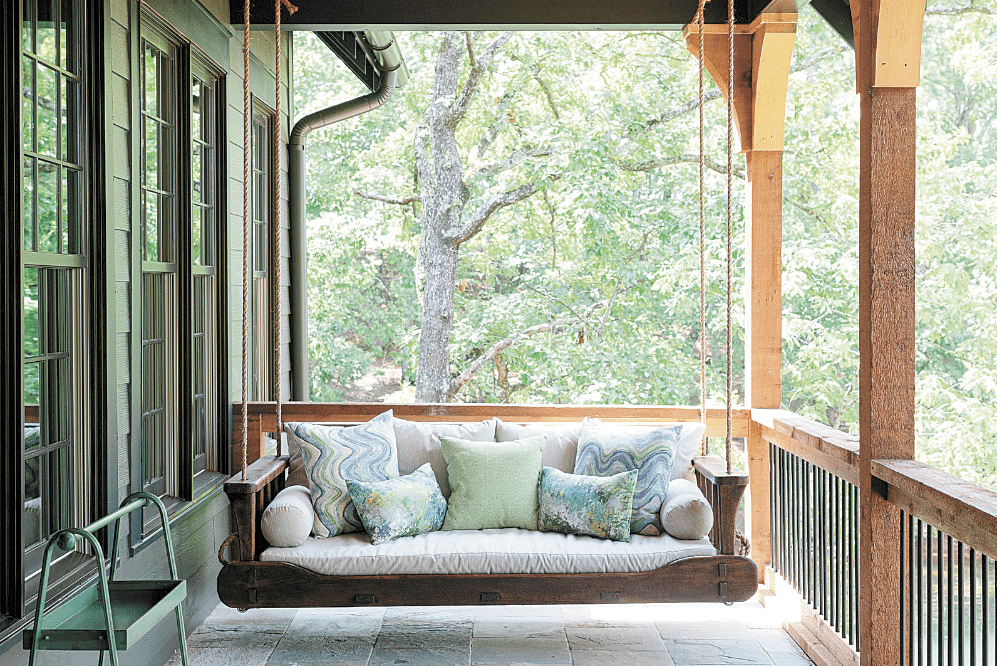 Owned by Kelly Seibels and inspired by his family's love of the lake, this Alabama-based company creates furniture specifically for casual living. That means that each product from Seibels was designed with a lake or mountain house in mind. Although their collections are named after locations in Birmingham, they've shipped swinging beds as far north as Montana and south as Mobile Bay. It's no wonder why they're so popular across the country — their designs combine tried-and-true craftsmanship with modern styles to create unique looks. For example, the Fairhope Swinging Bed uses a classic looking, rustic distressed oak frame with plush Sunbrella cushion sets that are durable and easy to clean. For a fun, lakeside nautical look, the Swinging Boat Bed integrates classic navy and white tones in a playful boat shaped design.
Magnolia Porch Swings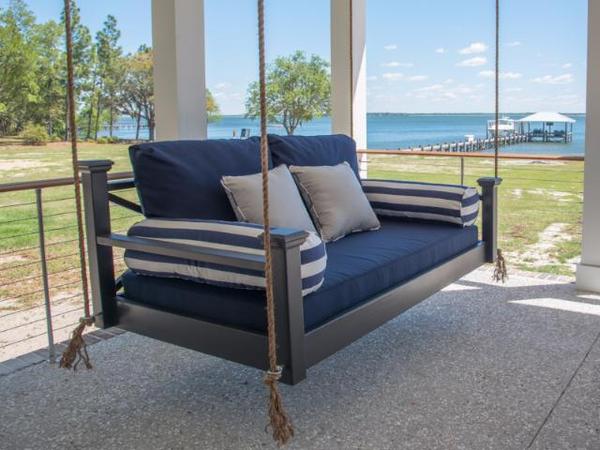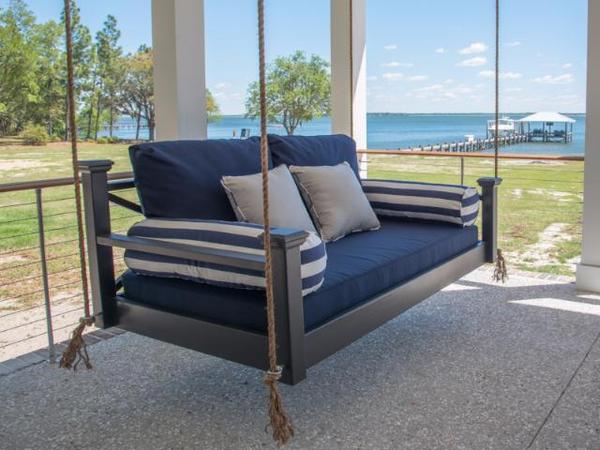 The idea for Magnolia Porch Swings was born when its founders, Casey and Eric, were building their dream home and searching for an outdoor swing. Only finding dull designs around them, the remedy was a custom-built porch swing from a family friend. Since then, this couple set out on a mission to deliver that same unique look for others. Now, they create stunning swings made of cedar, cypress, and pine that look natural against lakeside scenery. Their Historic Hilton hanging porch swing combines classic clean lines with a contemporary cross-back look. For a more modern feel, their Modern Swinging Bed has a unique diamond motif and a distressed finish that emphasizes an antique texture.
Palmetto Bed Swings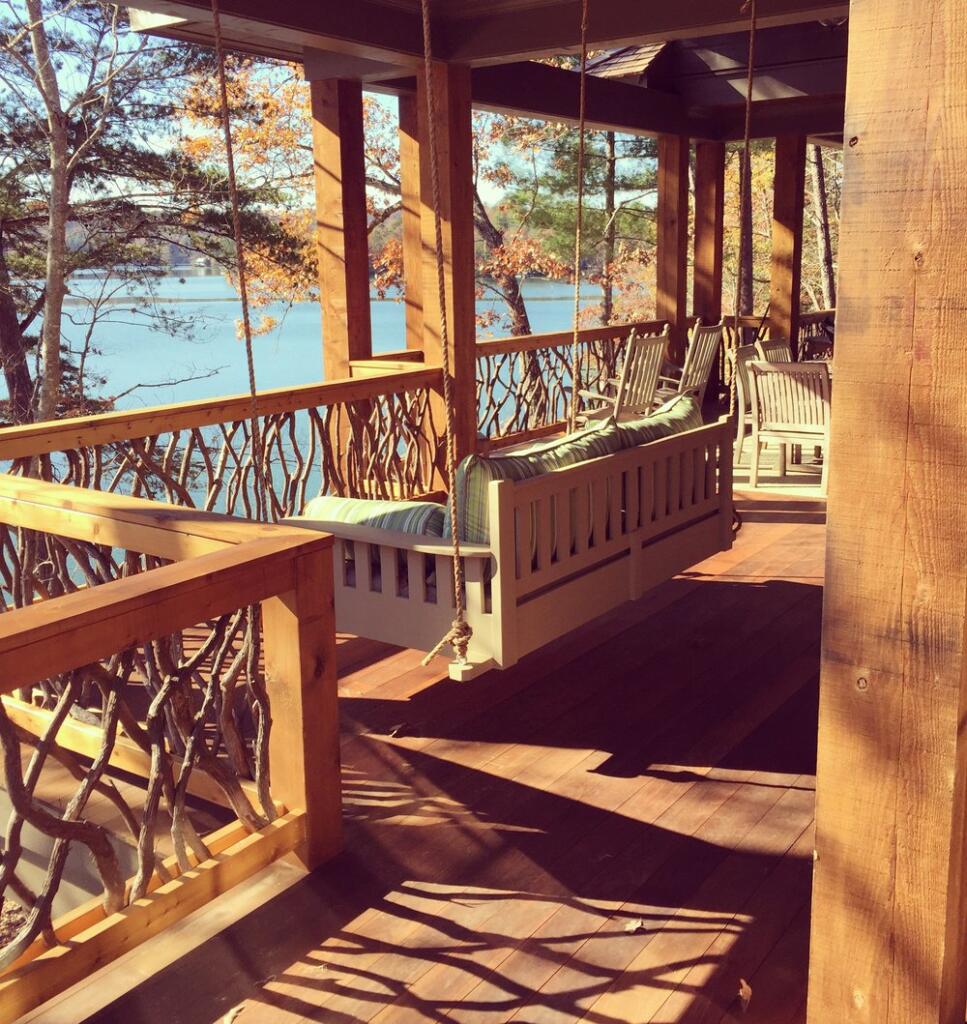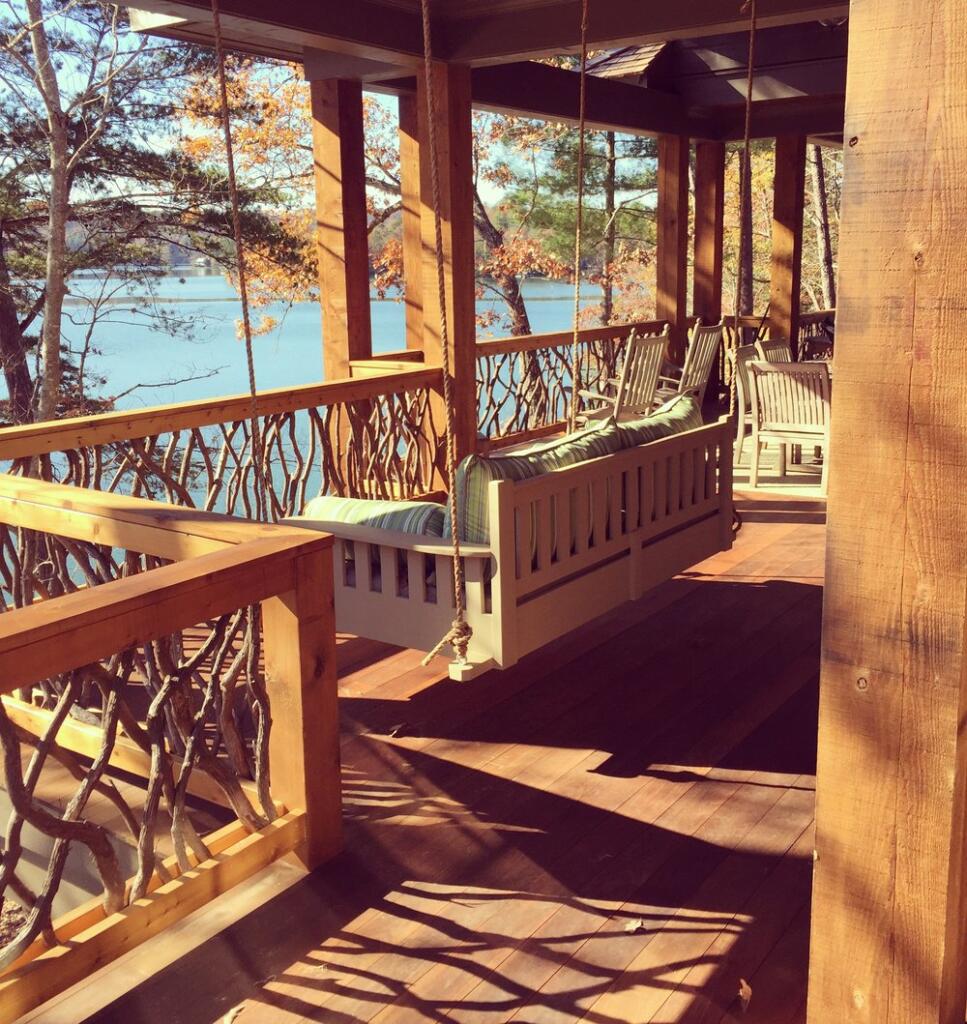 Owned and operated by a family in South Carolina, Palmetto Swing Beds aims for casual elegance in all their designs. Every product is made by local craftsmen, built from pressure-treated wood, and made with a careful attention to detail. This company's unique flair is that no product is the same. Each customer can customize their own swinging bed by choosing a specific style, paint and stain, and Sunbrella fabric that they love. For the style, customers can pick between the Noah, a more traditional look with a high railing or the Harper, a modern structure with a low railing. With this create-your-own approach to furniture design, you'll be admiring your lake views from your individualized, perfect porch swing in no time.
Four Oak Bed Swings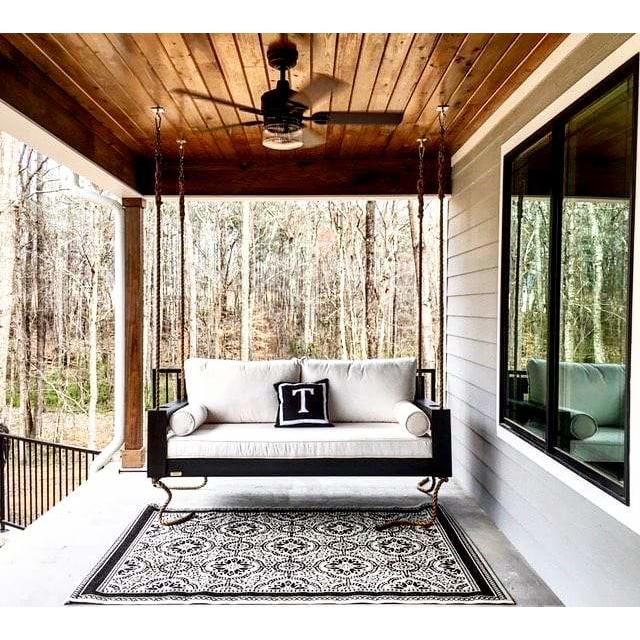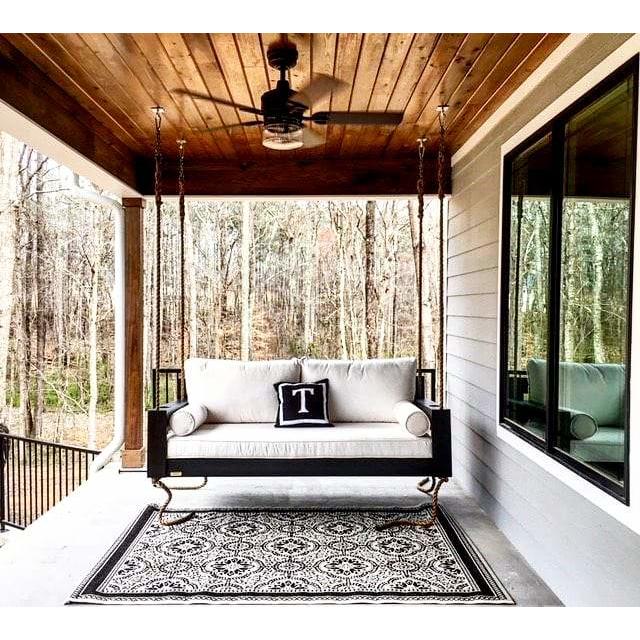 After sitting on a comfortable porch swing while visiting Lake Martin in Alabama, Four Oak Swing Beds owner David Belser decided to open his own woodworking shop. First, he created a table for his girlfriend. Now, the girlfriend is his wife and he's sold his own creations both locally and across the country in states such as New Jersey and California.
Meticulously handcrafted, Four Oak Swing Beds products are comfortable and high quality. Their most popular product is the Seaside Swing Bed. Made of kiln-dried pine, it boasts a full mattress size which is perfect for large gatherings on your lake house patio. The R&R porch swing (reclaimed and recycled) is made from reclaimed antique heart pine as well as wood from trees that have fallen during storms. Finished with natural oil, it has a natural, rustic look that's perfect for a lake house.
Vintage Porch Swings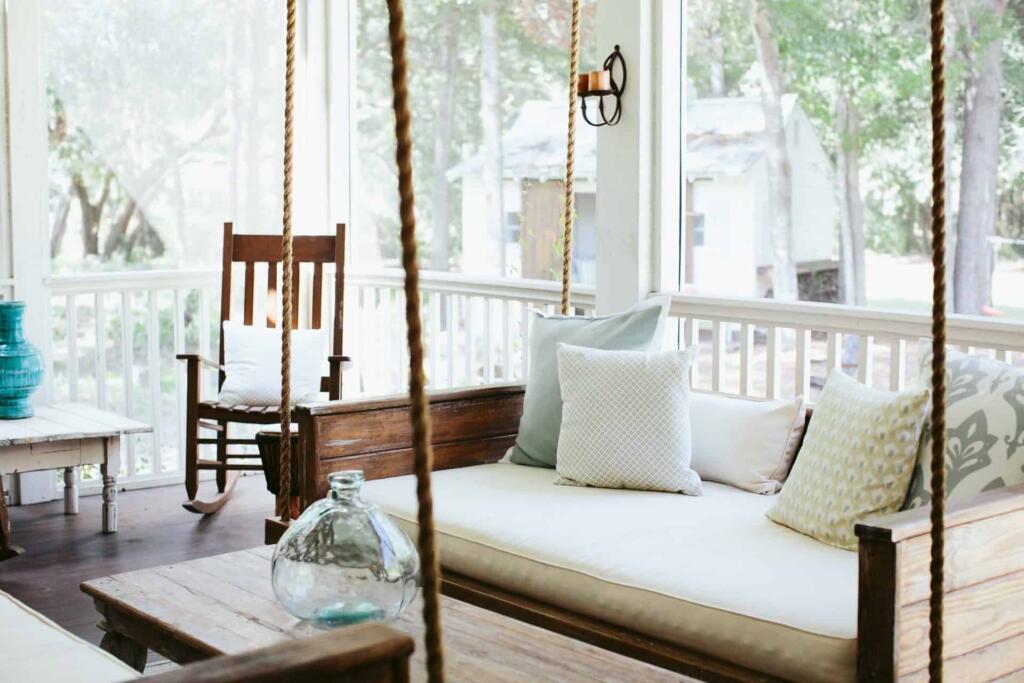 Owned by Krista and Brent McHenry, Vintage Porch Swings began when the couple had young children and Krista was pregnant. Due to their growing family, their neighbors generously built outdoor furniture for them. Inspired, they created their own company that is focused on simple, reliable yet versatile designs. Each bed swing design is named after one of their eight kids or their extended family members. Just as each family member is unique, so are the designs. For example, the Noah has a high backboard with a classic slatted design. By contrast, the Mercedes is a platform without a back or sides– perfect for napping in the backyard of your lake home. 
We hope these companies inspire your search for an outdoor swinging bed! At your lake house, you deserve furniture that offers ultimate relaxation for you and your family.