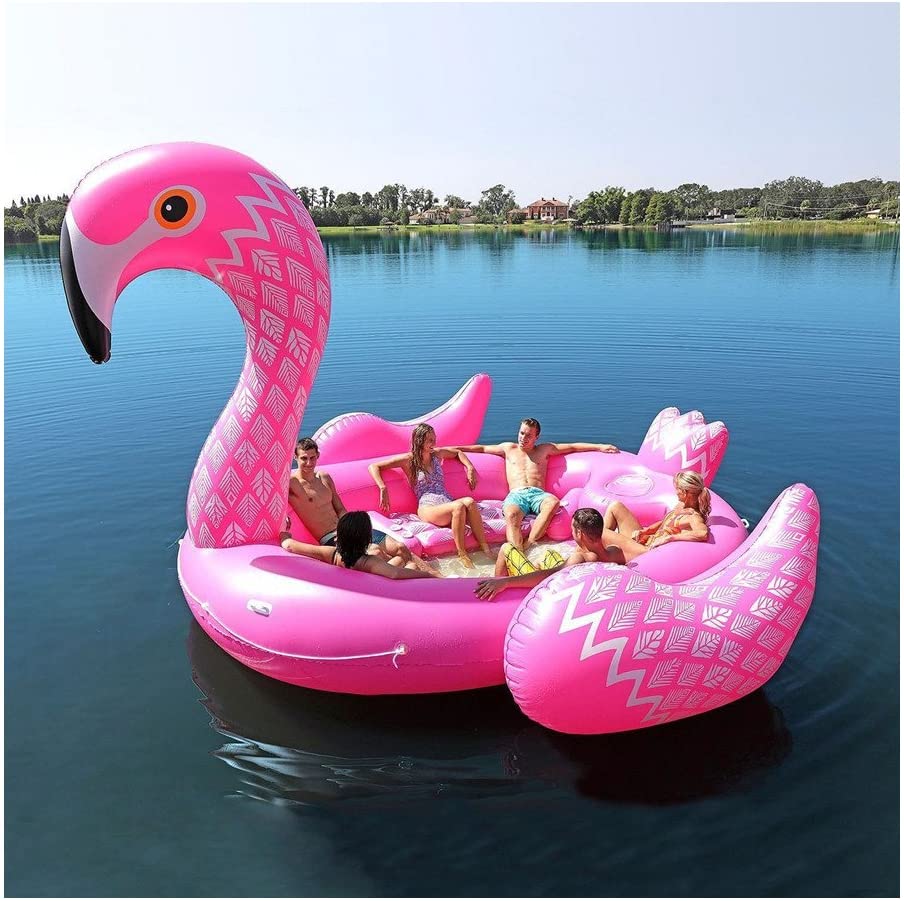 It's summertime at the lake! During this season, there's nothing better than relaxing on a float, drifting the day away. Whether you choose a simple raft or a luxurious eight-person inflatable, there's no shortage of ways to enjoy an afternoon on the water. As a lake homeowner, it's likely you already have a storage shed full of lake toys from 2020 and earlier years. But if you and your family are in the market for some new floats this season, you're in luck. Today, we're reviewing some of the top floats for 2021.
Bestway Tropical Breeze III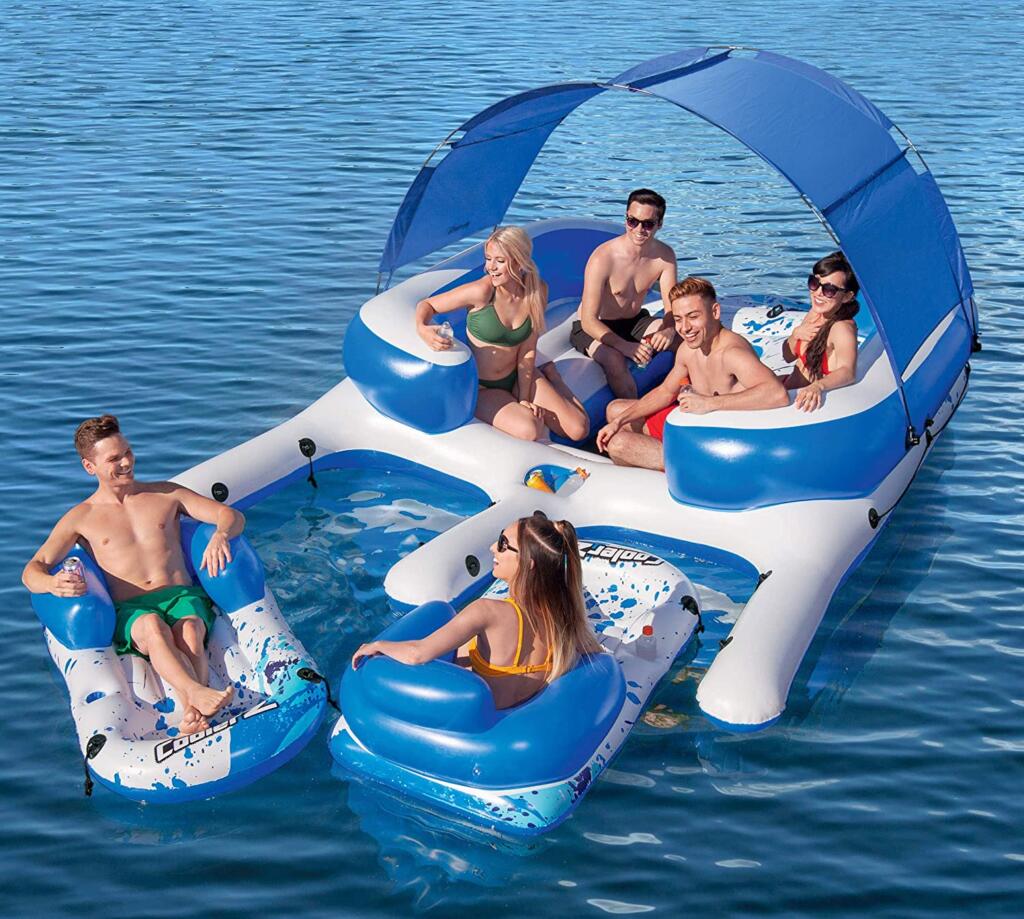 Looking for an all-inclusive float that the whole family or friend group will love? The Bestway Tropical Breeze III is perfect. There's plenty of seating for everyone with multiple features such as two detachable rafts, a canopy, and a mesh interior. As a whole, this top float can hold eight people, and it's complete with six cup holders. If you're trying to stay close to the dock, it also includes attached ropes for anchoring.
WOW Watersports Floating Island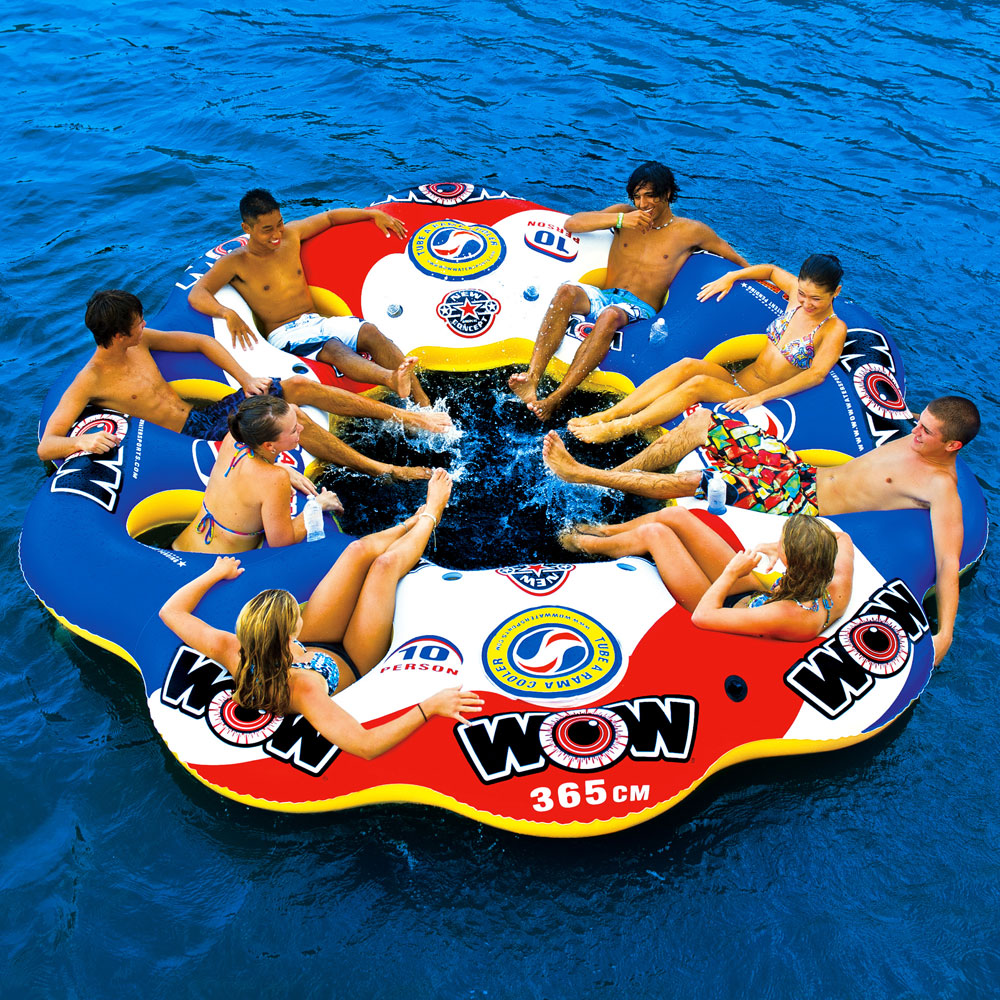 With this circular inflatable, you and your crew can spend all day chatting on the lake. The WOW Watersports Floating Island can hold up to 10 people on its party-size 12-foot-long surface. Made of heavy-duty PVC plastic, this lake float is meant to last. It also comes with eight cup holders, so there's plenty of room for beverages. In the center, there's a mesh area for anyone who wants to be immersed in water while still enjoying the raft.
WOW Parthenon Spa Island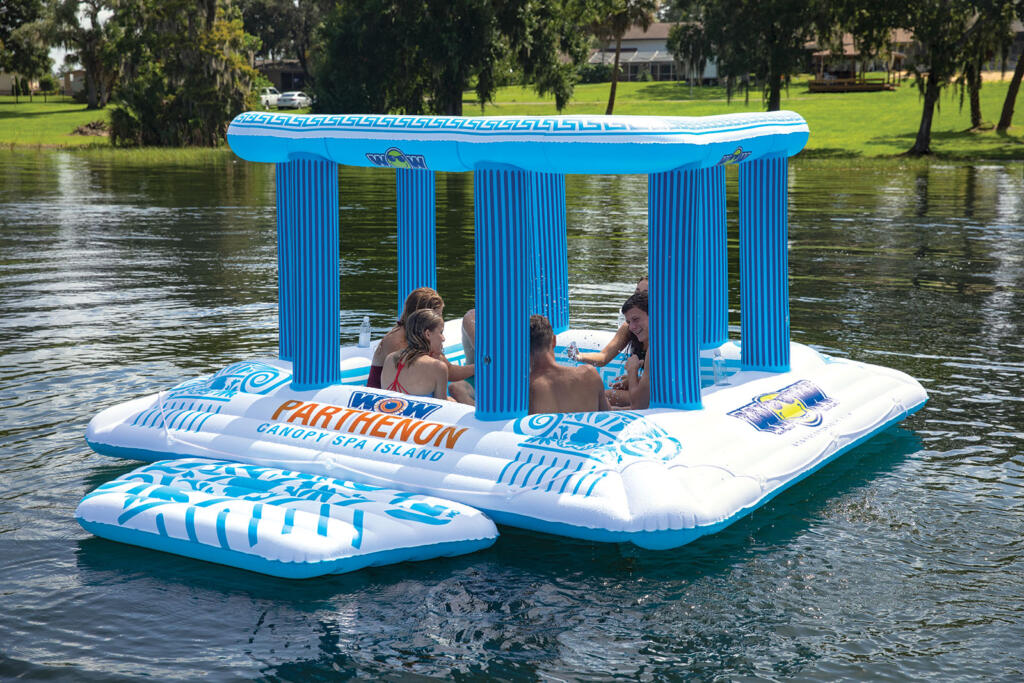 With this top float, you can bring the magic of Ancient Greece to your lake house. But this fun theme is only part of the reason why the Wow Parthenon Spa Island is a great option. Made of PVC plastic, this eight-person float is extremely durable. But its most defining feature is being fully shaded, making this float perfect for a hot day. After all, how else did the ancient Greeks make it through the Mediterranean heat? Also, keep in mind that an electric pump is sold separately to inflate and deflate it.
Funboy Golf Cart Float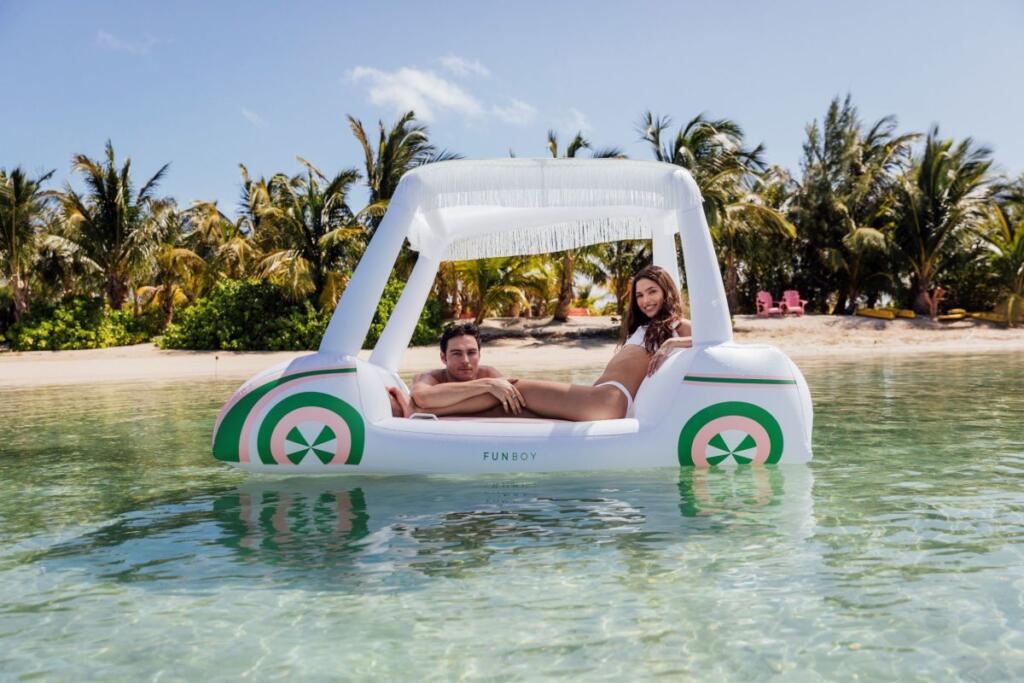 Many of us lake-dwellers are fans of golf. But with the Funboy Golf Cart float, you can bring a golf cart directly to the water. In addition to being a fun, two-person float, this inflatable doubles as a convertible with a fringe roof that's removable. This way, you have the option of basking in the sun or keeping it shady. Additionally, the brand Funboy is donating 20% of all product proceeds to Feeding America, a nonprofit promoting hunger relief in the U.S.
Aqua Beach Wave Floating Party Mat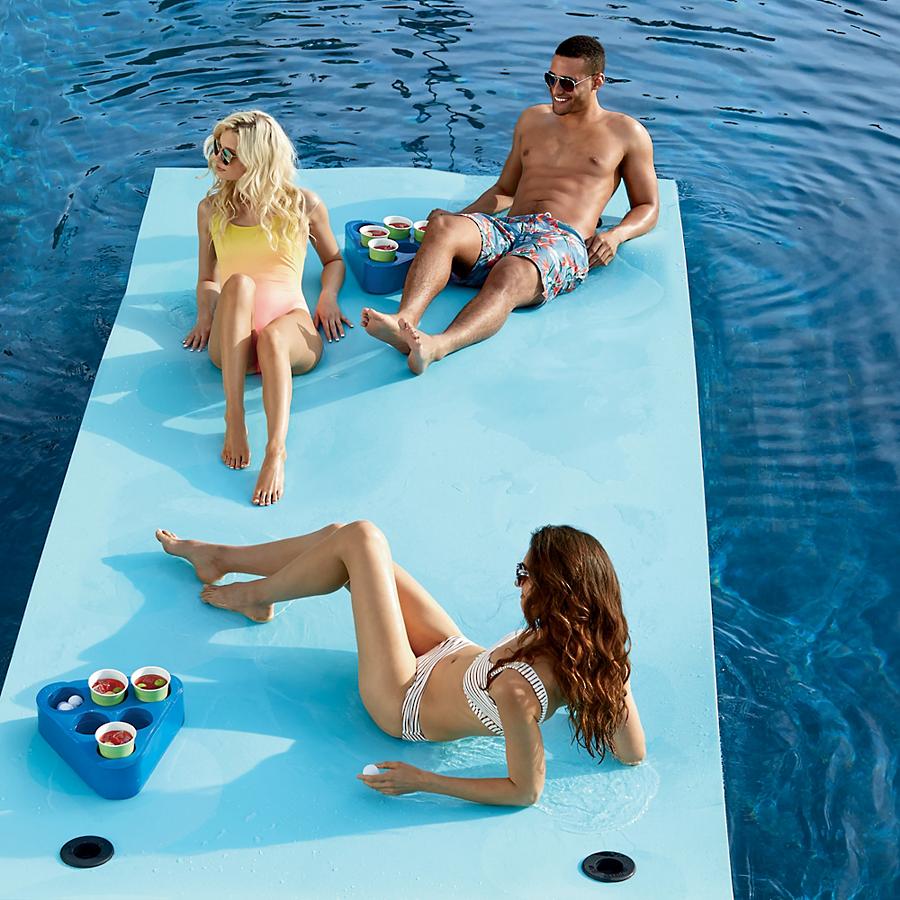 Although this top float is more on the expensive side, the Aqua Beach Wave Floating Party Mat is undoubtedly worth it. The design looks simple — essentially a massive floating mat — but it's actually very durable with impressive features. It's made of cross-linked foam, which will keep this mat both afloat and intact. It also has four cup holders for a small group and hook straps so you don't float too far from the dock.
Retro Phone Lounger Float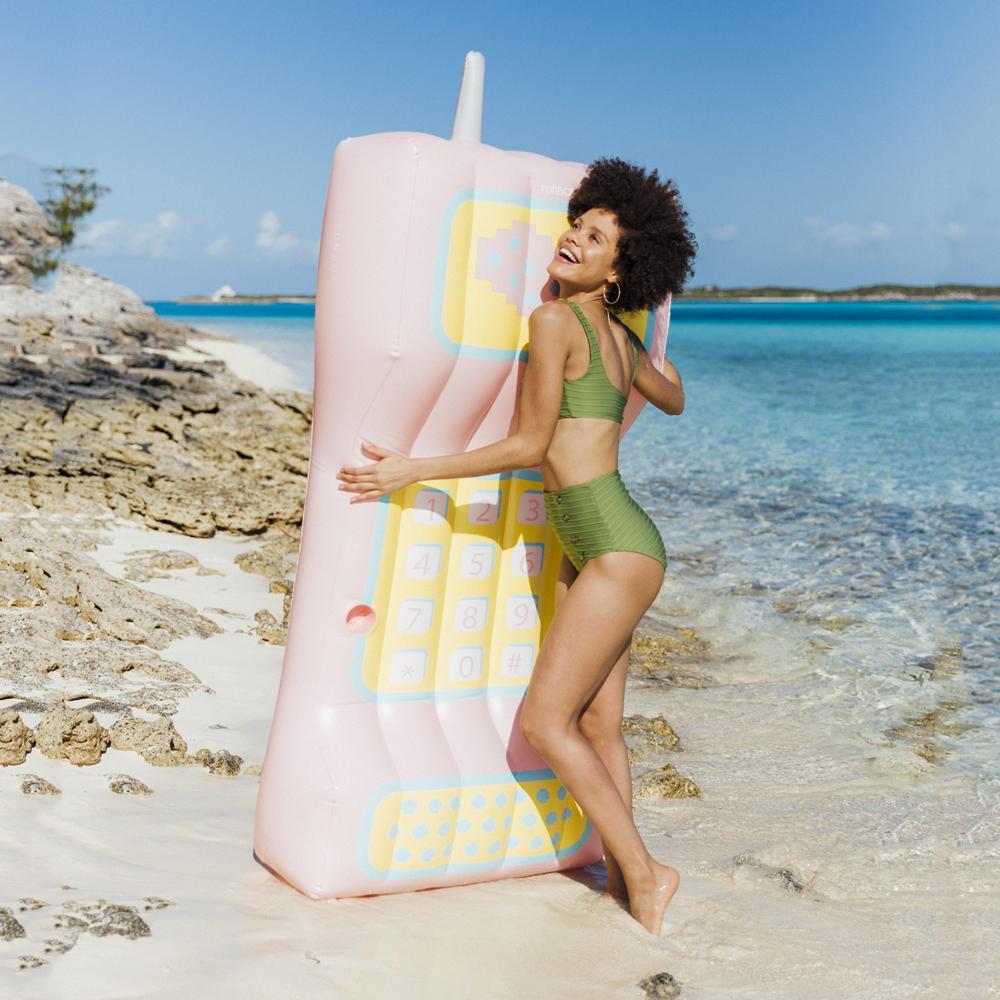 Hello? The lake is calling! If you're looking for a relatively inexpensive float for one person, look no further than this product from Funboy. This candy-colored retro phone lounger float is cute, simple, and perfect for the lake. Made from 100% PVC vinyl, it's easy to maintain, wipe, and clean. Plus, its small size makes it easy to transport from the pool to the lake and back. 
From our lake house to yours, we hope you enjoy your summer lounging on these top floats!