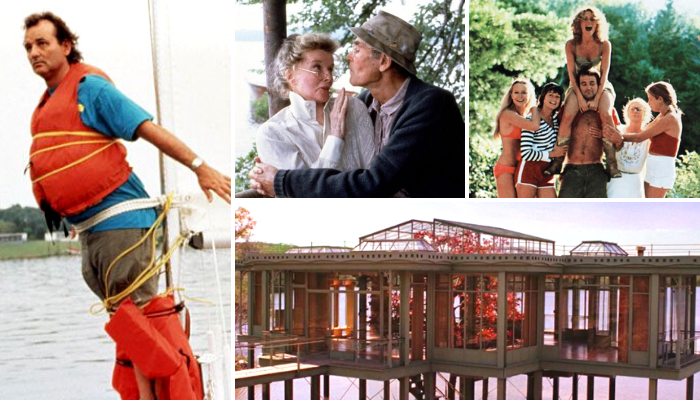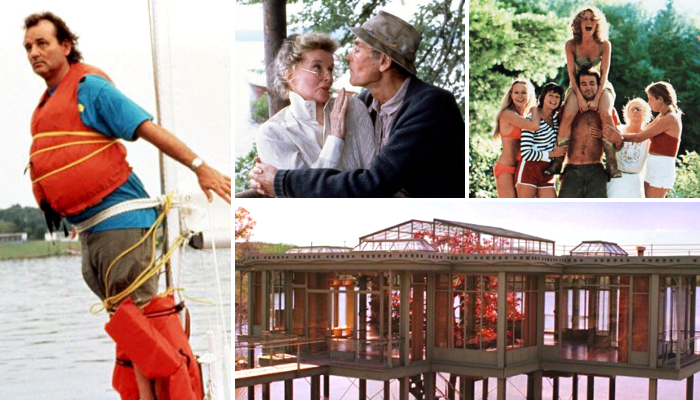 On the lookout for some fitting lake movies to Netflix and chill with this summer?
Look no further! We've pulled together some fun summer flicks that will get you in the mood to spend some time on the lake, wherever you are.
What About Bob (1991)
When psychiatrist Dr. Leo Marvin (Dreyfuss) meets Bob Wiley, a good-natured, socially oblivious and anxiety-prone patient (Murray), he gets more than he bargained for. After their first therapy session, Dr. Marvin goes on vacation with his family on Lake Winnipesaukee. Things take a left turn when Wiley appears, having been unable to cope on his own. Despite Marvin's protests, Bob's friendly, innocent nature wins the hearts of his family and neighbors.
Marvin's attempts to drive Bob away backfire time and again. Each time, Bob faithfully interprets them as a "radical new therapy." At one point, Marvin goes so far as to actually strap Bob to the mast of his sailboat before going out on the lake, knowing that Bob is terrified of the water. Naturally, this cures Bob of his phobia. Before they pull back into dock, he is triumphantly shouting, "I'm sailing!"
What About Bob was set on Lake Winnipesaukee. By the time filming took place for the movie, set in the summertime, the leaves on Winnipesaukee were already changing color.
As a result, filmmakers actually shot the movie at Smith Mountain Lake, Virginia. The institution where Marvin tries to have Bob committed is the Elks National Home for Retirees in nearby Bedford, Virginia.
The Lake House (2006)
Starring: Keanu Reeves, Sandra Bullock, Christopher Plummer
Set in: Madison, Wisconsin
Filmed in: Maple Lake Forest Preserve, Chicago, IL
The most obvious resident on any list of lake movies, The Lake House was unfortunately panned by critics. The story revolves around a doctor (Bullock) who exchanges love letters with the previous tenant (Reeves) at her Wisconsin lake house in an unusual way. We won't spoil the storyline. Let's just say that depending on how you look at it, the letters travel either much faster, or much slower, than the US Postal Service.
The lake house in the movie was set in Wisconsin, but filmed on Maple Lake, in the Maple Lake Forest Preserve in the southwest suburbs of Chicago.
Filmmakers built the lake house entirely for the movie set. After filming, they removed the structure and put a simple fishing dock in its place.
On Golden Pond (1981)
Starring: Katharine Hepburn, Henry Fonda, Jane Fonda
Set in: Golden Pond (fictional), New England
Filmed in: Squam Lake, New Hampshire; Lake Winnipesaukee, New Hampshire
Lake movies often only star young people. Not so for this adaptation of the Ernest Thompson play! On Golden Pond stars a retired couple, Ethel and Norman Thayer, played by Katharine Hepburn and Henry Fonda. Ethel and Norman spend each summer at their cottage on the fictional Golden Pond in northern New England. When their daughter, played by Henry Fonda's real-life daughter Jane Fonda, visits, she asks if her son Billy can stay with them while she goes on vacation. They resent each other at first, but Norman and Billy grow close over the summer through their love of fishing.
Filmmakers leased the lake house used in On Golden Pond from a New York physician, on the shores of Squam Lake in New Hampshire. They modified the house for the shoot, adding an entire second story and balcony.
The waters of Squam Lake are shallow, but extremely cold, even for summer filming. The actors had to wear wetsuits under their clothing for many of the shots, including the famous scene in which they crash their fishing boat on the rocks. Hepburn, 74 at the time, performed all her own stunts, including a dive into the lake's frigid water.
Lake Winnipesaukee also served as the location for some additional shots.
Meatballs (1979)
Starring: Bill Murray, Harvey Atkin, Kate Lynch, Chris Makepeace
Set in: Unspecified
Filmed in: Camp White Pine (and nearby locations) in Haliburton, Ontario
Meatballs is one of the quintessential summer camp and lake movies. Murray stars as the head of a new group of counselors-in-training at Camp North Star, a cut-rate summer camp. The comedy follows the counselors' practical jokes, romances, and misadventures over the summer. The movie culminates with their annual Olympiad competition with the rival Camp Mohawk.
Meatballs was followed by several sequels, but only one of them, Meatballs III: Summer Job, has any connection with the cast of the original film.
The movie was filmed at Camp White Pine in Haliburton, Ontario. Surprisingly, the camp stayed in operation during filming. This resulted in many of the actual campers and counselors serving as extras in the film.
Big Fish (2003)
Starring: Ewan McGregor, Albert Finney, Billy Crudup, Jessica Lange
Set in: Various locations across the United States
Filmed in: Various locations in Alabama (Wetumpka, Montgomery, and Jackson Lake)
While not properly set on a lake, Big Fish is a movie all about water. The film follows the life, adventures and many tall tales of Edward Bloom. Actors Ewan McGregor, in flashbacks, and Albert Finney, in the present day, play Bloom.
The film starts with Bloom telling the story of the day his son was born, when he caught a monstrous catfish by using his wedding ring as bait. Bloom recounts his life story in a series of fantastic tales, starting with his childhood in Ashton, Alabama. He encounters a witch as a young boy and is shown his death. He discovers the hidden town of Spectre, befriends a misunderstood giant, works at a circus, serves in the Korean War, and becomes a traveling salesman all before marrying the love of his life, Sandra.
Fun fact: You can still visit the fictional town of Spectre, located on the privately-owned Jackson Lake Island near Millbrook, Alabama. The houses and buildings from the movie set are still standing, and visitors have to pay just a $3 admission fee. Campsites are available, and the fishing is supposedly fantastic. Just like the residents in Big Fish, you won't ever want to leave…
Already seen all of these movies? Check out our article, "Lake Movies You Must See" for more flicks to add to your must-watch list.