Article co-authored by LakeHomes.com intern Gabrielle France
Sunscreen, swimsuits, sodas, and snacks are all important but don't forget to pack this summer's hottest lake inflatables before hitting the water this lake season. 
Sun Pleasure Party Bird Island Giant Flamingo and Unicorn Floats
You're sure to turn a few heads with this giant flamingo float from Sun Pleasure!
Cruise across the lake or anchor off near your dock with up to six of your friends in this 10-foot-tall, eye-catching, neon pink inflatable.
Sunbathe in style as you lounge on comfortable seats, and keep cool with water tickling your toes from beneath the float's mesh bottom.
Its built-in cooler and cup holders add to the Giant Flamingo's appeal, allowing riders to enjoy the water all day long.
But the fun doesn't stop there.
Along with their Giant Flamingo inflatable, Sun Pleasure also presents the Giant Unicorn Float – a 10-foot-tall, rainbow lake toy that's out-of-this world.
Find both on amazon.com today!
Intex Splash'N Chill Island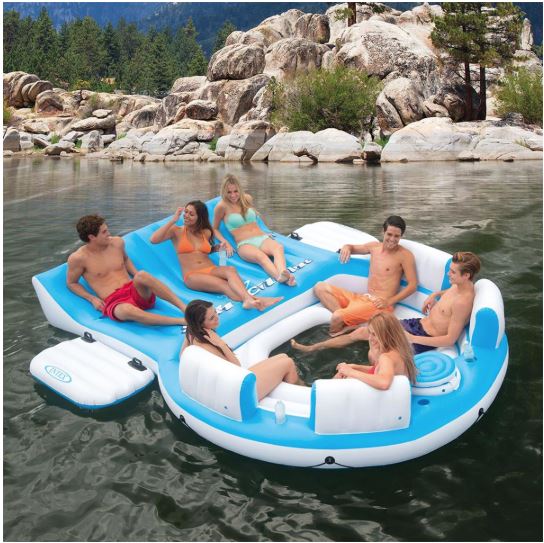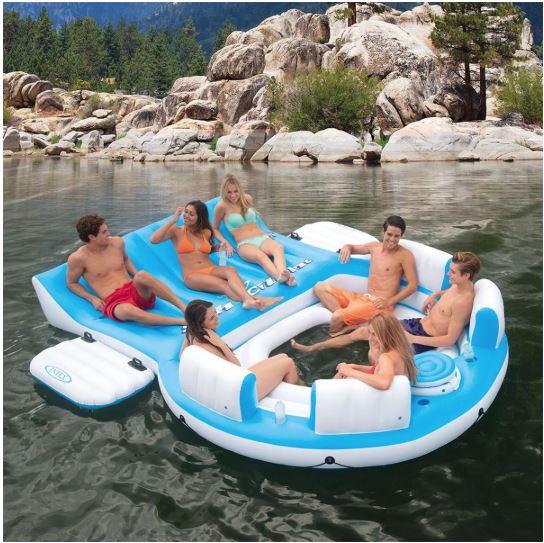 Create your own island oasis with the Splash'N Chill by Intex.
This two-part float can seat up to seven of your friends on its three-seat sun deck and rounded sofa-style seating area.
Lean back and relax as you dip your toes in the water through the float's open bottom, and grab a cold one from its convenient built-in cooler.
The Splash'N Chill Island measures 145'' x 125'' x 20'' and comes with a fillable anchor bag and a repair patch kit. You can purchase this must-have summer toy at major retailers like Target, Walmart, and Amazon for about $90.
Aqua Treadmill
Travel the lake at top speed (10 mph) this summer in the WOW Aqua Treadmill – a human-powered vehicle for the water that holds up to three people in its 48-inch-wide cockpit.
The brightly colored 74'' x 74'' x 61'' Aqua Treadmill is not only great for recreation, but also for a fun, alternative workout this summer.
Twenty years in the making, this hamster wheel on the water provides a truly unique inflatable experience for lake lovers both old and young.
Available on Wow Watersports Official Website and Amazon.com, you can purchase this unique lake toy for $250.
Inflat-A-Bull
Bring the rodeo to the water this summer with the Inflat-A-Bull!
Photo-realistic printing gives this inflatable the character of a real mechanical bull that will make you question if you are a true championship bull rider or just someone going for a casual ride.
Grab the bull by the horns and take on the beast by having friends and family use one of the five durable handles to try to toss you off into the water while you channel your inner cowboy by grabbing the pull rope or handles to keep yourself from being bucked off.
Why not saddle up on this 94'' x 77'' x 32'' bull and challenge yourself to a water rodeo by purchasing it on Amazon.com for $35?
The float holds up to 220 pounds and will bring hours of fun competition to your day on the lake.
Swimline Giant Inflatable Swan
Be the life of the party with the picture-worthy giant swan float from Swimline.
Famous online and in print, this 6-foot-float will help you relax on your next lake getaway.
Make a statement and many memories by purchasing Swimline's endless fun-float at amazon.com!
Airhead Hot Dog 3-Person Towable Tube
If you've been craving a new water toy, The Hot Dog Tube by Airhead can satisfy your hunger.
This lake season enjoy taking on the waves on this banana boat-style tube designed for one to three riders. Measuring at 103'' long and 44'' wide, the Hot Dog Tube can hold up to 520 pounds of toppings for your next lake day.
The Hot Dog Tube also comes in a two-seater and five-seater design.
"Ketchup" with the newest lake trends with this towable available at Overton's.com and Amazon.com for $189.99.
Serious swimmers only, no weenies allowed.
You thought the lake couldn't be more fun, but this collection is guaranteed to excite! As always, let us know if you find a great water toy that's not mentioned here.