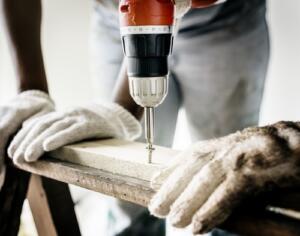 It's a general rule of thumb that you should spruce up your home before putting it on the market. Investing in certain updates before selling it is a great way to increase your home's value. Aside from that, no one wants to pay good money for a house that looks dated. However, there's one thing to keep in mind: not all home improvements are created equal. Some renovations have a habit of backfiring on sellers' pockets. Here are five bad home upgrades to steer clear of if you want high returns on investment.
1) Adding a Swimming Pool
It's only right that this be the first DON'T on the list of things not to do. Swimming pools are a risky investment and unless you live in a warm climate where one can be used year-round, installing a pool has a high chance of becoming a bad home upgrade.
On average, they cost about $40,000 to install and the payout doesn't stop there. Additional costs for a pool include yearly warranties, professional cleanings bi-weekly or monthly, the installation and replacement of filters, winterization, pH testing and repairs. Also, you'll have to factor in the extra charges on the electricity and water bills each month.
In short, base-level upkeep of a swimming pool to keep it in good, working condition can run homeowners anywhere from $3,000-$5,000 each year.
So while a pool may be a worthwhile investment for you and your family, home buyers might not be willing or able to deal with the financial obligation that comes with one. And particularly at the lake, pools may be seen as an unnecessary expense. Not to mention it's a noticeable safety hazard to those with small children.
If you're itching to install a swimming pool do it because you want one, not because you're looking for a hefty return on investment, because you may not get it.
2) Bedroom Reductions
As a general rule of thumb, when it comes to bedrooms, more is more. This is especially true for homes at the lake, which typically attract way more visitors than the average home.
Bedrooms are coveted spaces that can easily add tens of thousands to your property's value, so think twice before you convert one of them to a walk-in closet or master suite addition.
In fact, it'd be wise to add a bedroom to your home before selling to increase value. Consider converting the attic or basement into a teen's room or guest room.
By remodeling rather than adding a brand new extension, sellers will see a larger return on their money. Also, adding an extension onto a home can be tricky. If you aren't careful, the extra square footage could backfire in a different way.
3) Luxurious Renovations
Overdoing the renovations outside and inside your home is a great way to lose large chunks of cash.
Ritzy, over-the-top updates that make your home look like a mansion placed in an average or below-average neighborhood will alienate buyers for two reasons. Those who are shopping in the area won't be able to afford your home. On the flip side, those who can afford your home will want to buy in a higher end area.
It's okay to be a little nicer than the rest of the neighborhood to make your home stand out, but being too fancy is counterproductive.
Having a $300,000 house in a $200,000 neighborhood won't raise the value of your neighborhood. However, it can decrease the value of your home in spite of spending a small fortune on updates.
4) Too Much Customization
In addition to hyper-luxury upgrades, remember to steer clear of over-personalizing your home. Too much customization can repel those buyers who want to make their own imprint on a blank slate.
First and foremost, avoid bold colors. You may love that fire engine red accent wall, but we guarantee you not everyone will. Also, resist the urge to add trendy appliances and upgrades as these are short-term and will quickly go out of style.
Lastly, don't invest in single-use spaces like a wine cellar or in-home movie theater if you hope to see significant returns. Not everyone drinks wine and in this day and age, electronics can become very dated very fast.
Not to mention, many sellers tend to overvalue their home thanks to costly customizations and set the asking price too high as a result. Needless to say, this can result in the loss of a sale or a listing sitting on the market for longer than necessary.
Generally, when updating your home for the market, it's best to think long-term and stick with neutral, inconspicuous touches to avoid bad home upgrades.
5) Extensive Landscaping
Before you install that koi pond and European-imported waterfall thinking it'll increase your home's value, think again about this home upgrade.
Most lake home owners already have enough maintenance requirements on their hands just from living on the lake. The last thing they're looking for is a decked out yard that's hard to tend to or difficult to navigate.
For the front of the home, a manicured lawn with trimmed hedges and a neat flowerbed is plenty. As for the backyard, an inviting outdoor living space overlooking the lake is more than enough. It's best to keep things simple.
A smart upgrade would be to bypass fancy landscaping and build a deck. According to Remodeling magazine's annual Cost vs. Value Report, the national average for a wooden deck in 2018 cost homeowners $10,950. And with a $9,065 resale value, that's a cost recoup of nearly 83 percent.
When it comes to updating your home to get the most out of your sale, keep in mind that not every investment will see returns. However, that doesn't mean you can't do them.
Buy a swimming pool or install a whirlpool jacuzzi tub because you love it, not because you want an increase in home value. Some, like deck additions or minor kitchen remodels or new siding, can indeed increase the value of your home. But for those fun projects that allow you to enjoy your home more, don't expect to see your money come back to you.
Looking for more home improvement or DIY tips? Check out more articles here.