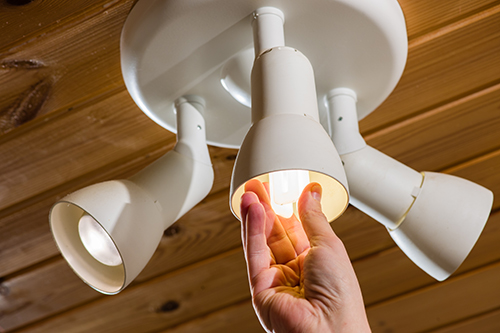 Upgrading the lighting in your home with energy efficient bulbs or other types of lighting can cut your monthly power bill dramatically.
It may take some time, but even the more expensive energy efficient bulbs pay for themselves, and then some.
In this article, you will discover lighting options that offer you a way to be green and save money on your utilities at the same time.
Energy Efficient Light Bulbs
Compact Fluorescent Bulbs: These energy efficient lights are far more commonplace than they used to be. Replacing any incandescent light bulbs with these will give you the largest boost in light at the lowest energy costs. They typically use 70 percent less energy, generate less heat, and last years longer than incandescent bulbs.
LED Lights: These are LED lights made for the home. LED bulbs have rapidly dropped in cost in recent years, and save a tremendous amount of energy. These bulbs often last a whopping 50,000 to 100,000 hours before they need to be replaced! They are more expensive than compact fluorescent bulbs, but are even more energy-efficient and long-lasting.
Outdoor LED Lights: These offer great lighting outdoors, as well. They can offer huge savings over traditional halogen bulbs, especially if you have a spacious yard or porch.
Solar Light Tubes: Also known as sun tunnels, these channel the sunlight from the roof into any room, even a roof that receives very little light at all. Once you have purchased these lights, there is no more cost. They run off of sunlight, even on cloudy days, so they are totally free. Depending on your level of skill, these may require a professional to install.
Energy Star Certified Bulbs
These use approximately 70 to 90 percent less energy than traditional bulbs.
They meet strict efficiency and quality standards that have been tested by the accredited labs, as well as third party testers.
Energy Star Certified Light Bulbs generate approximately 70 to 90 percent less heat as they operate, keeping your cooling bill smaller as well.
To find out more, click here to visit the lighting page at EnergyStar.gov.
Alternatives to the On/Off Switch
For exterior lights, try linking them to motion detectors. This way, your lights will only turn on when they are needed, and turn off after a set time. They also function as both a security and safety feature. Visitors will never have to approach your house in the dark.
Solar powered pathway lights are becoming very popular. These small lights mount on stakes next to a walkway, and spend the day soaking up the sun's rays so they can light up your path at night.
Light usage
Factors such as wall color and window treatments also affect your energy costs. The darker the color palette, the more lighting you will need. Lighter colors reflect light better, which means the room will need less wattage to light up.
Here are some more tips that will also save you money to go along with your money saving bulbs.
Turn the lights off: When you leave a room, turn the lights off. If you're not careful, it's easy for one person moving about the house to leave the lights on in three, five or ten rooms!
Keep the lights clean: Many bulbs can get dirty or dusty, reducing their effectiveness. This is especially true for lamps. Wipe them down periodically, and you won't have to turn them up as high.
Turn it down: Lights that use a dimmer switch typically use about 50 percent less electricity than lights with a simple on/off switch.
Use natural lighting: Use natural lighting as much as possible. If it is daylight out, then you should not turn on as many light bulbs indoors. Open the curtains and allow the sun to light up the rooms. Skylights make for a great addition to your home, as well, if you are building an addition.
Prioritize lighting upgrades: If you can only upgrade a bit at a time, then concentrate your upgrades to the rooms where you use the most lighting first.
Upgrading your lights will help keep your energy costs low.
The larger your house, the more you stand to save by switching to energy efficient bulbs and light fixtures.
This doesn't just help you out as a resident, either. Click here for tips on how energy efficient upgrades can increase your home's value on the market!