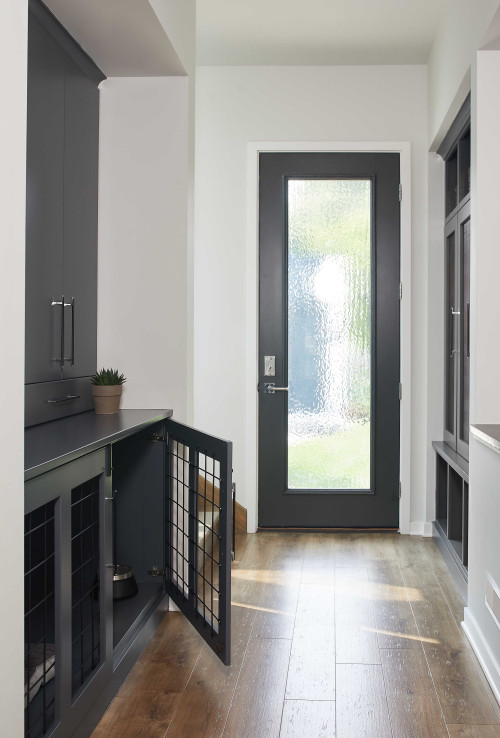 If you own a lake home, you're no stranger to bringing the outdoors inside. And we don't mean that in a good way. While we love to incorporate outdoor items like driftwood into our home decor, we're not fans of muddy footprints and wet swimsuits ruining our floors. However, keeping a lake house immaculately clean is impossible. After all, we love the messy fun that comes with living out in nature, and sometimes this mess makes it into the home. The solution? A mudroom.
Traditionally used as a casual secondary entrance to one's home, a mudroom serves as a place to hang wet clothing, remove muddy boots, and generally deposit the debris from outside. It's usually located towards the back of a house attached to a garage.
According to Home Beautiful, while your front entrance should be as polished as possible, the mudroom is the "hard-working skivvy behind the scenes." If you're considering adding a mudroom in your lake home or looking to renovate your current mudroom, we have some advice for you. After talking with some experts, we're here to answer your most frequently asked questions about mudroom design.
Does a Mudroom Add Value?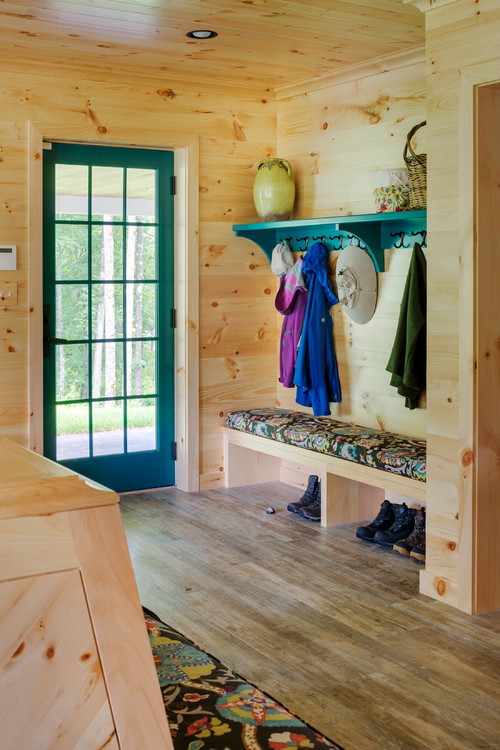 In short, yes! Tim Bakke from The Plan Collection calls mudrooms an "especially desirable design feature." They allow you, your family, and guests a space to drop off dirty shoes before stepping into the more manicured parts of your lake home. According to McFall Builders, mudrooms are "beautiful and functional, meaning organization and more storage to potential buyers in the future." If buyers can see that there's storage space to hang up coats and shoes, it'll help them envision living in their future home. HGTV even listed mudrooms in their article about "6 Smart Ways to Add Value to Your Home in Unexpected Places." Although a mudroom is typically not the home's cleanest place, its value should certainly not be underestimated.
How Big Should a Mudroom Be?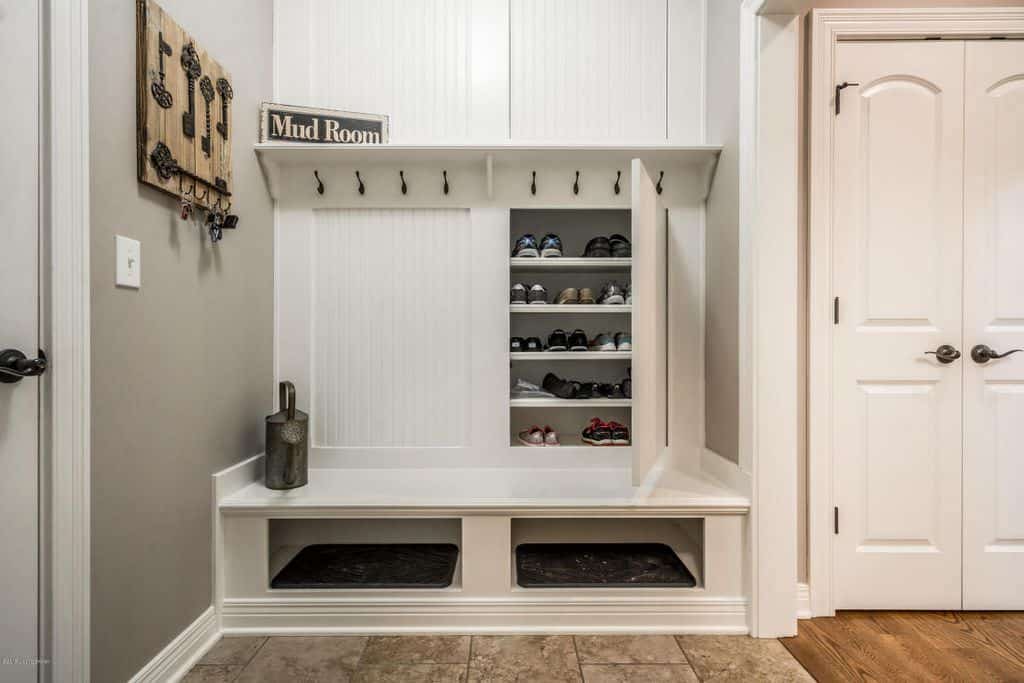 Although the mudroom is a crucial feature of any lake home, it shouldn't necessarily be large. Since its primary function is to store dirty items, essentially serving as the gate between the outdoors and your home, it should only be big enough to fulfill that purpose. Unlike other rooms in your home, the mudroom is transient. It won't be a room for guests to hang out. According to Houseplans.com, the ideal mudroom design should be at least 5 feet wide and 11 feet long. This allows a few people to enter the house simultaneously and store their items in cubbies.
What's the Best Floor Surface for
a Mudroom?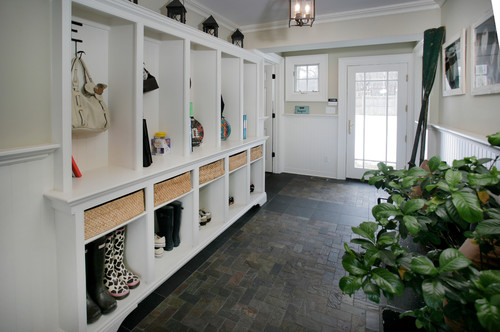 The number one rule of mudroom flooring, according to Bakke, is "easy to clean." He elaborates, "Rather than track the outdoors inside onto carpet or difficult-to-clean rugs, make sure the floor itself is made from a durable, waterproof material." These materials could include tile, laminate, or vinyl. In some cases, sealed wood could be used with some success, but it isn't ideal. When picking out flooring for your mudroom, keep in mind that you'll have to clean it more frequently than other floors in your lake home.
How Should a Mudroom Be Organized?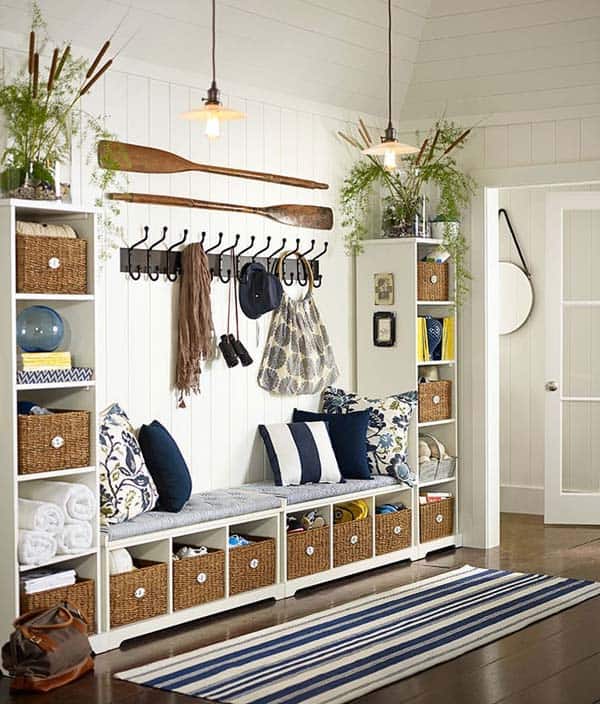 There are a few "must-haves" for every mudroom design. First, one of the biggest mudroom perks is having a space to deposit dirty shoes and overcoats. Bakke notes that you'll need an ample amount of hooks and cubbies for storage. He adds, "Built-in storage like lockers, cabinetry, and shelving is great if not essential; however, you can also use simple baskets and bins to hold your galoshes and gloves." It's also a good idea to have a closet nearby for storing out-of-season items like winter gloves and coats. Finally, since a mudroom will be a place for tracking dirt, it's a smart idea to place it near the laundry room.
Any Specific Lake House Features?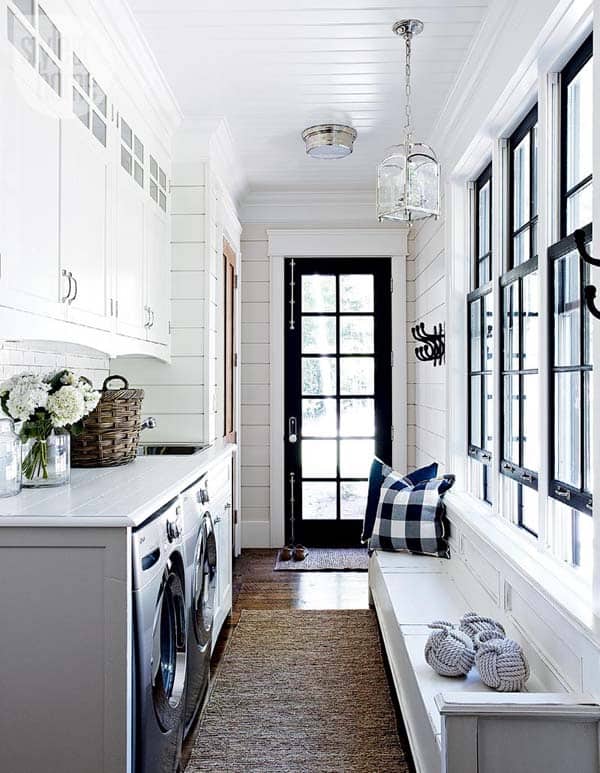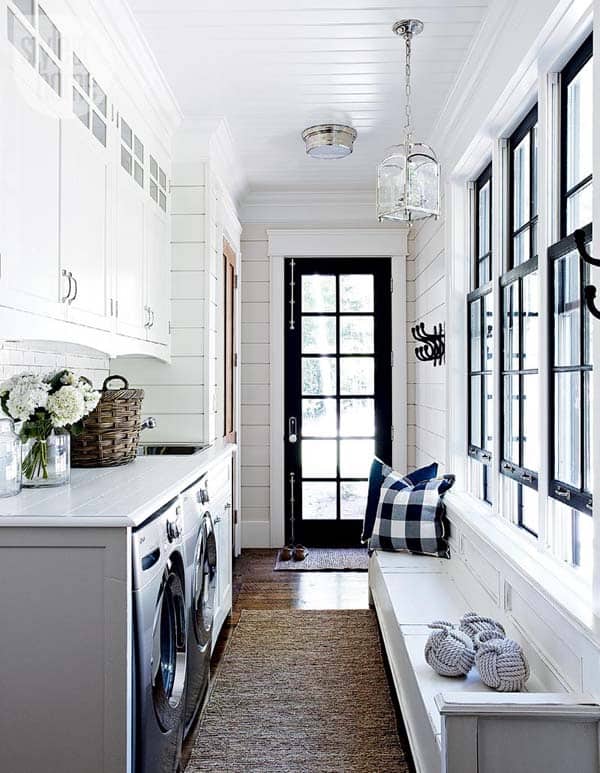 At a lake house, a mudroom is a critical feature. Andra DelMonico, an interior design expert for Next Luxury, says, "A unique idea that's perfect for a lake house is a boot wash station. This mini-tiled space is just big enough to rinse your feet off. Mount the controls and shower head low to avoid splashing. A showerhead with a handle on a hose will make it easier to rinse everywhere. As a bonus, you can also use it as a dog wash station." Just like beach houses have outdoor showers for this purpose, she recommends a similar feature for lake homes. 
If you have children, other special mudroom considerations apply. For example, DelMonico recommends skipping the open cubbies if you have kids. "They will always look like a tornado just came through," she elaborates. If your lake house has a garage, it's best to place the mudroom near the garage entrance. Without a garage, a good rule of thumb is to stick to the side or rear of the house — whatever is closest to the lake itself! 
From us at Lake Homes Realty, we wish you the best with your mudroom design renovations!